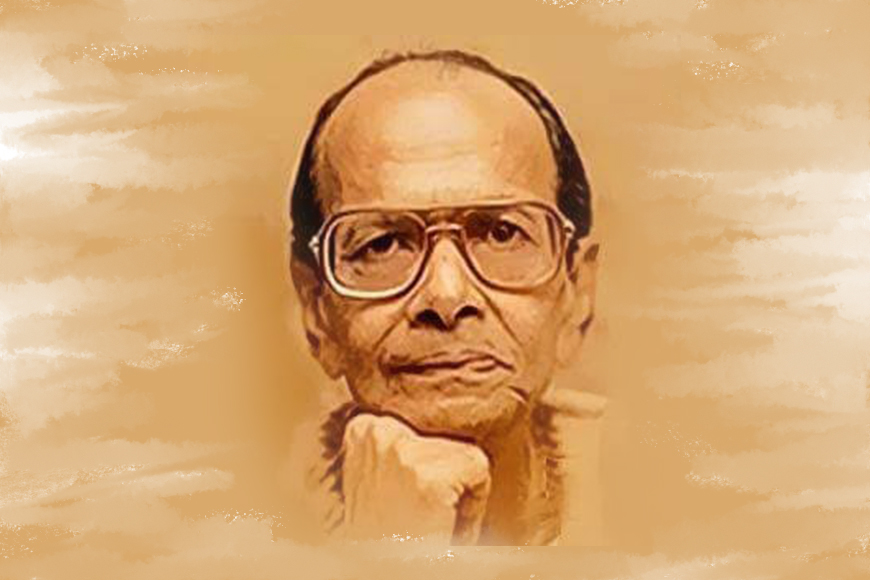 2021 marks the birth centenary of 'Sangeetacharya' Subinoy Roy, a teacher par excellence whose melodious performance and extraordinary skills as trainer have been charming generations. He was different in his style, compared to the era he came from, yet captivated his audience with his rendition displaying his delicate mastery of the musical form.
Born into a Brahmo family with a musical bent of mind, Roy was exposed to Brahmasangeet, including Tagore songs, from an early age. His mother, Sukhmoyee was the youngest daughter of philosopher-scholar Sitanath Tattvabhushan. She had a mellifluous voice and was trained by Surendranath Bandyopadhyay, renowned music teacher associated with the Brahmo Samaj. Once while Bandyopadhyay was imparting music lessons to Sukhmoyee, he heard someone from the adjacent room playing the tunes he was teaching on a flute impromptu. Bandyopadhyay grew curious and asked Sukhomoyee about the flute player and she said, her young son was playing the flute. Bandyopadhyay was immensely impressed and encouraged him and taught him a new 'gat' (gat is a fixed, melodic composition in Hindustani vocal or instrumental music set in a specific raga) to practice on the flute. This boy was Subinoy Roy.
Meanwhile, Roy's father Bimalangshu Prakash Roy was a chemist and littérateur who worked at Bird & Company. Sukhmoyee was the superintendant of Medical College Ladies' Hostel and later worked as Super of 'Sri-Bhavan,' the girls' hostel in Santiniketan. Sukhmoyee's elder sister, Sudhamoyee was married to Rabindranath Tagore's biographer and teacher/librarian at Santiniketan, Prabhatkumar Mukhopadhyay. Roy's mother and aunts were taught music by stalwarts like Surendranath Bandyopadhyay, Dinendranath Tagore and Gopeshwar Bandyopadhyay. No wonder, Roy was introduced to music in his infancy.
A student of chemistry in Santiniketan, he came close to Sailajaranjan Majumdar, who taught both Chemistry and Music. At Santiniketan, the lessons in chemistry were blended with the intricacies of the songs of Tagore. Sailajaranjan introduced Roy to Tagore and taught him songs from the upcoming performance of 'Barshamangal.' (Tagore's compilation of songs and poems of rains). Rabindranath taught him 16 of his compositions.

Roy also learned music from the poet's niece and an authority on Tagore's music, Indira Devi Chowdhurani and Samaresh Chowdhury. Later, he started teaching at Sangeet Bhavana till the mid-1940s and then left for England to study Library Science. His stint at the Indian Statistical Institute as librarian never affected his passion for music, especially Rabindrasangeet. He worked constantly to chisel his vocal range. He learnt Dhrupad from Rameshchandra Bandopadhyay of Bishnupur Gharana, Khayal and Thumri from Sukhendu Goswami and Hindustani classical vocal from Girija Shankar Chakraborty. Suresh Chakraborty also imparted music lessons to Roy and he took Roy to All India Radio office for an audition. That was the beginning of Roy's lifelong association with the radio.
In 1945, Roy recorded his first songs of Tagore under Anadikumar Dastidar's direction. But till mid-1970s, he was known more as an authority on Rabindrasangeet and a teacher par excellence rather than as a performer. It was in the 1980s, that he started performing more often in public programmes. He never vied for the kind of popularity and fanfare that many of his contemporaries enjoyed. Instead, he carved out a slot for himself as a classy exponent of Tagore songs that was more than what his contemporaries could claim.
He married children's writer, Amarendranath Dutt's daughter Indira and had two sons. Their eldest son, Surjit died early and Suranjan, their younger son followed in his father's footsteps and is a Rabindrasangeet artiste. Roy wrote a few books related to music and Rabindrasangeet in particular, in which he delved into the intrinsic elements of music which a learner should grasp. He also enumerated on the use of tanpura as a musical instrument for learners. In 1982, he wrote a book, 'Rabindra Sangeet Sadhana' where he explained in his lucid inimitable style, his thoughts on Rabindrasangeet, especially about the singing, notation and vocalization of Rabindrasangeet.
Roy was a recluse who lived in his vast world of Rabindrasangeet. He was honored with Visva-Bharati's highest honour, Desikottam and the State Sangeet Academy Award. His last public performance was at Rabindra Sadan in 2000. Roy breathed his last on January 9, 2004, just four days after his wife departed. With his demise, Rabindrasangeet and Brahmasangeet lost a dedicated devotee.
Subinoy Roy showed in his own singing. He has always captivated the listeners with his calm and intense manner and melodious voice. Rabindra Sangeet has also been taught to senior Pankaj Kumar Mallick as a trainer.