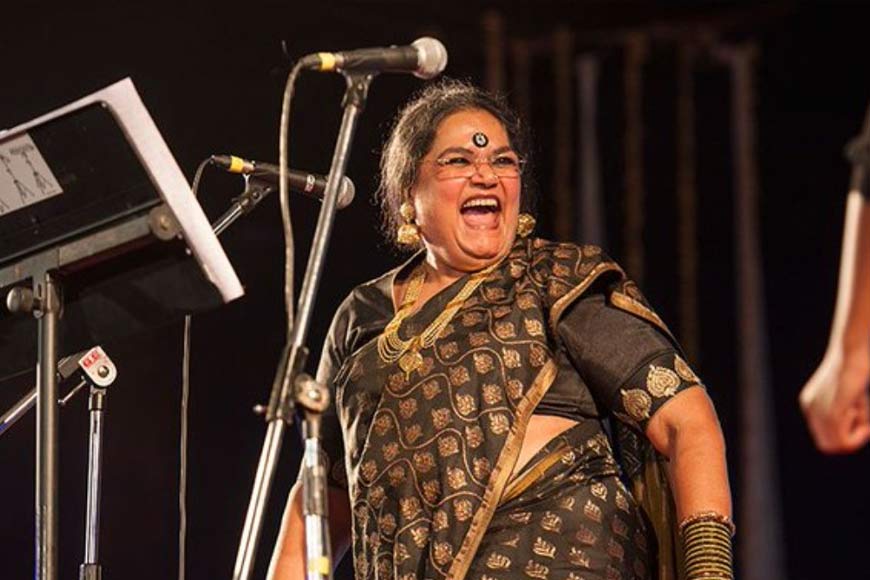 In February this year, Penguin Random House released Queen of Pop: The Autobiography of Usha Uthup by Srishti Jha (originally published in Hindi as Ullas Ki Naav by Vikas Jha). Few readers in Kolkata, one suspects, will need to buy the book. It is unlikely to have anything in it that we don't already know about the city's favourite singer, who turned 74 yesterday.
An honorary Kolkatan owing to personal circumstances which brought her to the city from Chennai in the early 1970s, Usha Uthup (nee Iyer) has become such an intrinsic part of the city's musical and cultural landscape that most contemporary music lovers are probably not even aware that she hasn't always lived in this city. And her warm, gregarious personality has made friends out of almost everyone she has met in the city.
A Tamilian born in Mumbai the year India gained Independence, Uthup is the original 'Didi', who taught herself Bengali so her pronunciation would be perfect, and despite travelling all around the world for music, Kolkata is the city she keeps coming back to.
For 21-year-old student Mayurakshi Chaudhuri, 'Aha Tumi Sundari Koto', Uthup's immortal ode to Kolkata which she released in 1978, is the first song that comes to mind whenever anyone mentions the singer. The other is the contemporary 'Chumbak Mon' from the 2022 film Kachher Manush.
This fact alone stands testament to Uthup's incredible ability to bridge several generation gaps. For 48-year-old entrepreneur Shubhankar Sengupta, 'Hari Om Hari' (Pyaara Dushman, 1980) and 'Ramba Ho' (Armaan, 1981) remain eternal favourites, while his nearly 18-year-old daughter Ishanee remembers 'Darling' (Saat Khoon Maaf, 2012) as her standout song.
"My elder brother introduced me to Hari Om Hari when I was about 7 or 8. The voice was unique, completely unlike anything I had heard," recalls Shubhankar. "And then I found out she was an amma in a sari and with flowers in her hair, who sang all these cool songs in a husky voice. The image was so weird and fascinating that I registered it instantly, even at that age." Likewise, one of the first things Ishanee remembers about Uthup is her "big bindi".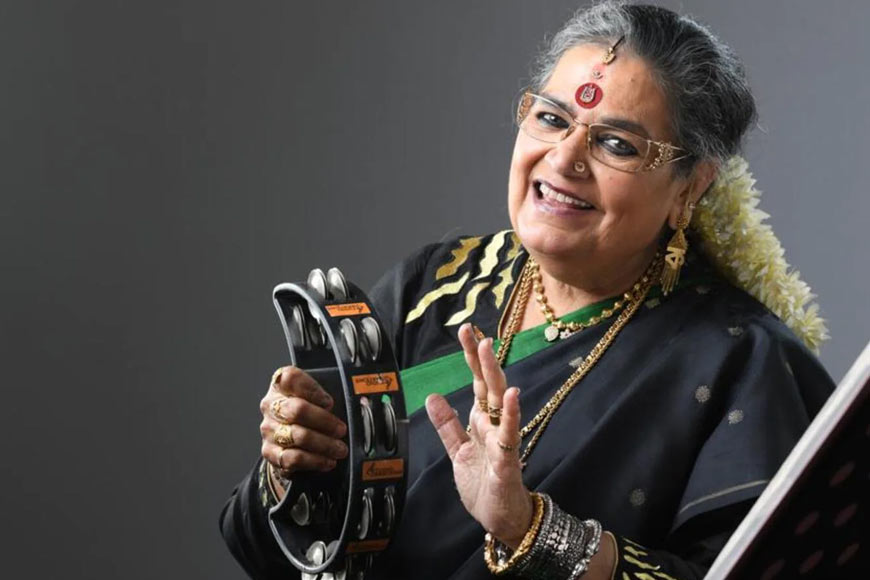 The singer's physical persona has done much to contribute to her magic. The dazzling Kanjeevaram saris, the pristine 'gajras' in her hair, the trademark huge bindi, the swaying on-the-spot dance moves that characterised her live performances – all of it is endearingly familiar and yet still new.
As for her voice, she is a rare contralto, the lowest female singing voice in Western operatic music. Internationally, she would be part of a pretty exclusive club that includes stars of the calibre of Cher, Toni Braxton, Sade, and Annie Lennox.
When she first appeared on the scene, singing in nightclubs in Chennai and Trinca's in Kolkata, her uncommon voice was what drew the likes of Dev Anand and RD Burman to her. That was how 'Hare Rama Hare Krishna' (1971) happened, and though she was eventually prevented from singing the smash hit 'Dum Maro Dum' by the studio politics of Asha Bhosle and a few others, she still made a mark with the title number.
Her atypical voice would never suit a typical Bollywood leading lady, so in her own words, she got to sing the "bad girl" songs. Nonetheless, her 50-year career has seen her build up a loyal fan base, not least because she can sing any song and turn it into her own, even those sung by others. "She never had a stereotypical female voice, but all those who make fun of her for it are just misogynists who don't understand music," says Ishanee.
Age has done nothing to dim Uthup's feistiness and joie de vivre. 'Darling', for which she received her first Filmfare Award, sees her easily overshadow a much younger and better trained singer like Rekha Bhardwaj thanks to her booming delivery and zesty singing. Remember, she was 64 then. And for all those wondering how she is faring now, check out her moves with actor Dev at the music launch of Kachher Manush recently from the Instagram video above.