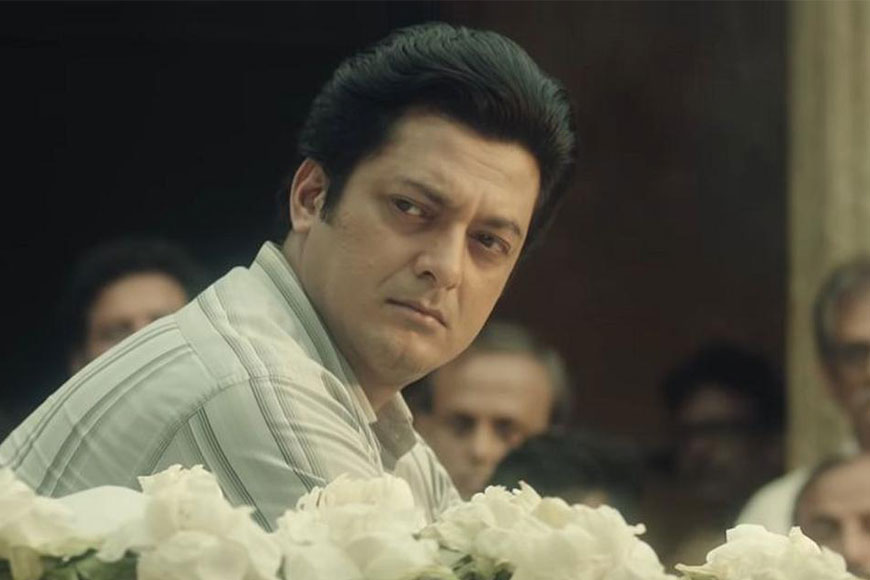 Abhijaan
One good news is that this year, not less than seven Bengali films have been chosen for screening at the 12th International Film Festival of Melbourne. The package presents a happy collage of filmmakers, subjects, treatment and approach. The festival will run from the second week of August till the 30th of this month.
The films that have been selected from Bengal are Jharokh by Aneek Chaudhuri, Mayar Jonjaal by Indranil Roy Chowdhury, Abhijaan by Parambrata Chattopadhyay, Abhijatrik by Subhrajit Mitra, Shimul Polaash Kotha by Ahrujit Nandy, Nona Joler Kabbo by Rezwaan Shahriar, and Dwitiyo Purush by Srijit Mukherji.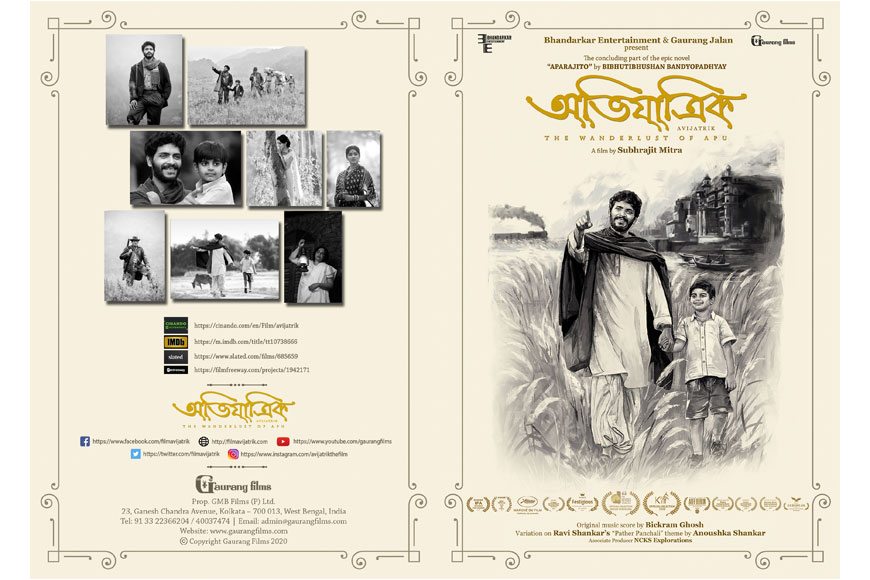 Avijatrik brochure
Each film chosen presents a completely different genre and a distinctive approach by directors new, established and between the new and the established. More than sixty years after Apur Sansar (1959), the final film of Satyajit Ray's masterful Apu trilogy, filmmaker Subhrajit Mitra rather courageously takes up the challenge of making his own sequel to Apur Sansar. The end result is Avijatrik: The Wanderlust Of Apu. The film is based on the second half of the original novel by Bibhutibhushan Bandopadhyay, Aparajito, which opens when Ray's Apur Sansar ends.
The period of the film, which takes us back to different parts of then undivided Bengal and just before and during World War II, is enriched with much attention to fine detailing by Production Designer, Gautam Basu. This has been made possible because Mitra has chosen to shoot the film in Black-and-White. The film produced by Gaurang Films, has already won accolades and awards at different international film festivals. 'Avijatrik' was selected in theIndian Panorama Section of the International Film Festival of India held in Goa in January this year.
Mayar Jonjal
Indraneil Roy Chowdhury, a FTII graduate who made his debut with Phoring (2013) which bagged several awards, has now made Mayar Jonjal (Debris of Desire) inspired by two stories authored by Manik Bandopadhyay titled "Bishakto Prem" and "Shubala." But he has blended the two stories as a single film and done it so well that one cannot make out that the film is based on two different stories. Roy Chowdhury said that he has just taken the germ of the stories as they belong to a very different time and social setting while he has brought it forward to the present time in Kolkata.
The film has been shot in areas of Kolkata which reveal the underbelly of spaces middle-class Bengalis are hardly aware of though we do know that the people described in the film certainly exist caught in the constant struggle of trying to eke out a hand-to-mouth existence either through sex work, or drug trafficking, or working as a maid in a very rich man's home, or, just not doing anything but drinking, gambling, sleeping at work as security guard at an ATM kiosk and losing his job as a consequence. Mayar Jonjal is a very dark and sad film but you like the light it sheds on a world you live in but do not know about.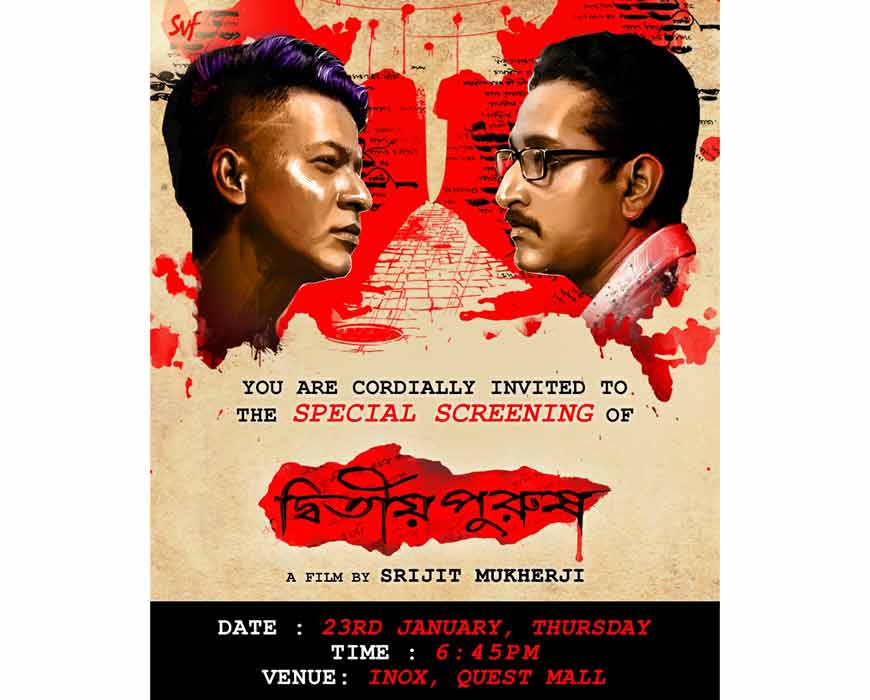 Dwitiyo Purush Poster
Srijit Mukherjee is said to be a master in the thriller genre among contemporary Bengali filmmakers. But is he really? He might have truly lived up to this qualification bestowed on him by thousands of his fans spread across the state and beyond had he been a bit slow on the uptake. A sequel poses many critical angles and Dwitiyo Purush is one such film. Looking back, it could have been a stand-alone film had the director chosen to dub it. But he did not and though this film fulfils the demands of a sequel with very brief references to the original, it could have stood its ground as an independent film. But then, the title would have not been as multi-layered as it now is.
The entire plot is hinged on the question – who is this "second person" who seems to have made a comeback to the murder scenario after 25 years? The crazy, bad-mouthing, suspended police officer of Baishey Srabon is dead. The killer, Khoka was sent to jail and then disappeared into nowhere. But the planning and the strategy and the actual murders, including the victims chosen in sequence, are the same pattern used in the earlier film. Is this a "copycat" killer? Abhijeet Pakrashi (Parambrato Chatterjee), a young novice policeman in the earlier film, now holds a top-ranking post in the Kolkata Police and he recognizes the pattern in the two killings, predicts the third. Khoka (Anirban Bhattacharya) is said to have been released from jail and is out on rampage. He follows an identical pattern, slitting the throat of his victim and then carving his name on the forehead of the victim with the same knife.

Parambrato Chattopadhyay is famous as an actor. But he is perhaps more talented as a director. His film Abhijaan is a biopic refers to one of the fourteen feature films by Satyajit Ray that starred Soumitra Chatterjee. Ray's Abhijan (The Journey), made in 1962, features Chatterjee as the taxi driver Narsingh who has a life-altering encounter with the dancer Gulabo, played by Waheeda Rehman in a story authored by Tarasankar Bandopadhyay. Abhijan was one of Chatterjee's personal favourites though he felt that it did not get the attention it deserved.
The Ray-Chatterjee association, which is among the most celebrated partnerships in the history of cinema, was the result of "stars aligning" and a "deeply personal and yet artistic connection between two individuals in which a lot remained unsaid", Chattopadhyay said. "They had a connection beyond their work – a tremendous frequency between their wavelengths," he added.
"There is no dearth of great actors in the world, but there is a dearth of artists," Chattopadhyay said. "An artiste is somebody who, at every stage of his or her life, represents his or her time and philosophy. Such people can effortlessly blend one form of art with the other. It makes their artistic umbrella a lot bigger. They become more human."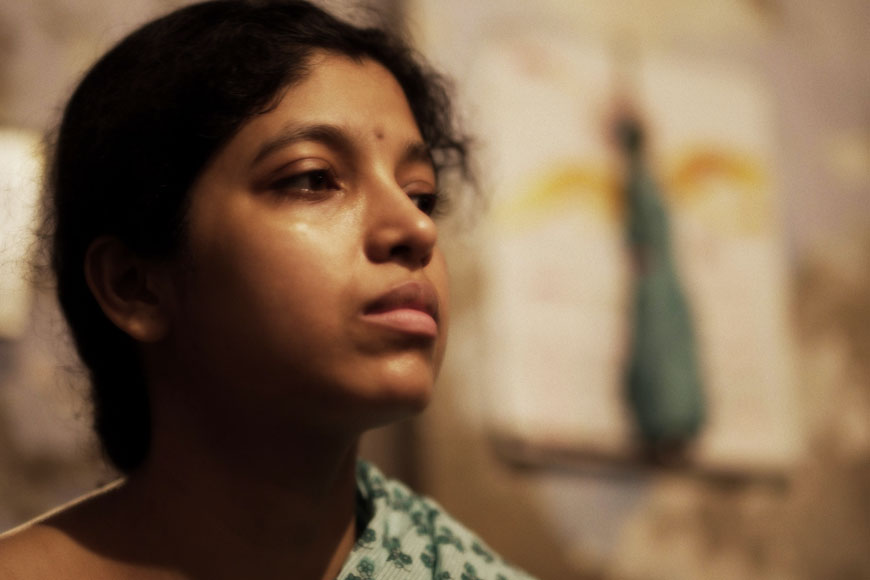 Jharokh
Jharokh by Aneek Chaudhuri is making a World Premiere at the festival and this is an 80-minute feature-length film that talks about the ordinary person's desire to escape from daily life, and the dire need to do so. This is perhaps Aneek's third or fourth consecutive appearance at the film festival and he terms it to be an 'endearing experience'.
Jharokh (Ventilator) is a story of a particular room that narrates the journey of three individuals in three different eras. Apart from directing the film, Aneek has also penned the screenplay and edited the film. The film stars Husne Shabnamm and Usha Banerjee in the lead. The film also casts Sabuj Bardhan in a pivotal role. The director, usually known for his out-of-the-box content has once again put emphasis on actors more than stars. It is a silent film which marks Chaudhuri as specialising in the experimentation with silence in his films which he did with White, a film with three short incidents of rape a few years back minus dialogue.
Ashrujit Nandi's Shimul Polash Katha is about Shimul and Palash, a deaf and mute couple, their love and their separation. Their forced migration from the peaceful life in a village to shift to Kolkata interweaves the shocking impact of migration on their lives which covers significant social issues like the link between poverty and human trafficking on the one hand and poverty and addiction on the other specially as they are also physically challenged. The film explores the daily struggles of the deaf and mutes both in urban and rural landscapes. The use of sign language is a pivotal aspect of the film.
Nona Joler Kabbo is a Bangladesh-France co-production directed by Rezwan Shahriar Sumit. According to the director, the film deals with what happens when a sculptor visits a remote fishing village on the Bangladeshi Delta, and finds himself center stage in a primal, elemental conflict between land and sea, man and nature, past and future.
The last mentioned three films have not been watched yet as they have not had any press screenings till date.