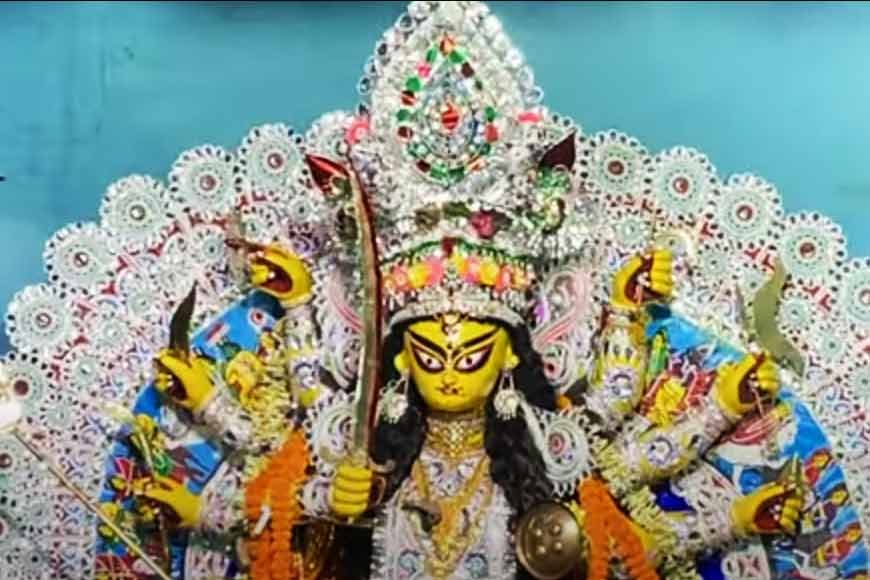 Shantipur is a small, quaint, sleepy town in Nadia district of West Bengal. It's a city steeped in tradition, famous for Ras Utsav and Dol Utsav, both linked to the cult of Lord Krishna. But it is equally famous for its Kali Puja and of course, Tant, the traditional handloom Bengal cotton saree. Many traditional families reside in Shantipur who have been celebrating Durga and Kali Puja since centuries. The place also has several Bonedi Baris where traditional festivals are still held following rules laid down centuries.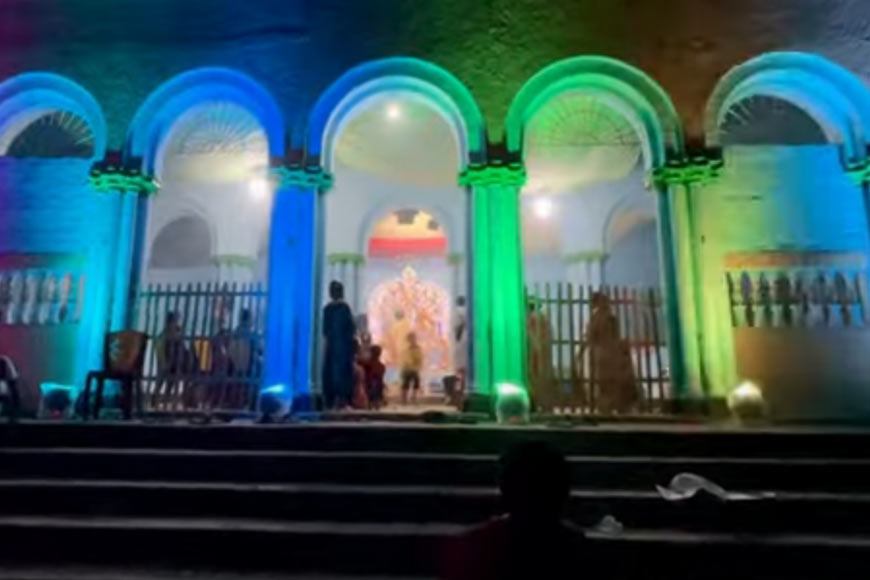 Shantipur Ray Bari Durga Puja
In almost every Kolkata pandal we are used to seeing the five idols - Ma Durga with her daughters Lakshmi and Saraswati and her sons Ganesh and Kartik. Have you ever seen a pandal in which only Ma Durga is worshipped without her sons or daughters? Well, it is done in Shantipur, at the famous Ray Bari. Here, Ma Durga is worshipped in a unique way. The deity is worshipped alone, without her daughters or sons. In the hands of the Asura there is an earthen talwaar instead of a Kharga. It takes around 20 minutes to reach the Ray Bari from the Santipur station of Nadia. The rituals of the puja are also a bit different. The house has still retained the old architecture and modernity has hardly touched this century old Bonedi Bari. The building has two floors, there is an open space at the entrance and beside it is the room where Ma Durga is worshipped. The puja is 500-years old and the original traditions are still followed. Here, Maa Durga is known as "Kulopoti Devi".

At the very beginning, a Kulo was worshipped as the deity. A kulo is a bamboo winnow used to separate the chaff from the grain. After a few years, the anthropomorphic form of the deity was worshipped. But only Ma Durga is worshipped here without any of her sons or daughters and it is believed that her worship started after she had appeared in the dreams of one of the members of Ray Bari. There is an interesting story behind it. One day, a woman came to the Ray Bari and asked for some help. She was wearing a "Laal paar shada saree" (a white saree with a red border). She said to the woman of the household that her husband roams from one crematorium to another, she has children and she asked for help.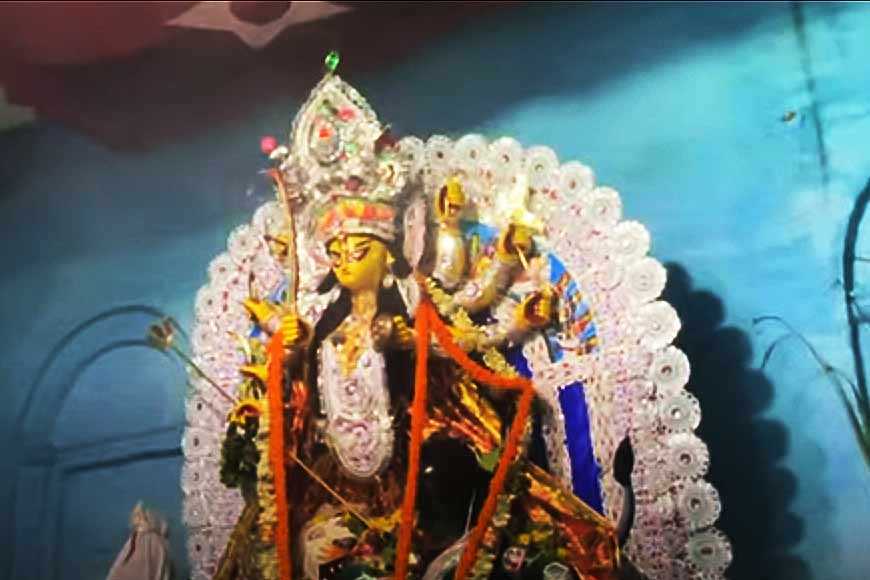 Maa Durga as kulopoti Devi
The Zamindars of Ray Bari asked her to bring her children to their house and she will be helped. After that incident, the goddess appeared in their dreams and asked them to worship her. The family did not have enough money to worship her so they started her puja in the form of a Kulo. When their finances improved a little, they started worshipping only the statue of Maa Durga. The deity is offered food from Panchami and the rituals after her Bodhon remain the same. On Ashthami and Nabami, after "Shandhi Puja" or the puja offered in the evening, the deity is offered two types of fish. Shantipur is the main city of Nadia district, which was the epicentre of the Bhakti Cult, directly opposed to the Shakta cult of Durga and Kali Pujas. The offering of fish, that too Hilsa, to the Mother Goddess, is quite a rarity, perhaps there are only few of very old Durga Pujas in which Hilsa is offered as bhog in West Bengal. Some say that the reason why the deity is offered fish is because many years back a flood had hit the village. Hence, no vegetables or grains were available but plenty of fish was available. After that, it became a practice to offer fish to the deity. She is also offered kheer or payesh every day. On Dashami, before her immersion, she is offered payesh. Normally in other pujas, sandesh is offered to her before her immersion.
The way culture has unfolded in different parts of Bengal and how minute changes hold a significant history in each and every century old Durga Puja is surprising. This is the beauty of Bengal's Durga Puja which has been recognized as an Intangible Cultural Heritage of Humanity by UNESCO (United Nations Education, Scientific and Cultural Organisation).