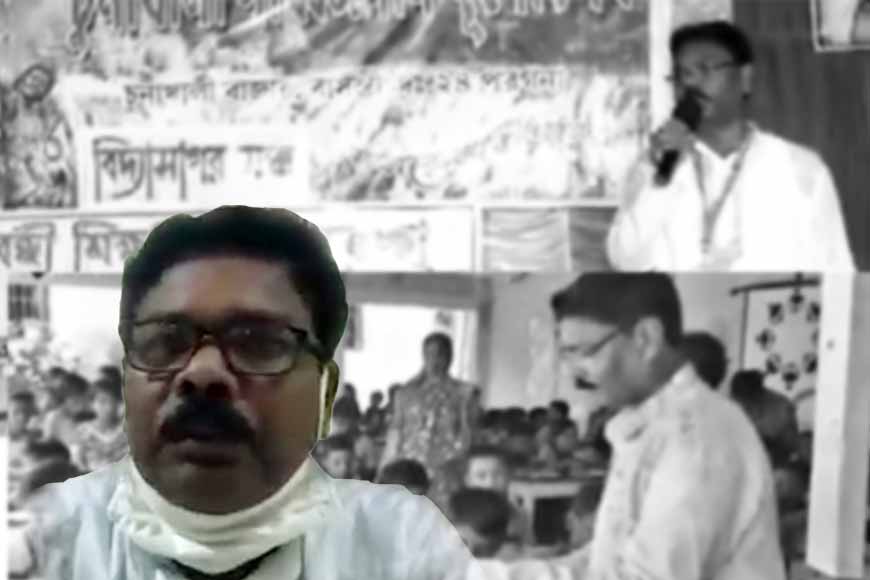 This year is very special for the people of Hatkhola village under Basanti Community Development (CD) Block in the Canning Subdivision of South 24 Parganas. A non-descript village tucked deep inside Basanti and inhabited by tribals, Scheduled caste and Scheduled tribes, those who have been putting up a brave fight against the vagaries of nature for decades. Majority of the population here are extremely poor and predominantly landless, yet they have realized the importance of literacy and make it a point to send their children to school.
It goes without saying that Nitai Mali, a son of the soil and Headmaster of local Chunakhali Hatkhola Abaitanik Prathomik Vidyalaya, has been working tirelessly to sensitize the importance of education for the growth and development of the society. This year, he has been conferred the coveted Shiksha Ratna Award 2021. This award, instituted by the Government of West Bengal's Directorate of School Education in 2011, is given to individual teachers for their outstanding service.
Nitai Mali was born amid abject poverty in Chunakhali Adivasi Para. His parents, Bhuvan Mali and Subha Devi have four children and he is their third child. His elementary education began at the local Chunakhali Hatkhola Free Primary School. From there he went to Soumyanagar High School to complete his school education and took admission in Sundarban Hazi Desarat College, an undergraduate college in Pathankhali. He completed his graduation and wanted to study further but lack of funds compelled him to look for a job and contribute to the family's expenses. Mali took up teaching as his profession. He has always been very passionate about this noble profession and on November 12, 1999, he joined Hatkhola Free Primary School and since then, he has been associated with his alma mater. This was 23 years ago and now he heads the institution.

Before getting the job, Mali offered free coaching classes to the children of his village and was involved in myriad social projects. He continues to offer his services for various social causes. Teaching poor children for free has been a motto in his life and nothing or none can waver him from his chosen path.
Mali is married to his profession and dedicated to various social commitments. Whenever he gets free time, he dabbles in writing. He contributes regularly to little magazines and writes stories, literary pieces for children and young adults. He also writes opinion pieces and articles on education and various social issues which are published regularly on well-known regional newspapers and periodicals.
Mali is concerned about the overall development of the children in his village. He launched the Vivekananda Football Academy for the kids to encourage them to participate in sports and games and his plan has been very well received by the local community. Every month, he organizes a community birthday bash for his students whose birthdays fall on that month and the kids have a whale of a time as they learn to share their joys with their friends and family. He organizes awareness programmes to engage all villagers in community service. Children are taught the importance of preserving biodiversity of the area, water conservation, importance of planting trees and other issues. He organizes street plays to sensitize villagers about these pressing issues. Mali has been working tirelessly to extend a helping hand to poor families who have children with various disabilities. He organizes financial aid for them and donates food and clothing for these impoverished families.
In 2013, Birsa Munda Smriti Raksha Committee honoured Mali with the 'Excellent Teacher Award' for his multifarious activities to uplift the condition of the poverty-stricken people and imbibe in them a sense of self-respect. Mali has been instrumental in changing the attitude of the villagers who now realize importance of education for children over everything else. On Teachers' Day this year, as the state government honoured him with the Shikska Ratna Award, Mali's determination to continue his work got further impetus. He is not ready to sit on his laurels and Teachers' Day for him is a holy occasion to remind himself of his mission. And his journey continues.