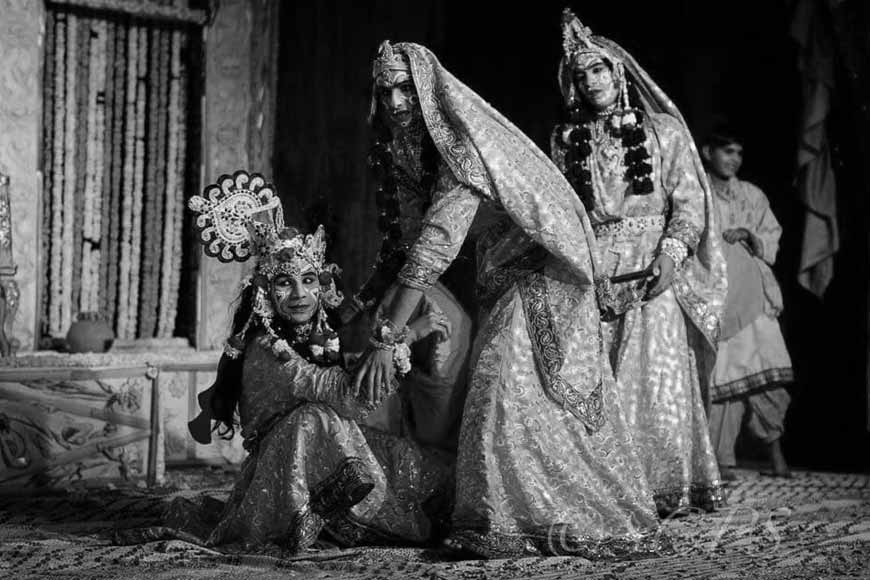 Representative Image
The British were frightened of a song writer? Well yes, they were and Gambhira lyricist/composer, Sheikh Safiur Rahman or Sufi Master's bold 'Bolbai' compositions provoked the ire of the British government. Born in 1894 at Phoolbari in Englishbazar, Malda, Sheikh Safiur Rahman left for Chanpainawabgunj of Rajshahi division in the 1940s and established a new school (gharana) of Gambhira there. He even performed before 'Bangabandhu' Sheikh Mujibur Rehman on January 26, 1950.
Born into a large impoverished family, he was compelled to take up a parcel packer's job at the Malda Post Office at the tender age of 11. By the time he was 15, he became enamoured by Gambhira performance and joined Kishori Pandit's performing group at Phoolbari. Later he formed his own squad. Right from the beginning, his bold compositions denounced all social and political evils of the time and criticized the British government's apathy. As World War I progressed, the British government slumped into a financial crunch. Its inability to mint coins forced the colonial authorities to print Re 1 notes in England for India. The paper note had photographs of King George V and a banana plantain on it. It was formally introduced on November 30, 1917. Sufi Master immediately composed a song on this:
Saheb dhoriya langon kolar gachh hey/ Nachachho besh bhaluk nach hey/ Ei shonar Bharotey, dokan arotey/ Chandir binimoye kanch hey (Oh our British Masters, you are fooling us and robbing our country's riches. In lieu of all the silver that you are taking away, you are giving us glass that has no value). The song was an instant hit and created a huge commotion and became a part of our indigenous heritage.
On 19 July 1905, Lord Curzon, the then-Viceroy of India, announced the Partition of Bengal. The young Malda Post Office parcel packer, a government employee, immediately sprang to action and composed a song expressing the emotions of all Indians.
The Gombhira folk dance of West Bengal complement the beautiful culture of the state. This dance is characterised by the brilliance of the costumes, face masks and the athletic and gymnastic abilities of the dancers. pic.twitter.com/0A2PMMxnOy

— Incredible!ndia (@incredibleindia) May 20, 2020
He wrote: Tumi ghunter agun, tusher dhoaan/ Lagiye dile Bonge/ Aaj habudubu khaye Bharatbashi/ Swaraj toronge (You have ignited Bengal and the rest of the country is charged with the emotion of demanding freedom and Swaraj). The song created a stir. Although Ustad Sufi never mentioned his name as a composer, the British found out his whereabouts and the police raided his house. His notebook where he composed lyrics was confiscated. The Police Inspector was a Bengali who did not arrest the teenager but warned him against writing anti-Government provocative lyrics. But undeterred, he continued and as a result he had to face the ire of the British police. His programmes were stopped midway and he was interrogated time and again. By 1910 and 1912, he became a household name in Malda. In 1918 Sufi Master was invited to perform at the annual Pabna Bangiya Sahitya Sammelan. He wrote the 'pala' (episode) and composed the lyrics for the show. His trusted lieutenants, Mohammad Kutubul Alam and Mohammad Raqibuddin enacted the roles of Nana and Nati (Grandfather and grandson, an essential component of the dialogue part of Gambhira). The audience was spellbound. After the show, Rabindranath Tagore, who was a distinguished guest at the meet, honoured Sufi Master with a gold medal.
Ustad Safi is renowned as lyricist/ composer. In 1922, he edited the first compilation of Gambhira songs titled 'Gambhira Geet,' which was published from a printing press at Puratuli in Malda. It is a pity that not a single edition of the book is traceable now. Sufi Master had the rare ability to compose lyrics on any contemporary issue within a very short time. His lyrics had high literary qualities as well. In 1924, when Netaji Subhash Chandra Bose and Deshbandhu Chittaranjan Dash visited Malda, Sufi Master composed and performed before them. Netaji was so enamoured by Sufi Master's lyrics that in 1925, while he was in prison at Mandalay, he wrote a letter on November 9 where he mentioned the uniqueness of Gambhira as an art form.

Around 1940, Sufi Master left Malda with his family and settled at Rahanpur Bazar of Rajshahi. He introduced a new form of Gambhira which had more dramatic element, was more contemporary and fast-paced. Songs were replaced by dialogues which were social commentaries that criticized the social and political evils and shortcomings of the time. He composed on the Partition of India and the country's Independence. His songs spoke of the abject poverty of farmers and their pitiable conditions. Sufi Master breathed his last in 1983 at the ripe old age of 89.
Over the years Gambhira has undergone transformation. This folk form is originally a traditional tool of social communities used by common people to voice their woes, concerns and worries, grievances and aspirations. Artists like Sufi Master took the form to greater heights as they dared to defy the bastions of power and emerged as the voice of the underdogs.