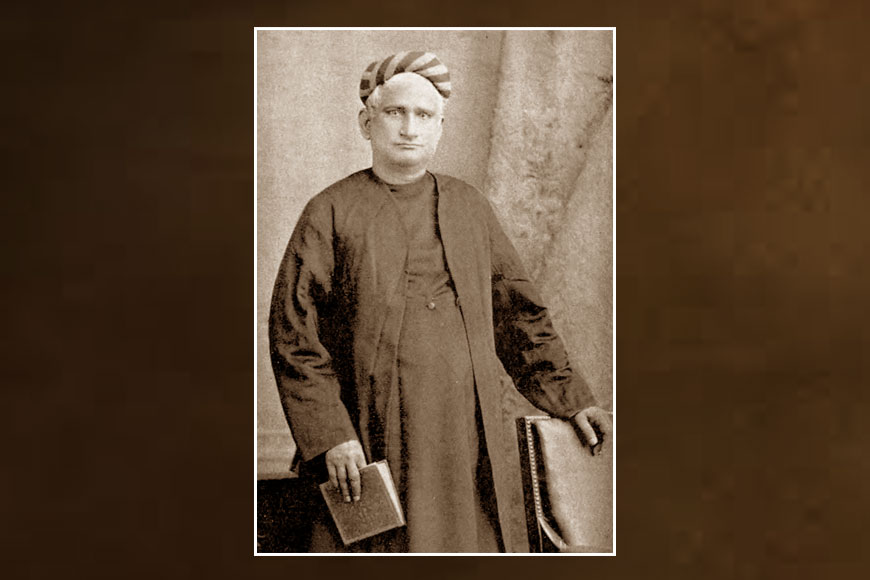 Bankim Chandra Chattopadhyay was one of the many multi-talented Bengalis. He was an essayist, novelist, critic, a journalist, polemicist and a thinker as well. He is one of the two first graduates of the very first batch of the University of Calcutta, which held its first Bachelor of Arts examination in 1858. He was about twenty-two years old at that time. He was the District Magistrate (DM) of Baruipur between 1864-1868 and spent his entire life in government service in various capacities, till his retirement in 1891.
As a renowned novelist he wrote many popular novels such as "Kapalkundala", "Durgeshnandini", "Bishvriksha" and more. The table on which he wrote these popular novels is still kept by a family from Bengal -- the Roychowdhurys. It has been maintained with proper care. It is washed every day as a routine. The table adorns the balcony of the Roychowdhury household. Made of pure Belgian white marble, it is lovingly called the 'Bankim Table.' Though it is quite well-maintained, the family members have stated that any effort towards the maintenance of the table made by the state would be appreciated nonetheless.
This table is in the house of Mr. Kanakendu Roychowdhury, who stays in Baruipur, just beside Rabindra Bhavan, in ward number 10. He has kept the traditions of the then zamindar, Rajkumar Chowdhury and his family. Since then, the family members have taken great care of the "Bankim Table" and have kept it as good as new. They understand and respect the value of the table and the nostalgia that is intertwined with it.
Bankim arrived at the Sadabrata Ghat of Baruipur on a boat. From there he first settled in the "Atithishala". Earlier, the munsif court was situated in Padmapukur, Baruipur, where he was supposed to take charge. Later, it was shifted to the area around Baruipur Thana. In 1865, when he was the magistrate in Baruipur court, he stayed in Rajkumar Roychowdhury's residence, who was a zamindar at that time, for quite a few months. It was around this time that he wrote his famous novels - "Durgeshnandini" and "Kapalkundala". He also wrote poems, "Oi bondi amar praneshwar" and "Pothik tumi poth haraicho"- around the same time. According to Mr. Kanakendu Roychowdhury, Bankim also wrote "Bishvriksha" sitting right on this very table.
Shakti Roychowdhury, a member of the Roychowdhury family, who is the chairman of Baruipur municipality, told the press that Michael Madhusudan Dutta came to the Munsif court as a lawyer. When Bankim stayed at Rajkumar Roychowdhury's house, they developed a deep bond of friendship. When Rajkumar Roychowdhury's second son got electrocuted, Bankim got the news and came home leaving all his work. He personally brought Dr Mahesh Chandra Ghosh with him for the treatment.

This piece of furniture might look very ordinary to most people, but the historical value it holds is enormous. It is an antique piece which has become priceless. This is why Mr. Sharadindu Roychowdhury, is not open to handing it over to any private organisation. He said that many people come to visit the house and even want to take the table home, but we do not allow that.
Bankim's novels were based on reality, such as Durgeshnandini, which was his very first novel published in 1865, it was not an historical piece per se but he included historical aspects as well. He also described the relation between Mughal-Pathans and the Hindus and Muslims. The text revolves around its three main characters, Tilottama, her mother and Bimala. Texts like Durgeshnandini and Kapalkundala have a certain historic touch that tells us about that particular era specially the social set up. We can envision the age and its traditions and characteristics when we read his literature in a very vivid manner. And imagining how Bankim sat on the table and wrote, gives goosebumps still.