The voice behind Sealdah station announcements is that of the visually impaired Paritosh Biswas – GetBengal story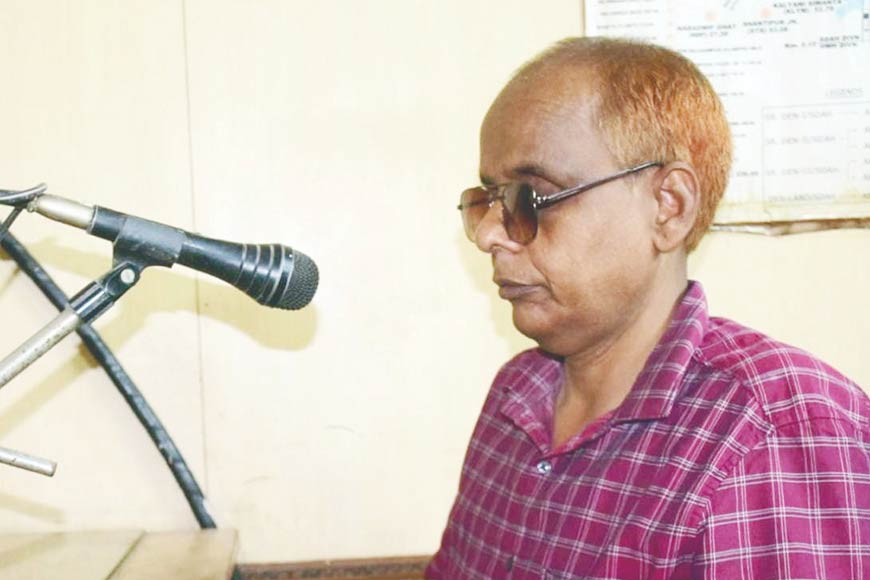 Paritosh Biswas, announcer, Sealdah station
There are many instances that remind us how fortunate and blessed we are with what we have. The little things that we often forget about are the ones that matter the most. Paritosh Biswas is a visually impaired individual who surpassed all odds, honed his skills, and became an announcer. The voice behind Sealdah Station Voice Over, which keeps us aware of the train timings and many minute details of trains coming in and leaving, is that of Biswas's. Many might not have given it a thought as different trains with different timings and routes keep on moving to and fro throughout the day, a network that is difficult to decipher and keep a tab on.
Being a visually impaired person, how could one read such impromptu details? This is where Biswas's memory shines. He can remember all the details. Paritosh relies on his exceptional memory and auditory skills to remember and recall train details accurately. It is said that a person who cannot see has other sense organs working to the maximum level. Over the years, he has familiarized himself with different train routes, timings, and other related information to provide timely and precise announcements. Biswas has honed his skills in Braille, mobile gadgets, etc to communicate with the world of vision and has succeeded in establishing effective communication with his colleagues as well as with the passengers, even though he cannot see any of them and largely has to depend on his auditory functions.
Sealdah rail station is one of the busiest stations and witnesses a footfall of 17 lakh and 700 trains daily. At the station, bustling with busy commuters every day, Paritosh's voice reverberates through the speakers, announcing important train details and helping passengers locate the locomotives and reach their destination. He is a dedicated employee of the Eastern Railway who has successfully overcome his visual impairment to serve the community.
Announcements like "Attention Please: Bangaon local will leave Sealdah from Platform no. 3 at 11:45 hrs" are familiar to every person who regularly commutes on local trains. Little do they realize that behind such announcements is the voice of a differently-abled person who keeps on doing his work every day, diligently. The loss of his vision during birth did not hinder him from being a full-fledged working individual. He honed his other skills and proved "Where there is a will, there is a way". The Eastern Railway, a socially responsible body, has appointed many differently-abled individuals like Paritosh to key positions, which allows them to showcase the potential within them and to uplift them, giving them a chance to compete with everyone equally. Time and again, such employees have proven themselves with their remarkable efficiency.
Paritosh Biswas joined the railway sector in 1989, has been a part of the sector for 34 years, and continues. He has been posted at various stations throughout his career, including Sealdah and Naihati, completing a full circle through his journey. Beyond his professional achievements, Paritosh is a proud father of a son and a daughter. Every day, he has to travel from his residence in Naihati to his workplace at Sealdah. The fellow commuters are often surprised when they realize that the person with the white cane sitting among them is the same person whose voice reverberates through every corner of Sealdah station. He repeats the announcements in three languages: Bengali, English, and Hindi.
Paritosh Biswas has the most visible role and serves as an inspiration to others, proving that individuals with visual impairments can excel in their chosen fields. Their presence could help challenge societal stereotypes and promote inclusivity. He continues his daily journey to carry out his responsibilities, making his family proud while contributing to society as well.
Such individuals prove that their inner potential matters the most. Pushing all the limits and being able to shine on one's chosen path is peak satisfaction. Paritosh Biswas proved that the differently-abled are not alien to such satisfaction. Though they may not have all the qualities, it is possible to hone the skills with which they are blessed and move forward in life.