Seed paper pens of Naihati - great alternatives to conventional plastic pens and aimed at promoting recycling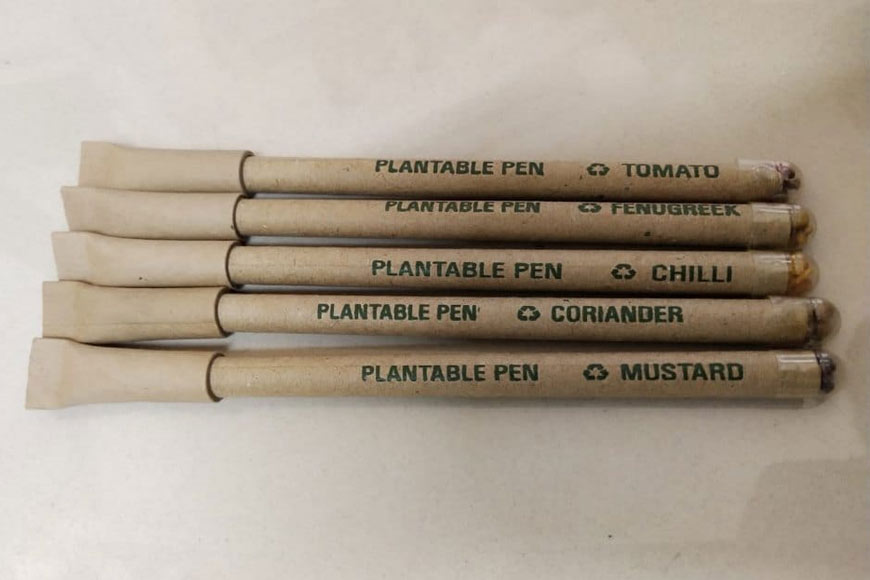 There is no denying that pens have been a very important part of our history. From signing important historical documents to writing love letters, from the arts to the sciences, our love for a good pen has been cemented throughout history continuing even through the digital age.
Despite the ever-increasing presence of screens and innovative technology in our lives, pens remain a staple with their unwavering popularity continuing to endure the rise of the mouse and keyboard. From Cross Pens to Parker, Montblanc and Sheaffer, Aurora, Lamie, we have now graduated to paper pens! Sounds incredible, right? Yes, a new breed of eco-friendly sustainable alternatives for plastic pens has come to the market, all up for grabs.
India is one of the most damaged countries environmentally and plastic pollution is a major threat in every city, river, and sea in India. Throughout the country, waste management has become a challenge to municipal Staff. Environmentalists have been working hard to create awareness about the hazards generated by discarded plastics (behavioural change of single-use plastics consumption) and provide alternatives to disposable plastics at an affordable price.
Naihati Sannidhi, a non-governmental organization has been working tirelessly in different social spheres since its inception in 2014. Recently, the organization launched a campaign, 'Let's shun plastic, build a beautiful world.' As part of the programme, the organization launched eco-friendly seed paper pens, handmade with high-quality recycled paper by a self-help group, Swayam. These colourful indigenously designed paper pens are great alternatives to conventional plastic ballpoint pens and are aimed at reducing waste, promoting recycling, and encouraging planting activities. Traditional plastic-based pens are a great threat to the environment. Around 275 million tonnes of plastic waste are generated each year around the world; between 4.8 million and 12.7 million tonnes are dumped into the sea. These eco-friendly pens are made from recycled cardboard and newspaper which are plastic-free. Moreover, these pens are embedded with vegetable/fruit/flower seeds. After the purpose of these pens to be used as a writing instrument is served, one can just bury it in the mud pot and the seeds grow into new saplings or plants. A seed, as we all know, is the harbinger of new life on Earth. These environmentally-sensitive paper pens continue to have utility even after they are discarded. The paper pens actually contribute to the regeneration of life on our blue planet. The seeds sprout within six to nine days after planting and can be used for a home garden or office desk. The pens motivate users to plant a tree and thus contribute to a greener and cleaner environment. Such a unique product can also be used for gifting to friends and family. It is already a rage with the local student community who find it highly affordable (at Rs 5/- only).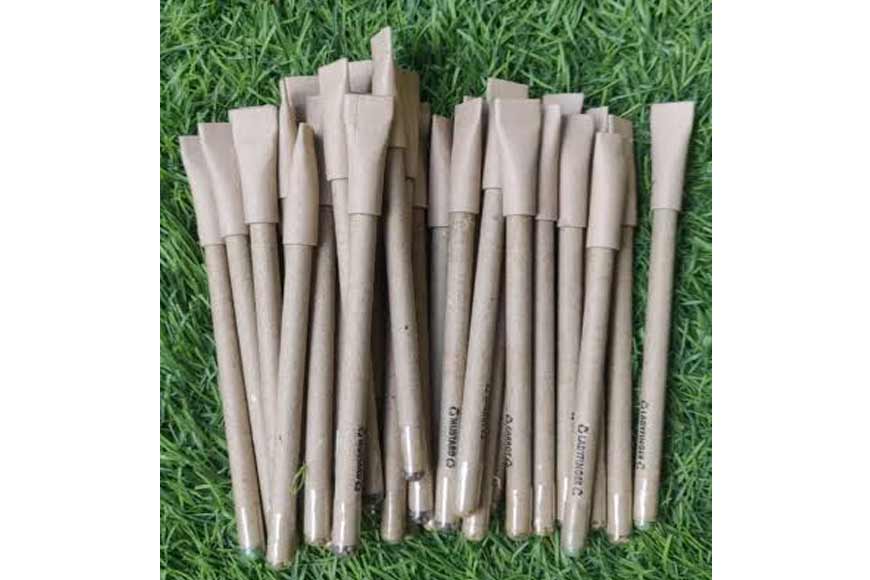 Naihati Sannidhi's field of operation is vast and encompasses different spheres. Founded by Soumen Paul and his friends in 2014, the organization has been working for the upliftment of the underprivileged people of the locality.
Paul says, "I and my friends were always keen to do something for our fellow citizens from the lower strata of society. We used to get a paltry amount as pocket money from home and sometimes asked for money from our family members to feed the poor or sometimes, buy medicines or clothes for them but nothing was done in an organized way. In 2000, we passed Madhyamik and vowed to do something concrete once we completed our studies and started earning. We eventually completed our education and got employment in different sectors. We then came together again to form an NGO. Naihati Sannidhi was registered in 2014 and after that, we started our programmes in a focused manner."
Funds were a major constraint initially but when local people watched the band of boys working selflessly for the impoverished masses, they were moved and came forward with donations. During the lockdown period in 2020, the do-gooders of Naihati Sannidhi started the 'Jana Ahaar Food Bank Project,' which fed around 380 to 400 down-and-out people in the locality every day. The lockdown phase was a harrowing experience for all which was made far worse for the poor. The volunteers had a tough time procuring raw materials and preparing the meals, but they triumphed against all odds.
In 2021, around 180 people availed of the facility. In 2022, the NGO fed approximately 80 people for 77 days. This year, too, till April more than 100 Jana Ahaar event has already been held. Over the years, many citizens came forward with the proposal to celebrate their special days like birthdays and weddings with the organization and offered to feed the poor.
The various projects run by the NGO are mostly crowd-funded and as Paul says, "We follow a specific procedure. It is very transparent. When we take up a project, we seek crowdfunding and as soon as adequate funds are collected for that specific project, we stop accepting any more funds. This transparency has been appreciated by our donors who come from all walks of life.
Naihati Sannidhi Vastra Bank is another important project. Volunteers approach donors for pre-owned seasonal clothes and distribute these among the poor. Free Bazars are also organized from time to time where needy people select clothes from the vast array of dresses on display and pick according to their choice. Naihati Sannidhi volunteers buy new clothes which are donated to children and women in the backward villages of Bankura, Purulia, and Birbhum during festivals like Durga Puja.
The NGO runs an Oxygen Bank and 'Jeevandayee' scheme for poor people who do not have the financial stability to undergo treatment. These patients are provided with financial assistance and medicines etc. A Book Bank has been set up to cater to the needs of higher secondary students from impoverished families. 'Alo' is a weekly scheme for underprivileged children who are imparted art training free of cost. Naihati Sannidhi also runs a free adult literacy programme (Baroder Pathshala) for the locals. 'Swayam' has been launched to train and empower women. In fact, the paper pens have been made by the women of Swayam.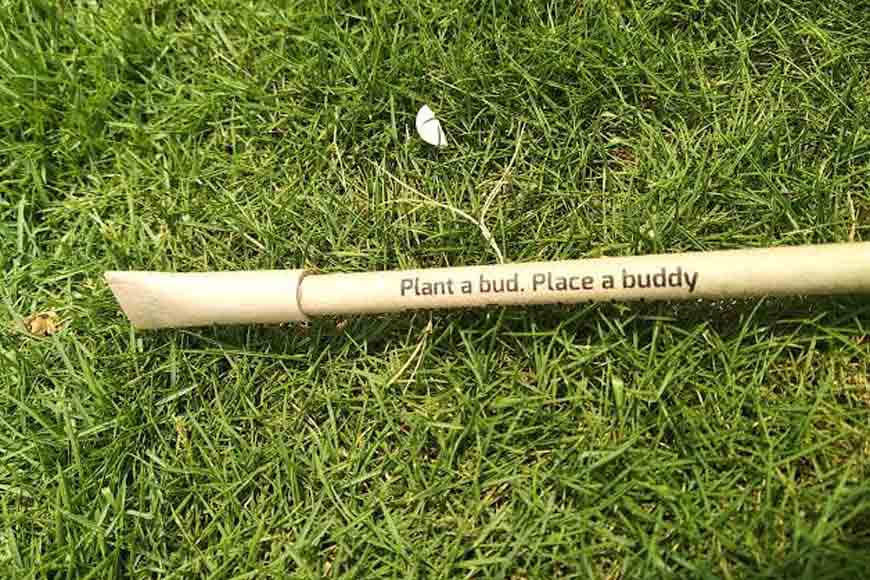 Naihati Sannidhi also organizes voluntary blood donation camps and celebrates important days and events including World Environment Day when locals are sensitized about the negative effect of climate change and encouraged to plant saplings. Seeds and saplings are also donated to citizens. During natural calamities, the volunteers collect and distribute relief materials to the victims. From the time of Covid, Naihati Sannidhi started the 'Nirmal Project'. Volunteers have been mobilized to visit localities and distribute masks and sanitizers. The programme is still operational. On special days, volunteers visit old age homes and orphanages to celebrate the day with them.
What motivates Paul and his friends to spend their free time working for needy people when most people either obliterate their very existence from their senses or ignore their presence?
Paul says, "Early in my life I was sensitized by my family and it so happened that I met friends, who like me, mused about the predicament of the poor. We had decided early in our lives that we would dedicate ourselves to the upliftment of our fellow citizens. We have everything, a roof above our heads, proper education and stable jobs, a strong security net of family and friends, and a secure future. What have they? They deserve everything that we have but only because of lack of funds they are pushed to the periphery of an insensitive society. We had vowed to change that and now that we are focused and moving towards our goal, it gives us immense happiness and a sense of fulfillment to work for our fellow humans." The determination in his voice is palpable. It is because of dreamers like Paul that all's well in God's own country.