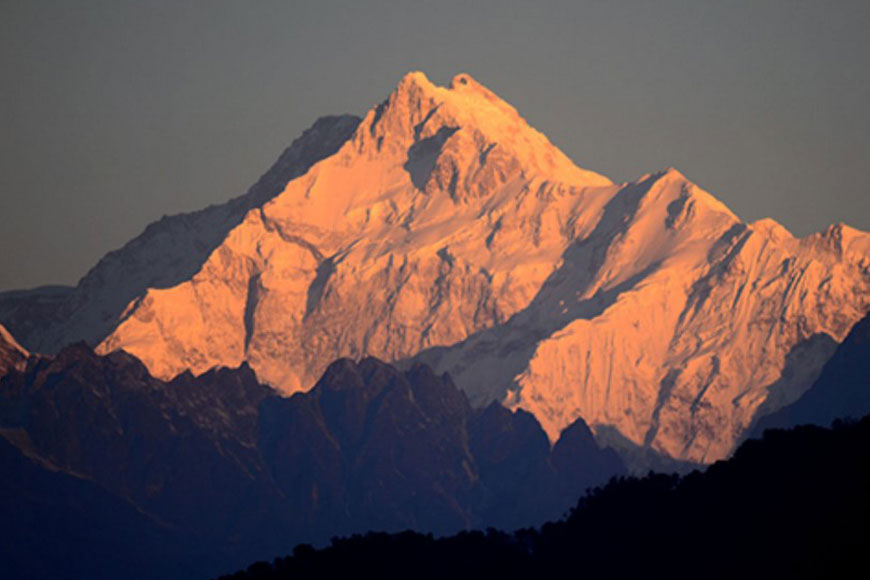 In a tropical country like ours, summer really isn't the season for travel, or so says conventional wisdom. However, the advantage of living in a state like West Bengal is that you really need not travel very far away from home to find a destination of your choice - whether it is the seaside, or mountains, or forests, or places of archaeological and historical interest, or even places of religious interest.
With summer almost upon us, we thought it would be a good idea to present you with 10 of the state's topmost summer destinations, in no particular order, but split up into two articles. So here are the first five: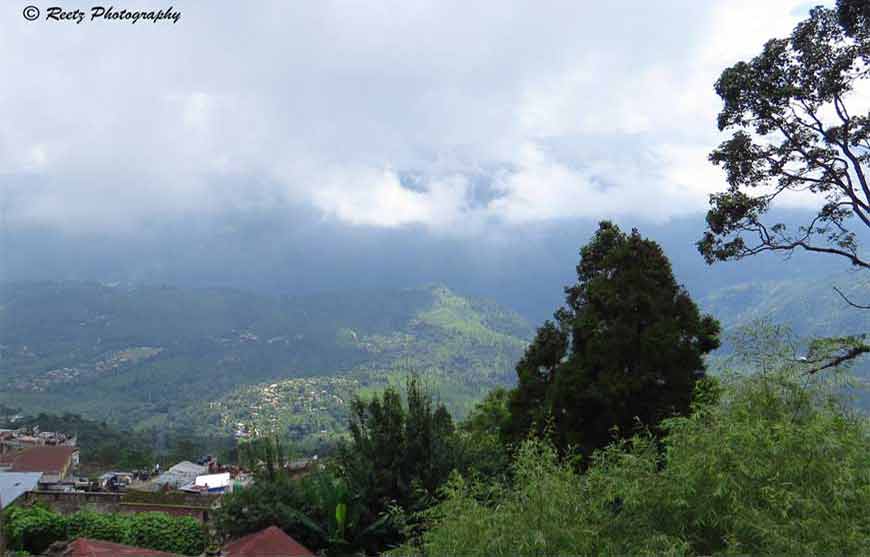 Kurseong
Not many perhaps know this, but Kurseong is one of the oldest municipalities in West Bengal. It became an independent municipality in 1879, and did not become a subdivision until 1890, when Darjeeling was formed as a separate district. Today, Kurseong town and municipality remain part of Darjeeling district, and the town also functions as the headquarters of Kurseong subdivision.
Blessed with pleasant weather throughout the year, Kurseong is 34 km from Siliguri, connected both by road and the Darjeeling Himalayan Railway. The nearest airport is Bagdogra and the nearest major railway station is New Jalpaiguri, about 45 km away. Nestled among the lower Himalayas and famed for schools such as Goethals, Kurseong offers plenty by way of natural beauty, particularly its waterfalls or 'kholas'. That apart, it is close to such world renowned tea gardens as Makaibari and Castleton, which are important names on West Bengal's tea tourism trail.
For Bengalis, Kurseong is also memorable as the town where Netaji Subhas Chandra Bose was interned by the British in the late 1930s. The Netaji Subhas Chandra Bose Museum and NSC Bose Institute of Asiatic Studies were later set up in a house belonging to Netaji's elder brother Sarat Chandra Bose in the Giddhapahar area. The museum displays priceless artifacts related to Netaji's life, including photocopies of letters between Netaji and his future wife, Emilie Schenkel, rare photographs of the Indian National Army (INA), and other memorabilia.
Set amidst the blue hills, Roudra Chhaya Tourism Property (earlier Kurseong Tourist Lodge) operated by the West Bengal Tourism Development Corporation Ltd (WBTDCL) is an excellent accommodation option when you visit.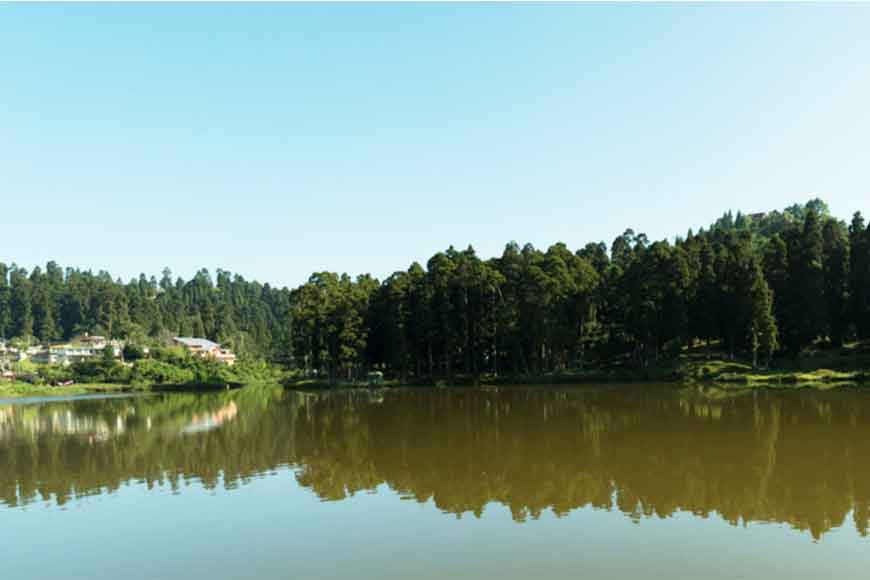 Mirik
Way back in 1969, the state tourism department began the process of acquiring 335 acres of land from Thurbo tea estate, adjacent to Mirik. In 1974, when Siddhartha Shankar Ray was chief minister of West Bengal, work began on developing this land into a tourist spot, to include Mirik's famous lake, which is its principal tourist attraction. The complex around the lake was inaugurated by Ray's successor as chief minister, Jyoti Basu, in April 1979. Tourism in the area has flourished ever since, thanks in large measure to Mirik's lovely climate, natural beauty, and easy accessibility.
The centre of attraction as we said, is Sumendu Lake, surrounded by a garden named Savitri Pushpaudyan (named after Savitri Thapa, an INA martyr) on one side and pine trees on the other, linked together by a footbridge called Indreni Pool (named after Indreni Thapa, another INA). The nearly 3.5 km-long road which encircles the lake and is perfect for long walks, and offers a view of Mt Kanchenjunga on the horizon. Also on offer are boating and horse riding.
The highest point in Mirik is Boker Monastery, at an altitude of about 5,800 ft. The lake is Mirik's lowest point, at about 4,900 ft. Mirik is 52 km from Siliguri city and about an equal distance from Darjeeling town. Bagdogra airport is also about 52 km away, and New Jalpaiguri adjacent to Siliguri is the nearest major railway station. A rudimentary bus service also operates from Mirik to Siliguri and Darjeeling, or there are plenty of shared cabs available for those so inclined.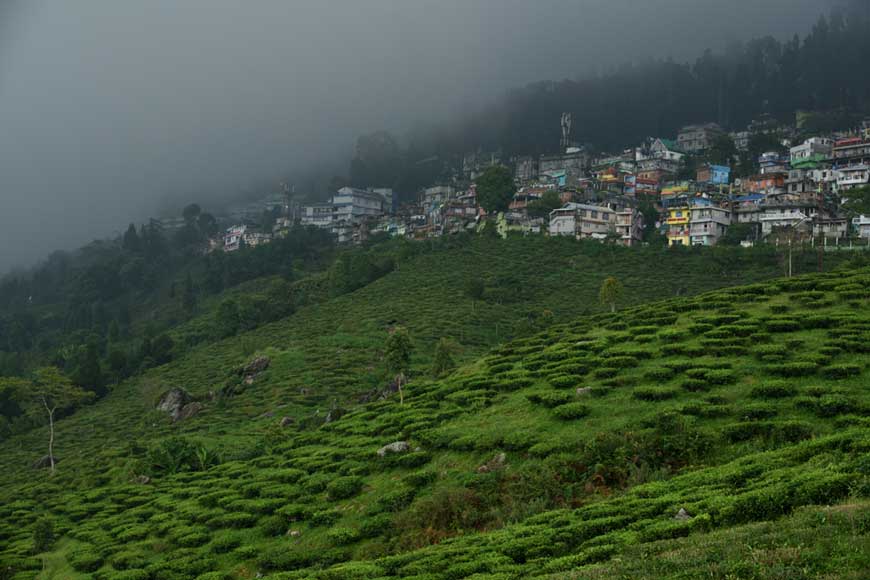 Darjeeling
Not much can be said about Darjeeling that has not been said already. Suffice it to say that it has remained an eternal favourite with every category of tourist as both a summer and winter destination. Not for nothing has it earned the sobriquet, 'Queen of the Hills', and not for nothing are tourism and tea the two economic pillars of the area. The name 'Darjeeling' comes from the Tibetan words 'dorje' (thunderbolt) and 'ling' (place or land), meaning 'land of the thunderbolt', and Darjeeling's long and chequered history is linked to that of Sikkim, the British East India Company, Nepal, and Bhutan.
As early as 1860, Darjeeling had already become an important tourist destination, and remains among the few locations in eastern India to draw large numbers of foreign tourists. In fact, the Darjeeling Himalayan Railway has long been a UNESCO World Heritage Site, only the second railway in the world to be thus honoured, and has been the subject of an award-winning BBC documentary.
In the 1980s and 2000s, the tourism industry was rocked by political instability in the region, but matters have improved since 2012. According to a survey published in December 2015, Darjeeling is the third most Googled travel destination in India.
It has also long been a popular filming destination for Bollywood and Bengali cinema. Satyajit Ray shot his film Kanchenjunga (1962) here, and his Feluda story Darjeeling Jomjomat was also set in the town. Big-budget Bollywood movies such as Aradhana (1969), Main Hoon Na (2004), Parineeta (2005) and Barfi! (2012) have also been filmed here.
The West Bengal Tourism Development Corporation runs the beautiful Meghbalika Tourism Property (formerly Darjeeling Tourist Lodge) which offers excellent accommodation at extremely reasonable rates.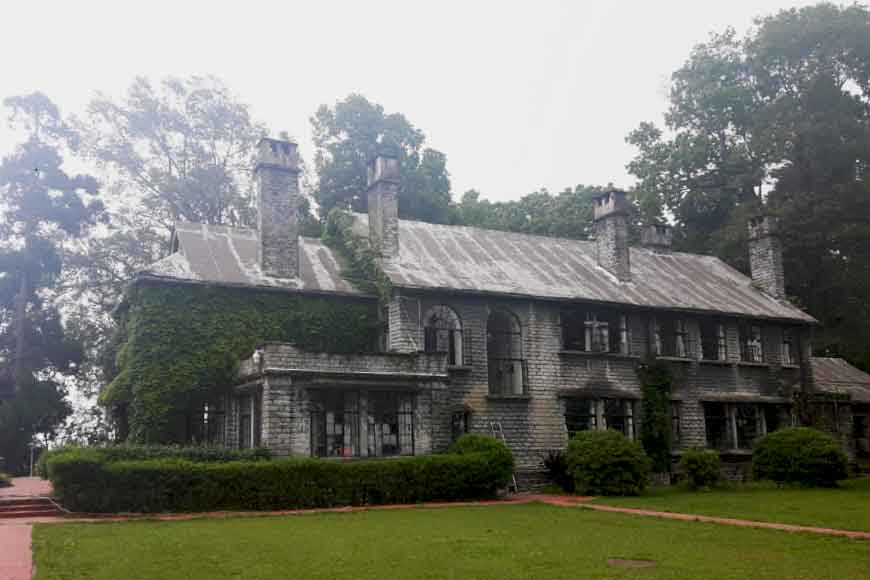 Kalimpong
Kalimpong is a town, municipality, and the headquarters of Kalimpong district. The district region falls under the Gorkhaland Territorial Administration, and has become a popular tourist destination owing to its temperate climate, beautiful environment, and proximity to other popular tourist destinations in the region.
One of Kalimpong's claims to fame is horticulture, which produces a wide array of absolutely stunning orchids. Its nurseries export Himalayan grown flower bulbs, tubers and rhizomes, all of which contribute to Kalimpong's economy. The Tibetan Buddhist monastery Zang Dhok Palri Phodang, another tourist attraction, houses a number of rare Tibetan Buddhist scriptures.
Kalimpong's town centre sits on a ridge connecting two hills, Deolo Hill and Durpin Hill, at an altitude of about 4,000 ft. Deolo or Delo, the highest point in Kalimpong, has an altitude of about 5,591 ft, and is worthy of a trip in itself. Mt Kanchenjunga, the world's third highest peak at 28,169 ft, is clearly visible from Kalimpong, provided the clouds aren't in the way.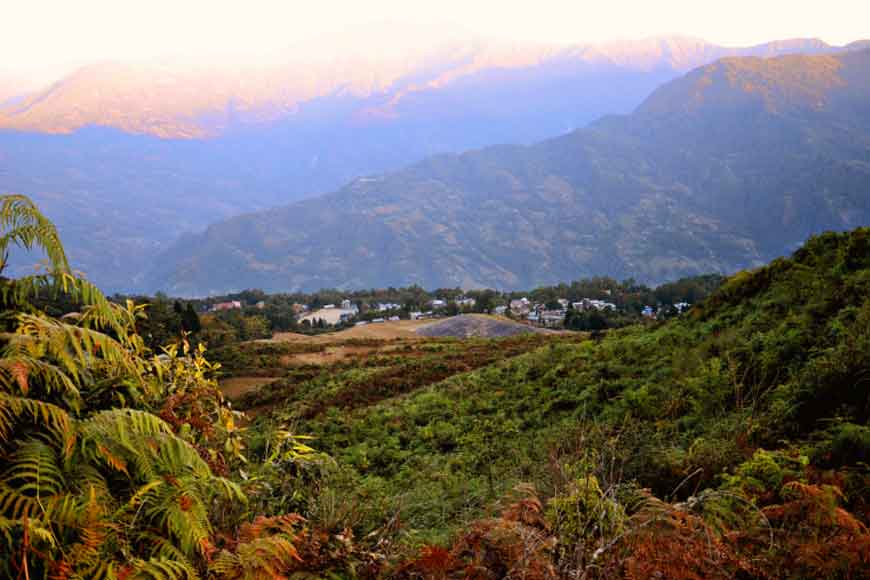 Pedong
Pedong lies 20 km east of Kalimpong on the way to Lava at an altitude of roughly 4,0oo ft. The town, which is located on a ridge, commands a spectacular view of Mt Kanchenjunga and other Himalayan mountains. Pedong is also historically important as it lies on the ancient Silk Road, which connects India to Lhasa via the Jelepla Pass.
Near Pedong are the ruins of Damsang Gadi, a historical fort built in 1690 by the Lepchas. After the Anglo-Bhutan War of 1864, the fort fell into disuse and decay. Damsang fort is the only fort in the entire district of Darjeeling, and was home to Gyabo Achuk, the last Lepcha king.
Another attraction here is Cross Hill, featuring a cross erected by Fr. Augustine Desgodins in memory of evangelists who had gone missing in Tibet, in the hope that someday they may return. Cross Hill offers a superb view of the mountains facing it, as well as the borders of Tibet and China.
Also of interest is the Sangchen Dorjee Monastery, one of the oldest in the Pedong-Kalimpong region, built during Bhutanese rule in the early 1700s. It has now become the centre of Shabdrung Rimpoche (known as the 'Dharma Raja' of Bhutan). The monastery is an important pilgrimage for the Bhutanese and other followers of the Drukpa Khargu Buddhist tradition.
Villages near Pedong include Sakyong, Kasyong, Dalep, Kagey, Upper Menchu and Lower Menchu.
For visitors to both Pedong and Kalimpong, the WBTDCL's Hilltop Tourism Property (earlier Hill Top Tourist Lodge) offers excellent accommodation.
For booking and other details of all the above locations, do contact
West Bengal Tourism Development Corporation Ltd.
Udayachal Tourist Lodge
DG Block (1st floor), Sec II, Salt Lake, Kolkata - 700091
Phone: 033 2358 5189
Email: visitwestbengal@yahoo.co.in, mdwbtdc@gmail.com, dgmrwbtdc@gmail.com
Website: https://www.wbtdcl.com/