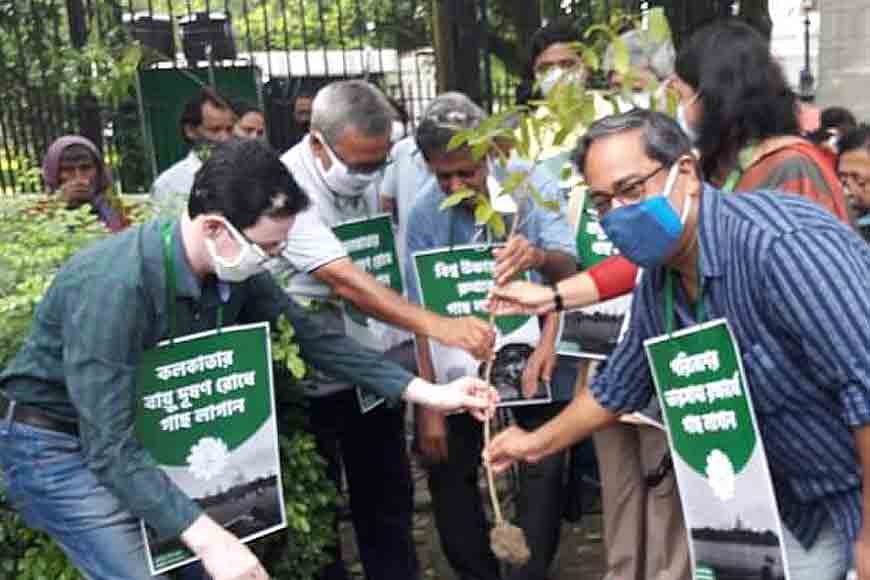 For two consecutive years, tropical super cyclones Amphan (May 20, 2020) and Yaas (May 26, 2021) ravaged coastal Bengal, Orissa and parts of Bangladesh. North and South 24 Parganas and East Midnapore districts of West Bengal were the worst affected. Over 5,000 trees were lost or damaged out of approximately five lakhs in Kolkata alone. Most of the trees that fell were very old and fully grown and had a large canopy. The Maidan known as the 'lungs of the city' has a rich history that extends over two centuries. Through cyclones as devastating as Amphan and Yaas, Maidan will surely resurrect itself. This year Paschim Banga Vigyan Mancha in association with Acharya Satyendra Nath Bose Smarak Bijnan O Prajukti Mela Committee initiated a tree plantation drive at Maidan recently.
Renowned thespian Debshankar Haldar was the chief guest at the event and he emphasized the need to plant more trees and nurture them to reduce the effects of greenhouse gas emissions, resulting in global warming. Other eminent guests at the event included environmental scientist Professor Tapan Misra and Tapan Saha, academician Professor Shyamal Chakraborty, Professor Biman Mukhopadhyaya (ex-Registrar, Indian Institute of Engineering Science and Technology, Shibpur (IIEST Shibpur and urban planner), Utpal Dutta, Achyut Chakraborty and Principal of Metropolitan Institution for Girls, Ms Bipasha Bandopadhya and district organizers and members of Paschim Banga Vigyan Mancha (PBVM). The initiative emphasized on motivating people to plant more trees because they are beneficial for our existence. As trees grow, they help stop climate change by removing carbon dioxide from the air, storing carbon in the trees and soil, and releasing oxygen into the atmosphere.

According to historical records, after the Battle of Plassey in 1757, Robert Clive started re-construction of Fort William (the original fort was built in 1696) which was completed in 1777. The fort was built amid a dense forest in Chowringhee which was infested with ferocious animals including tigers. The area around the fort was cleared and the Maidan became the 'Lungs of Calcutta.' It stretches for around 3 km in the north–south direction and is around 1 km wide.
Sir Harry Evan Auguste Cotton CIE aka Evan Cotton or H. E. A. Cotton, was a Liberal politician, barrister, administrator, journalist, historian and writer whose seminal historical and descriptive handbook of the city titled 'Calcutta Old and New' was published in 1909. In this book he wrote, "The great Maidan presents a most refreshing appearance to the eye, the heavy night dew, even in the hot season, keeping the grass green. Many of the fine trees with which it was once studded were blown down in the cyclone of 1864. But they have not been allowed to remain without successors, and the handsome avenues across the Maidan still constitute the chief glory of Calcutta. Dotting the wide expanse are a number of fine tanks, from which the inhabitants were content in former days to obtain their water-supply."
It is the duty of all Kolkatans to preserve the rich legacy we have inherited and none can shrug off their responsibility. It is our duty to make this world a better place for our future generation and only when you plant a tree, the next generation can get air for free.
(Translated by TTW)
Image Courtesy : Ganasakti