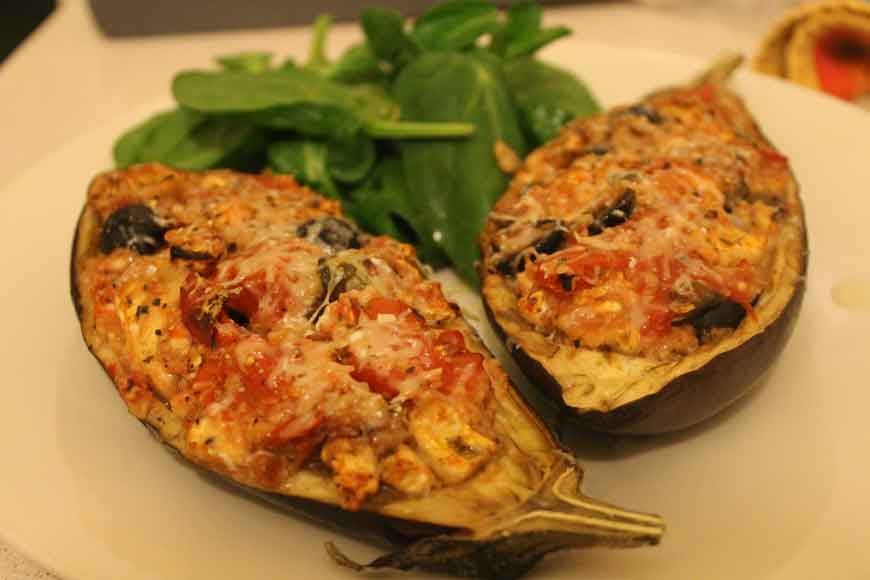 Have you heard of a strangely named dish called begun-puri? You must have heard of begun pora, that many Bengali households cook as an alternate to the North Indian begun bharta. Well, this is not just a strange dish as suggested by renowned author and an equally expert cook Leela Majumdar, but also tastes heavenly and a must for all meat lovers.

Begun puri (aubergines with mutton keema)
Ingredients
3 medium-sized aubergines
250 gm keema.
2 onions, 1 teaspoon of ginger.
2 ripe tomatoes, parsley.
Breadcrumbs, salt to taste and 3 tablespoons groundnut oil.
Method:
• Cut the aubergines lengthwise and scoop out the flesh in the middle, keeping a ½ inch radius. Keep it immersed in water, skin up to avoid discolouration.
• In a pan, heat a tablespoon of oil, saute the diced onion, ginger paste, tomatoes.
• Add the keema. Mix the scooped-out flesh of the aubergines.
• Cook till the oil separates, but don't make it too dry. You can add raisins and peas if you want.
• Now, remove the aubergines from water and pat them dry.
• Grease a flat tray and lay the aubergines on them, add the stuffing and then sprinkle breadcrumbs on top. Bake it for 20 minutes.
• You can also fry the stuffed aubergines in an egg-and-flour batter.