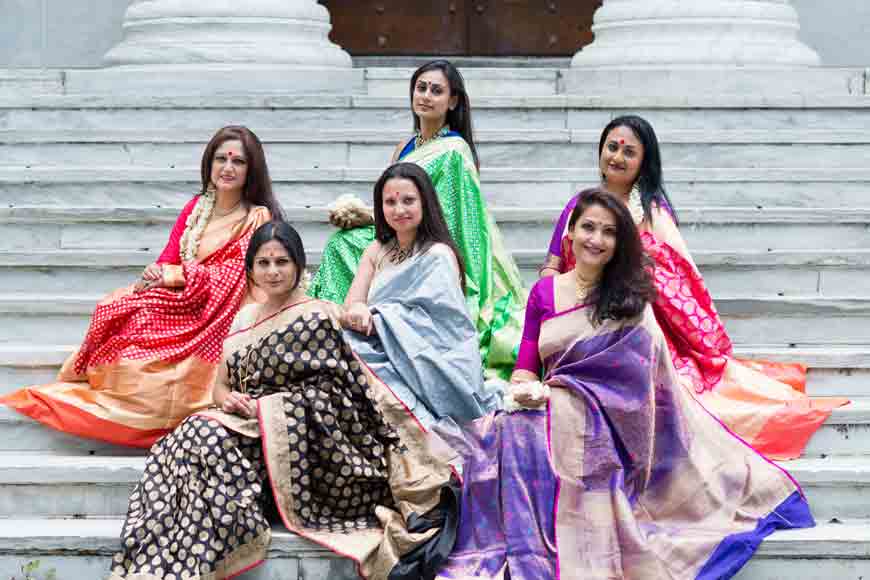 Mother of seven-year-old twins, Shumona Mitra from Philadelphia USA has relentlessly worked for the past decade to take the weaves of Bengal to a global platform and popularise them among various communities of USA. Her aim was simple: to complete a woman's personality. And she felt saree was the best medium to achieve that. She and her seven friends came up with a unique concept of advertising the drapes of Bengal and India, through Tagore's rendition of OloShoi and displaying the female bonding. Shoi as in Bengali means friends and through drapes of India she weaved the unending bond of love. Shumona's trunk shows of her brand Weaves, have always been a massive success in the USA, thanks to their varied and rare collection.
After conquering various states of USA, Shumona is back to her beloved City of Joy, Kolkata to hold a trunk show in the city.Her exquisite collection of benarsis, kanjivarams, silk, linen and Tussars will be on display in the city. However, the highlight of the show will be her fresh lot of Vriksh saris and her beloved jewelry line that she has named as Apala jewelry. She will showcase her collection in Kolkata on Sunday November 19 at Gallery Gold, 11 Abdul Rasul Avenue (near Menoka Cinema hall). If you happen to love exclusive drapes and wish to know which ones are a rage in USA, why not catch a glimpse of her collection between 1pm and 7pm?
Event Link : .facebook.com/events/170754746812734/
If you have any questions, you can call me at 987422-9291 or email me at shums66@yahoo.com.