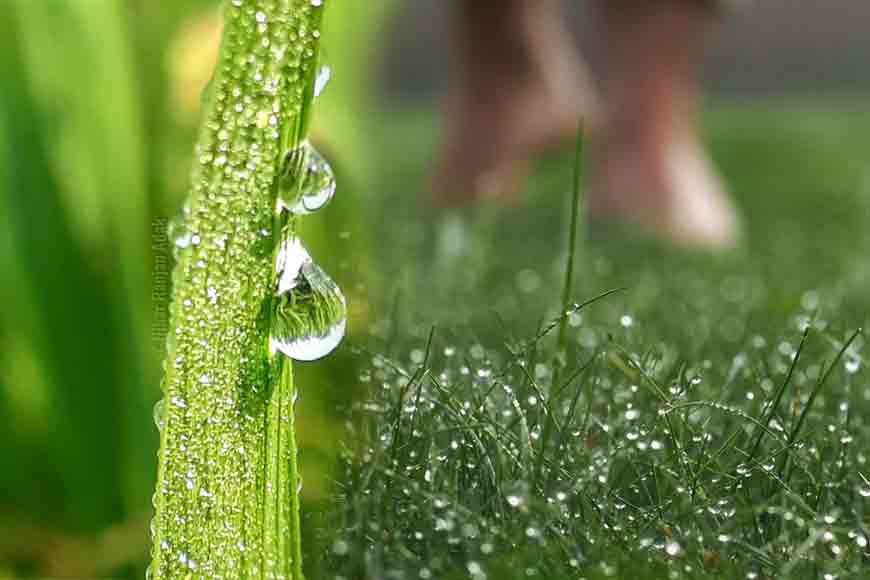 Photographs of dewdrops by Nihar Ranjan Adak
Walk me out in the mornin' dew my honey
Walk me out in the mornin' dew today
Earl Rose probably never walked barefoot on a misty morning along the dewy gardens of Victoria Memorial while writing this song for Grateful Dead in 1987, but I did in the same year as a child holding my mother's hands. That was my first lesson of 'Earthing' on dew-laced gardens of Kolkata on a late October dawn when the city usually gets an eerie misty aura of early winter every year. If Raindrops on Roses had been my idea of romancing wet in the rains, dewdrops were my adolescent encounter with reflexology.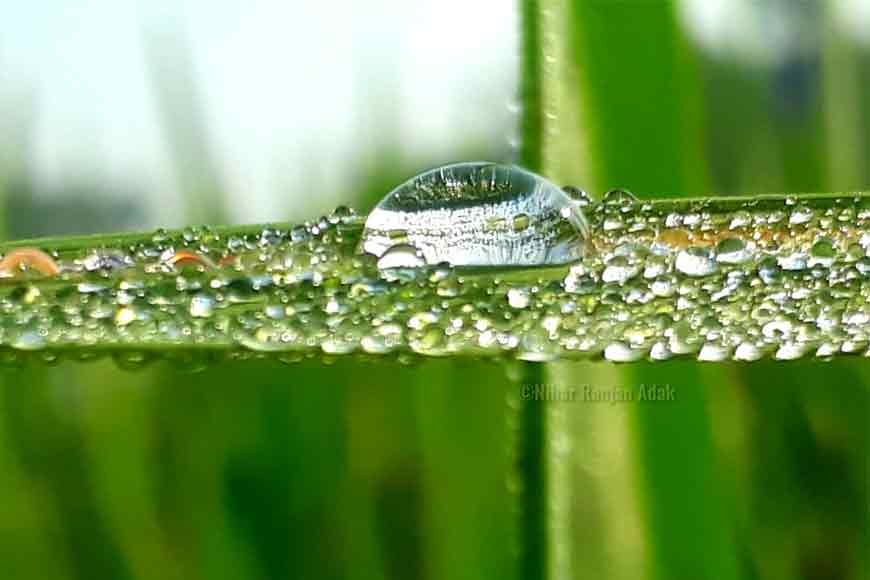 People across the globe enjoy walking on the grass barefoot in the early morning or late afternoon. In Kolkata those walks are taken to poetic high with hundreds of morning walkers descending every morning on the Lungs of Kolkata --- The Maidan. Once upon a time, they had a regular routine of Earthing either on the greens of Maidan, Victoria Memorial or the tracts off Mayo Road. The old man's wisdom words to cure all diseases if you walk on the morning dewy grass has waned much in present Kolkata, thanks to the dirt strewn over them. Not that civic authorities do not clean the area, in fact they do regularly, burning stubbles, carrying bits of paper, food plates often thrown recklessly by revellers, but in general urbanites seem to have lost their awareness. I have seen many revellers making their dogs poop on the grass. And who would ever wish to walk barefoot on that smelly stuff!
But to me, walking barefoot on the lawns of Victoria Memorial always meant touching the energy of the Earth, and embracing it down dew-laced grass blades, that spoke to me in hushed tones, as I closed my eyes and kept walking… into eternity? Well no, till I bumped into some fellow walker! But my romanticism with dews has a scientific reflexology chapter leafed out of a Fitness book too!
When I was diagnosed in my school days, of having a problem with my eye muscles, the doctor asked me to walk on the grass barefoot. And that's when my ever regimental and caring parents made it a point to take me to the lawns every morning. The earth is full of energies and getting in touch with these energies nourishes the body as well as the mind and soul. Our feet have many reflexology zones that correspond to various organs of our body, including the eyes. When we walk barefoot, we put maximum pressure on the first, second and third toes — the main pressure points, that are good for our eyes. Stimulating these points helps improve eyesight. It also helps the entire body stay healthy. In addition, looking at the green colour of the grass soothes the eyes. For eye health, morning dew on the grass is also beneficial.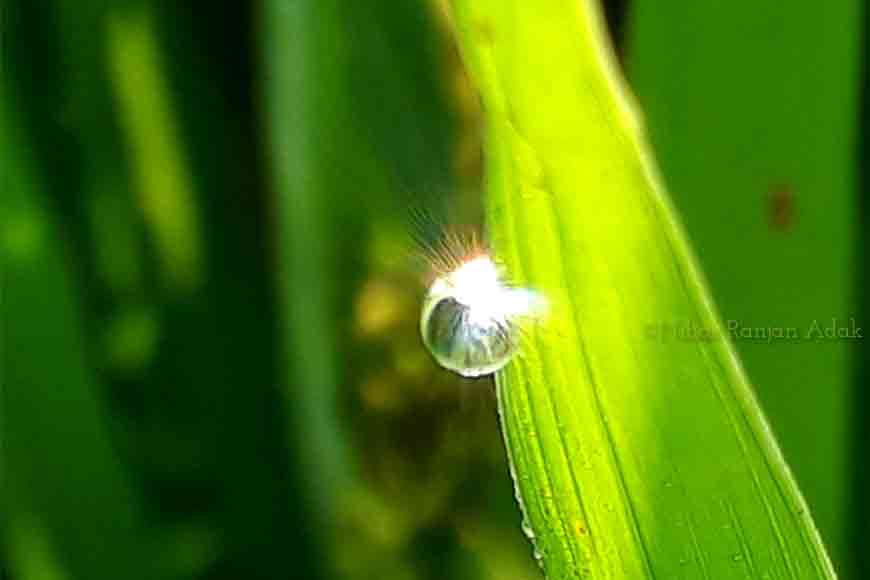 Walking barefoot is great exercise for the feet too. It strengthens and stretches the muscles, tendons and ligaments of the ankles and calves. This helps prevent injury, knee strain and back problems. It also improves flexor strength and is beneficial for people who have flat feet. Moreover, it helps keep the posture upright and reduces the risk of developing calluses, strains and stiffness in the soles of the feet. For me however, it was simple poetry. Just like Tagore yearned even after travelling continents to just seep in the pleasure of viewing a dew drop in his own garden, I too still yearn to be one with the warm sunlight and the cool dew drops.
This year again, as the mornings turn misty in Kolkata, I shall head to the lawns of Victoria or the trendy parks the city has come up with in the recent past. After all, my 'Earthing' now has new city destinations.;