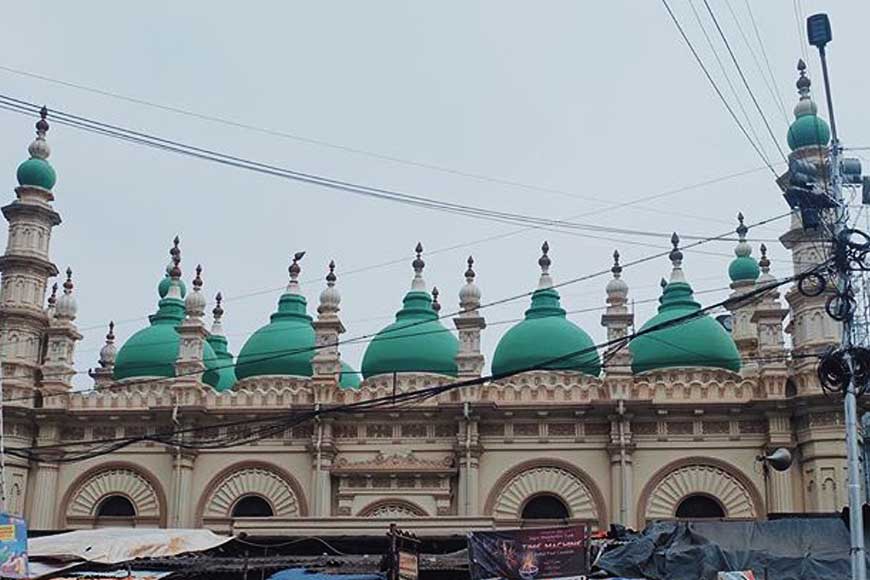 This is going to be a slightly longer walk, so it is perhaps best split into two. We will begin at Esplanade Row East, now known as Sidhu Kanhu Dahar, and proceed along Chittaranjan Avenue, through the heart of what used to be the aristocratic neighbourhood of old Calcutta, where prominent Bengali families built their mansions, many of which have survived to this day. Esplanade Row is an interesting location in itself, because it still bears remnants of the magnificent office buildings built by the British, some of which were taken over by the Indian government for use post-Independence.
Alongside these offices is Dacres' Lane, named after Philp Dacres, the Collector of Calcutta in 1773-74, and president of the Board of Trade from 1777-84. Not many know that the lane is now named after James Augustus Hicky, who in 1780 founded the renowned 'Hicky's Gazette', possibly the first printed newspaper in India.
Point A - Tipu Sultan Mosque
Situated at the Esplanade junction, this mosque was completed in 1842, funded largely by Prince Ghulam Muhammad Shah, the youngest son of Tipu Sultan of Mysore, whose family had relocated to Calcutta after 1806. Modest-sized and unpretentious, the mosque is swamped by rows of stationery shops and food joints, though the careful eye will detect a small pavilion with a marble plaque commemorating the 1875 visit of the Prince of Wales to Calcutta, erected by Nawab Asanullah Khan of Dhaka.
Diagonally opposite the mosque is the Church of the Sacred Heart, on Lenin Sarani. Though the exact year of its construction is not available, two memorial tablets near its entrance appear to indicate that it was constructed in the 1850s. The interior is quite charming, with beautiful stained glass windows and graceful pillars.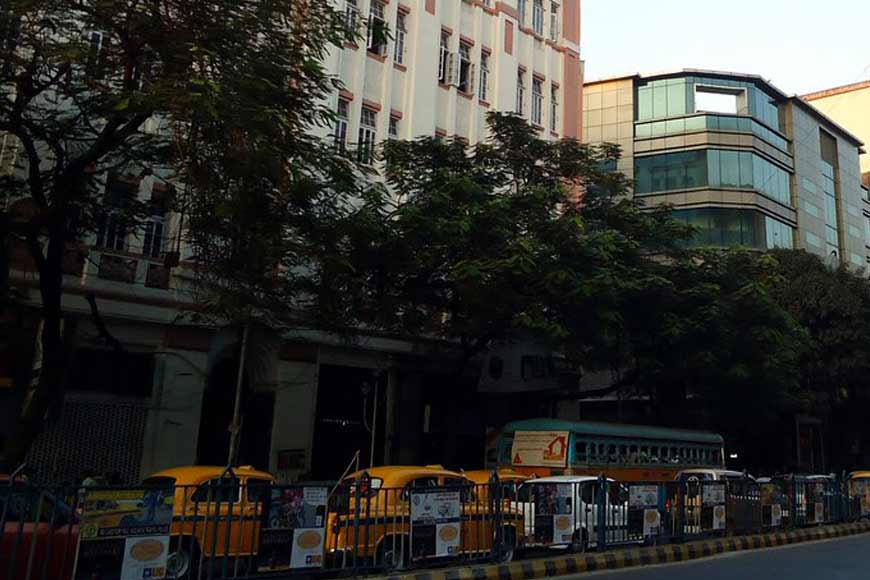 Point B - Chittaranjan Avenue
Turning right from Esplanade Crossing on to C.R. Avenue, the first edifice that catches the eye is Statesman House, home to the longest continuously published English newspaper from Calcutta. Though now only a shadow of its former self, the Statesman can truly be said to have grown along with Calcutta. The building itself is in a state of disrepair, but its wide balconies, huge pillars, and graceful arches easily recall its former grandeur. Also, this is one of Calcutta's more famous 'haunted' buildings, with many journalists willing to recount stories of their individual spooky experiences within its interiors.
Bang opposite is Victoria House (now CESC House), headquarters of the Calcutta Electric Supply Corporation (CESC). Incorporated in England in 1896, CESC supplies not only Kolkata but several adjoining areas with power as well. The large, stately building is unique for the globe on its rooftop, which is visible from quite a distance when lit up at night.
In front of the building is the statue of Sir Ashutosh Mukherjee, one of Bengal's most renowned intellectuals, a judge of the Calcutta High Court, and Vice-Chancellor of Calcutta University from 1906-14. Respected by Indians and the British alike for his immense scholarship and forceful personality, it was Sir Ashutosh who made Calcutta University one of India's preeminent centres of learning.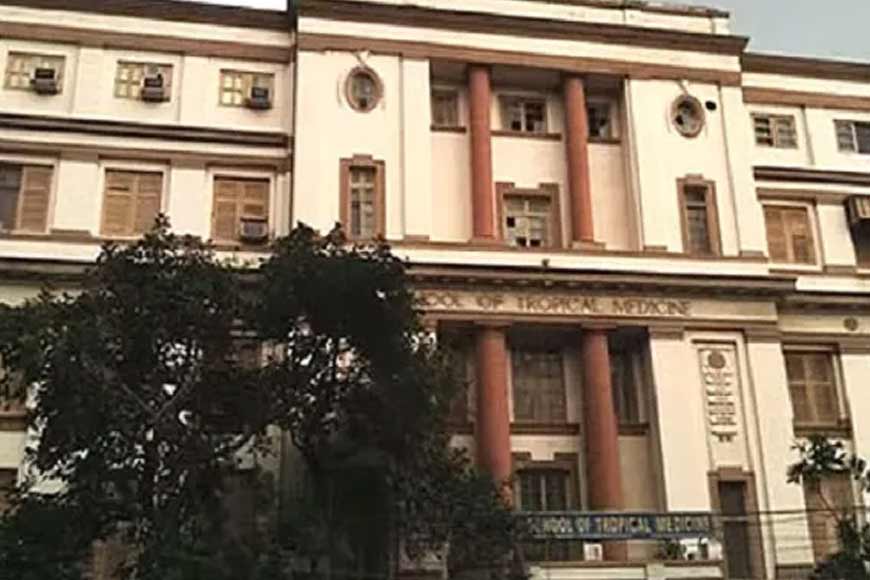 Point C - School of Tropical Medicine
A longish walk from CESC House along C.R. Avenue will bring you to the Mahatma Gandhi Road crossing, near which is the School of Tropical Medicine, the centre of some truly pioneering research in the fields of such deadly tropical diseases as malaria and kala azar. Established in 1914 by Leonard Rogers (1868–1962) of the Indian Medical Service, who was also professor of pathology at the Calcutta Medical College, it was affiliated with the University of Calcutta until 2003. It is now under the West Bengal University of Health Sciences.
Opposite the school is an old Shiva temple reportedly built in 1758 by Trilokram Pakrasi, Diwan at the old Fort William. A little further down, having gone past the M.G. Road crossing, you will come to Mutty Lal (Motilal) Seal Free College. Set up in 1843, this large, red-brick building is a symbol of Seal's dedication to the spread of education. Born in 1791, this self-made businessman amassed a large fortune through his interests in indigo, textiles, and shipping, but gave most of it away to charity. He is also credited with donating large plots of land for the setting up of Calcutta Medical College and Hospital.
Point D - Marcus Square
Interesting largely because at one time, this was an extended water body known as 'Bysack's (Basak's) Dighi', the property of one of the city's oldest aristocratic families. The entire area was known as Kalabagan thanks to the large banana orchards covering it. Today, Kalabagan is known mostly for its slums. In front of the square stands a mosque built unusually of red brick, with a slightly odd bell tower or minaret surmounting it. Opposite this is the Vishuddhananda Saraswati School, once again constructed of red brick.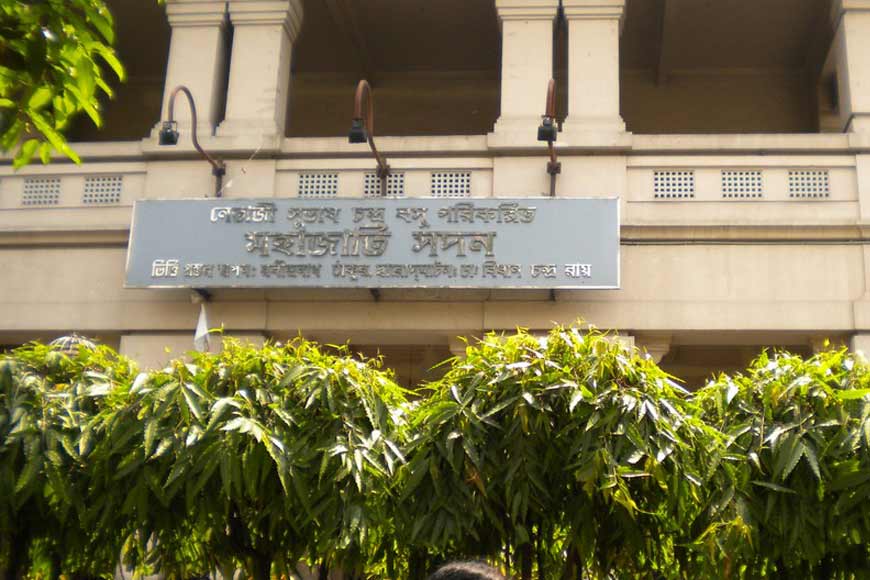 Point E - Mahajati Sadan and Marble Palace
This beautifully designed 'aat-chala' style building was conceptualised by Netaji Subhas Chandra Bose, the foundation stone being laid by Rabindranath Tagore in 1939, a few years before his death. Finally inaugurated in 1958 by then chief minister Dr Bidhan Chandra Roy, the three-storeyed building holds many memories of the past, and its auditorium remains an important venue for cultural events and gatherings.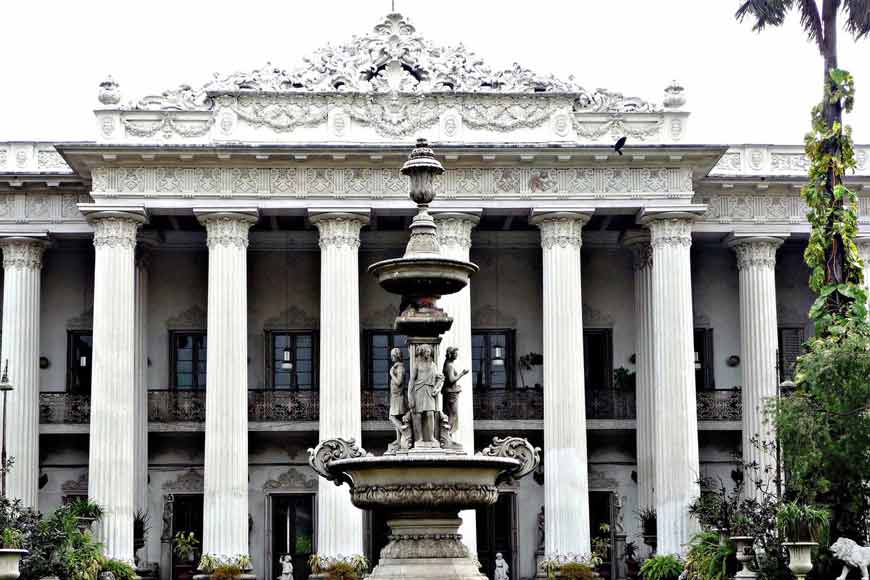 Almost directly opposite Mahajati Sadan is the entrance to Muktaram Babu Street, the site of the Marble Palace. Still one of the best preserved old residences of 19th-century Calcutta, its origins lie in a Jagannath temple constructed by Nilmoni Mullick in 1821. The low, flat-roofed temple is still part of the compound, but is accessible only to members of the family. Nilmoni's adopted son Rajendra Mullick built the huge residence which came to be known as Marble Palace adjoining the temple in 1835. Entry to the palace is obtained via a permit issued from the West Bengal Government Tourist Office in BBD Bag. Trained staff are available to show you around. Once inside, the grandeur of the 'thakur dalan', the huge banquet hall with its multicoloured marble flooring, the mini zoo and aviary, and the original artworks by Joshua Reynolds, Reubens, and Murillo are breathtaking.
A stone's throw from the palace is Jorasanko Thakurbari, which we mentioned in one of our earlier walks. Next week, we will continue on our trail down the heart of Kolkata, catching up on some important cultural institutions.