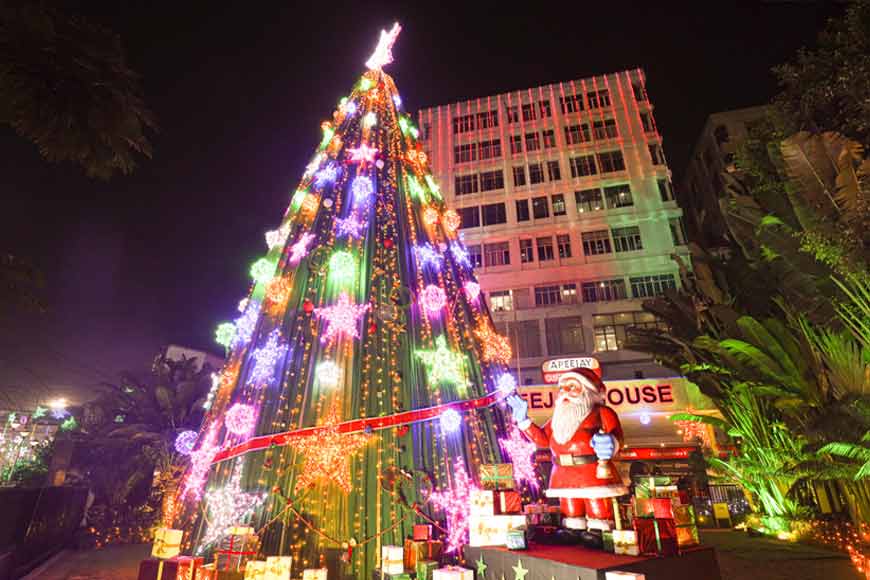 How tall can a Christmas tree get? Well, in October of this year, the world's tallest natural Christmas tree was set up in the city of Enid in Oklahoma, USA. Standing 140 feet (42.6 m) tall, the towering tree was transported neary 2,000 miles from a national forest in California. Apart from this monster, the USA is home to quite a few other immensely tall Christmas trees, such as the 79-foot creation at New York's Rockefeller Center, or the 115-foot giant placed in a Los Angeles shopping mall in 2019.
Does Kolkata, with its apparent record of the 'world's tallest Durga idol' (think Deshapriya Park), come close? If not close, there's certainly decent competition being offered by the Christmas tree at Apeejay House on Park Street, which the Apeejay Surrendra Group claims is the tallest in the city.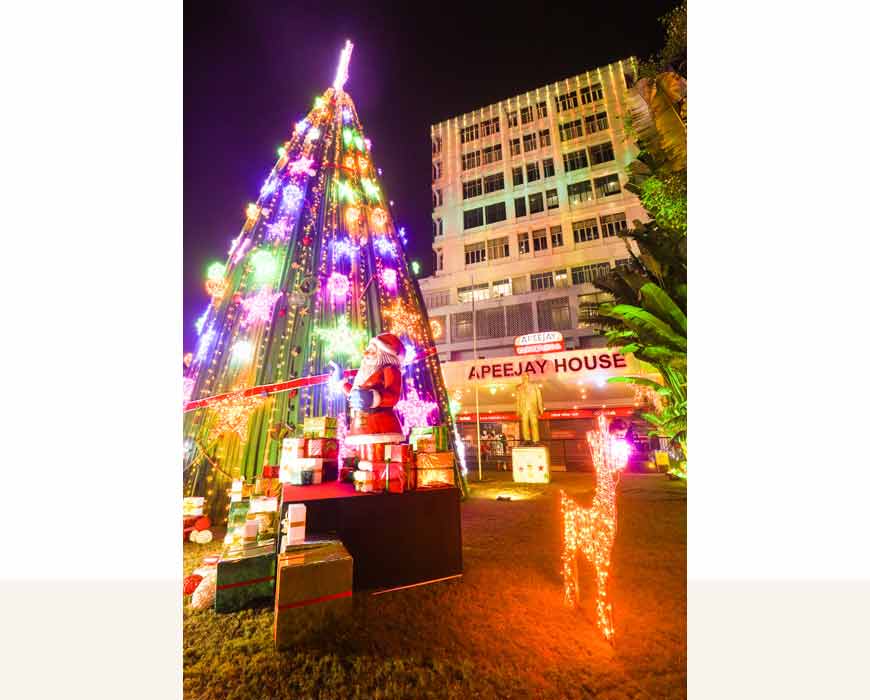 The 50-foot tree has a 4-foot star on top, which raises the total height to 54 feet. It is also 30 feet in diameter, which makes it a very respectable size if you consider that even the White House only has a 35-foot tree. At Apeejay House, a 7-foot Santa Claus and a 7-foot fairy stand next to the tree. And close to Santa are his reindeer, in the form of a 7-foot by 5-foot installation showing his fastest reindeer Dasher, followed by the affectionate Cupid and Santa's favourite Rudolph.

The Christmas decorations have been put together by Apeejay Real Estate and conceptualised and designed by Priti Paul, Director, Apeejay Surrendra Group. They have been open for public viewing from outside the Apeejay House premises from December 23, 2021 and will remain on view until January 3, 2022. The decorations were formally inaugurated by Minister of Agriculture Sovandeb Chattopadhyay on December 23.
The Apeejay Christmas tree has been adorned with 161 big and small stars, 350 balls, 300 bells and 100 gift boxes. Over 12,000 LED sparkle lights and more than 1,50,000 LED rice lights have been used to light it up, and the exterior of Apeejay House has also been suitably illuminated. A company press release says 25 people worked for 10 days to give shape to the 54-foot Christmas tree.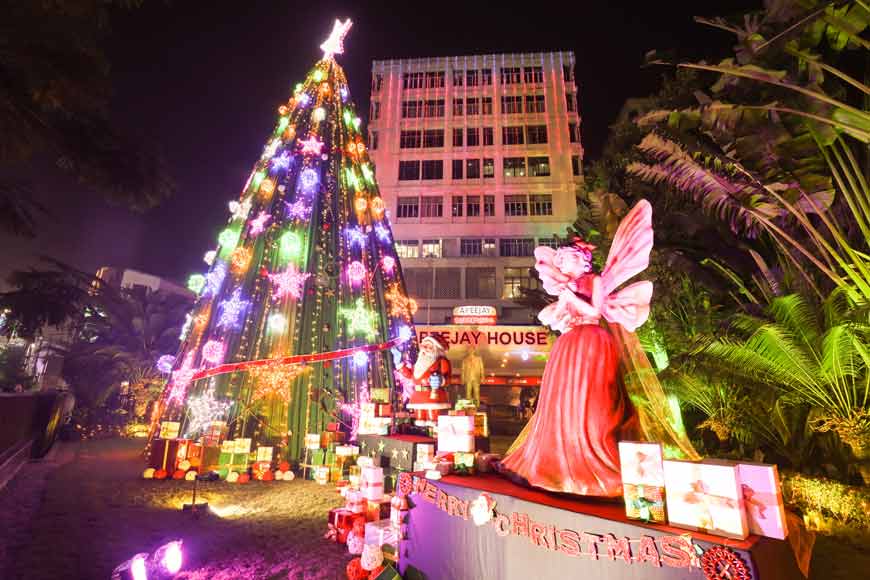 Park Street has always been the hub for Christmas revellers in the city, and by virtue of its location, Apeejay House has been the starting point for Christmas decorations along Park Street from the Chowringhee Road end. "We are happy to add to the Christmas spirit of Park Street and hope that our installations this year will complement the Kolkata Christmas Festival or the Park Street Festival as many call it," said Apeejay Real Estate CEO Shouvik Mandal.