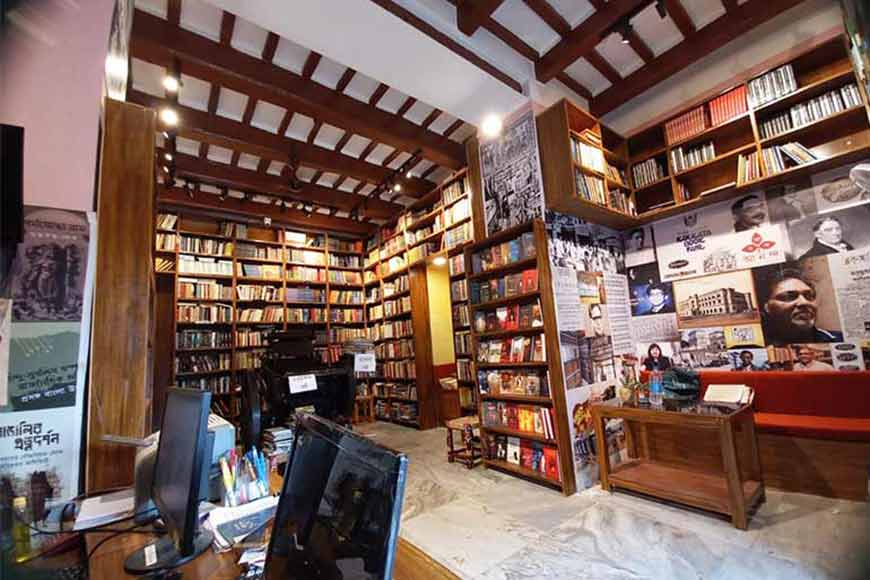 It was the late eighteenth century. After the Battle of Plassey, Bengal went through big political changes. Gradually, that change was starting to be apparent in literature, culture and the society of Bengal. Holding the hands of Charles Wilkins, the first Bengali alphabets were being printed in Chuchura (today's Chinsurah), Hooghly in 1778.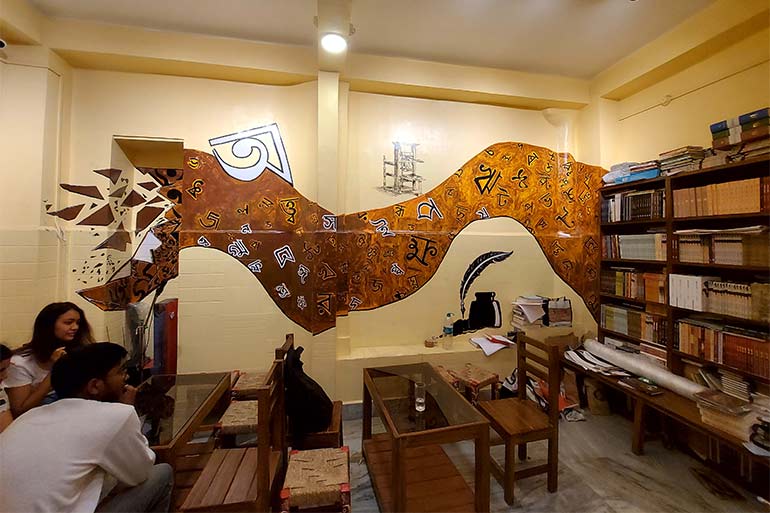 But how did Bengali alphabets get past the first printing era to today's digital era? If this question suddenly arises in your mind and you want to go on an expedition to find the answer, then you should definitely visit "Abhijan," West Bengal's first thematic book café situated in Kolkata's Boi Para. Get to know the language-loving individuals from "Epaar Bangla" and "Opaar Bangla," who have enriched the Bengali language in one way or the other. Meet the ones who are positively responsible for preserving the language, you can spend some time here with books and a cup of coffee.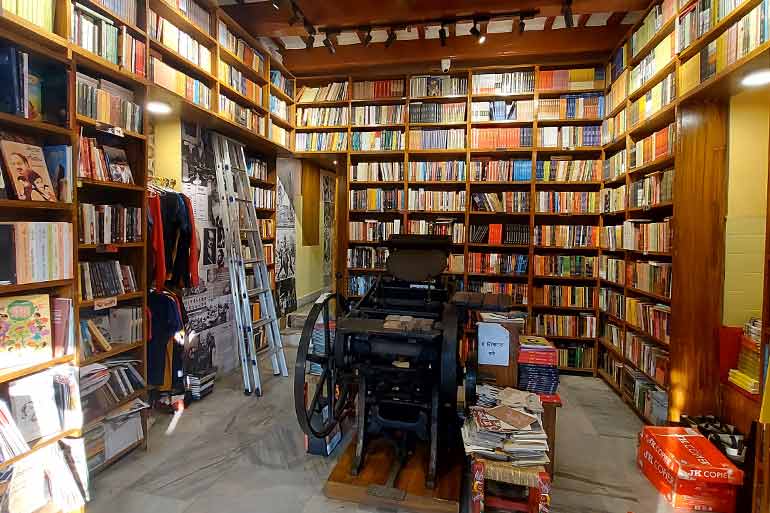 Every year the crowd at the annual book fair proves that even in this digital era, bookworms dominate the world. And not only that, every day the lanes of College Street become a witness of Kolkata's love affair with books. Though during Durga Puja, theme-based pandals or theme pujas are familiar to us, the concept of theme-based bookstores is something quite new. Maruf Hossain, the owner of Abhijan Book Café and the prime figure behind Abhijan Publishers is the one who introduced Bengalis to this new idea.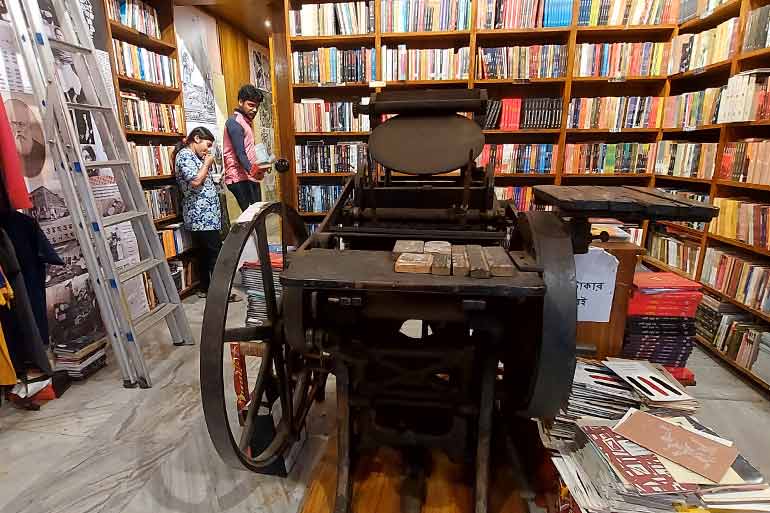 According to Maruf Hossain, "This is West Bengal's first thematic bookstore, it has been decorated depending upon a specific theme." The very first Bengali thematic bookstore was opened in Chittagong, Bangladesh, a branch of the renowned "Batighor". The store has been modelled after a ship's lighthouse. Later, they opened stores in different places in Bangladesh such as Sylhet, Rajshahi etc. These stores have been decorated based on different historical places. Hossain often used to visit Bangladesh and it made him think of opening such a store in Kolkata as well. Thus was born Boipara's 'Abhijan Book Café' whose theme is the history of printing of Bengali alphabets and 244 years of publishing. But why did he choose a topic as broad as Bengali printing as a theme? To this question, he said, "When I was thinking about it, writer, Shudhasatta Ghosh suggested me to think of the time when Bengali writing began, how it has been carried on through all these years. His advice made me think of working on the printing of Bengali alphabets. After that, I started studying it in depth and the shop was inaugurated in August after completing the necessary ancillary works.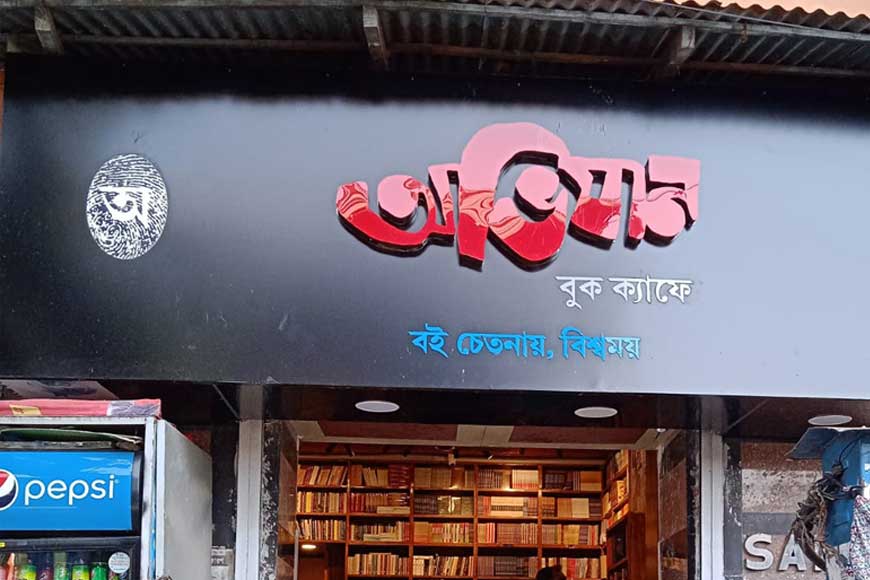 When entering the 'Abhijan Book Café' the old printing device will attract the attention of people. The walls seem to talk, history speaks here. The innumerable pictures of linguists from two Bengals – Bangladesh and West Bengal and the examples of their work, call you to a journey to know our mother tongue in a better way. Besides that, there is an opportunity to buy books at discounts. And people who live far away can order the books through Whatsapp.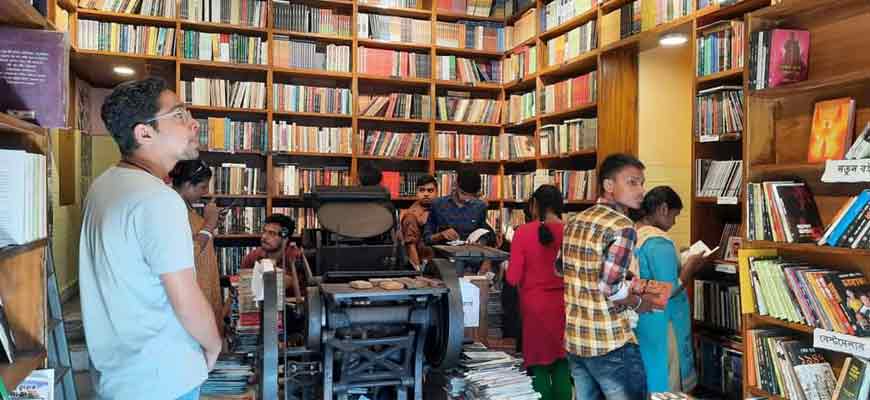 Books are our best companions in late afternoons or tired evenings after a long day of work. Even though we have become used to e-books, we still have the enthusiasm to buy new books. To satisfy curiosity and quench the thirst for reading books, you can visit the Abhijan Book Café, beside Mahabodhi Society, opposite College Square.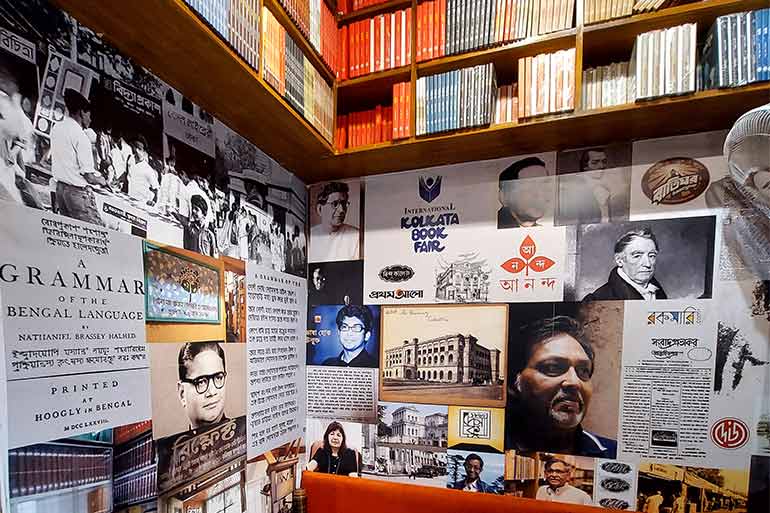 The inauguration of the bookstore was done by Publisher Sudhanshu Shekhar Dey, writer Kamal Chakraborty, Amar Mitra, Sandeep Dutta, the founder of Kolkata Little Magazine Research Center, Bangladeshi publishers Dipankar Das, and Maniruzzaman Mintu, binder Asim Das, press worker Dipankar, et el. Publisher Rupa Majumdar, Noor Islam, Poet Rudra Goswami, Basab Dasgupta, Writers Sameeran Das, Sukanti Das, Shuddhasattva Ghosh, and about two hundred readers were present on that day. The publishing house Abhiyan Publishers has already made a mark in the readership.
Abhijan Café is open daily. Monday to Saturday - from 10.30 a.m. to 8.30 p.m. Sunday – 11 a.m. to 8 p.m.