Babarsa from Khirpai, Bengal, finds its doppelganger in Ghevar, a Rajsthani speciality - GetBengal story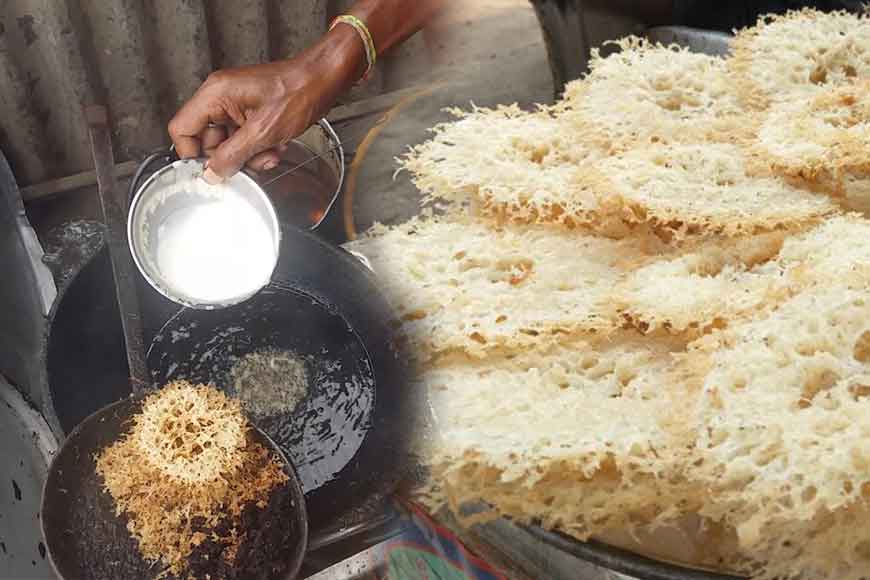 Thanks to the rising use of social media platforms and online encyclopedias, many of us are now updated about the diverse cuisines found in India as well as around the world. Since time immemorial, desserts have topped the list of being the most favourable to the food lovers. Bengal has a rich heritage of having innumerable varieties of desserts and is definitely much more than just "rosogolla' or "mishti doi"! Many of these sweets have secured a permanent place in the hearts of people, while a lot more have been discarded with time.
Babarsa, a complex dessert coming from a tiny Bengal village named Khirpai, is one such delicacy that dates back to 250 years ago. Khirpai is located in Ghatal Mahakuma, Paschim Medinipur, and has its name etched in history because of Babarsa. To prepare this sweetmeat, tiny drops of water-mixed maida are dripped on boiling ghee in a specific pattern. Some prefer spreading powdered cashew nuts over it. As the maida-made structure turns brown in colour and gets hard, it is gently lifted and kept aside. Finally, the crispy Babarsa is served with a spread of honey.
What sets Babarsa apart from other desserts is the interesting historical stories that are intertwined with its creation. On delving deep, we came across two completely different stories, both of which seemed reliable to some extent. The first account says some of his subjects gifted an assortment of this sweet delicacy to Badshah Babar. The great Mughal emperor was completely blown away by its taste and praised the dessert highly. This led to the dessert being named after the ruler. However, the other account seems more reliable in every aspect.
During 1740–50, Khirpai faced its doomsday. Troups of Maratha hooligans (Bargis) began looting the quaint village and attacking its residents. Horrified, people started leaving their homeland, and that was when an Englishman named Edward Babarasa came forward to help. He defeated the Bargis and restored the glory of Khirpai. It was to express their gratitude to Edward Babarasa that a local sweet shop came up with the very innovative ghee-fried maida dessert. As a tribute to the great foreigner, the sweet got its name, 'Babarsa'.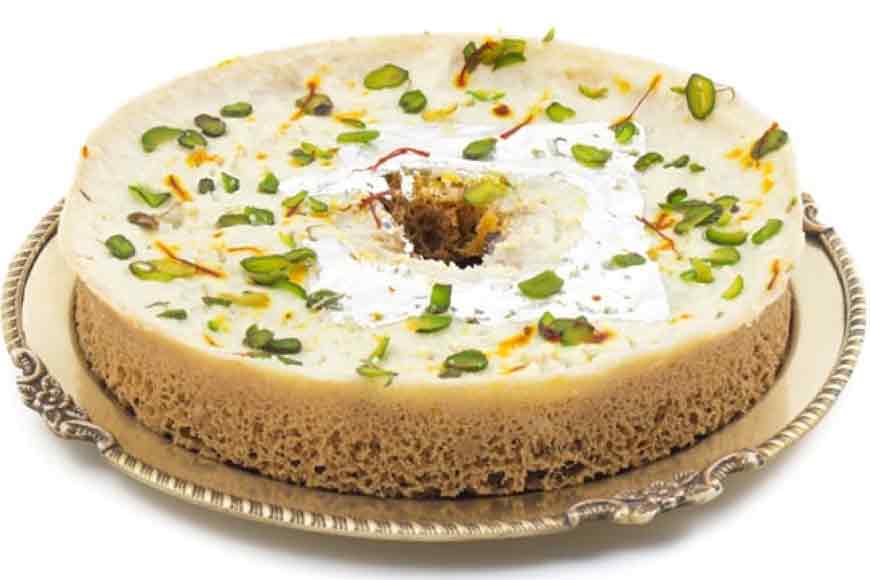 Ghevar, a Rajasthani delicacy
Interestingly, Babarsa, invented in a nondescript Bengal village, is highly similar to Ghevar, a Rajasthani delicacy. From the choice of ingredients to the making process, it is almost impossible to set the two apart. The only difference is that Ghevar is dipped into sugar syrup as soon as it is prepared, while Babarsa is preserved in its dry form and only dipped in syrup when it is finally served. Ghevar has its roots in Jaipur, Rajasthan where it stays mostly in demand during festivals like Teej and Rakshabandhan. It is slightly less crispy than Babarsa and is served with a wholesome spread of rabri.

In spite of being so rich in historical significance and taste, Babarsa never got the exposure that it deserved. The main reason is that its price is always on the higher side. It is almost impossible for any sweet maker to sell a dessert made with ghee and honey at a lower rate. To cut down on expenses, most shops nowadays prepare Babarsa by frying it in dalda instead of ghee. The cashew powder part is completely skipped. And finally, honey has been replaced with sugar syrup. Although this may help reduce the cost, it also reduces the authenticity of the taste. Due to falling sales, many sweet shops have opted out of making Babarsa. Currently, only a very few sections of Khirpai sweet makers still strive to enliven the art. We hope their continuous pleas help Babarsa gain the GI (Glycaemic Index) tag and save it from falling into oblivion.