Bengal boy Debasmit Ghosh wins gold medal at International karate Championship in Dubai!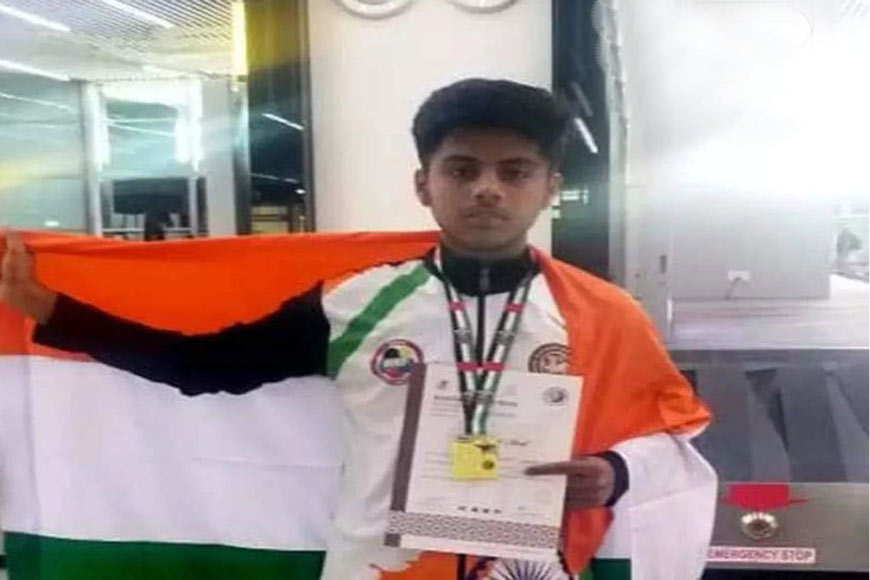 Residents of Pero Harishpur in Udaynarayanpur Block, Howrah have been in a celebratory mood since April 30, the day their 'para' (local) boy, Debasmit Ghosh, won a gold medal in Black Belt Karate at the International Karate Competition held in Dubai. He had participated in the under-18 category, which was the highlight of the event. This is a proud moment for Ghosh whose years of dedicated training has finally paid off. Ghosh created quite a stir at the event and was applauded by karatekas watching him execute his kicks and punches with a full-throated roar with great panache.
His neighbours are jubilant while reminiscing about the young lad's bellowing 'Kiai' (Karate battle shout) that often reverberated in the locality at odd hours as he practiced his moves in his house. Ghosh is a 10th-grade student of Chaltakhali Raigunakar Bharat Chandra Shiksha Sansthan in Udaynarayanpur.
Karate is one of the most popular and practiced martial arts in India. The sport grew in popularity in India in the 1970s and 1980s. It all started with Bruce Lee's 'Enter the Dragon' which was released worldwide in 1973 and he became one of the biggest pop culture icons of the 20th century. He was renowned for his martial arts prowess and helped popularize martial arts in the 1970s. His films gained a large cult following as did martial arts and karate in particular. Martial arts enthusiasts looked for training institutes for disciplined coaching.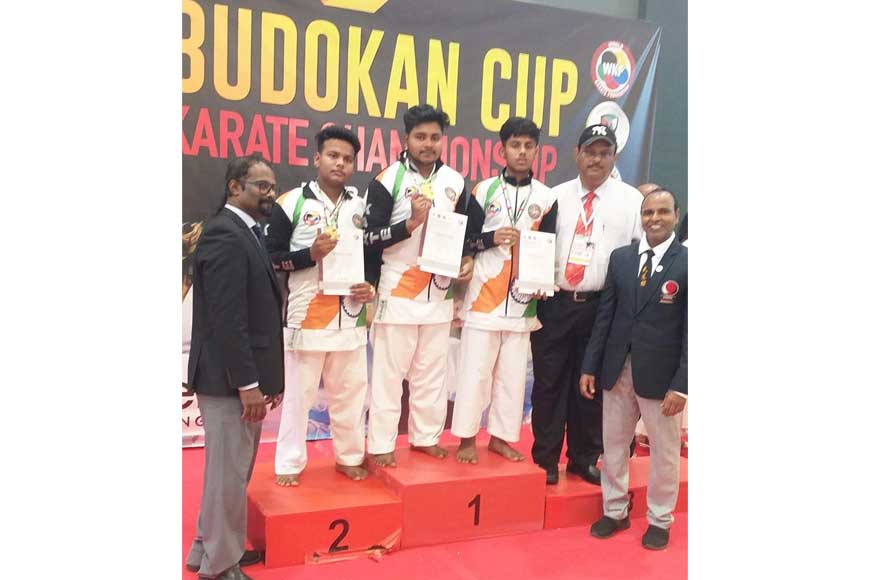 Debasmit has been training in karate under Shihan (master instructor) J.P Das of Pero Sangathini Club, Udaynarayanpur for the last nine years.

Earlier, he had clenched gold medals in district, state, and national level competitions. But this time he has won a gold medal in an international competition.
The Karate Association of Bengal (KAB), previously known as West Bengal Karate Association was set up by legendary Karate Master Shihan Anil Sinha; his relentless endeavour to reach out and popularize the sport had a very positive effect and youngsters joined in droves to train under expert sensei (a name attributed to a karate instructor or teacher). Sinha handed over his mantle to Shihan Sattrajit Chowdhury who continued training young aspirants. Shihan Premjit Sen and Shihan Joydeb Mondal are now engaged in mentoring youngsters and even organize free coaching camps for school students in different parts of the state. The association has been hosting various competitive events to encourage youngsters in the state to join this sport. Karate is a striking-based martial art, which includes punches, blocks, kicks, and open-hand strikes. It does not require full-contact sparring like boxing and MMA. This makes it safer for children and the factors contribute to the growth of Karate globally.

Debasmit took to karate from a very young age and has been training diligently for almost a decade now to attain the goal he had set for himself. His family is elated and the family members do not hesitate to give full credit to him for his perseverance and for putting in hours of labour to attain his dream. Debasmit has been training in karate under Shihan (master instructor) J.P Das of Pero Sangathini Club, Udaynarayanpur for the last nine years. Earlier, he had clenched gold medals in district, state, and national level competitions. But this time he has won a gold medal in an international competition. The medal has motivated the youngster who is now determined to participate in more such global events in the future and win medals for his country.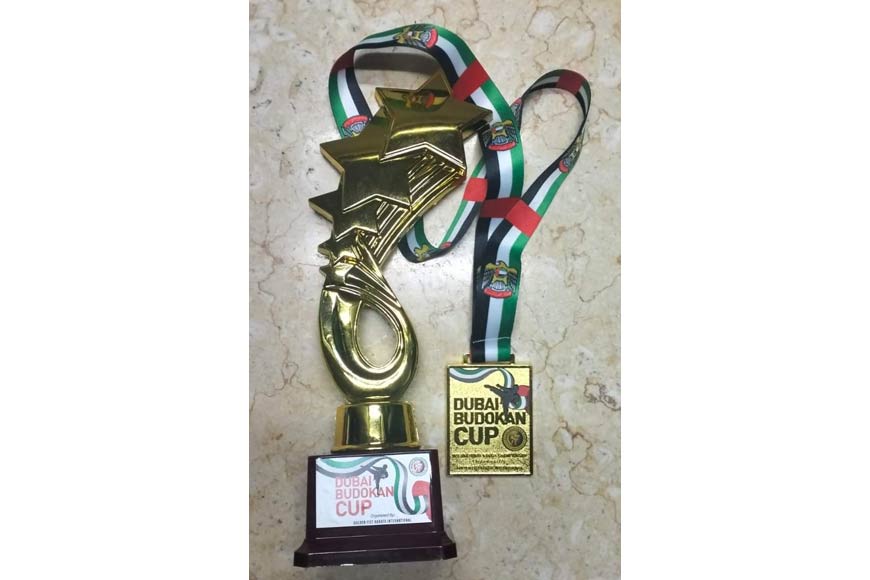 In this context, it is worth mentioning here that the black belt is the highest in Karate, and thus the most coveted. Only about 3-5% of people who start training in Karate complete their journey to earning a black belt which is a prestigious honor. In recent years, young karate exponents from Bengal have made not only the state proud but also the country, as they have been going on a winning spree, attaining medals in the South Asian Championships, Commonwealth Karate Championship, Asian Karate Federation, et al. Take, for instance, Sub Junior National Karate Champion young Arinjita Dey of Barasat, whose gold medal haul came in for three consecutive years; 2017, 2018, and 2019 (Gold and Silver medal). Arinjita then went on to win a silver medal in the World Youth Cup in 2019, in the under-12 age group category. The tournament was held in Umag, Croatia. Earlier in 2018, at the Commonwealth Karate Cup she represented India, and clinched two Silver and one Bronze medal in Durban, South Africa. Ayesha Noor, the 'Golden Girl of Kolkata,' whose poverty-stricken journey from the slums of Beniapukur in central Kolkata to representing India and winning three gold medals for the country at prestigious international karate championships, makes her a fierce force to be reckoned with. Her first win was in 2010, followed by winning gold again in Bangkok in 2013 and 2015. In recognition of her success in karate, the UK's prestigious media organization A-One Global TV honored Ayesha Noor with the A-One Global TV Award, in 2017 the US government conferred the 'Hero of Gender Equality,' and Songoti presented her with 'Tejaswini' award in 2020.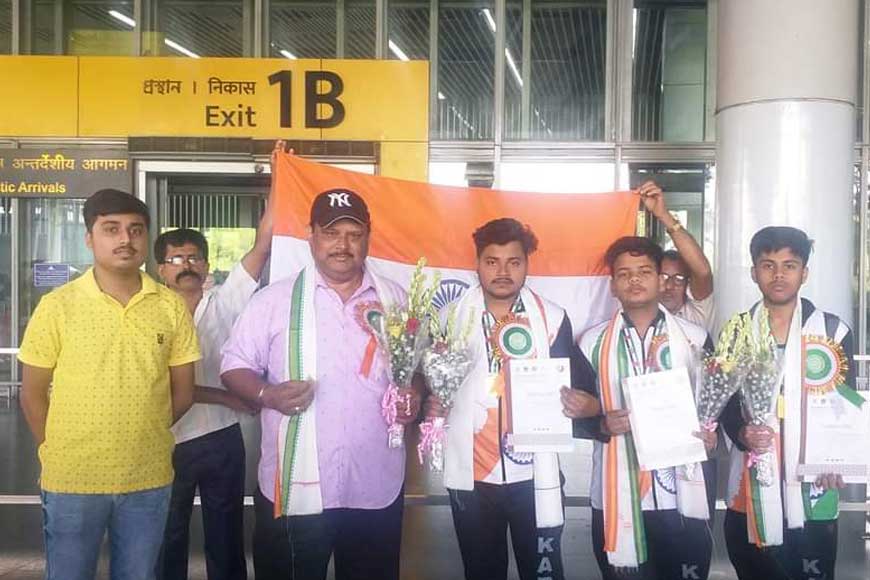 Meanwhile, this year, not only Debasmit, but five young contestants from the East Midnapore district have made us all proud with their magnificent feat. These school children won gold in the international karate competition, defeating competitors from various Asian countries including Nepal, Bhutan, Bangladesh, Myanmar, and Sri Lanka. The Sports Festival International Karate Championship was held at OAT Stadium on April 30. From third-graders to eighth to 10th graders demonstrated their expertise in their specific categories, outmaneuvering all their opponents from different parts of the country, who fell like nine pins before such a deft display of karate. Amit Maiti, a class III student of Bhagwanpur, Moushumi Giri of Class VIII, Arpita Das, Suprakash Acharya and Pallavi Bhuiyan of Class X displayed grace and confidence and took in all the praise graciously. Families, residents, and officials of the training center are all happy with their success. Their school is also proud of the achievements of these gold medalists.
Social workers Sandeep Maiti and Lipika Maiti have set up a free karate training organization 'The RCM Swapnil' at Mugberia in Bhagwanpur Block No. 2. About 2000 aspirants from Bhagwanpur have been imparted free karate training under the initiative of this organization. Sagar Khamrai and Prashant Singh, the two trainers have been teaching the five children and they have been accompanying their wards to different cities for participating in state, national and even international karate meets. Trainer Khamrai believes the children's long training sessions and practice have worked like magic and have boosted their confidence to compete with children from abroad. As a result, his pupils have won gold medals.