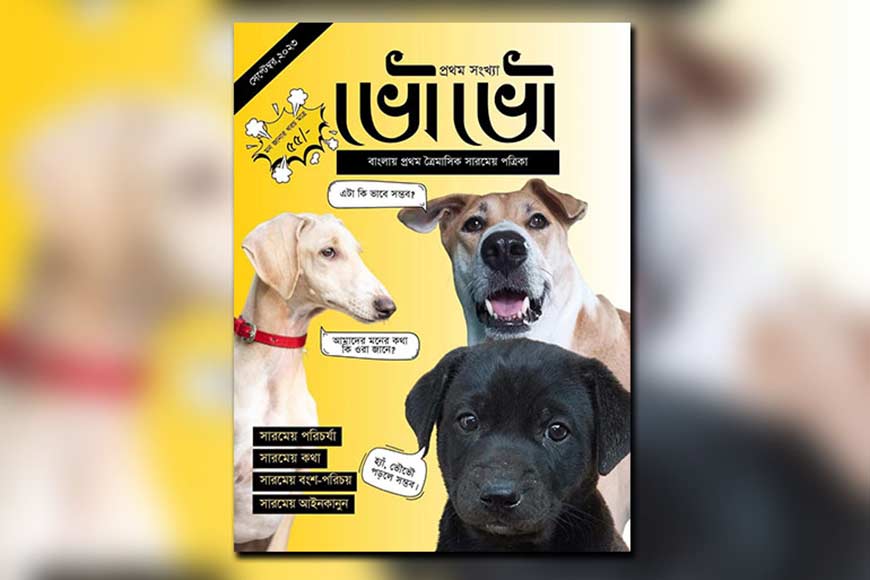 'Bhau Bhau', Bengal's first 'dog magazine'
The human-canine bonding can be traced back to at least 15,000 years ago to the Bonn-Oberkassel dog, who was found buried alongside two humans. For centuries, dogs have been man's best friend and the two have co-existed and bonded seamlessly. Because the bond between human and dog has been strong and enduring throughout centuries, the roles of dogs in human societies are an excellent source of study for archaeologists, biologists, and ethno-biologists. However, in today's hostile universe riddled with violence, most people have become impatient, insensitive and ready to annihilate at the drop of a hat. However, living in the midst of this hysterical, homicidal world, it is heartening to note that there are compassionate, loving and caring souls who work diligently to make this world a better place where all living beings can co-exist in harmony.
In recent times, there has been an increase in the number of pet parents taking in full breed dogs as pets but stray dogs lead a miserable life.These homeless dogs survive by scavenging rubbish. Unfortunately, fear and ignorance have led a majority of people to see street dogs as nothing but a nuisance and to seek eradication using inhumane methods such as poisoning and beating. Sanchita Pal, a die-hard dog lover whose mission in life is to help street dogs live with dignity. She has set up the Sparsh Animal Protection and Welfare Society, Chandernagore, to strengthen this bond between humans and stray dogs. Volunteers of her organization not only feed the stray dogs of Chandernagore area every day, but also take up the responsibility of treating ailing dogs of the town and its adjacent areas. To sensitize more people and convert them into dog lovers, her latest venture is 'Bhau-Bhau', Bengal's first quarterly dog magazine for all pet parents.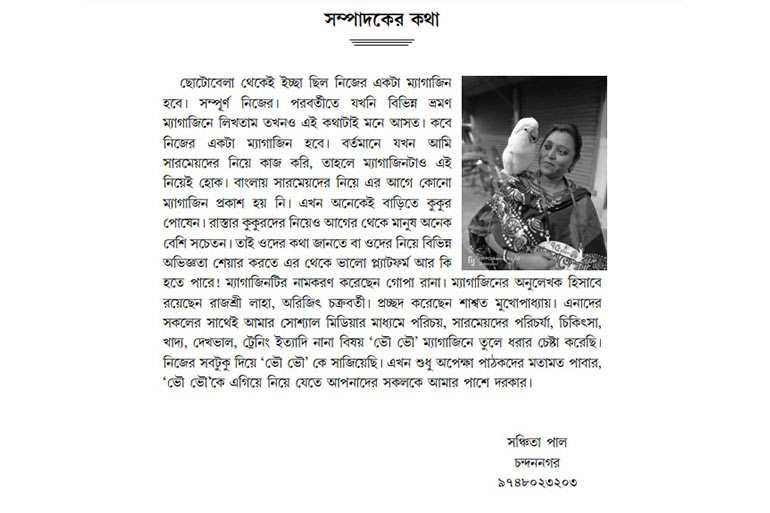 The first edition of 'Bhau-Bhau' was published earlier this month that covers a plethora of themes on dogs. The topics include expert opinions on stray dogs and domestic dogs, their mentality, their care etc. What is the importance of publishing a niche magazine like 'Bhau Bhau' in vernacular language? Editor Sanchita Pal says, "This is my dream-come-true moment. For a long time I had wanted to publish my own magazine. Initially, I thought of bringing out a travel magazine but gave up the idea when I realized there are a large number of travel and lifestyle magazines on offer and its market is saturated. After a brainstorming session, I suddenly hit upon the idea of a magazine for our furry friends. There are no magazines to cater to pet owners. Of late, we have observed people's awareness towards other animals that coexist with us has increased considerably. Street dogs have found greater acceptance in human society and many love them and take them in their homes as members of their family. So, I published this magazine to sensitize the masses and bring more and more dog lovers into our fold. The magazine is the result of teamwork and experts from different fields helped us with the gamut of information we have published. Gopa Rana suggested the name of the magazine and the cover was designed by Saswata Mukherjee".
Veterinarian Dr. Chandrakanta Chakraborty has discussed about ectoparasite (organisms that live on the skin of a host, from which they derive their sustenance like ticks, fleas, lice, and mite) infestation in dogs causing life-threatening anemia and occasionally hypersensitivity disorders in young and debilitated dogs, Arnab Das discusses about dog training methods. Lawyer Mita Bandopadhyay and other experts discuss legal issues. A glance at the magazine's table of contents gives an idea of the diversity of topics and how useful they are for all dog lovers, especially pet parents.

Pal says, "It is not that I love only dogs. In fact, I love all animals and feed them whenever I come across hungry, stray animals, but since dogs do not have anywhere to go and spend their lives on the streets; their struggle for survival is far more intense. So they need a little extra care." Pal's organization not only feeds these homeless dogs of Chandernagore and its neighbouring areas but also arranges for treating sick dogs and provides a safe shelter where the ailing dogs are taken care of and nursed back to health. The volunteers also provide free treatment to pets at home and arrange for temporary shelter for pet dogs during their convalescence period. During COVID-19 pandemic, the welfare organization arranged fodder for livestock and primates. However, the forest department asked us to discontinue feeding the langurs as packed food items like biscuits and bread are harmful for them. Therefore, they stopped feeding the primates.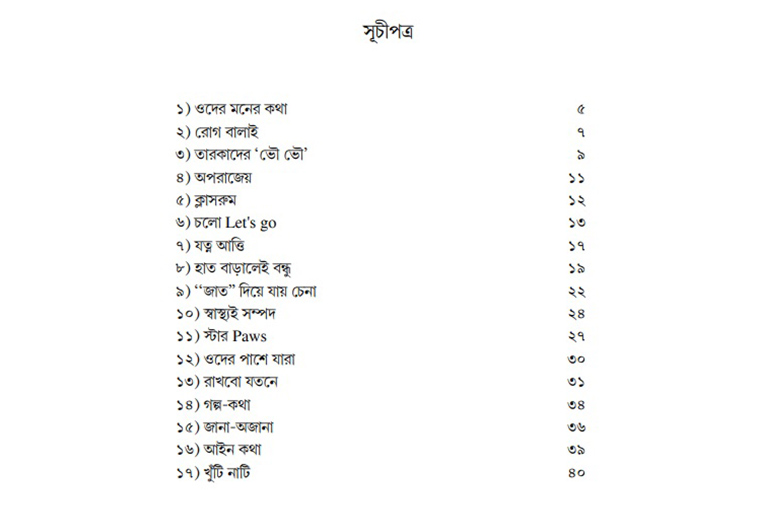 When Sanchita was asked what has been the initial response to 'Bhau Bhau,' she was ecstatic to share her experience. She said, "People have reacted very positively. In fact, a large number of Tollywood stars and people from the entertainment industry have responded enthusiastically. They contacted me and encouraged me for this endeavour. I am getting many requests from my readers who are requesting me to convert this quarterly magazine into a monthly one. However, it is not possible to publish 'Bhau Bhau' as a monthly magazine right now." The magazine is currently available at Asian Publications on College Street and elsewhere.
Man's most loyal friends also deserve love from humans and Chandarnagore-based Sparsh Animal Protection and Welfare Society is engaged in sensitizing the masses to reciprocate to the unconditional love they receive and in lieu try to provide a better life for the furry friends on the streets.