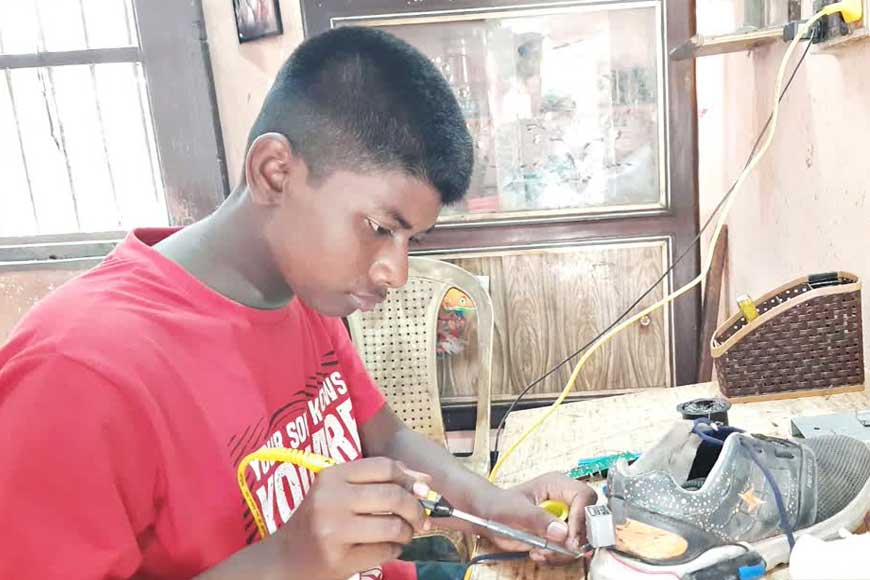 In the world of fantasy, shoes have a special connect with magic and the supernatural. There are many children's stories where elves or ghosts with special magical powers seem to do the most extraordinary deeds with shoes. One of the earliest fiction, 'The Elves and The Shoemaker' (German: Die Wichtelmänner), is part of a set of fairy tales collected by the German Brothers Grimm and the popular story about a poor shoemaker who receives much-needed help from three young helpful elves. Then we have our very own fantasy-adventure story, 'Goopy Gyne Bagha Byne' by Upendrakishore Roychowdhury. Later made into a feature film by Satyajit Ray, it was where the music made by two hapless musicians pleases the king of ghosts and he grants them a pair of magical shoes.
Now the latest to join the shoe narrative is Souvik Seth, a Class IX student of Kanailal Vidyamandir, Chandannagar. This class topper has astounded the world with his latest invention and a Japanese research center has already shown interest in his innovations. Souvik has developed shoes that generate electricity through walking. The young inventor has also equipped the shoes with GPS tracking and a camera, making them multi-functional. Seth claims that the generated electricity can even be used to charge a cellphone battery, highlighting the practical applications of his invention.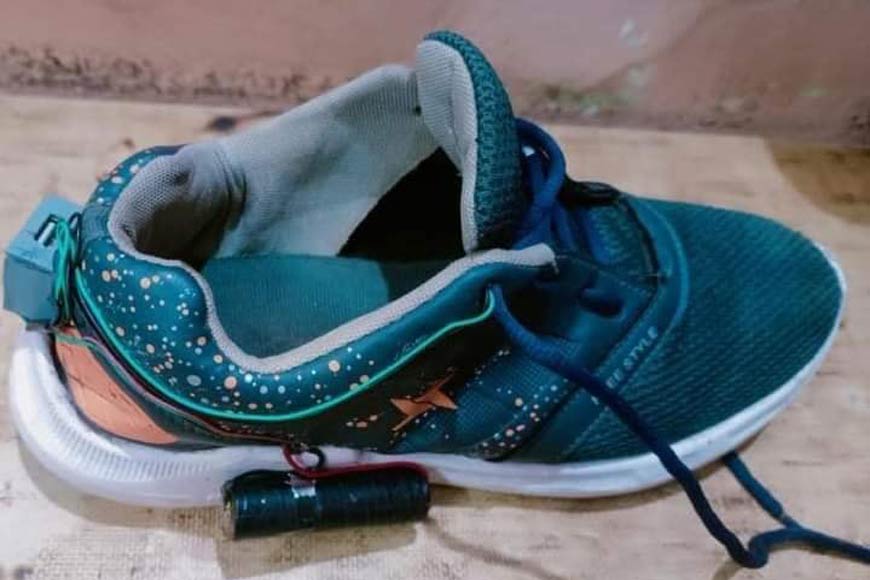 The youngster's potential talent for innovating scientific gadgets and gizmos started quite early in his life. Souvik's father, Swaroop Seth, works in a jute mill, and his mother, Soma Seth, is a housewife. They both observed that from a young age, Souvik was passionate about inventing new gadgets. In fact, by the time he was in Class V, his interest in electronics began, as he watched his uncle work on Chinese electric light circuits and LED lights. Souvik would sit patiently beside him and watch the entire process minutely and then during the school's annual science project exhibition, he participated with his first invention - a bicycle calling bell, before developing a spy suit with navigation and a camera, all made out of discarded materials. He also displayed a demo project to show how power can be generated from the controlled ignition of waste items.
Presently, his modification of an ordinary shoe into a smart shoe has drawn the attention of an electronics research centre. The highlight of all his innovations so far is his talent to develop multi-functional scientific and electronic devices mostly through recycling discarded stuff that cuts down on the price and makes them highly affordable for the masses.
Souvik's latest innovation claims that electricity can be generated by walking with shoes on.

He has embedded an electronic circuit within the shoe. He has fitted a 2000 mAh battery within which will charge easily, generating continuous power after a person has walked a minimum of a kilometer. The power generated can recharge mobile phones, power banks, and other low-power-consuming electronic gadgets. At present, this smart shoe system is done externally but Souvik is working on the nitty-gritty and very soon, all the gadgets will be assembled into the sole of the shoe. And, at this stage, Seth needs sponsorship from a shoe manufacturing company to help him financially. The new shoes will transform the world of shoe manufacturing. Travellers and mountaineers will be immensely benefitted if they put on these special shoes.
These shoes have a GPS that can track missing people, especially children's movements. When people go missing, prolonged search missions are carried out to look for clues that can compromise or even jeopardize the missing person's security, but if the missing person wears the special shoes, his whereabouts can be traced easily. Even the missing person's family members can track the individual. The shoes are equipped with spy cameras that can easily detect if there is any suspicious movement around the user without the predator getting any hint about his movements being tracked. Souvik is very hopeful about the future of his innovation and hopes to get sponsorship for his shoes and only then his work will be worthwhile.
Souvik wishes to pursue higher studies in science at the prestigious Indian Institute of Technology (IIT) but an acute financial crunch stands between him and his dream. But undeterred by impediments, the young boy loves to stay put in his dark, dingy, clammy tiny room, engaged in his favourite mission, tinkering with gadgets. At present, he is immersed in his task to invent a smart helmet. With his incredible invention, he has already demonstrated remarkable talent in the sphere of science and technology, and his work is sure to inspire others to explore new possibilities in the field of innovation.