Chhabi Biswas and his illustrious career comprising of almost 250 films - GetBengal story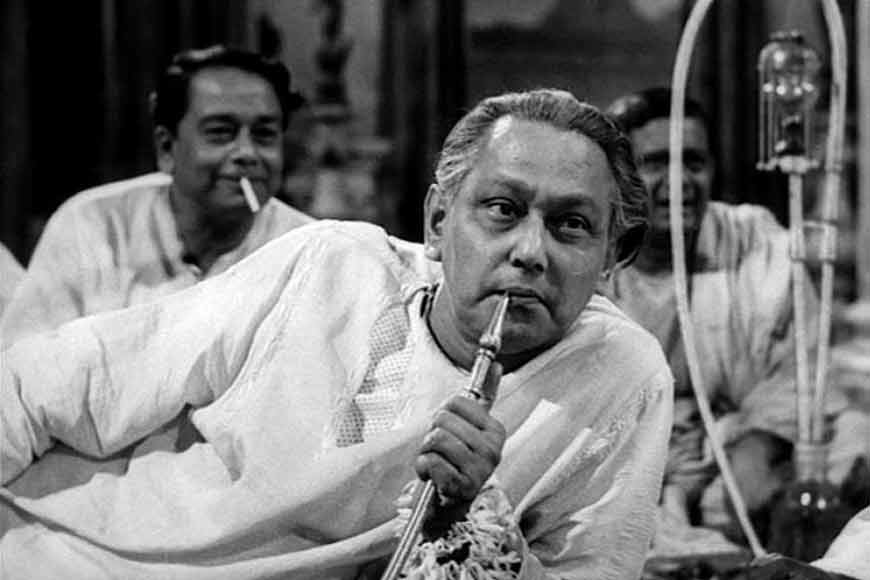 Chhabi Biswas- the legendary yesteryear actor from Bengal
Whenever one thinks of a quintessential Bengali aristocrat or a feudal zamindar, the one and only name that flashes across our minds is that of Chhabi Biswas. That zamindar of Satyajit Ray's Jalshaghar, who loses all, yet holds on to his pride. The magnetic essence of his personality at times made him larger than the role he was playing. But then again, in Tapan Sinha's Kabuliwala, he effortlessly portrays an emotional father whose interactions with Minnie in his loving yet booming baritone, leaves the audience speechless. While paying tribute to Chhabi Biswas, Ray once confessed, "I doubt if I could ever make the film Jalsaghar without an actor of the calibre of Chhabi babu. Probably not. Biswambhar Roy's pride and recklessness, his passionate love for music and his obsessive love for his only son and finally the tragic downfall – only a genius like him could portray these myriad emotions."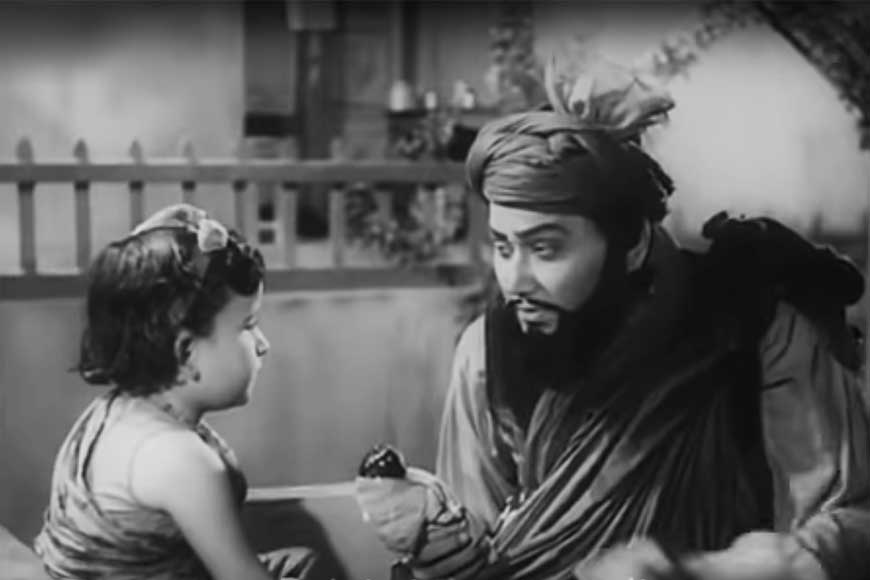 Chhabi Biwas in kabuliwala(1957
In real-life too, Chhabi Biswas belonged to a rich zamindar family of North Calcutta. He was the youngest among his siblings and was named Sachindranath. His mother passed away even before he was one-year-old. Since she used to call him Chhabi, he took up that name throughout his career. In those days, it was quite rare that someone from such an aristocratic family would join the silver screen. The grandiloquent zamindari style and gait did not leave him ever, and he was often referred to as 'Last of the Aristocrats.' The thespian's dynamic portrayal of characters received critical accolades throughout the world as these were a perfect amalgamation of prosaic traditions and anglicized sophistication, which were common in Bengal during the British Raj.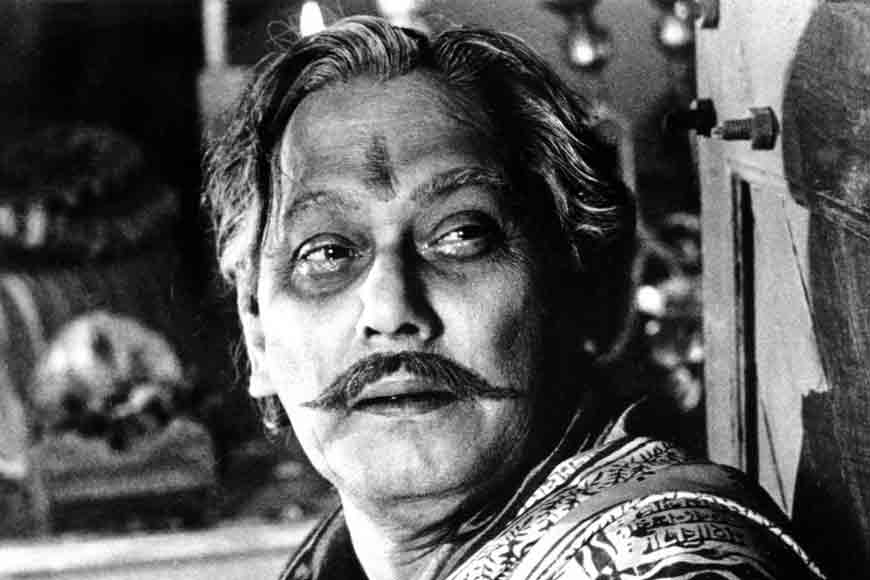 Chhabi Biswas in Devi(1960)
His illustrious career comprised of almost 250 films. Among these, 'Head Master', 'Kabuliwala', 'Devi', 'Jalsaghar 'Kanchenjungha' are still remembered by all. In the beginning the touch of melodrama in his tone turned to finer nuances, that he displayed with utmost perfection. His stupendous performance as a 90-year-old ascetic in Nartaki left critics spellbound. Other films like Dui Purush, Parineeta, Matir Ghar showcased his equal brilliance. In 1961, Biswas also received appreciation because of 'Dada Thakur' – a biography of Sarat Pandit where he went against the typecast of a patriarch and played the role of a humble Bengali Brahmin who would not compromise with his convictions. Actor Biswajit Chatterjee, who played a role along with Biswas in this film, found Chhabi Biswas to be a true father figure, even on the sets. "He used to cover me up with blankets and mosquito nets at night during outdoor shootings, so that I could sleep properly," Biswajeet had said in an interview.

Aloknanda Roy, who played the role of his daughter Monisha in Kanchenjungha had been with him a few days before he died in a tragic accident. "Chhabi babu was a man of great personality, reserve and sober most of the times. But he was very tender and gentle towards juniors; he cared and extended his best help when any of us would seek his benevolence. Not that we could reach out to him at the drop of a hat. His charisma, his talent, his tall persona made him magnetic, yet intimidating. I was too junior, and young then, and it felt more appropriate to watch him from a distance. He too did maintain that distance, consciously or unconsciously! I never asked him to help with my scenes but I often found Arun Mukherjee (played Ashok in the same film) sitting with him trying to learn a lot of things."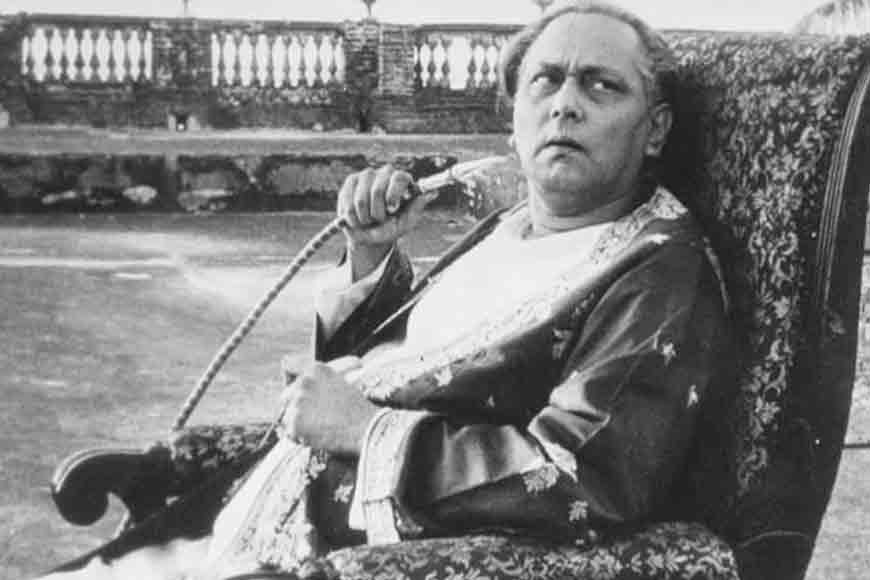 Chhabi Biswas in Jalsaghar(1958)
Despite that personality, Biswas was known for his subtle sense of humour. On the sets of Kanchenjungha, he suddenly chided Arun Mukherjee when he found Aloknanda could not wear her coat, saying, "These days young actors have lost their chivalry; see the young lady is struggling there with her trousseau and you are standing here watching instead of helping her out with the damn coat!" Even veteran actor Sabitri Chattopadhyay vouches for that sense of humour. "Working with him was a pleasure because he could pull the impact of a mundane scene to quite some notches higher. His humour was reflected in his regular communication with his peers. Even while having a simple conversation, he entertained his audience with that spark of intelligence and humour, which often left us wondering what dig he had taken, and once realised we would burst out laughing!"
After he died in a car accident at the age of only 62, Satyajit Ray had admitted he would never be able to pen down a male middle-aged role that demanded a high degree of acting expertise, because only Biswas could deliver the same.