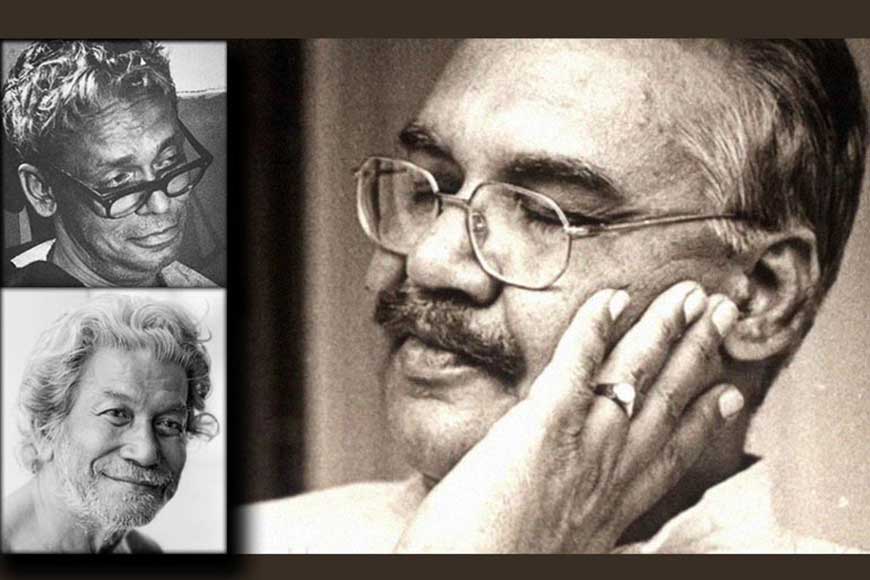 Mohan Singh Khangura's journey to Santiniketan is intrinsically linked to his association with renowned cine and theatre actor, Balraj Sahni. Sahni spent a brief period of time at Visva Bharati teaching English at Patha Bhavana. Mohan's cousin, Harwant Singh Sekhu was Sahni's friend. Both were born in the same village and went abroad together for higher studies. Thus the Sahni and Khangura families were on friendly terms and knew each other very well. Mohan had heard about Santiniketan from Balraj Sahni.
But Mohan's elder brother, who was in the police force, took the main initiative to contact Visva Bharati for Mohan's admission. He had known an NCC Subedar who was at that time posted in Santiniketan. He called up his contact and told him about his polio-afflicted younger brother who wanted to pursue music, but it was not possible for him to stay in any Ustad's home for training (Taalim) because of his physical disability. So, he specified his requirement: his family was scouting for a well-known University, where Mohan could study and learn music. The Subedar praised the University at Santiniketan and assured him it was one of the very best in the country where the best musicians from all over the country came to teach. The Subedar's recommendation impressed young Mohan who then wrote a letter to the then Vice Chancellor of Visva Bharati, Santidev Ghosh, seeking admission.
Ranadhir Roy aka Tuku was Mohan's bosom pal. With Tuku's help, Mohan began to discover Santiniketan, its flora and fauna and the distinguished guests and lecturers who flocked here from all corners of the world. Their friendship was not restricted to the physical world, but it transcended physical boundaries and soared towards a spiritual quest. Their bonding was very strong. Tuku never ever made Mohan feel that he had a disability that restricted his movements. Tuku always encouraged Mohan and inspired him to break free and move on despite his handicap. He would motivate Mohan to set high goals and strive to reach the sky. After all, what is there in this transient life except soaring high up in the sky. And ofcourse there is music, melody, love, Bengali language and Rabindranath, Tuku would say.
Once Mohan Singh was sitting with Tuku on the banks of the canal on a moonlit night. Suddenly they noticed two men emerging from the Sal forest of Sonajhuri. They could not identify them, but they were approaching the canal. Who were they? As they came closer, both Mohan and Tuku recognized them. They were artist Ramkinkar Baij and filmmaker Ritwik Ghatak. Ramkinkar pointed a finger at Mohan and told Ritwik, "You know, this boy sings very well. I visit Sangeet Bhavana daily to listen to him doing Riyaz (practice)." Ritwik Ghatak smiled briefly and both nature and Rabindranath seemed to corroborate this gesture. Perhaps one particular Rabindrasangeet was playing in the minds of both Ritwik Ghatak and Mohan Singh and the song must have been, Aaj jotsna rate shobai gyachhe bonay/ Bosonter ei matal sameeronay….
Ramkinkar Baij was a wonderful human being. Once, he decided to plant a sapling but before that he wanted Mohan to sing a Guru Nanak's Bhajan (Shabad). He summoned for Mohan who was at the canteen then. Mohan rushed to meet his Kinkar-Da.
Transcribed from an original interview of Mohan Singh Khangura taken by Arpita Chatterjee