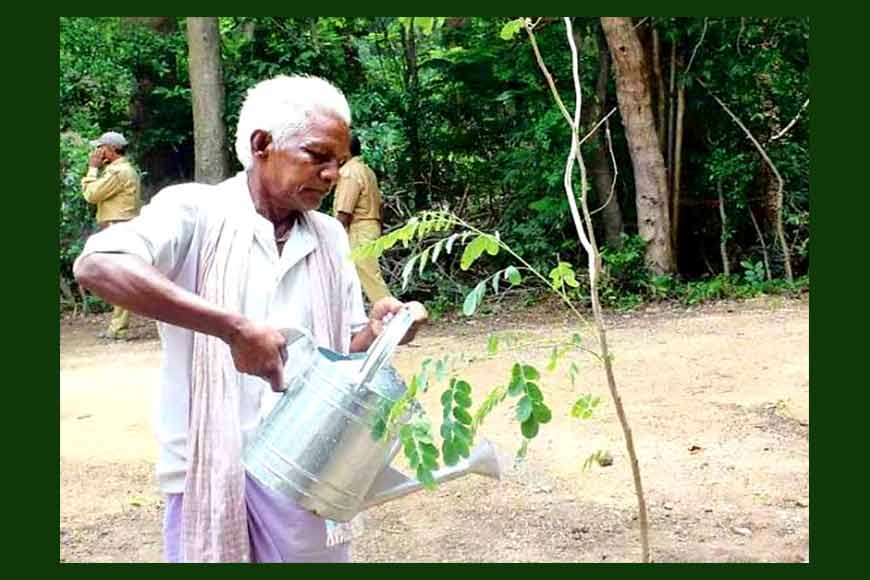 With over 60,000 different types around the world, trees provide us with everything essential for survival, including clean air, access to clear water, shade, and food. However, random cutting of trees is affecting our environment adversely. It is affecting the water cycle, destroying the flora and fauna, leading to an increase in carbon dioxide, thereby increasing global warming. The natural habitat of animals and birds are being destroyed, floods and fires have become more frequent and the supply of wood or timber is decreasing alarmingly. There are good Samaritans who are working diligently to reverse the man-made crisis, away from the glare of publicity. Hence, we remain ignorant about these social and environmental crusaders until the media highlights their work.
Film and Television Institute of India (FTII) alumni, Somnath Mondal, with postgraduate diploma in cinema, brought to the fore the relentless struggle of a solitary man to save the environment in his unique way and make the world a better place for life to survive and thrive. Mondal's debut documentary, "Rukhu Matir Dukhu Majhi" (Dukhu Majhi – Son of the barren land) traces the life of Dukhu Majhi, who is relentlessly struggling to heal this blue planet and ensure it remains habitable for all living things on earth.
This 28-minute documentary premiered last year at the Bengal International Short Film Festival (BISFF), where it won the award for the Second-Best Documentary. It was later screened at the prestigious South Asian Short Film Festival (SASFF), the Siliguri Shorts and Documentary Film Festival (SSDFF), the Jammu Film Festival, the International Documentary and Short Film Festival of Kerala (IDSFFK), the Imagine India International Film Festival at Madrid in Spain (23rd Sept -9th Oct, 2022), the Cinemaking International Film Festival in Bangladesh(December 2022) etc. 'Rukhu Matir Dukhu Majhi' has also won the best biographical film award at the recently announced 69th National Film Awards 2023.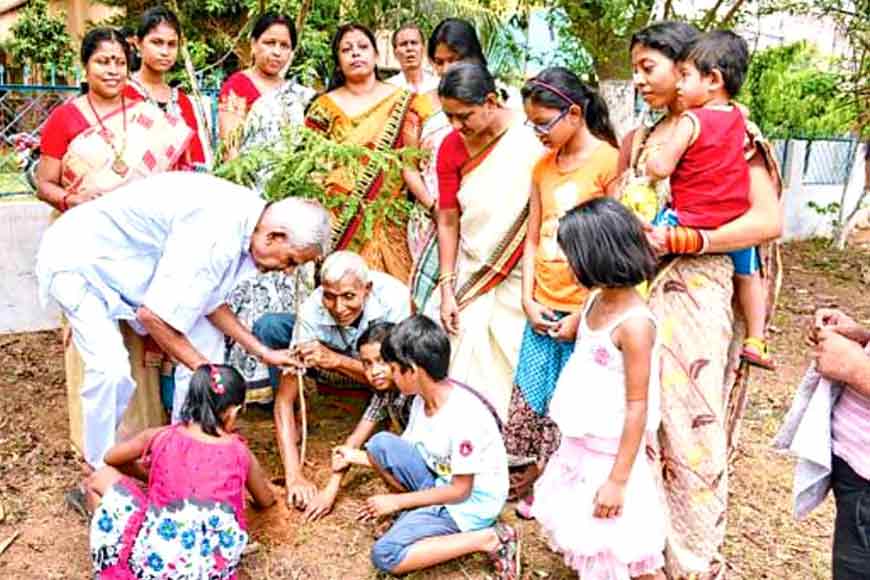 Mondal met Majhi quite by chance in 2018 when he was doing field research for his docu-feature on Madan Veriali as 'Turi', an indigenous musical instrument of Manbhum that is becoming obsolete. Mondal's exploration took him to the interiors of Purulia district where he chanced upon an old man in the scorching sun on the foothills of Ajodhya Pahar, tending to a dying plant protected by half-burnt wood and torn cloth. Locals informed him these saplings were planted by Dukhu Majhi. Everybody in Purulia's Baghmundi block knows him and his innovative way to save saplings. Mondal became curious and he set aside his work, and started following the man and capturing footage of his daily activity.
Every morning, be it summer, monsoon or winter, the scrawny silhouette of Dukhu Majhi emerging from his ramshackle mud house in Sindri early in the morning is a familiar sight. Armed with two canisters of water, sacks, shovels, burnt wood and saplings, all mounted on his much-withered bicycle, this poor, illiterate octogenarian pedals his way on the wobbly laterite mud road. This man is on a mission and his age or ailments, personal agenda, poverty or physical discomfort – nothing have been able to stall Majhi's single-minded dedication and zeal to set aside his call of duty. He spends his years planting trees at roadsides, school premises and wherever else he can. He voluntarily took up this task when he was barely a 15-year-old teenager.
Majhi decides new destinations each day and plants saplings on the way while watering and tending the ones he has already planted. He selects spots where there is a lack of shady trees and pedestrians may need some to avoid the blazing sun. These include spots close to a school or a land adjacent to a temple where people gather in large numbers during festivals. He plants mostly saplings of fruit-bearing trees like mango, jamun, tamarind and guava and shady trees like peepal, banyan, and neem (margosa). He keeps a close vigil of the saplings after planting them to ensure their healthy growth. In the past, he erected bamboo stick fences to ward off cattle. However, poor villagers often took the sticks to use as fuel at home, leaving the saplings unguarded. Then he came up with the idea of collecting semi-burnt logs from funeral pyres and using them to put up the fence. He also collects clothes discarded at crematoriums to cover the young plants from the scorching heat during summer months. Villagers do not touch discarded materials collected from crematoriums and this ensures protection for the saplings.

Majhi has already planted more than 5000 saplings and continues to do so in different areas of the district including Sarakdi, Charida, Ghorabandha, Sindri and Haridi. Many of these saplings have grown into full-fledged trees and bear fruits to the joy of the locals. Flocks of birds nest in the sprawling branches of these huge trees and other animals like monkeys flock to these locations for sustenance. The Forest Department gifted him a bicycle to carry on his mission and this bicycle is his trusted vehicle to carry on his green expedition.
It is interesting to know what prompted Dukhu Majhi to plant saplings in the first place. He says, it all started back when he was a young boy when a 'Sahib' visited the village and informed how vital trees are for our very existence. Plants and trees give us oxygen, without which no life on earth is possible. His words had profound impact on the young boy's family. His father and uncle both took up the cudgels for afforestation and began planting trees and tree seedlings in areas that were previously barren. Young Dukhu followed their footsteps and accompanied them on their sojourns and gradually he too, got involved in the activity.
Majhi lives with his wife, two sons, and grandchildren and does odd jobs to make ends meet. However, tree plantation is a commitment for which he expects nothing from anyone or any organization. The administration issued him certificates acknowledging his work. He has a very simple logic to justify his action: he says, if we take care of our trees and forests, they will take care of us.