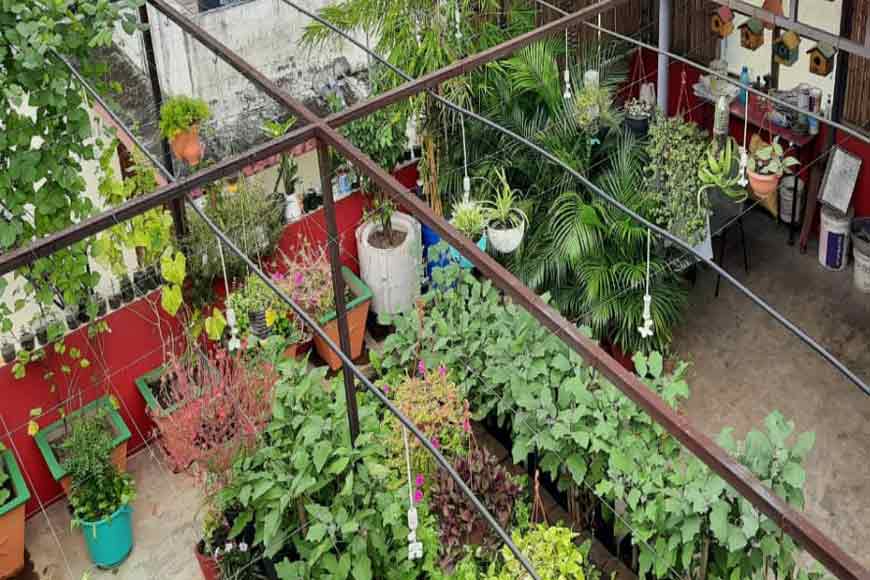 Tn a 2018 paper by Richard Thompson in the journal Clinical Medicine, published by Britain's Royal College of Physicians, the abstract stated, "There is increasing evidence that exposure to plants and green space, and particularly to gardening, is beneficial to mental and physical health, and so could reduce the pressure on NHS services."
The reference here is to Britain's National Health Service, but that is not the point. The point is that gardening and greenery are so good for mental and physical health that they can actually lessen the workload of the health service of an entire nation. And if it can happen in Britain, it can happen anywhere, even in the concrete jungle of Kolkata. Whether it is your balcony or your terrace, whatever your budget, however large or small your space.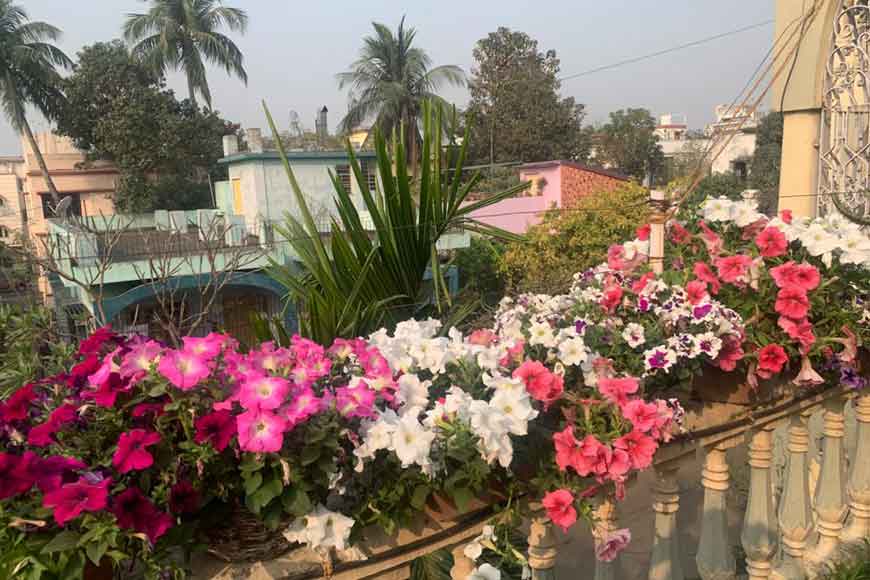 Aparna Basu Mallik's terrace garden
On World Health Day, it is perhaps important to remind ourselves that while the Covid pandemic still has most of our attention, mental health is a silent threat that passes largely unnoticed on our radars. The World Health Organisation estimates that globally, "more than 80% of people experiencing mental health conditions, including individuals experiencing neurological and substance use disorders, are without any form of quality, affordable mental health care".
What if we can give ourselves that care by creating our own small gardens? Gardening can be your way of combating not just depression and anxiety, but also contribute to the environment. A chat with some of Kolkata's homegrown urban gardeners will tell you exactly how beneficial the green experience can be.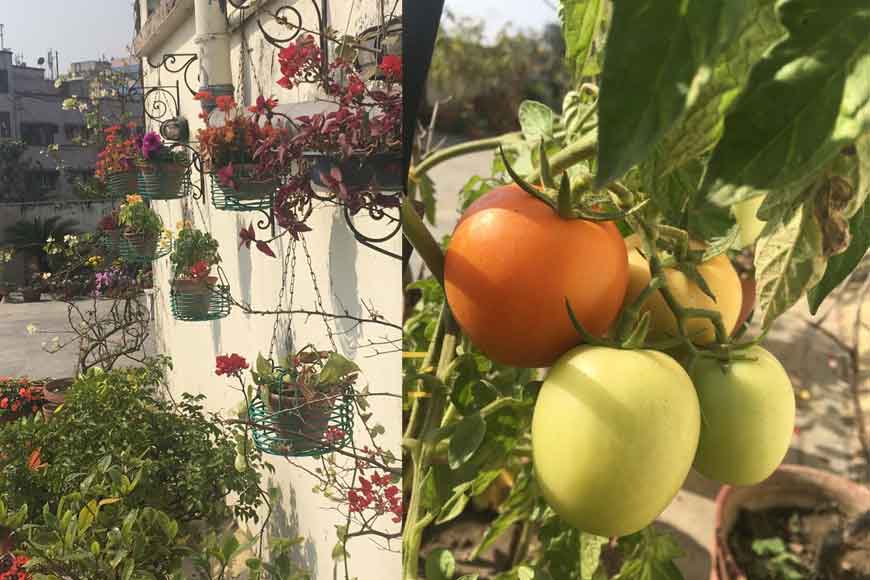 Anurita Nehra's terrace garden
"It's like watching a child or a pet grow, sometimes even more satisfying," says Anurita Nehra, who grows flowers and vegetables on the terrace of her south Kolkata home. "I run to my plants whenever I'm anxious or upset. Even if I don't find a solution, I can at least calm down."
Manjari Mukherjee, a 26-year-old who began gardening on a part of her terrace during the total lockdown in 2020 when the family gardener could no longer come in to work, says what began as an errand of mercy has turned into a passion. "Initially, I only wanted to save the plants from dying. But when I saw those brown leaves replaced with green, and the many flowers blooming, I became almost obsessed. The joy of creating a life form is incomparable," she says.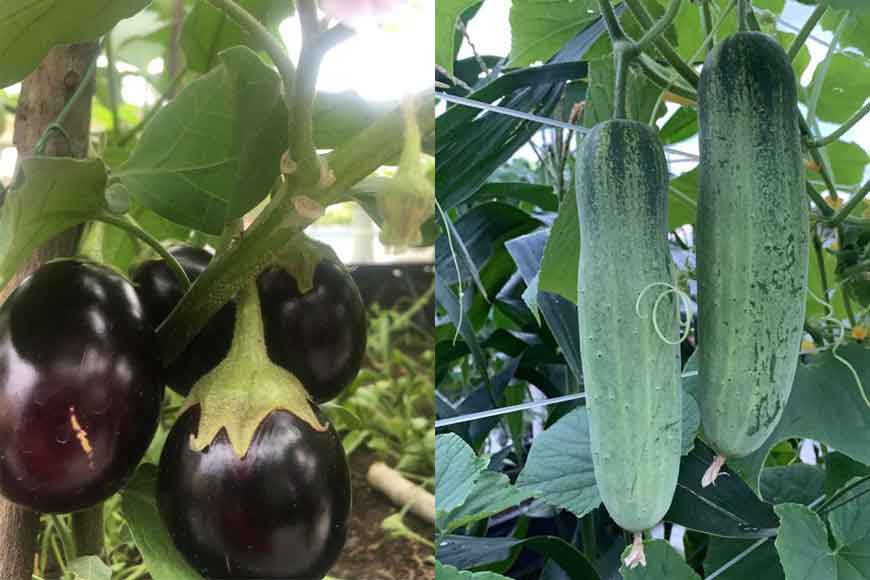 Aparna Basu Mallik's terrace garden
The beautiful thing about nature is that it finds a way to flourish even with the slightest encouragement. Aparna Basu Mallik, who owns an elaborate terrace garden that grows an astonishing variety of flowers and almost every vegetable other than potatoes and onions, says she practically bought no vegetables during the pandemic. "I didn't need to go to the market. In fact, I don't buy processed food at all. I simply pack the food I process at home into containers," she says. "To take just one example, I grew such a lot of bhindi (lady's finger) that we had nothing but bhindi for weeks, and this is a family where three of us are vegetarian!"
Without exception, these home gardeners speak about how happy their plants make them. Add to that the fact that you can use your household waste as compost. "Their main nutrients are our waste products. That's all they need, they don't need a big spend from you. But you will find that you can happily give them your time and effort because they give you so much joy," says Aparna.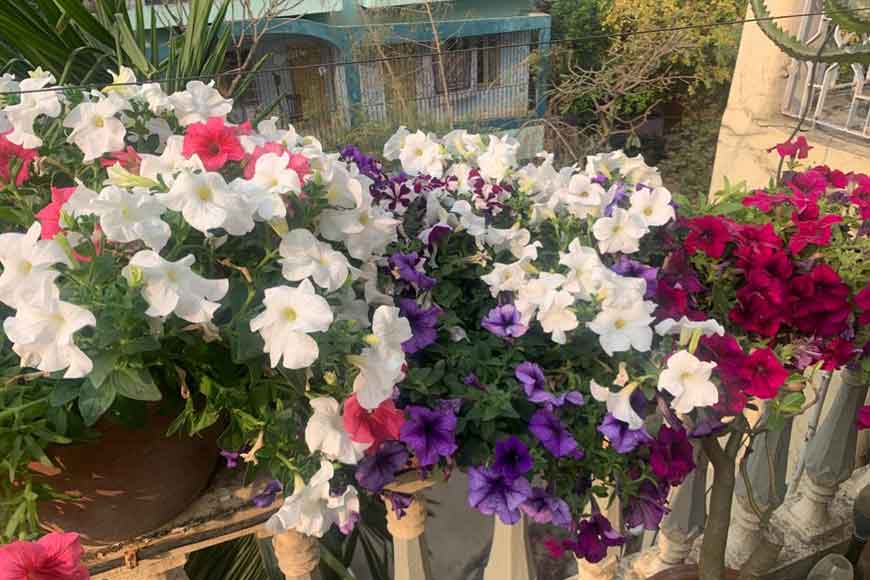 Aparna Basu Mallik's terrace garden
Vegetable and fruit peels, used tea leaves, egg shells, all of these go into nourishing the soil of your 'home garden'. "You don't even need a terrace. You can hang pots from window sills, or place some on window ledges or balconies. Even an indoor plant adds to your wellbeing. And it costs so little," says Anurita.
It would perhaps be better to end with another excerpt from the Clinical Journal paper, which ought to be the clinching argument, "In another randomised experiment, when postoperative patients were exposed to eight different species of indoor plants, both pain and length of stay were once again reduced and patients' satisfaction with their hospital rooms was improved."
Can you deny the magic?