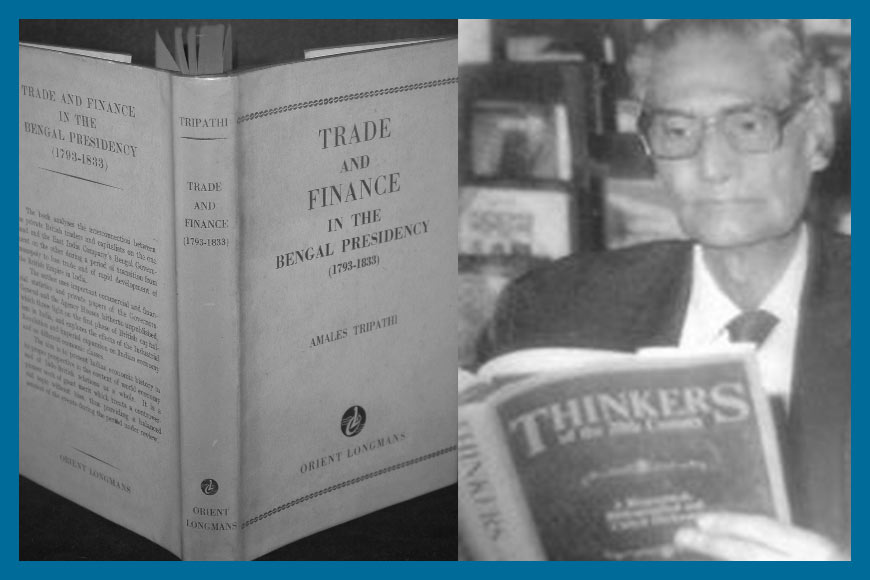 Author Amales Tripathi
Eminent academician and author Professor Tapan Raychaudhuri in his book Bangalnama says, "Many people speak of his (Nirad Chandra Chowdhury's) erudition and extraordinary memory. I have seen more erudition than him in Bengalis like Sukhmoy Chakraborty, Ravi Dasgupta and Amales Tripathi." Eminent historian and highly respected teacher, Professor Amales Tripathi's birth centenary on February 1, 2021, went by tacitly, unnoticed. However, his pioneering role in different fields of historical research over the years is significant. He initiated the creation of a History Honours curriculum based on modern research and literature. He joined Calcutta University as an Ashutosh Professor in 1969 AD and retired in 1986 AD. In addition to efficient and scholarly teaching during his long career, Tripathi brought about comprehensive development of the infrastructure of the department including the introduction of new courses and appropriate history curriculum in the university. Honoured with the 'Sir Jadunath Sarkar Gold Medal', one of the most coveted prizes in appreciation of his important contribution to history, Tripathi was a brilliant teacher and his style of historiography was very special. He introduced new trends in the analysis of the distant past in terms of space and time. His classical taste, factual judgment and originality of interpretation presented history in a unique way as he wrote about the trade of colonial Bengal and freedom struggle; he analyzed it from the perspective of a historian.
Tripathi was born in Devog village near Haldia in East Midnapore district. He was the youngest of his seven sisters and two brothers. His primary education started in the village school established by his father Shyamacharan Tripathi. When he was in the seventh grade, he joined Hamilton High School in Tamluk where his grandfather was a practicing lawyer. A brilliant student throughout, he topped all exams. He took his Matric exam in 1936, aced it with flying colours and was admitted to Presidency College with honours in Economics. In college, his classmates included such eminent personalities like filmmaker Satyajit Ray, politician/Barrister Siddhartha Shankar Ray and former Union Education Minister, Pratap Chandra Chandra. He changed his subject and took admission in Calcutta University with History, and topped his MA exam. After completing his Masters, Tripathi studied law and obtained his law degree in 1945. In 1946, the Government of Bengal nominated him State Scholar. In 1951, Tripathi was off to the US on a Fulbright Scholarship. During his stay there, he researched and published a paper on trade and economy of the Bengal Presidency period 1793 - 1833 AD -Trade and Finance in the Bengal Presidency. In 1954, he obtained his PhD degree from the University of London. His paper was highly praised by Professor Vincent T. Harlow (Beit Professorship of Commonwealth History at the University of Oxford) who acknowledged Tripathi's work as seminal.
Tripathi's vast sphere of academic interest included his comprehensive research on India's economic history, European modern historiography etc. He was a bibliophile and read extensively on diverse topics including E. H. Carr's' A History of Soviet Russia', (a 14-volume work on the history of the Russian revolution), British historian Eric Hobsbawm's books (Hobsbawm is perhaps best-known for his trilogy about the "long 19th century" — The Age of Revolution: Europe 1789–1848 , The Age of Capital: 1848–1875 and The Age of Empire: 1875–1914 — and his overview of the 20th century, The Age of Extremes: The Short 20th Century), along with extensive analytical discussions of Indian metaphysics and philosophy. His spiritual teachings are represented in his book, 'Oitihasiker Drishtite Sri Ramakrishna O Swami Vivekananda' (Sri Ramakrishna and Swami Vivekananda from a Historian's Perspective).
He was a prolific writer and contributed frequently to prestigious literary magazines and journals. On the centenary of the first Parliament of the World's Religions held at Chicago in 1893, Tripathi wrote an article in a special issue of Anandabazar Patrika (15-9-1993) titled 'Proponent of Sanatan Dharma,' where he discussed the need to spread Swami Vivekananda's thoughts, and the way to the liberation of the people of India in the light of Vedanta. Again, on the 125th birth anniversary of Rabindranath, he wrote in an article in Anandabazar Patrika (9-5-1986), where he emphasized why readers find solace in Rabindranath's writings and revert to his works to seek refuge and hope during times of distress. His long essay on Bankim Chandra and Rabindranath were published in the 'Desh' special literary edition, where Tripathi discussed how the creative thinking of these two intellectuals have shaped and reflect in the culture of Bengal, and how much the chanting of the Swadesh mantra moulded the social life of Bengal. Although Tripathi was not a traditional literary researcher, his lucid and logical style of writing attracted readers into his fold.
Tripathi was a historian, but his proficiency to write deftly stood him in good stead. In the preface of his 'Itihas O Oithihasik' (History and Historians) he wrote, "The historian does not have the freedom of imagination like the poet, the right to construct universal theories like the philosopher, the desire to give concrete or abstract form to the abstract like the artist, the desire to discover and apply natural laws like the scientist... But it must be said." A reading of Tripathi's treatises reveals his views are as liberal as they are logical. He was totally opposed to slanted or biased attitudes.

His analytical history of the Congress with a focus on Mahatma Gandhi has much to teach students of contemporary Indian politics. An astute interpreter of trade and finance, he was keenly attentive to the economic context of political movements. "Yet Amales Tripathi was at his best in unravelling for his readers the ideology of Indian nationalism, which he believed was 'completely misread' by the so-called Cambridge school because of 'its lack of understanding of Indian culture' and by the subaltern collective with its tendency to 'trivialize' elite culture. His was a compelling critique of the trends in South Asian historiography that seemed dominant in the 1980s. He would have been happy to note that in the second decade of the 21st century, the history of economic and political ideas is back in vogue. Historians of anti-colonial nationalism today have a much more nuanced approach that Amales Tripathi would have found congenial," opined Sugata Bose in an article.
In his works, sometimes in the preface of books and during lengthy interviews, Tripathi often raised pertinent issues like; will history be concerned only with the rise and fall of kings and kingdoms? Or, what is the work of historians -- to judge or try to comprehend? He emphasized on understanding because understanding makes it easier to forgive. He also studied literature. There was one more thought-provoking question he asked: Is history anthropology? Is history sociology? In Professor Tripathi's analysis, in the present era, only a reflection of the fragmentary truth will be visible to all. It is the curious mindset of a historian who will delve deep to search and unearth the truth. Historical facts are, in essence, philosophical facts. A few facts are hand-picked as having historical significance from a plethora of information and data. Is there any rule of universal truth behind the selection? The answer, he would say, "None."