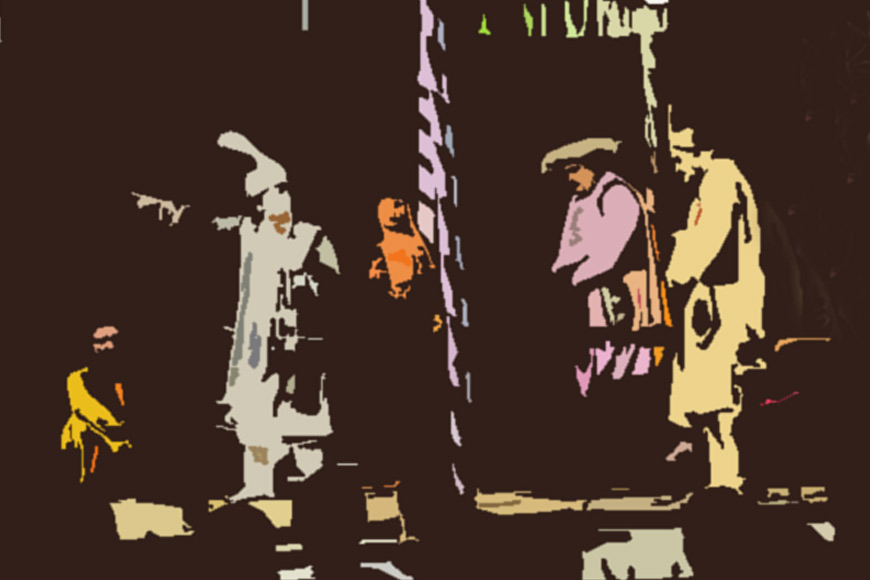 Representative Image
The folk dramas of West Bengal are dynamic and divergent though mostly created and performed by illiterate or semi-literate people of rural Bengal and passed down orally from one generation to the other. These performances, blended in with ritualistic observances, are chiefly meant for the amusement and entertainment of the rural folks. Jugi Pala or Jugi Jatra is one such folk theatre that is on the verge of extinction. Traditionally, Jugi Pala was a much sought-after form of entertainment across Midnapore, Bihar, Jharkhand and Odisha. Its wide viewership base stretched from the Subarnarekha River basin in Gopiballavpur to the villages adjoining Kangsabati River, and further down to Haldia and Tamluk.
Jugi Pala used to be performed on make-shift stages at local markets or temple courtyards, with the audience sitting in a circular form around the stage. Ordinary villagers participated in these musical-dramas and dialogues or songs that they delivered were often a mixture of local dialects. Some of the compositions were so popular that members of the audience hummed them for days and months. Songs like 'Chinra kantha chinra jhuli Jugira cholya dhuli dhuli,/ Shib dambaru bajai, Jugiya mililey jaai' was a super-duper hit number.
The 'Jugis' wandered villages with their satchels on shoulders, 'damarus' in their fists and other knick-knacks for displaying their artistry. Once a sizeable audience gathered, they would begin their theatrical show and often displayed magic tricks to impress all. The Jugis were revered and people believed they were capable of performing black magic. Hence, they maintained a safe distance from these minstrels and were cautious about not flaming their ire. The Jugis lived in a community, usually in secluded places away from villages. At present this community is settled in Jugibandh under Belpahari police station in Jhargram district. Clusters of Jugi households can also be found in Jugipara, Jugishol, Jugighat etc.
After the Turkish invasion of Bengal around 1202 AD, there were drastic changes in the cultural sphere of this region. At this juncture, Islamization at the local level began and a majority of the indigenous population adopted Islam. Peers and fakirs penetrated deep into the hinterland propagating the new religion. They travelled across distant villages glorifying the greatness of Satya Peer through songs. Locals started composing 'Pala gaan' or theatrical series based on these songs. Some believe Jugi Jatra originated from the Nath sect of yogis belonging to the Shaiva cult. Following regional variations, Jugi Jatra is also known as Dakshinjatra Pala. The fable of Jayananda and Champabati is a common trait in the pala. Although musical and story elements from Satyanarayan Katha are incorporated in the pala, the theme traces the social history of the region. Also, the transformation and debauchery of religion and perversion of the Yogi sect emerges clearly from the different episodes of the Jatra.

Although Jugi Jatra originated as an offshoot of religious dispersion, it transcends the constrains of religion to emerge as an independent folk art form that delineates society through folktale, myths, allegorical retelling of actual events and even criticizes scathingly the downside of developing trends. The protagonist of the play is the Jugi and the other dramatis personae are all drawn from familiar rural folks. One very interesting fact of Jugi Jatra is that actors who essay the roles of Heerananda, Jayananda, Roopvati, Champavati, Baghambar and Padmavati deliver their dialogues in local dialect. The Fakir in the play speaks in Hindi. And the songs by Padmavati and Champavati or the songs accompanying the dance numbers performed by groups are all in Odiya. This amalgamation of three languages within a played an important role in popularizing Jugi Jatra across borders and expand its reach.
The plot of Jugi Jatra has elements from the folklore of Dhanapati as found in Chandimangal Kavya as well as a re-telling of local events. Behind the entertainment, the Jugi Pala, like other folk art performances, reflects the inert cry of being deprived and victimized in a marginalized society. In such performances, the performers not only hint that they are being oppressed and ill-treated by the dominant power system of the society. The performances of Jugi Jatra comprise songs, acting, music, dialogue, facial posture, dance, mask and so on. Rather than the austere division of acts and scenes, Jugi Pala opens up with a ritualistic invocation (known as Bandana). The performances are chiefly performed for the targeted rural masses in a huge gathering. Jugi Jatra as well as similar other folk performances can be seen as a voice of and voice for the common people.
In 2018, a team of scholars from the English department of Vidyasagar University travelled for months through tribal villages in Midnapore and adjoining areas in an effort to save dying tribal dialects, scripts and folk performances. The archive team visited communities and unearthed written scripts in old diaries, faded manuscripts and oral traditions from homes of elderly people, many of whom were themselves performers. We can hope that with this kind of concentrated effort, folk theatre like Jugi Jatra will be able to survive the ravages of time.