There is a strong influence of the legend Kobiguru Rabindranath Tagore on every Bengali. The very first memory of our school lessons would almost certainly be of a poem from Sahaj Path, be it 'Haat' or 'Taal Gaach'. And not only in childhood but his songs and poems also secure a major part in every Bengali's heart throughout their lifespan. The power of his creations still continues to enchant, enlighten and educate us.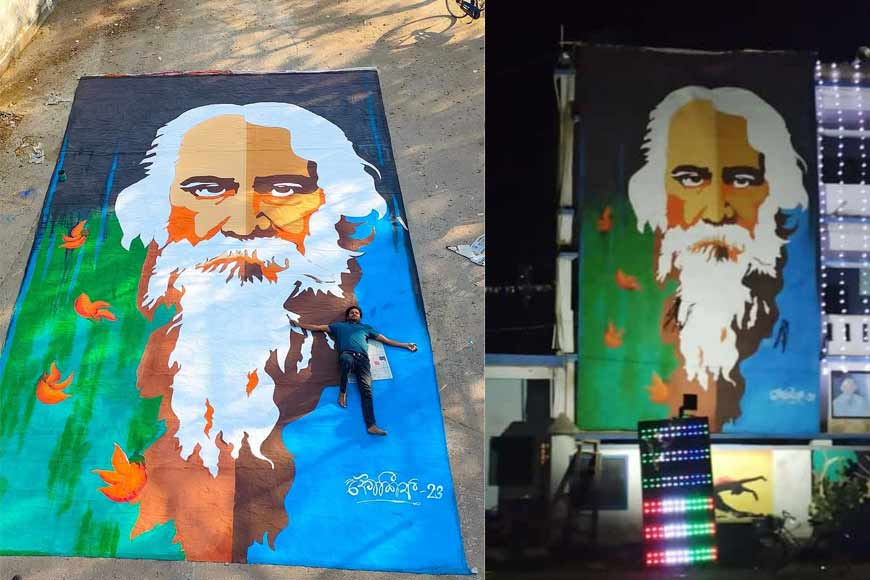 Koushik Dey is one such Bengali who paid his tribute to Tagore by creating a 30ft high and 18ft wide painting of the legend on a paper canvas. He was awarded by the India Book of Records for painting the world's largest picture of Rabindranath Tagore. He had to glue 130 art pages together to create such a big canvas. To make the canvas strong and long-lasting he placed a saree behind it. At first, he sketched out the picture of Rabindranath Tagore and then coloured it with weather coat colours. 5 to 6 litres of colour were required to finish the whole painting. The total expenditure to paint the world's largest picture of Rabindranath Tagore was Rs. 10,000. Koushik had recorded his process of painting and clicked pictures of his work and sent them to the India Book of Records. After going through his pictures and his videos, the India Book of Records added his name to their list of Records. They presented him with a certificate, a medal and an identity card.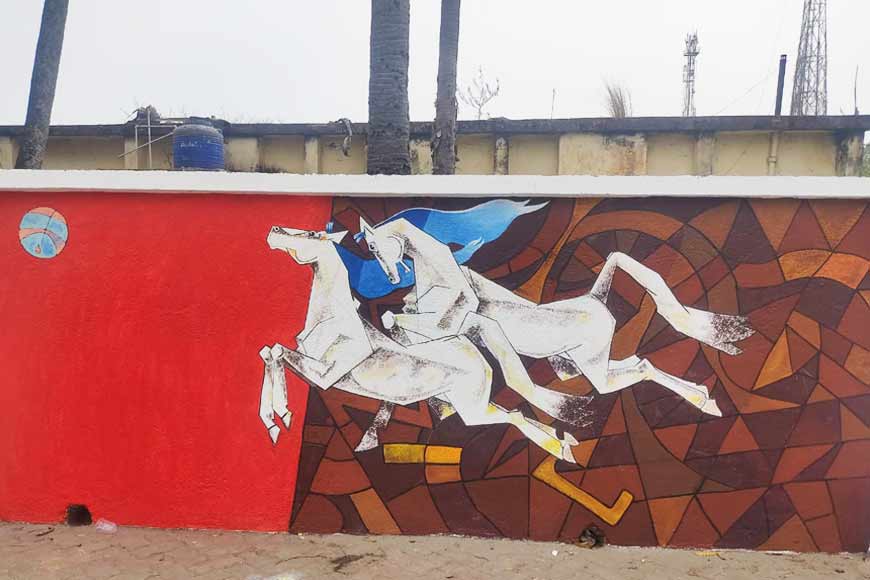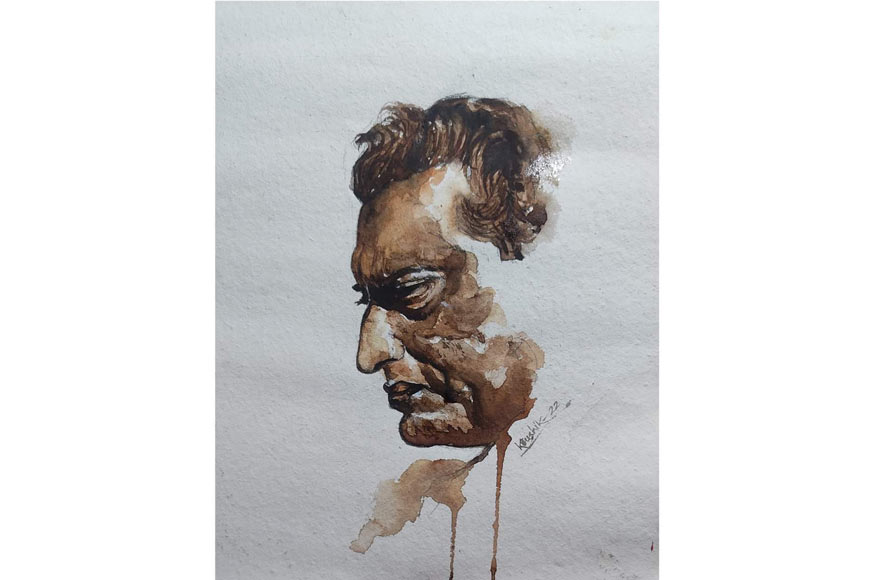 "I started drawing from a very young age. Approximately since I was in class 3. Initially, I used to draw by myself; when my tutor noticed that I have an interest in drawing, he said that I should learn how to draw and then I started taking drawing classes. I started my drawing lessons at one of Bolpur's private art colleges. Gradually my interest in drawing increased with time. Now I can draw as well as sculpt statues," said Koushik Dey.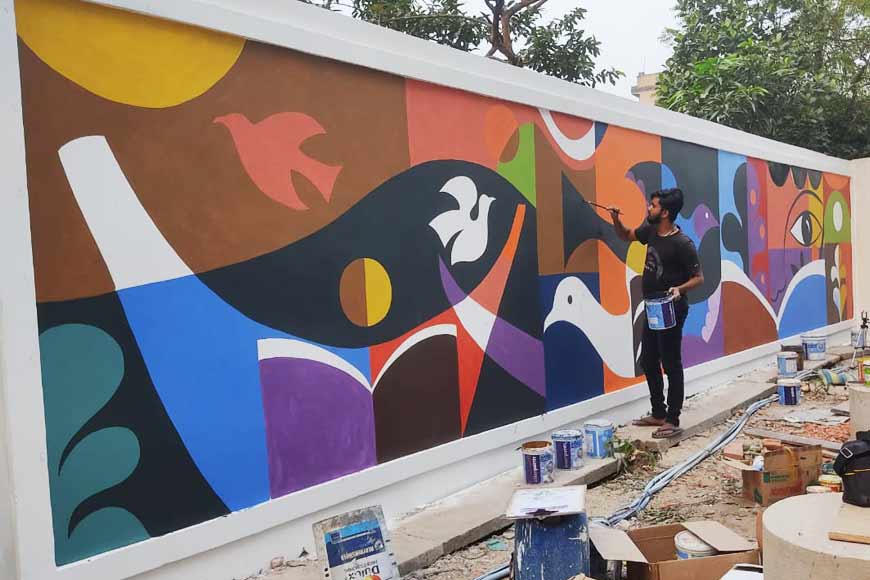 Koushik belongs to Santiniketan, a place fully influenced by our very own Kobiguru Rabindranath Tagore. "It seems as if we are being raised by Rabindranath Tagore. It is the land of the Legend," added Dey. Since his foundational years, he has read and heard Tagore. It is known to all that quite recently, the famous Basanta Utsav of Visva Bharati is no more held for the public. Since then, the surrounding villages and the clubs of Bolpur started celebrating Basanta Utsav in small gatherings as a tribute to Tagore. The cultural festival of Basanta Utsav was a part of Bengal's cultural heritage. "So, I thought of doing something as a tribute to Tagore. I started making the painting 10 days before Doljatra or Basanta Utsav. I completed it in five days with the help of my team. They helped me with the large painting as it was difficult for an individual to carry out the whole work." The painting was displayed on the day of Holi or Dol Jatra (festival of colours). When everyone gathered together to play with colours, they were awestruck to see such a huge painting of Tagore. Many teachers helped Dey master the art of drawing but Pranab Adhikary and Jhulan Mehatari are the prominent ones.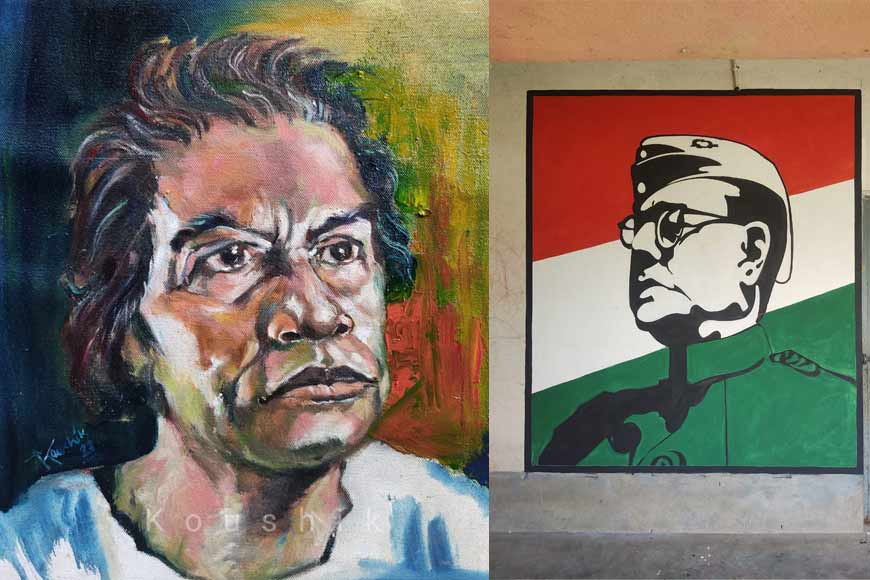 Every Bengali's cultural foundation starts with Tagore which enriches their minds. "I went to Bahiri B.S. High School. I graduated from Bolpur College in the Science department. I plan to pursue my interest in the arts. I look forward to understanding the essence of artistry. The world of art is unfathomable and I want to explore it and study about it. I provide drawing lessons and create artworks, that is how I earn some money to look after my expenditures." said Koushik.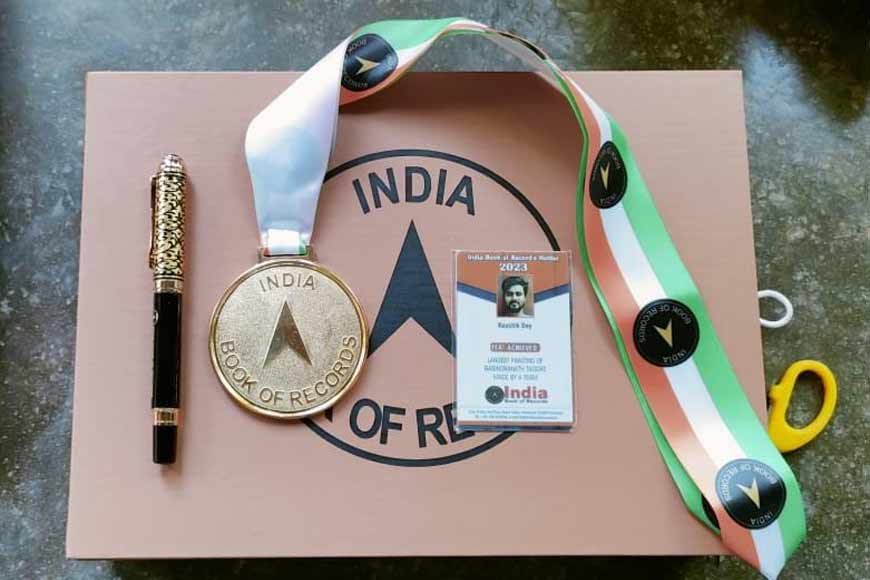 According to him, one's creative interests are also as important as their studies. "There are many parents who side-line certain interests such as drawing, singing, dancing, etc and focus on their studies to ensure a risk-free and bright future for their children. Of course, studies are required for every individual but art is what one lives for. I would suggest that parents should allow their kids to pursue their interests, support their passion and help them enjoy what they like. This is how their aptitudes can be understood very easily. Nobody should be forced to pursue any field against their interest," Dey said.