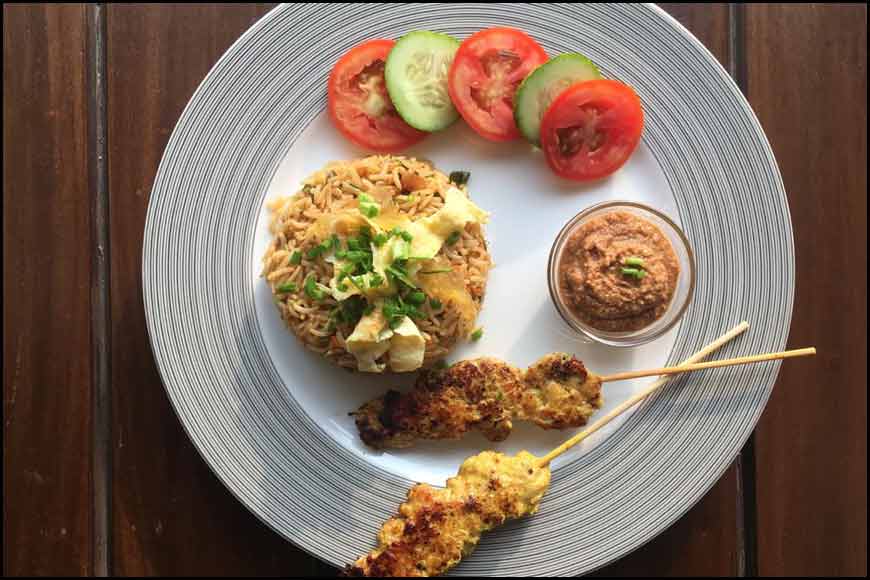 Nasi goreng with chicken satay and peanut sauce by Anurita Nehra
Last year, at about this time, the Covid-19 pandemic really came home to us as the nationwide lockdown went into effect. In the year since then, the world as we knew it has undergone immense, perhaps irrevocable, changes. The pandemic has altered our lives on so many levels that it is too early to even list them. However, the year has also been one of opportunity for many, and being cooped up at home has brought out hitherto untapped talents in some of us.
Nowhere, perhaps, is this more evident than in the area of food. All through the lockdown and after, the city has seen the burgeoning of home chefs who have taken the opportunity to bring their talents out of the kitchen into a wider arena. While pop-up kitchens and restaurants (set-ups that operate only for a limited time, typically for a few days, and usually focus on a particular theme or type of cuisine) have increasingly become part of the city's foodscape, home chefs catering to a select clientele is a relatively new phenomenon.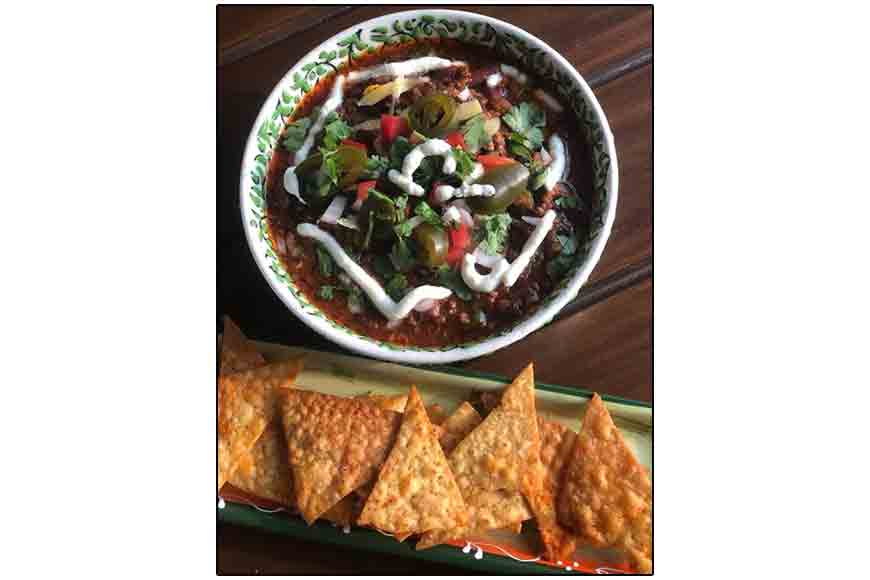 Chilli con carne with homemade tortilla chips
Sharmila Basu Thakur, well-known in media circles as the former editor of 'Sananda', has always loved food and everything to do with it. Post-retirement, she has also been running the boutique Cottonwala from her home. The two passions have combined to create a space where an evening of songs or readings may be followed by a specially designed pop-up dinner from her own kitchen. "Right from my student days, I used to love cooking for friends. This got to a point where they began asking, why don't you do this professionally? That is how it started," she says.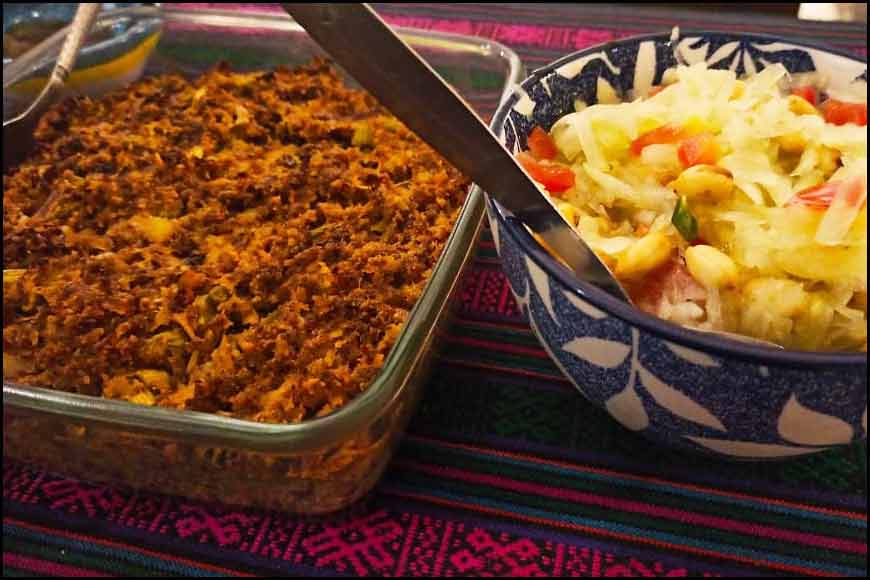 An offering from Sharmila Basu Thakur
Over the past three years, word of mouth has created a loyal, yet select clientele who keep coming back to her. "It isn't about the money, though I do charge for the food. I can even cook for a single person if there is an order, and I make it a point to cook mostly with what is available seasonally," she says.

Apart from a passion for cooking and food, then, what drives home chefs to cook for strangers? For Anurita Nehra, it is a way of demonstrating how important food is, as a cultural marker. Having spent several years abroad before settling with her husband and daughter in Kolkata, she realised during the lockdown, as she recovered from a long post-surgery quarantine, that cooking little-known dishes from various parts of the world gave her both creative satisfaction as well as enabled her to spread awareness about different cultures. "I remember eating raw herring in Norway. It's actually great to taste, all you need to do is open your mind. Food is above all an adventure. So when I decided to begin operations, I knew I wouldn't be offering chingri machher malaikari or dhokar dalna," she explains. "The Mediterranean region is a particular favourite of mine, North Africa, Greece, Italy, all of it. So I offer my clients food from these areas, which they may never have tasted in Kolkata."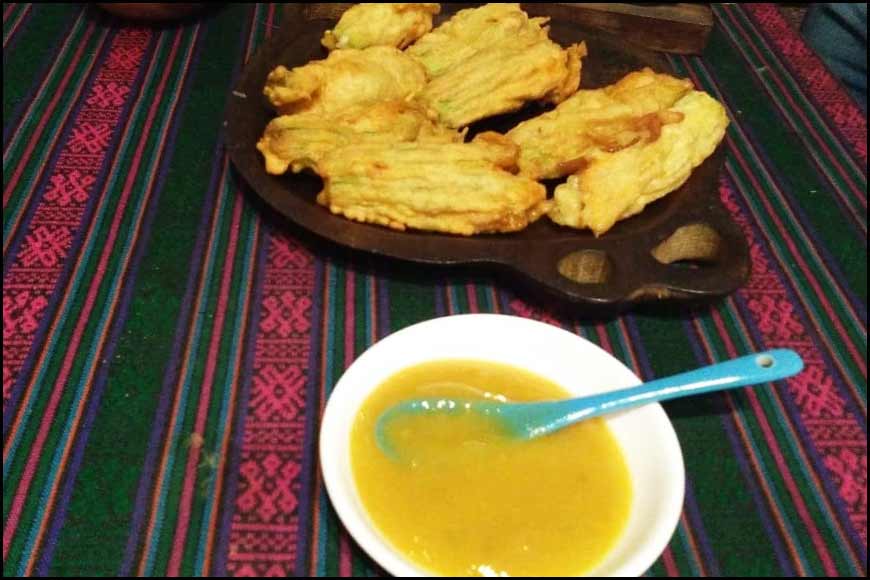 Bokphul bhaja with kamranga dip by Sharmila Basu Thakur
None of these home chefs are keen on starting a regular business, or even a regular home delivery service. The regimentation is precisely what they seek to avoid. As noted food critic, blogger, and connoisseur Indrajit Lahiri says, "The emerging phenomenon of home chefs cooking for outsiders is almost a revolution. More than the money, they seek appreciation. And we trust them because we can be sure of the quality of ingredients." He adds that a restaurant doesn't have the luxury of customising a dish for you. They will only offer dishes that can be mass produced. "Say you really want to have kumror chhokka, with a little extra sweetness, no restaurant or home delivery service can do it for you. But a home chef can do it easily."
However, scaling up operations is not a priority. "If the number of orders go up, at most I can cook twice a week. Any more than that would become too much," says Anurita.
Pioneering food blogger and noted gourmet Debjani Chatterjee Alam, a financial analyst by training, has been part of the pop-up trend for a while now, having cooked pop-up meals for various groups of people in various cities. While she welcomes the trend of home chefs, she also points out that only those who treat this as a commercial enterprise, even if only on a limited scale, will survive. "You may not be interested in the money, but you should charge close to market rates, otherwise you will be spoiling the market for others," she says.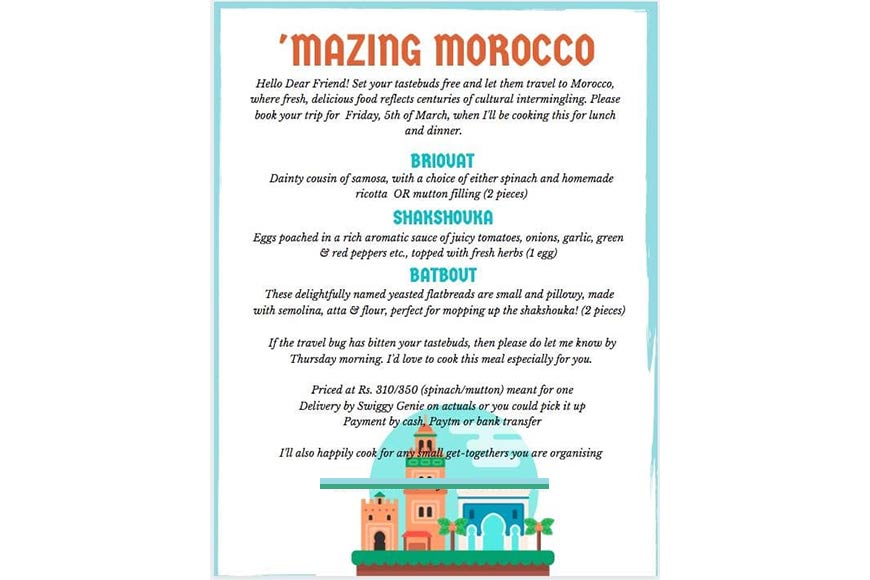 By Anurita
Why charge anything at all? "It keeps me on my toes," says Anurita. "No matter what the amount, I need to know that I am delivering value for money." Debjani adds, "I can't keep paying for the ingredients out of my pocket. That makes it a burden."
On that note, we leave you with a special recipe we borrowed from Debjani's 12-year-old blog, Debjanir Rannaghor:
Panch Phoron Murgi (serves four)
Ingredients
| | |
| --- | --- |
| Chicken: | 750 g (curry-cut) |
| Potato: | 4 |
| Onion: | 3 |
| Tomato: | 2 |
| Ginger Paste: . | 1 Tbsp |
| Garlic Paste: | 1.5 Tbsp. |
| Green Chili: | 3-4 |
| Panch Phoron: | 2 Tsp. |
| Dry Red | Chili: 2 |
| Kashmiri Red Chili Powder: | 1 Tsp. |
| Turmeric Powder: | 1 Tsp. |
| Cumin Powder: | 1 Tsp. |
| Coriander Powder: | 1 Tsp. |
| Bengali Garam Masala Powder: | 1 Tsp. |
| Sugar: | 1 Tbsp. |
| Salt: | to taste |
| Lemon Juice: | 2 Tbsp. |
| Mustard Oil: | 4 Tbsp. |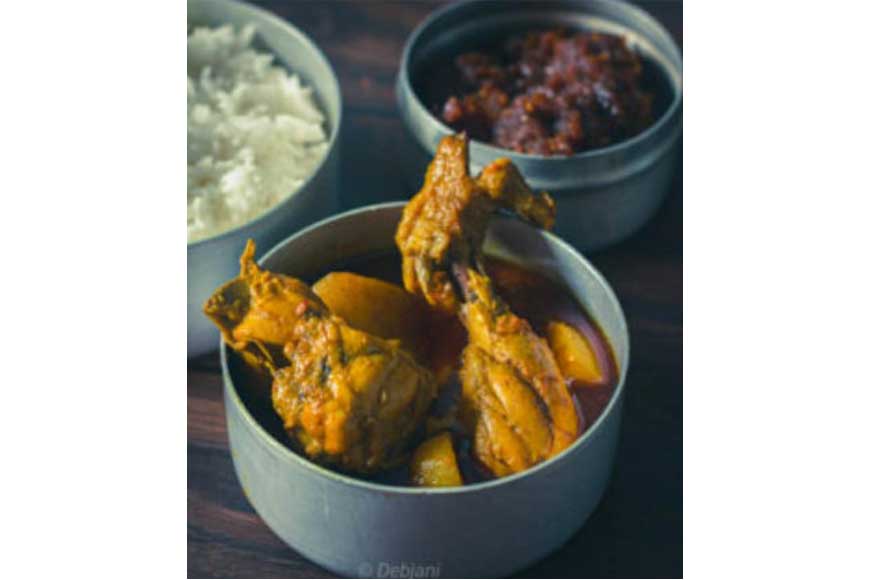 Bengali Chicken Curry by Debjani Chatterjee Alam
Method
● Dry roast 1 tsp of panch phoron and make a coarse powder
● Wash and pat dry chicken chunks
● Marinate chicken with ½ tsp each of Kashmiri red chilli powder, turmeric powder, cumin powder, coriander powder, Bengali garam masala powder, ½ tsp panch phoron powder, ½ tbsp sugar, ½ tbsp salt, 2 tbsp mustard oil for 30 minutes
● Peel and cut potatoes into halves
● Roughly chop onions and tomatoes
● Now heat mustard oil in a deep-bottomed pan and temper the oil with dry red chilli and whole panch phoron
● Add chopped onion and cook till onion is translucent
● Now add chopped tomatoes, green chilli, ginger paste, and garlic paste
● Cook on low flame till oil floats to the top
● Add all the remaining spice powders except garam masala powder and cook for a while
● Now add marinated chicken and also the potatoes and mix with the spices
● Cook on low flame until chicken releases moisture. This will take 5 minutes on low flame
● Add three cups of hot water, cover the pan with the lid, and cook till the chicken and potatoes are well-cooked
● This will take around 15 minutes
● Add remaining garam masala powder and switch the flame off
● Add lemon juice at this point
● Serve it with hot steamed rice