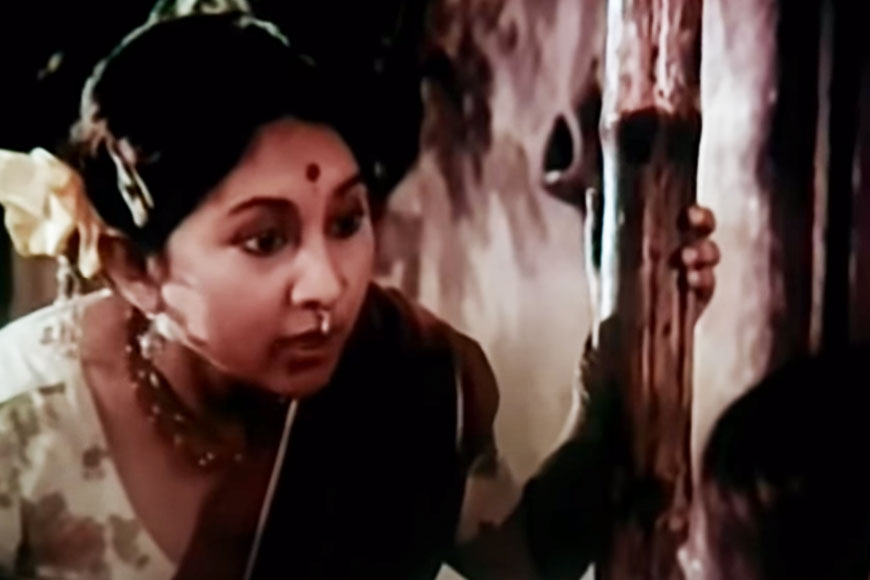 Ganadevata (1978)
Cast: Soumitra Chatterjee, Ajitesh Bannerjee, Sandhya Roy, Madhabi Mukherjee, Samit Bhanja, Rabi Ghosh, Sumitra Mukherjee, Anup Kumar
Director: Tarun Majumdar
Two days from now, veteran actor and sometime MP Sandhya Roy turns 81. A three-time recipient of the Bengal Film Journalists' Association Award, she made her big-screen debut with Rajen Tarafdar's Antariksha (1957), and went on to create a significant body of work with over 60 films. Her upcoming birthday gives us an opportunity to look back at one of those films, which fetched her a Filmfare Awards (East) best actress, and in which her pivotal character drove a very important narrative trope.
Directed by Roy's husband Tarun Majumdar, Ganadevata is based on renowned Bengali novelist Tarashankar Bandyopadhyay's timeless classic, portraying the saga of the small village of Shibkalipur caught in the crossfire of changing times, against the backdrop of India's imminent Independence and a rapidly industrialising society – as age-old feudal traditions and lifestyles clash with the new forces of change.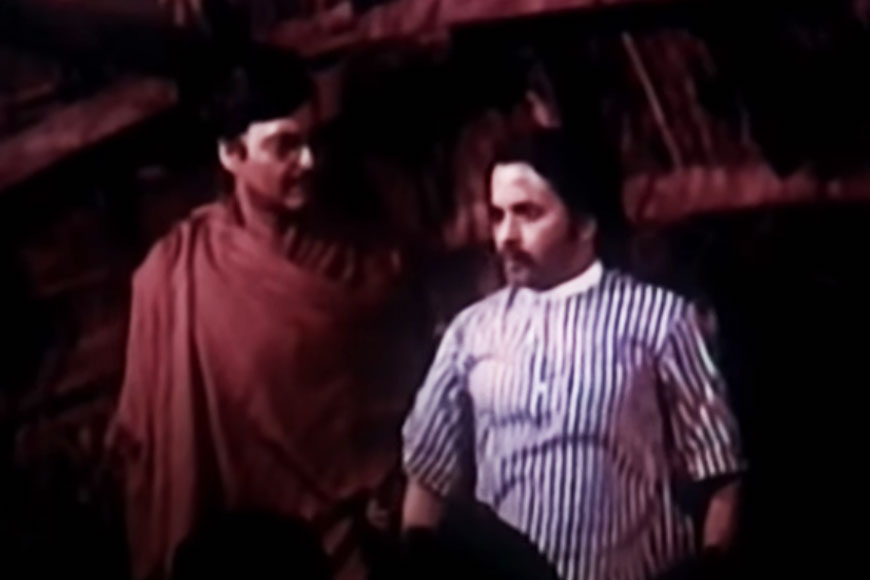 This clash is evident from the very get go, with a high-energy sequence in which the village blacksmith Aniruddha Karmakar and his friend, the carpenter Girish, refuse to work under the age-old barter system any longer, demanding payment in cash instead. Aniruddha's primary argument is that villagers often fail to pay him in kind, but are content to buy cheaper products from the market near the railway station, indicating the deeper fault lines beginning to show up in the country's rural economy as a whole.

The setting is the Chandi Mandap (a worship hall, very roughly translated), a focal point for numerous villages in rural Bengal of the time. The sequence also introduces us to most of the prominent men in the village, including Chhiru Pal (Ajitesh), who shapes a large chunk of the narrative. Interwoven into the narrative of change are blurring divisions of class and caste, represented by the men present at the Chandi Mandap, such as the respected Brahmin Debu Pandit, the working class rebel Aniruddha, the wealthy and villainous Chhiru Pal who later changes his name to Shrihari Ghosh to give himself a leg up the caste ladder, the medical man Jagan, the lower caste Patu Bayen, and the sneaky middleman Debi Ghoshal.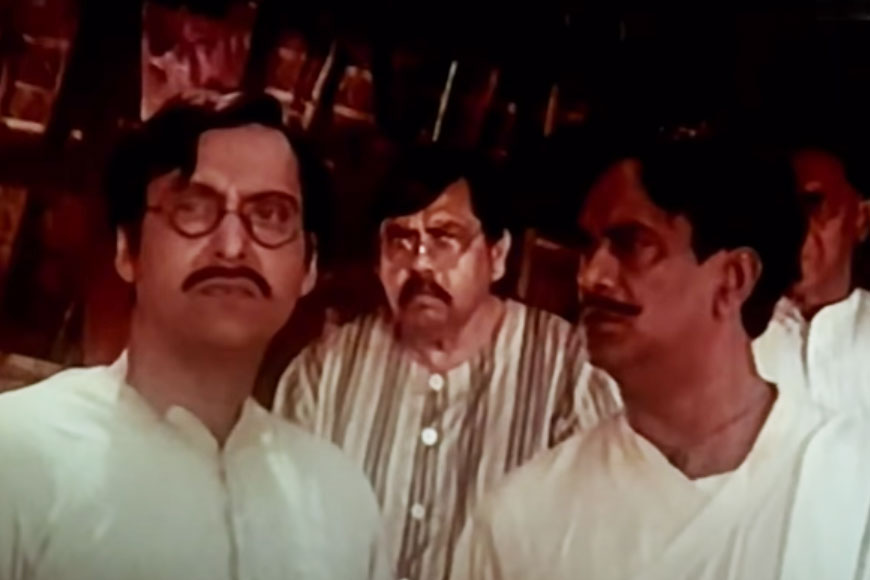 Eventually, Aniruddha's one act of rebellion lets off a chain of unstoppable events, and turns life in the village on its head. Aniruddha himself makes a set of powerful enemies, particularly Chhiru Pal, whose vengeance is terrible indeed, driving the blacksmith into spirals of alcohol, unemployment, and infidelity. Aniruddha's friendship with Debu is also tested, as the latter initially sides with the traditionalists. However, Debu's evolution as a character is one of the pillars of the film, as he gradually wakes up to the way in which scoundrels like Chhiru use tradition to perpetuate the oppression and exploitation of the poor. By the end of the film, Debu's awakening is complete, and the assertive, aggressive man willing to go to prison for the sake of his fellow villagers is a far cry from the mild-mannered, slightly pedantic young man we see initially.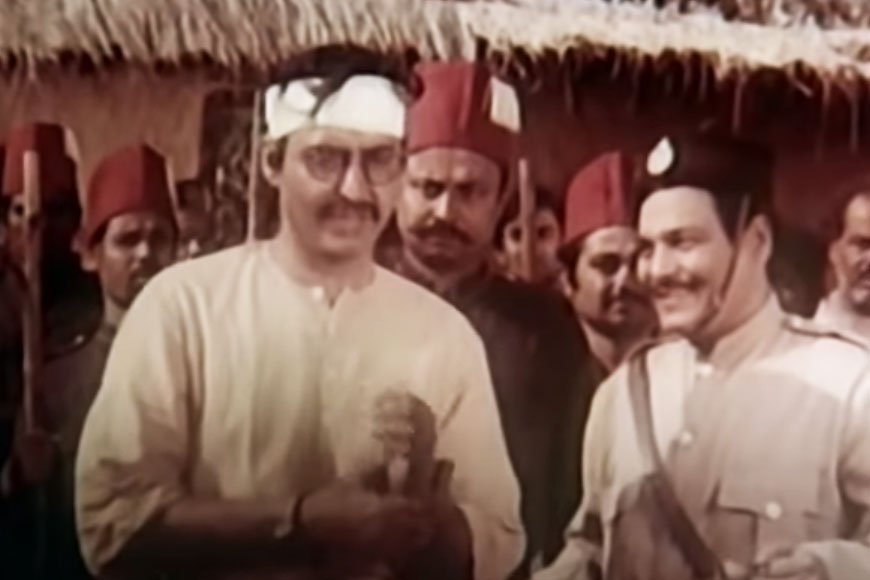 The film's other male characters are more stereotypical, but the women are a different story, in particular Durga (Sandhya), whose journey from a farmer's wife forced to sell her body to essentially the conscience keeper of the village is as wholesome as it is dramatic. The other women, such as Aniruddha's fiery wife Padma, Debu's incredibly loving wife Bilu, eventually bond with Durga in a sisterhood that embodies great dignity and grace. Their disparate social and financial backgrounds eventually melt in the face of their empathy, and the shared courage to cut across cast-iron social boundaries.

Durga leads the way on this journey, chiefly because her position as a prostitute empowers her to ignore all class and caste divisions, and she effortlessly uses both her intelligence and her physical charms to guide the men into doing what she wants. For instance, she gently points out to Debu the unfairness of keeping Padma away from a community festival, blackmails Chhiru Pal into paying to rebuild the village huts that he burned down, and seduces the evil local police chief to stop him from arresting a young freedom fighter who has sought refuge in the village.
In another dramatic sequence, Chhiru Pal makes lewd advances on Padma, and she whips out a sickle to defend herself, eyes blazing and jaws set grimly. The scene is interspersed with shots of goddesses Durga and Kali in a crude yet effective juxtaposition to drive home the point of women's empowerment.
Throughout the film, director Tarun Majumdar makes it clear where his sympathies lie, though he typically attempts to strike a balance between entertainment and meaningful social messaging. While this probably prevents him from taking the deep dive that Tarashankar's novel does, his deep knowledge of human psychology and feudal Bengal is brilliantly evident.
Despite its flaws, therefore, Ganadevata remains a milestone in Bengali cinema owing to its willingness to explore serious subjects that could potentially turn viewers off. That this has not happened is a credit both to Majumdar's directorial skills and the outstanding performances from his cast, particularly Sandhya Roy's scene-stealing portrayal of Durga. The music by Hemanta Mukhopadhyay, the cinematography, and the sound design remain memorable too, particularly at a time when technical competence was not really a concern for the Bengali film industry.
Most of all, Ganadevata remains an example of what a great literary work can become in the hands of a dedicated filmmaker. As the Bengali film industry strives to survive on cheap remakes of southern masala films, perhaps a few filmmakers could use Ganadevata as a shining template to rediscover the treasure trove of Bengali literature.