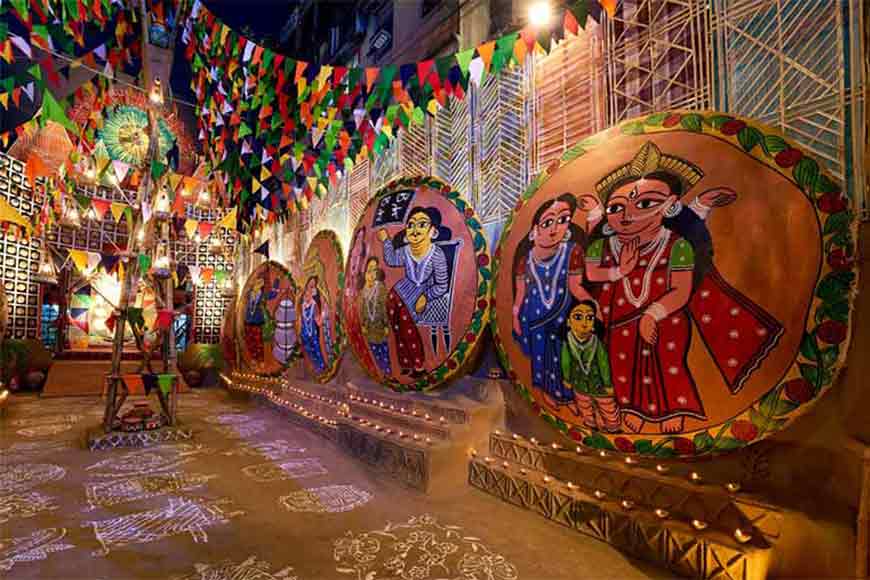 Pata Durga
People nowadays have almost forgotten about the existence of 'Pata Durga', one of the earliest art forms that celebrated Maa Durga. Worshipping 'patas' with figurines of Maa Durga drawn upon those, was popular almost in every part of Bengal. The bright earthen colours of the 'pata chitra' presented a visual grandeur and a rustic charm, that was an intrinsic part of the festive essence.
Famous 'patachitra' researcher Anjan Sen says Durga puja has been practiced for about 1000 years or even before that. The Devimahatmya section of the Markandeya Purana mentions the construction of clay idols. The 11th-century Kalikapurana or Shulpani's Durgotsava-Viveka treatise also describes the worship of Mrinmayi (clay-made) idols. It was probably during that period that 'pata Durga' came into vogue. Gradually it became an art.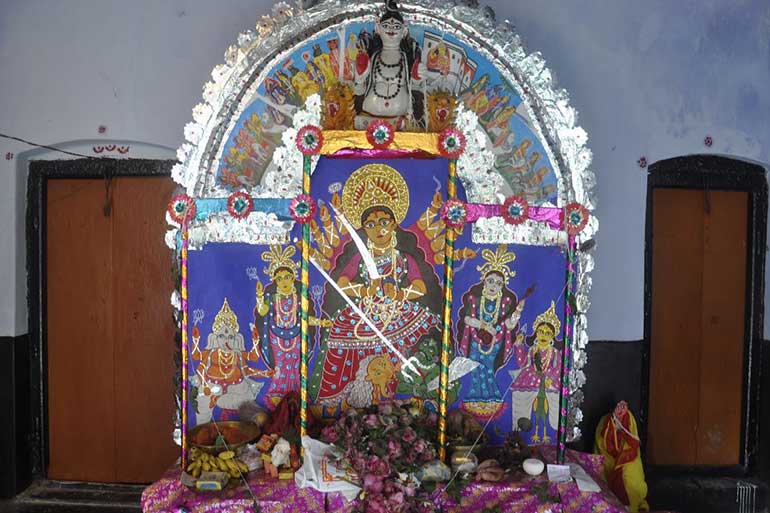 'Pata Durga', Hatsarinda, Birbhum
The 'pata chitra' painters are called patua who mainly painted 'dighal pata' or inlaid entangled pots. Some pots were square-shaped as well and represented the Lokayat aspect of Durga. A few such pots are preserved in the Ashutosh Museum of Calcutta University. On one such 'pata chitra', Durga Bandana by Rama is painted. Bratchari Museum is also home to several 'pata chitras'. 'Pata Durga puja is still carried on in many places in Bengal. Even today Malraj Rajbari, Bishnupur Rajbari, Mallikbari in Bankura, Hatsarinda in Birbhum, and East Midnapore worship 'pata Durga'.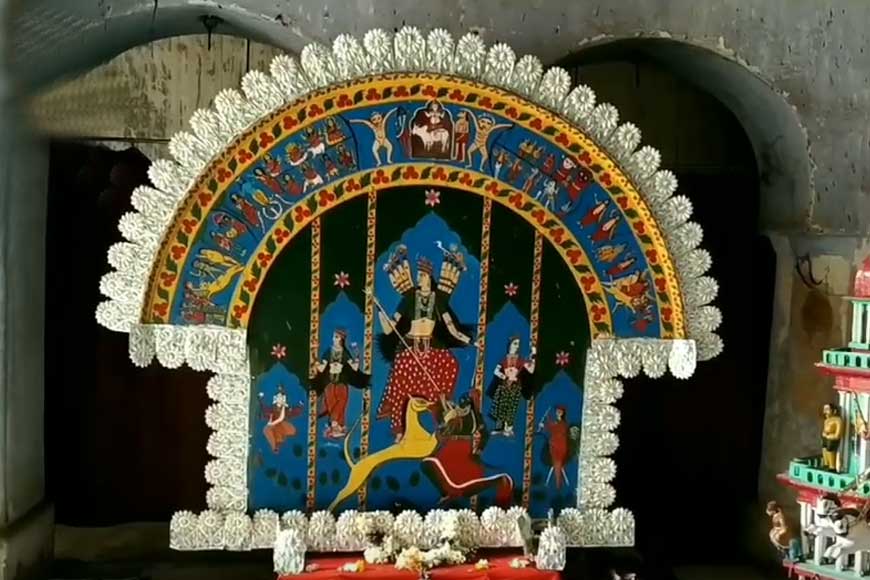 Pateshwari Durga of Burdwan Rajbari
The Pateshwari Durga of Burdwan Rajbari is indeed very famous. These 'pata chitras' are mostly drawn by Sutradhar, Kumbhakar, and Karmakar communities. A few 'pata chitra' makers belong to the Muslim community as well, which in turn also proves that more than any religious symbol, 'pata chitra' is a form of art.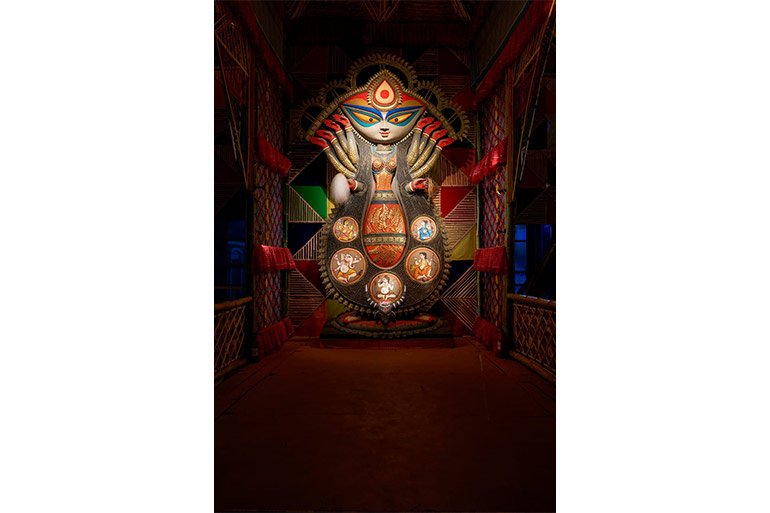 Theme 'pata chitra, Hatibagan Sarbojonin Durgotsav, 2022
Last year, Hatibagan Sarbojonin Durgotsav took up 'pata chitra' as their annual Durga Puja theme. The mandap was decorated with Durgapata, Kalipata, and Manasapata. Sanjib Saha decorated the pavilion and Sanatan Dinda made the idols. Earlier, Sanjib Saha used to work on Bengal's Lokayat artworks. He had done installation work for a long time. Within the pandal, in front of the mandap, a Durgapata with a radius of 10 feet was made up of earthen clay. Different images of various Gods and Goddesses and mythological scenes were painted on a thick cloth all over the mandap, the images of 'pata chitra' were made on the structure of the deity along with the songs sung by the patuas - the culture of the villages of Bengal was reflected in the heart of the city of Kolkata by Hatibagan Sarbojonin Durgotsav. Hence, it had bagged many prizes.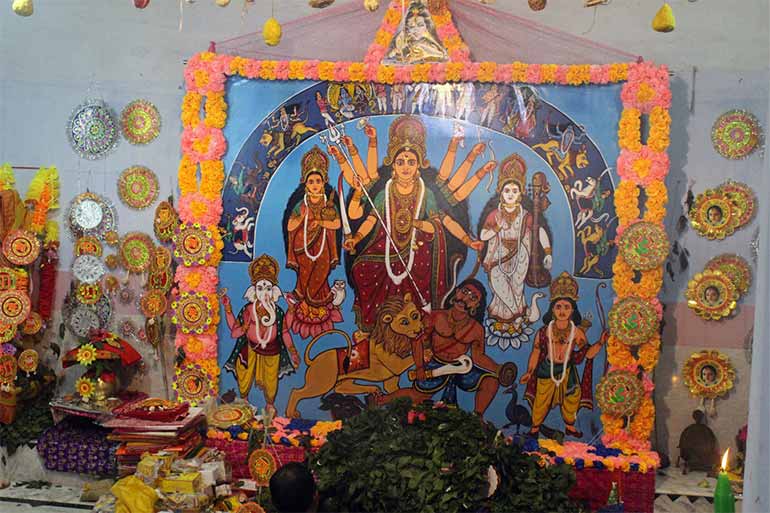 Pata Durga Puja, Mallikbari, Bankura
However, one could find 'pata chitras' in Kalighat, where they have emerged as an individual art form. According to Anjan Sen, the painting of Kalighat patachitras started around the year 1800. It started in the first place to attract the Kalighat visitors with the paintings of Durga on these pots as souvenirs. The demand for these pots increased with the increase in the number of tourists. As a result, artists began to draw Patdurga in long, strong strokes with a quick hand on thick paper.Apart from Kalighat, this pot was also available in various rural fairs. Pots from Kalighat were also taken to perform puja in various palaces. The shiv-Parvati and Ganeshjanani Durga were liked by the artists very much. The Lokayat form of Durga can also be seen in the works of other potters.