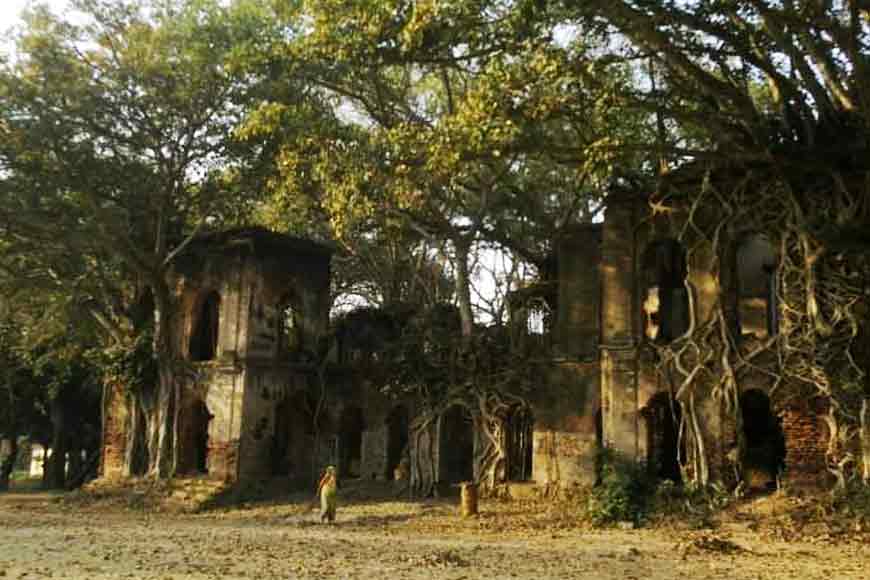 Kajlagarh Palace (Rajbari)
East Midnapore district has a rich historical legacy. The district is home to a large number of notable architectural sites. One such important locale is Kajlagarh, once a hotbed of nationalistic uprising. But what Kajlagarh is famous for is its association with the memory of noted poet, playwright, lyricist and music composer, Dwijendralal Roy or D.L Roy.
Today, Kajlagarh is a village and a gram panchayat in Egra subdivision of East Midnapore. The pride of Bhagwanpur is the dilapidated Kajlagarh Palace (Rajbari), that dates back to the 16th and 17th-century. Midnapore was then divided into small independent kingdoms like Tamluk, Balisita, Turka, Kutubpur and Sujamutha. The rulers of these tiny kingdoms were mostly from the Vaishya community. About 400 years ago, this was a lowland jungle, infested with wild animals that roamed in their natural habitat freely. According to lore, the Ranjhamp tribesmen were hunting in the jungles when the leader of the group had a dream. Goddess Kajla Kalimata appeared in his dream, asking him to establish her deity and worship her. Since then, the place came to be known as Kajlagarh.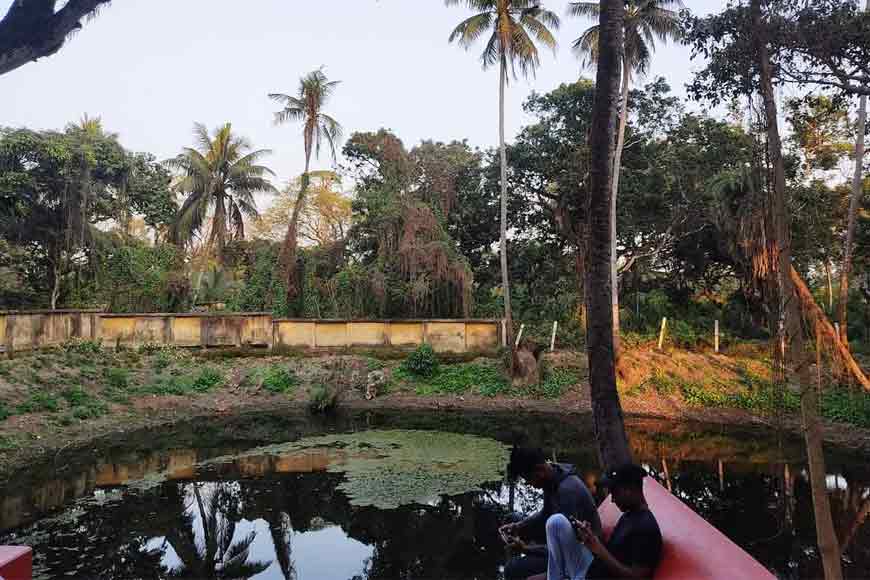 Kajla dighi
The founder of the Sujamutha dynasty was Govardhan Ranjhamp. The rest of his descendants were Madhab Chandra, Sridhar Narayan, Gopalendra Narayan, Narendra Narayan, Mahendra Narayan, Debendra Narayan and Golkendra Narayan. During the reign of King Mahendra Narayan in approximately 1769 AD, this palace and its adjoining Gopal Jiu's Navaratna temple were built. In 1860, the Ranjhamp estate was sold at an auction and Maharani Narayan Kumari of Burdwan bought it. Since then, it has become known as the Kacchari house of the ruler of Burdwan.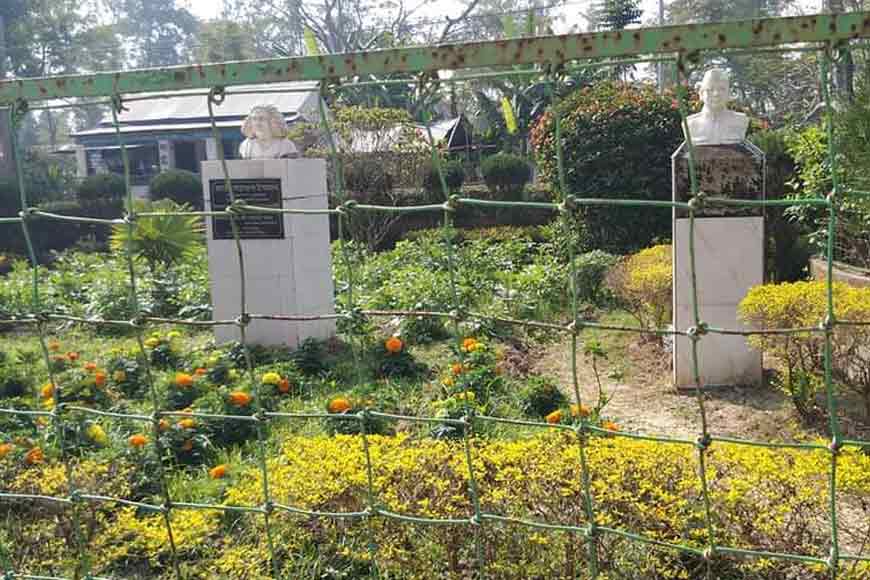 Memorial stone of D. L. Roy
In 1955, when the Union government abolished the zamindari system, it naturally became the owner of the estate and the palace was transformed into Block Development Office (BDO). Close to Kajlgarh Rajbari is Kajla Dighi, another important spot that's steeped in history. King Devendra Narayan dug this pond to satiate the thirst of his subjects. The office of the Sub-Registrar of the British Government was located on the banks of Kajla Dighi. Here in 1890, poet/ playwright Dwijendralal Roy worked as settlement officer in the Survey Depository Division of Sujamutha Pargana under the Court of Wards, State of the King of Burdwan. During his tenure here, he penned many poems and plays. Later the office was burnt to ashes by revolutionaries during the August 1942 Quit India Movement.

Locals want Kajlagarh to be given its due recognition as a historical site that will put the place on the tourist map to ensure tourist influx round the year. Keeping with popular demand, beautification work is in progress around Kajlagarh Rajbari. The ground has been renovated and all efforts are being made to attract tourists to this newly-launched historical spot. The result of this concentrated hard work is already paying rich dividends.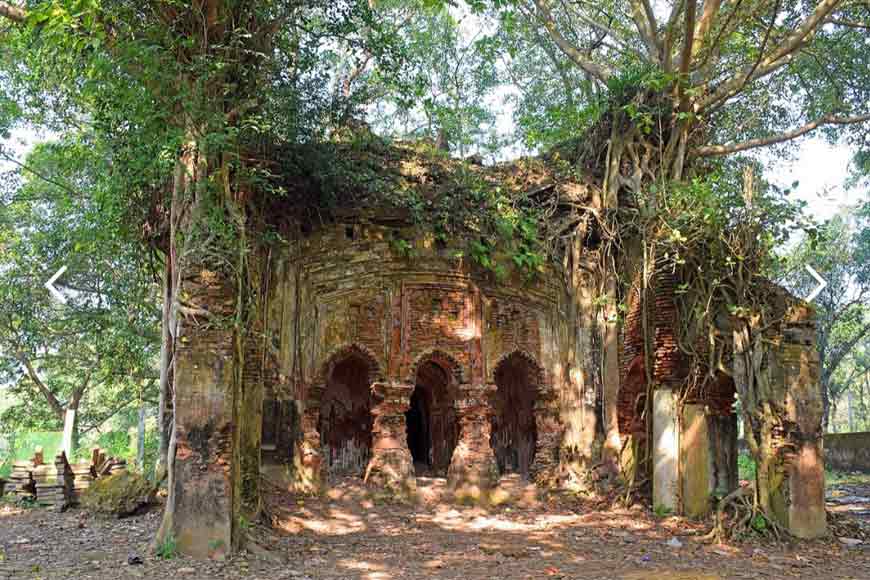 Temple of Rajbari
D.L. Roy came to this place as the land settlement officer of the then Sujamutha division of Midnapore. It was in the year 1890 and he lived her for more than 3 years. While living in Kajlagarh he not only scripted some of his best songs and poems, but also led a protest against the excessive tax that small landowners and farmers had to give. In his autobiography the poet writes: "The plan to take excessive tax is illegal and my predecessor land settlement officers did not even properly measure the lands that belong to the farmers before assessing the tax brackets. This leads to more tax for less land. I have decided to revoke it, and first do exact measurement of the lands. However the British government is not happy with me for this. Lt Governor Charles Eliot who is in charge of the Bengal Presidency came himself to visit Kajlagarh and seemed to be quite unhappy that I am supporting the farmers in their cause. But I had to. That was the only rightful thing to do."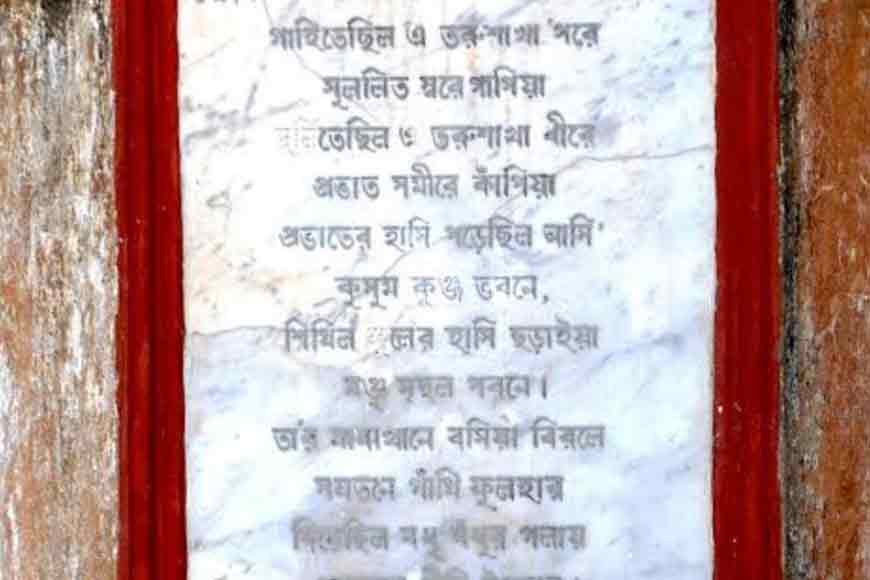 Memorial stone of D. L. Roy
Thus D.L Roy became very popular in Kajlagarh and every evening he used to hold 'Sahitya Sabha,' on the banks of Kajla Dighi that attracted authors and poets from far and wide. D.L. Roy's wife also fell in love with the place and would make garlands out of flowers every evening for her husband and their guests. This inspired the poet to write his famous song: 'Ami shara shokal boshe boshe ei sadher mala ti genthechhi' (all morning I sat and made this loving garland). The British government however stopped his promotion as he was helping the farmers. But that left D.L. Roy unperturbed. Rather he fell in love with Kajlagarh. And the local farmers even gave him a name, Dayal Roy, for his benevolence.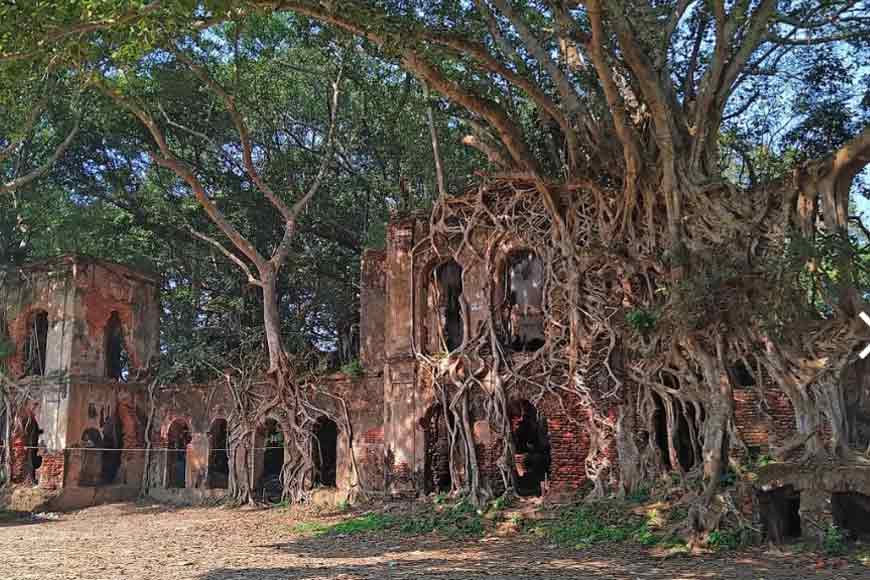 Exterior of Rajbari
In remembrance of the poet in 1935, a memorial stone and tomb was laid on the northern end of Kajla Dighi. Many well-known people including historian Jogesh Chandra Bose who extensively wrote on the history of Midnapore, the then deputy magistrate of Contai, Surendranath Sen, actor Dinanath Nanda were all proactive in keeping the memories of Roy alive in Kajlagarh.
Image courtesy : Soodipto Biswas.and Wiki