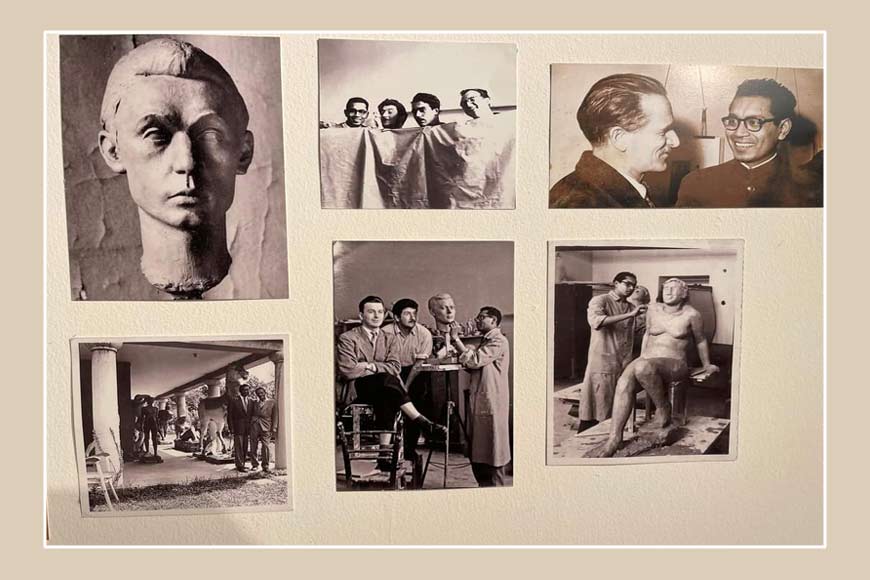 What happens when a polymath and artist designer approaches design as a complex nation-building idiom? They surely in the process focus on modernisation and revivalism. Riten Mozumdar, born in 1927 was one such artist-designers of the Indian Modernist Design Renaissance who left a mark in the post-Independence Indian art circuit. A recently concluded Exhibition at Kolkata Centre for Creativity helped to bring out Mozumdar's body of work in a varied format.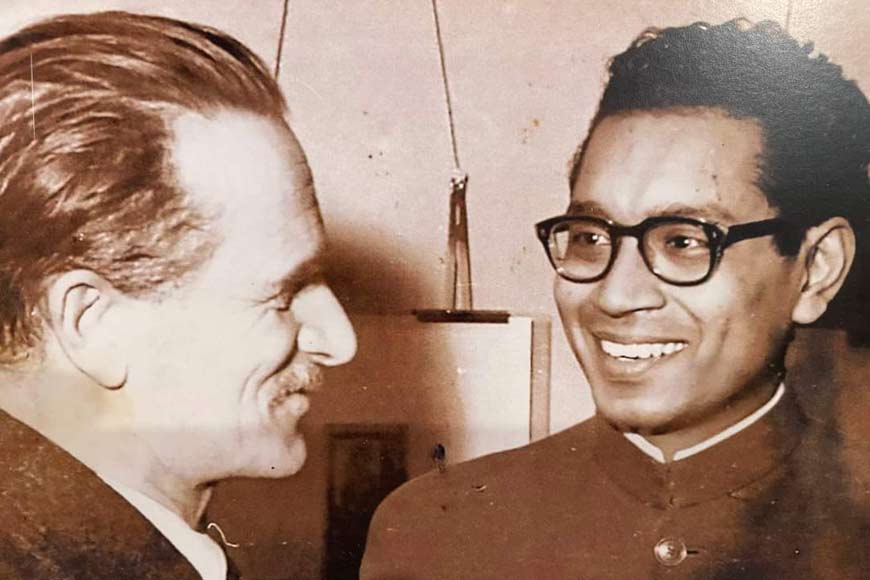 In the immediate decades that followed India's independence a group of visualisers responded to the socio-economic and cultural upheaval sweeping through the country. Riten Mozumdar was one of them. He brought in historical perspectives as well as newer icons of style and techniques and between 1950-80, he heralded a new brand of aesthetics. Mozumdar's body of work displayed a diversity of range and materials exemplifying a rare mastery over mediums and techniques. He passed away in 2006 leaving behind an illustrious career spanning five decades. Though in his lifetime his exhibitions were held both in India and abroad, today his immense legacy remains largely forgotten.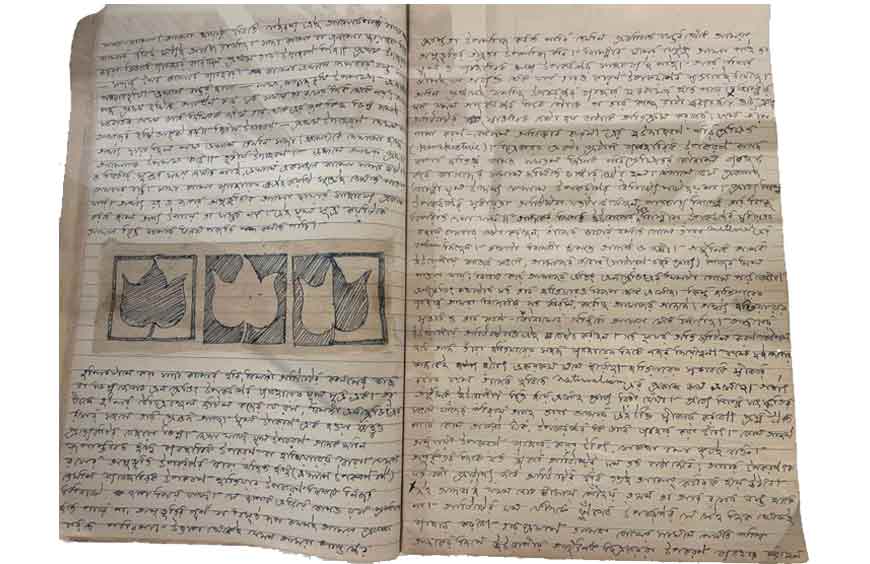 Mozumdar often referred to himself as an artist-sculptor. His tryst with art began as a student in Tagore's Santiniketan between 1946-50, coinciding with the dawn of an Independent India. Educated in painting, sculpture, design and crafts at Kala Bhavan by stalwarts like Nandalal Bose, Ram Kinkar Baij and Benode Behari Mukherjee, Mozumdar was the product of a schooling which emphasised engagement with heritage as well as arts and crafts as integral to an all-round education. He cherished his relationship with Benode Behari, who came to look upon Mozumdar as a son.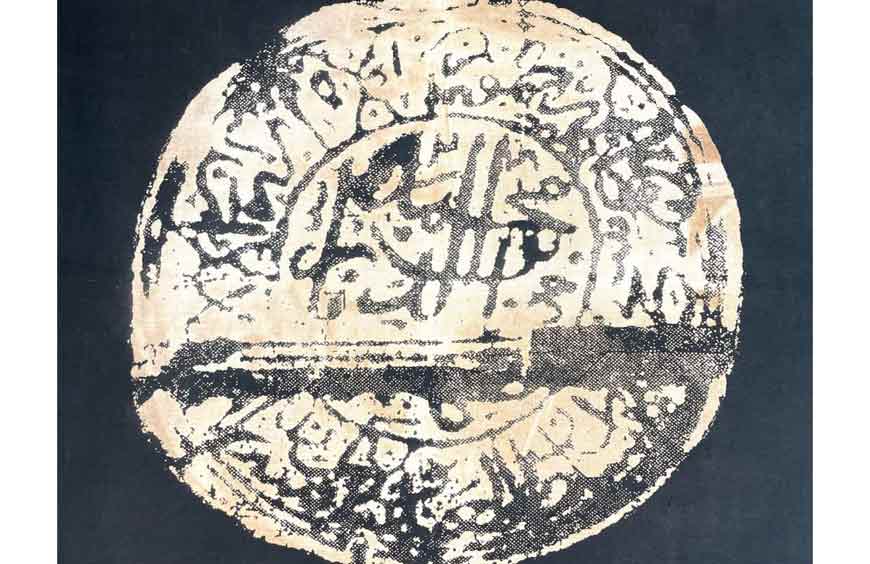 These are from the recent exhibition at KCC
Under his guidance, Mozumdar trained in Nepal in traditional crafts and design with master craftsman Kulasundar Shilakarmi. Nepal was a medieval society with no strict dividing line between art and craft, and this indigenous art and crafts to flourish. Mozumdar learnt sculpting in wood and stone, metal casting and beaten objects, banner painting and block making for book printing. Around 1951 he went to Delhi and later to Mussourie where Benode Behari had started a summer school and block printing unit. Here, both teacher and student created original block-printed material. Even KG Subramanyan wrote: " Between 1949 and 57 Riten broke on the Indian art scene with an impressive spate of exhibitions of painting and sculpture singly or with others."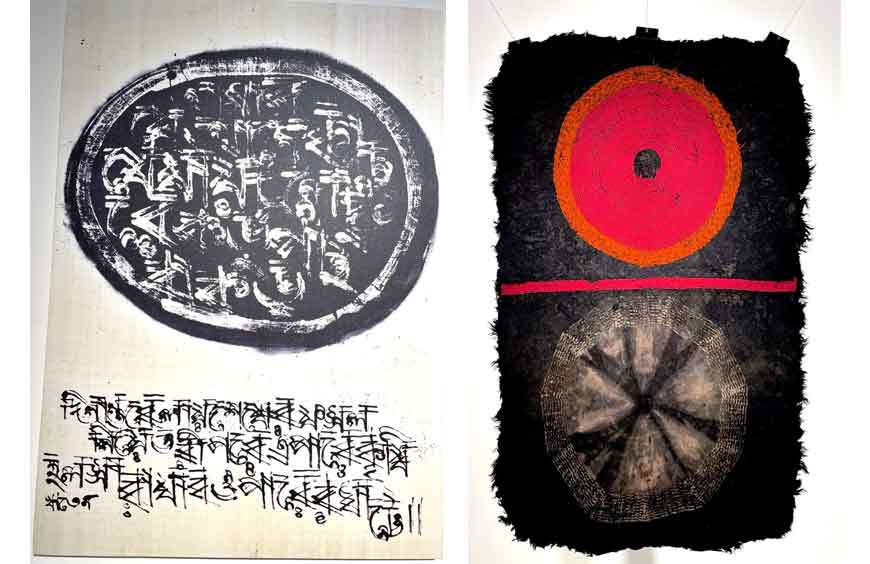 These are from the recent exhibition at KCC
Positive media reviews of his work helped Mozumdar gain a scholarship to study with sculptor Boris Kalin at the Academy of Fine Arts, Ljubljana, Yugoslavia for two years. From 55 to 56 he trained in an academic style, a marked departure from his previous training at either Santiniketan or Nepal. Whilst in Europe, Mozumdar received another bursary from Giuseppe Tucci, an Italian scholar of East Asian studies, to visit Italy. After completing his studies, he made his way to Finland and was working at Arabia a Finnish ceramics company, when Armi Ratia the founder of Printex-Marimekko discovered him. He worked as a textile designer with Marimekko for ten months between 1956 - 57, making numerous original designs, that were a move away from his earlier lyricism towards a crisper, more minimal, pared-down approach.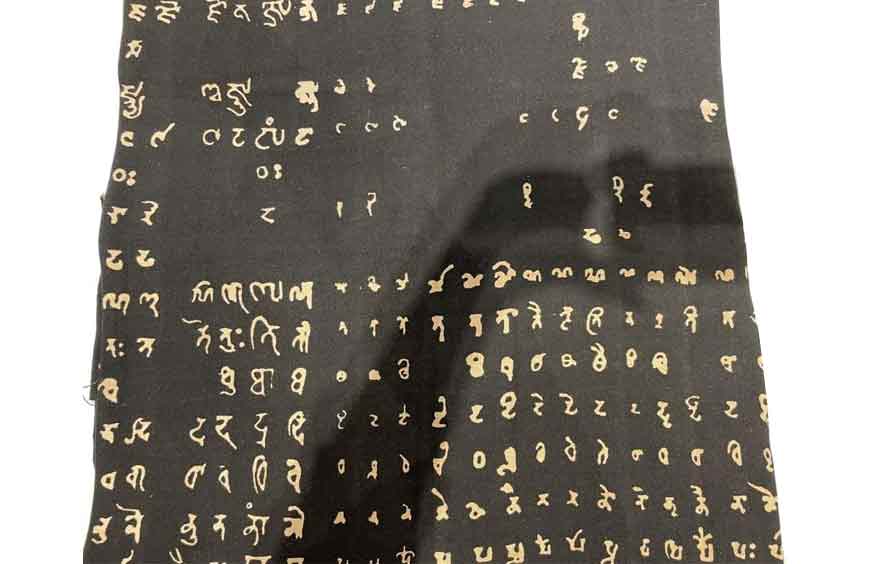 Calligraphy Art by Riten Mozumdar
Mozumdar travelled through the United Kingdom and the USA studying sculpture, ceramics, silkscreen and visiting museums before returning to India in December 1958. He met Charles Correa on the ship to India and forged a lifelong friendship. Together they represented India at the World Design Conference in Japan in 1960. Upon returning to India, his original vision and distinctive approach pushed Mozumdar headlong into instantaneous fame. He started a studio - M Prints out of a garage in 1959 and crafted fabrics, dress materials, furnishings, saris, household linen and worked with lineal block carvers from Rajasthan or Delhi to adapt traditional blocks and create contemporary motifs.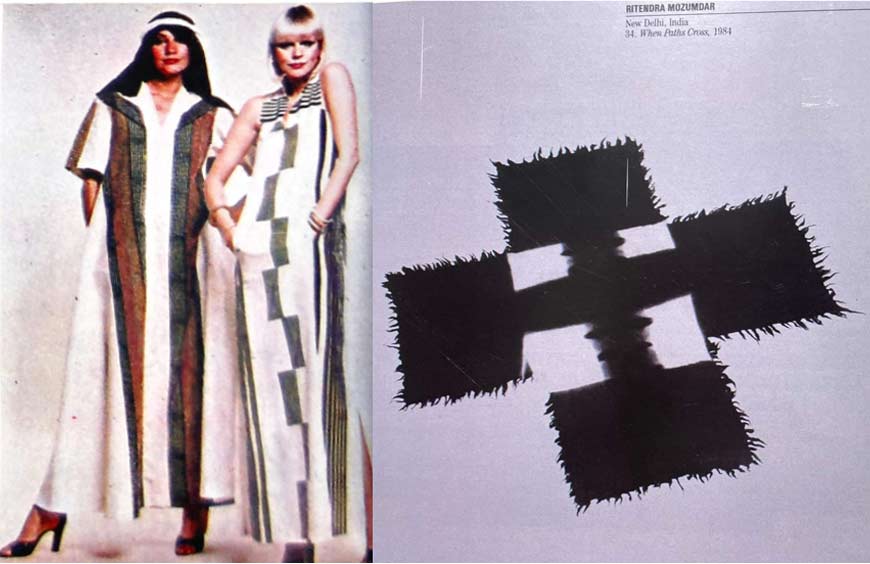 Fabrics designed by him
The next challenge he took up was calligraphy. Numerous designs feature various adaptation and permutations of Persian, Tibetan, Pali, Devanagari and Bengali script. Inspired by the Namavali gamchas of Bengal, Mozumdar produced series of designs that celebrate text in its purely visual element using images of ancient seals and stamps. In a well-known work, he magnified the inscriptions from a two-inch Babur's seal into a wall hanging. His work was in high demand and sold through various outlets in India. Even late Prime Minister Indira Gandhi was among his clientele. The best part of Mozumdar researched work was integration of various art and crafts into one form. Like he integrated the jaali (latticework) and arch styles of Indo-Islamic architecture into chairs, tables, screens. Additionally, he designed a line of furniture which could be called contemporary-classic in style or he even experimented with with Kashmiri Floor Coverings, Felting, Embroidered & Applique Rugs. He then transformed traditional Namdahs by combining tie and dye, discharge print, calligraphic blocks and embroidery techniques and turned rugs into wall hangings.
Fabrics designed by him
He was always on the look out for new challenges. His association with Fab India was one such milestone. John Bissell and Mozumdar were very good friends and initially, the latter had created some paisley prints that had been well received. So, when Bissell wished to start a line of contemporary designs in 1977, Mozumdar was given a carte blanche. Using geometrical shapes in bold and colourful blocks and silkscreen, he created a line of household linen that became hugely successful and synonymous with the Fab India ethos. His own clothing label 'Riten' was exported to the Middle East, Australia and Canada. His clothing line was simple and striking and used dramatic geometric motifs to create a contemporary allure. After conquering the world, he finally returned to Santiniketan in 1988 and created a series of calligraphic paintings, mostly monochromatic. These works too, exhibit Mozumdar's lifelong preoccupation with text, however, unlike his designs which primarily use it as a pattern or motif, by using excerpts from Tagore's poem Dinanto belay (End of the day) which has specific inferences of death and angst, the artist underlines certain conceptual preoccupations. This independent series marked the culmination of Mozumdar's dynamic vision as an artist.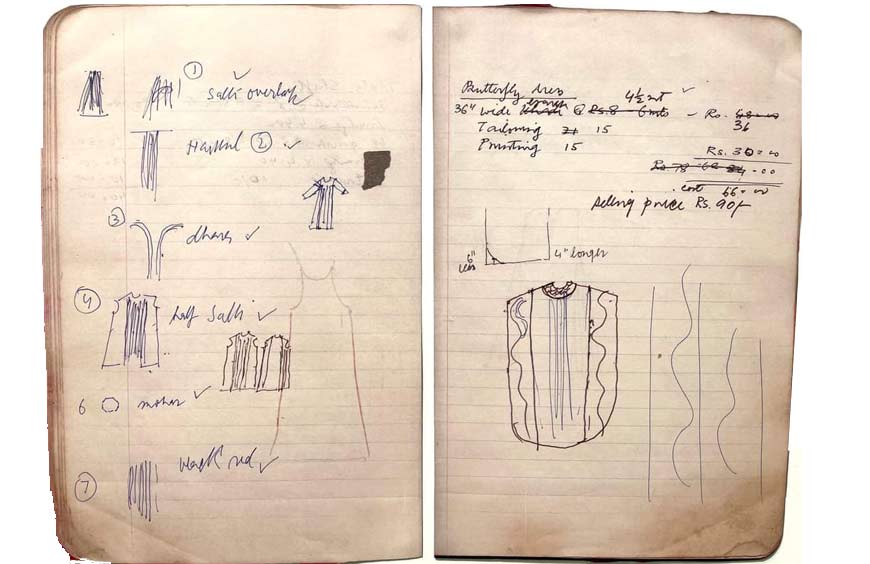 Fabrics designed by him