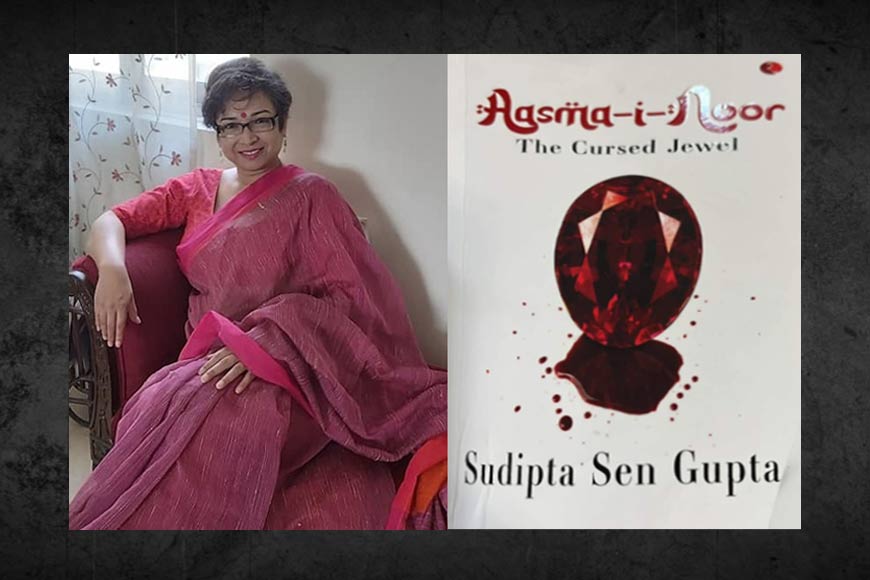 Was Nawab Siraj-ud-Daulah really an arrogant, cruel, spoiled brat who was indulged to excess by his doting grandfather Nawab Alivardi Khan? Was Mir Jafar really a barefaced traitor who offered the immensely rich province of Bengal to the British on a platter? Was Robert Clive really the blackguard whose sole mission in life seemed to plunder Bengal? Scholars have debated these questions over the years, but to the best of one's knowledge, they have not found place in a thriller set in contemporary times… until now.
Meet corporate hotshot Dr Sudipta Sengupta, a Presidency College alumnus who in her time has worn many hats, notable among them being Senior General Manager - Marketing at Carlsberg India, and CMO and Business Head at Inox FMCG. Not to mention her current stint as Associate Professor and Head - MBA & PGD Programs at Gurgaon's G.D. Goenka University. For the purposes of this piece, though, she is the author of Aasma-i-Noor: The Cursed Jewel, her debut novel set to hit bookstores in June.
Part of Sudipta's decision to set her plot in historical Bengal is her fascination for all things history, and her awareness that the Indian history we learn in school barely scratches the surface of some of our most critical turning points, such as the Battle of Plassey. And part of it comes from her habit of making up stories to tell her husband and two daughters in her spare time. "I first told my husband Marut this story, and he suggested I write it down," she says. As for the genre, she says 50 percent of her considerable reading comprises thrillers, which makes her choice a no brainer.
Among other driving factors was her desire to find out more about the women behind the men, as well as to see if historical characters that have been portrayed in a certain way truly live up to their portrayal. As she explains, "Siraj himself is a fascinating character study, apparently soft and gentle and terribly cruel at the same time. I also wanted to know more about characters like Lutfunnisa Begum (born Rajkumari, a Hindu girl who served Siraj's maternal grandmother Begum Sharifunnisa, and became his third and principal consort) and Ghaseti Begum (Alivardi's eldest daughter). These are women whose stories remain largely untold, and yet they were crucial players in their time."
At its most basic, the novel tells the story of the world's largest diamond - Aasma-i-Noor (sky of light), a rare red gemstone of incomparable beauty, surpassing its sister stones, the Koh-i-Noor (mountain of light) and Darya-i-Noor (sea of light). Like most such fabled gemstones, Aasma-i-Noor has a terribly violent history, and is thought to be irrevocably lost, until a modern-day search begins in two different corners of the world, involving a British scholar in London and an Indian historian in Kolkata. The British scholar finds mention of the Aasma-i-Noor in documents left behind by Clive, while the Indian historian is a descendant of one of Clive's aristocratic Bengali friends.
Thrown into the mix is the Battle of Plassey (1757), the downfall of Siraj, the death of Clive and the treachery of Mir Jafar, all combining to create a maze of clues and red herrings for the two unlikely allies. Bengal's one-time capital city becomes yet another character in the novel, the story of its downfall inextricably linked to the search for the missing gem.

Not surprisingly, the more Sudipta researched her chosen theme, the more her outlook on certain matters changed. "Ghaseti, for example, was a remarkable woman. I would call her a Bengal tigress! In fact, my impression is that the British were more afraid of her than of Siraj, which is why they sided with Mir Jafar. They knew she couldn't be controlled, and signed a secret treaty with Mir Jafar to get her out of the way," she says. "Once Siraj was gone, Mir Jafar got into a tussle with her over who would control Bengal, and finally demolished her mahal. Nobody remembers that she was a successful businesswoman and skilled combat strategist, she is simply painted as the conniving aunt."
Among her other realisations is the fact that one of the reasons for Siraj's unpopularity was his affinity for Bengal, despite the fact that Alivardi (born Mirza Muhammad Ali), belonged to a family of Deccani Muslims. Most of the family tended to look down on the local populace, but not Siraj, for all his other faults. "He saw himself as a son of the (Bengal) soil, married a Hindu woman, promoted Hindu officers in his army… none of this went down well with his peers," Sudipta says. However, she also says that this was not simply a Hindu-Muslim issue. "The conspirators against Siraj belonged to all faiths - Hindu, Muslim, Jain, even a Sikh. It was every man for himself, and what ultimately united them was greed for money and power."
Having set off on a journey to rediscover Bengal and its history, Sudipta intends to stay committed to it. Her second novel begins immediately after the Battle of Plassey and takes in the terrible Bengal famine of 1770, which is thought to have killed between seven and ten million people, or between a quarter and third of the population, and devastated the economy altogether, a process that had begun with the unbridled loot of the royal treasury at Murshidabad and the gradual British takeover of both natural resources as well as means of production.
For now, she is happy to recommend that we read her book, and take a trip down to Murshidabad to browse among the ruins of what was once a majestic city. "I hope my book enables my readers to look at the history of Bengal in a new light, and encourages them to do their own digging."
Asma-i-Noor (Rupa Publications) is available online in paperback form and on Kindle