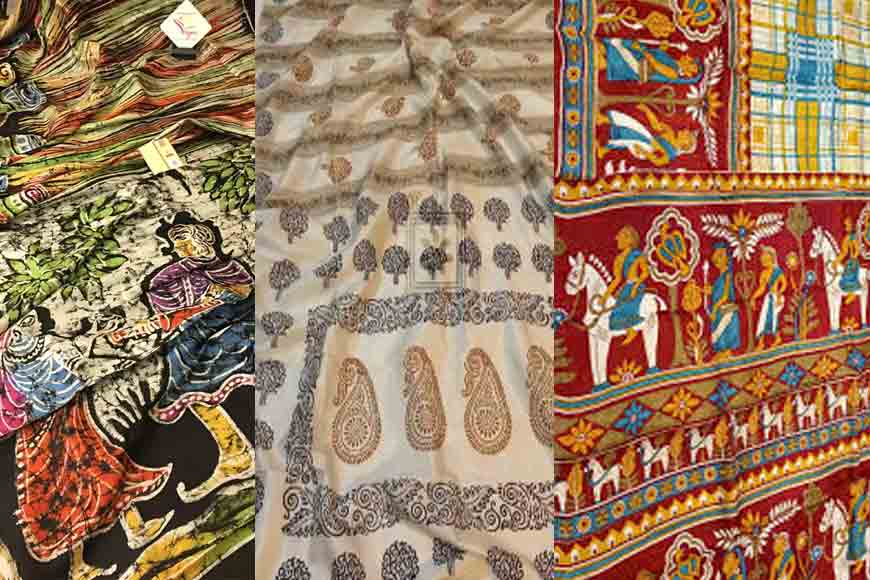 What started as a weaving phenomenon centuries ago in a small village called Baluchar in the Murshidabad district of West Bengal, has now turned into an experimental revolution with new techniques and new line of products introduced from Bengal's heirlooms. If we were so long acquainted with Baluchari sarees, that later moved from Murshidabad due to natural calamities, to the looms of Bishnupur under the British rule, now comes a new queen bee in the horizon – the Sonachari sarees.
Bengal is famous for its unique craftsmanship and artistry. The unique products of even rural artisans bear the impression of high artistic values. The practice of weaving Baluchari originated in Baluchar under the patronage of the Nawab of Burdwan. In the history of Textile in Bengal, 'Baluchari' came just after 'Muslin.' Now an expert team of weavers and trainers, thanks to the patronage of the State Government and the Hon'ble CM Mamata Banerjee, are producing a new genre of Silk called Sonachari (Sona derived as Sonamukhi is the working area and Chari comes from the touch of Baluchari concept). Textile and Fashion designers, documentation experts and marketing personnel along with eminent field Supervisors and Task Linked Forces have given a 100% effort in making Sonachari production the next big success from Bengal and results are already bearing fruit.

The designs on the saree are more or less same as Baluchari, mainly from Ramayana and Mahabharata, but they have a more aristocratic feel. In the first half of 20th century, Subho Thakur, a famous artist, felt the need of re-cultivating the rich tradition of Baluchari craft. Though Bishnupur was always famous for its silk, he invited Akshay Kumar Das, a master weaver of Bishnupur to his centre to learn the technique of Jacquard weaving. Das then went back to Bishnupur and worked hard to weave Baluchari on their looms.
Sonamukhi has now become a major Silk weaving Centre of the state. The weavers of Sonamukhi and its adjacent area are producing good quality silk fabrics specially Garad (fabric made out of twisted yarn). Considering the skill of weavers and their interest in Jacquard weaving, West Bengal Khadi and Village Industries Board has planned to set up a Common Facility Centre at Sonamukhi with a view to provide skill development training to the weavers in jacquard weaving, to produce Sonachari in bulk, with modern training in design and diversification. A computer aided design centre (CAD) will come up for improving the designs.