State to satiate gourmets with Bengal Black goat meat before this pujas - GetBengal story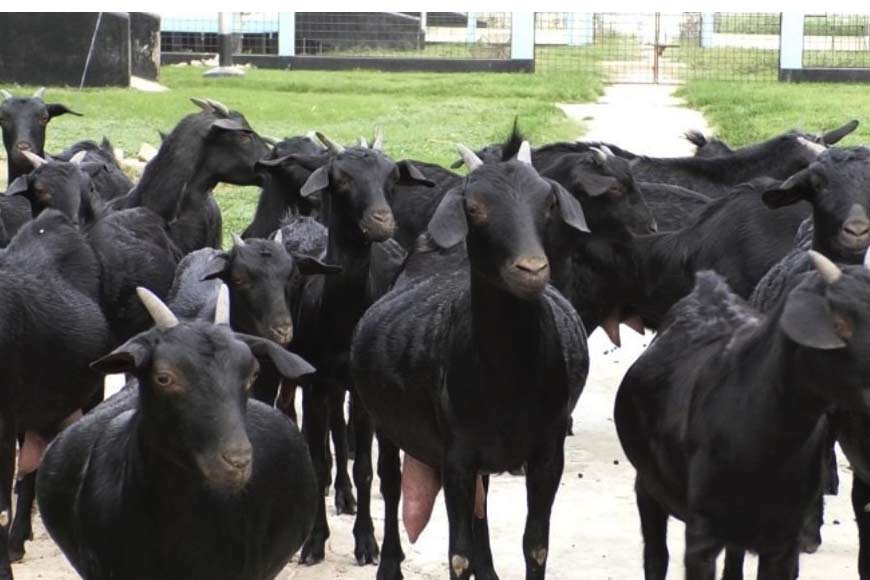 "Machhe bhate Bangali" is a preconceived notion about Bengalis, which roughly translates, to savour fish and rice is what makes one a true Bengali. However, mutton too holds a very special place in every Bengali's heart and hearth. Bengalis' love for mutton transcends all barriers of space and time. A true-blue Bengali would demolish a mound of steamed white rice with mangsher jhol, a velvety gravy with succulent and juicy meat pieces and plump potatoes for Sunday lunch and enjoy a siesta. The region's cuisine, whether it is Bangal or Ghoti or a blend of both, is loaded with mutton dishes. Other than the mangsher jhol that Bengalis love devouring on Sunday afternoons, there are mutton delicacies at weddings, on Eid, around Kali Puja and Durga Puja, during picnics and for all sorts of occasions that are considered special.
While mutton was always a popular delicacy in Bengal, the Mughlai and Awadhi influences just added more options and cooking methods to the Bengali mutton repertoire. The popularity of goat meat has always been high. Health-conscious individuals love it since it is lean, rich in nutrients, and low in fat.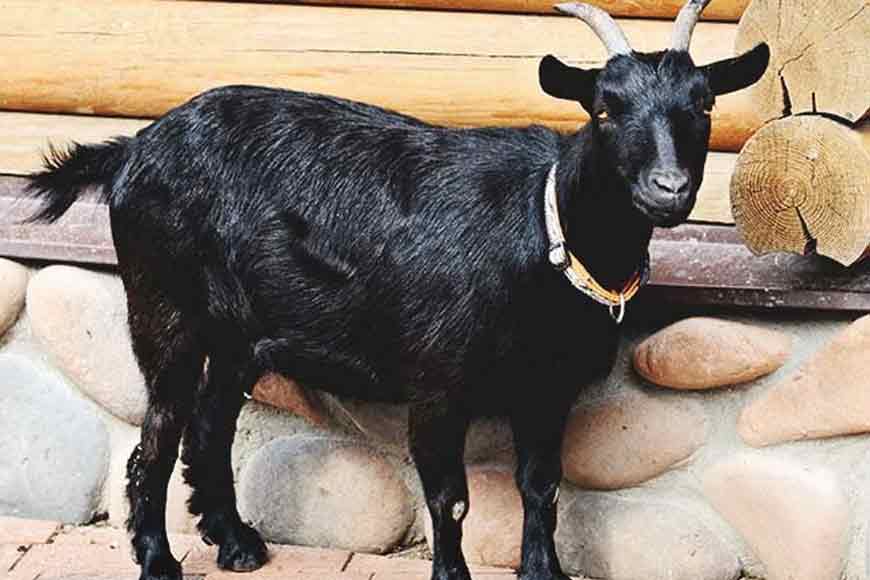 Black Bengal goat
India is the largest exporter of sheep and goat meat to the world and the rising demand for goat meat in the global market has created a shortage in the domestic market. Although goat meat is the fastest-growing sector in the livestock industry, the production is run by small and medium-sized businesses. The goat, by its adaptability in diverse agro-climatic conditions, plays a pivotal role in the economy of the weaker section of the country and 4.2% employment generation has been accounted for in goat farming in the rural sector. Besides, goat-keeping also acts as an insurance for poor farmers during natural hazards like drought, famine, flood etc. The largest producer of meat in the country is Uttar Pradesh which produces 23% of the total meat followed by West Bengal contributing 12% to the meat production.
The Black Bengal Goat breed is widely distributed throughout West Bengal and adjoining parts of the neighboring states, viz., Bihar, Jharkhand, Odisha, Assam and parts of Tripura. West Bengal has about 11.50 million of Black Bengal (19th All India Livestock Census, West Bengal) with 621 goats per 1000 households. It meets about ⅓rd of the present meat requirement of West Bengal. The Black Bengal Goat is normally distinguished from other breeds by its certain prominent physical characteristics, viz., small size, deep body, short legs, and thin and shiny hair coat. Black Bengal is one of the important breeds due to its high prolificacy, early maturity, and low kidding interval as well as for its delicious meat and high-quality black skin.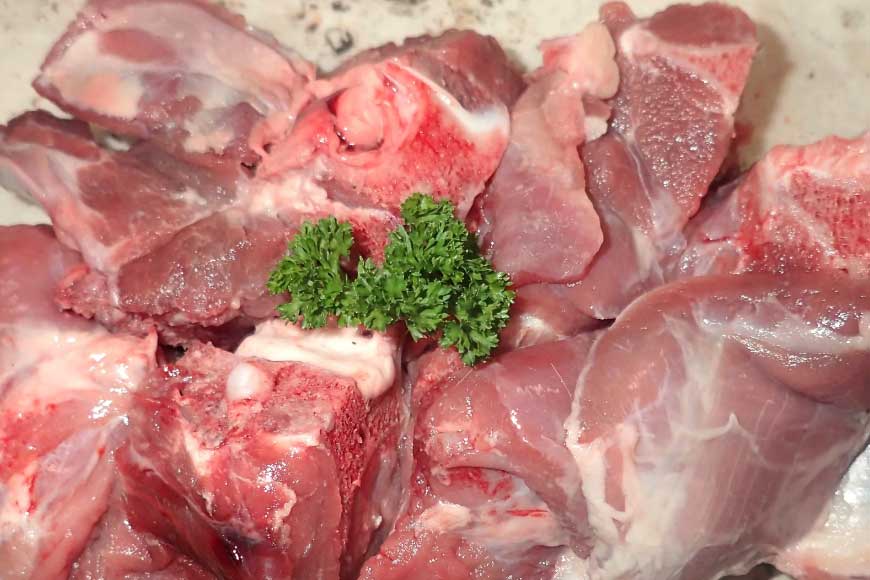 Goat meat, popularly known as mutton in Bengal
This year, the West Bengal government's Animal Resource Development Department has stepped in to boost the rural economy and has encouraged villagers living at the foothills of Ayodhya Hills in Purulia to rear Bengal Black Goat and become self-reliant. Introduced in the catchment area of Comprehensive Area Development Corporation (CADC), work is in full progress and possibilities are rife that Bengalis will be able to get their favourite mutton on their platter at an affordable cost during Durga Puja this year. Members of self-help groups working under CADC are being greatly benefited from this project. Besides, the initiative is helping the marginalized indigenous people become financially self-reliant.

In the first phase, the programme was initiated with 60 purebred Black Bengal goats and at present, there are around 350 to 400 goats. About 1600 villagers living in Ayodhya Hills and its base and those based in the Kumari Kanan Farm have been roped in for the task. The goats being raised at Purulia get ample fodder from the hilly terrains and this enhances the taste of the meat. These goats take six to 10 months to grow sufficiently.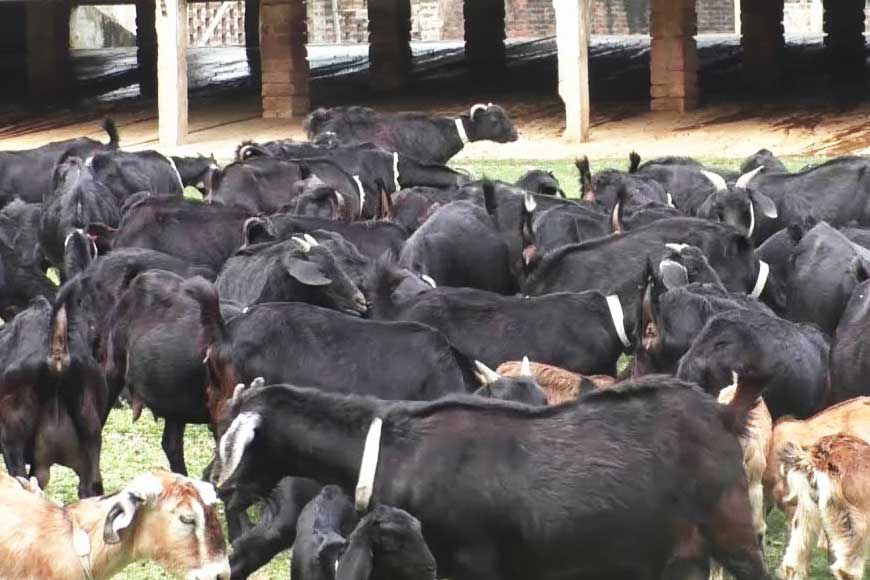 After processing and packaging the meat, CADC sends them to Mrittika Bhavan in Kolkata from where they are distributed to various outlets in the city and suburbs. Black Bengal goat meat will soon be available in different parts of the state once the supply chain is streamlined before the pujas. This move will help all gourmets get a taste of this delicious meat at a price fixed by the government in all markets through Haringhata outlets spread across the state.