Steve Pathé Zoutenn: the musical sensation from Central African Republic who sings in Bangla!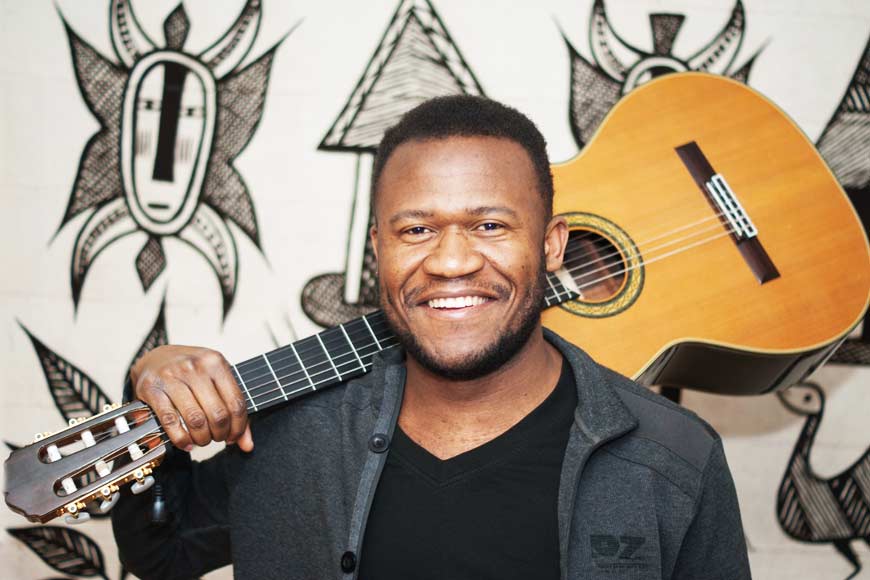 The Central African Republic is the focal point of the Bangui Magnetic Anomaly, one of the largest and most intense crustal magnetic anomalies on the African continent and also one of the largest magnetic anomalies on Earth. This landlocked country in Central Africa is also rich in mineral resources including diamond, gold, oil and uranium. The capital city of Bangui blends wooded hills and grassy meadows as it sprawls on the banks of the Ubangi River and is one of the most agreeable cities in equatorial Africa.
Steve Pathé Zoutenn, the musical sensation who has taken the Internet world by storm with his magical rendition of songs in different languages, hails from Bangui. He relocated to Canada (Montreal) to study computer science and started working as Web Developer there. Based in Montreal, this Internet musical sensation has been singing and posting videos on YouTube, Facebook, Instagram, and other popular social media platforms and he is a big hit everywhere. He has a vast fan following and his audience sends him requests to sing their favourite songs and our songster obliges happily. The wonder of wonders, he has mastered rendering songs in several languages including Hindi, Punjabi, Marathi, Bengali, Kannada and Bhojpuri. He keeps posting them on Instagram and is flooded with requests for more.
It is also amazing how he perfects the diction and all the finer nuances of the particular language he sings in. For instance, if you hear him singing 'Udaarian' in Punjabi, you will feel as if a Punjabi fellow is actually singing the number. When he sings Lata Mangeshkar's melodious song, 'Ajeeb dastaan hai yeh' from the film, 'Dil Apna Aur Preet Parayee', he breathes life into the lyrics with his soulful rendition. Similarly, it is so soothing to hear him sing 'Amaro porano jaha chay,' the first song that he uploaded on Instagram. He is equally at ease and enjoys singing raunchy songs like 'Mohabbat kar gail ankhiya' in crisp Bhojpuri. Recently, GetBengal (GB) managed to get in touch with this talented singer and spoke to him at length about everything under the sun. Excerpts from a tete-a-tete with Steve Pathé Zoutenn:
• GB: Sir, please tell us about your journey. Where were you born? What about your parents and siblings?

Zoutenn: My name is Steve Pathé Zoutenn. I was born in the Central African Republic. My father was a police officer and my mother was a teacher. I grew up in Bangui, the capital of the country. When I was 5 years old, my older brother took me to the cinema to watch a movie. It was the first time I watched a movie in the cinema, and it was an Indian movie called "Disco Dancer". Although I didn't understand the language, the music touched my heart. As far as I can remember this was the first time that music touched me. While watching this movie, I knew deep inside that I would sing in my life ahead.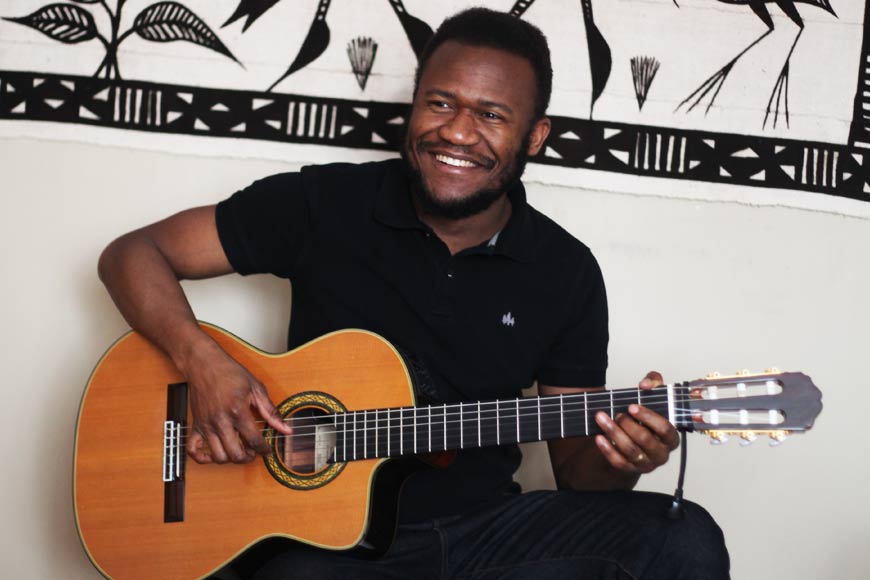 • GB: Do you pursue music as a full-time profession or is it a passion for you?
Zoutenn: Ten years ago, I had a small music band, and we were performing in different places in Montreal, but I was working as Web Developer at the same time. Unfortunately, I had to stop playing with the band due to a lack of time. But I didn't stop playing my guitar.
• GB: Did you get formal training in music or does it come naturally to you?
Zoutenn: I studied the trumpet at the conservatory for one year and I took various music classes for short periods of time. But it was always difficult to find time to continue because I am always doing many things at the same time. I hope I can get back to it one day.
• GB: You have a beautiful voice and sing so melodiously without missing any beat and so is your diction. What is your mother tongue?
Zoutenn: In the Central African Republic, we speak Sango and French, and we also learn English in high school, but we don't really speak it.
• GB: Do you know Bengali? Where did you learn the language or from where did you pick up Arijit Singh's Bengali song? Your flawless rendition makes me believe that you have some Bengali connection or else you would not be able to spell each word so distinctly and perfectly with just the right emotional expression. Is that so?
Zoutenn: I know very little Bengali, but I am learning. In the Central African Republic, every region has its own language, so we are used to singing in different languages without necessarily understanding the words. But none of our languages sound like South Asian languages, so it was challenging at first.
• GB: Have you heard Rabindra Sangeet, songs of poet/lyricist Rabindranath Tagore?
Zoutenn: I was watching 'Stories by Rabindranath Tagore' on Netflix when I listened to the song Amaro Porano Jaha Chay for the first time in one of the episodes. It was the first Bengali song I listened to as far as I know. It is one of my favorite songs. One day, I decided to sing this song and share it on Instagram. My Bengali followers loved it and encouraged me to sing more Bengali songs.
• GB: Have you ever been to India and to Bengal? How did you come in contact with Bengali language?
Zoutenn: No, I haven't been to India or Bengal yet. Montreal is a city where you can meet people from everywhere all around the world. The first time I started using Bengali words was 10 years ago when I met a Bangladeshi family in Montreal. I still remember them because they were very nice people and they treated me like family.
This singing adventure started with Hindi because, during COVID lockdown, I started to work from home and needed to learn something different to change my day-to-day routine. I decided to learn Hindi. A year later, I created my Instagram page to interact with people and help me improve my learning. Sometimes by request and sometimes by a happy accident, I ended up singing in other languages. I decided to sing in Bengali because I like 'Amaro Porano Jaha Chay' a lot. So, on Instagram, I have sung in Hindi, Punjabi, Marathi, Bengali, Kannada and Bhojpuri.

• GB: Going by popular response, would you seriously consider singing as your primary profession? What are your future plans for music?
Zoutenn: I do not have plans to make singing my primary profession at the moment. For now, I will just continue having fun practicing and improving.
Steve Pathé Zoutenn is on his way to becoming an Internet sensation soon. His affable charm and discipline are admirable and he works incessantly to improve his skills. We wished him all success in all his endeavours and bade him goodbye before signing off.