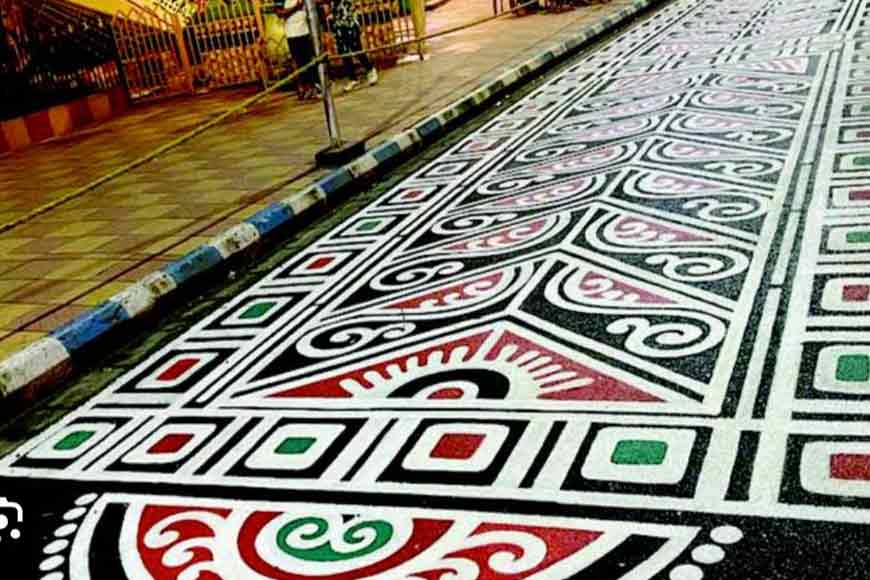 Street art at Patuli, Kolkata
It has been quite a while since Patuli emerged as the new hip and happening spot in the south Kolkata neighbourhood of the Eastern Metropolitan Bypass. Its novelty has worn off, people have got used to the Thailand-style floating market, the tree-lined corridor, the Lakeside Park promenades with pretty lights and benches, and footpaths lined with delicacies to suit every pocket. A smattering of food joints in and outside the park is a welcoming sight for gourmets. Visitors have dropped in to see the replica of the Dakshineswar temple as well as massive installations of the Durga idol, along with statues of Rabindranath Tagore, Ramakrishna Paramahansa, Sarada Devi, and Swami Vivekananda. Other statues of characters like Chota Bheem, Bal Ganesh, etc., have fascinated kids for a while, but all that is passé now.
The beatification work at Patuli will be ready before Durga Puja this year. This is the first time that an entire stretch of the main road in Patuli is being painted with graffiti or street art akin to Belfast in Ireland. More than 300 feet long and 12 feet wide, the road is already dazzling with vibrant geometric designs.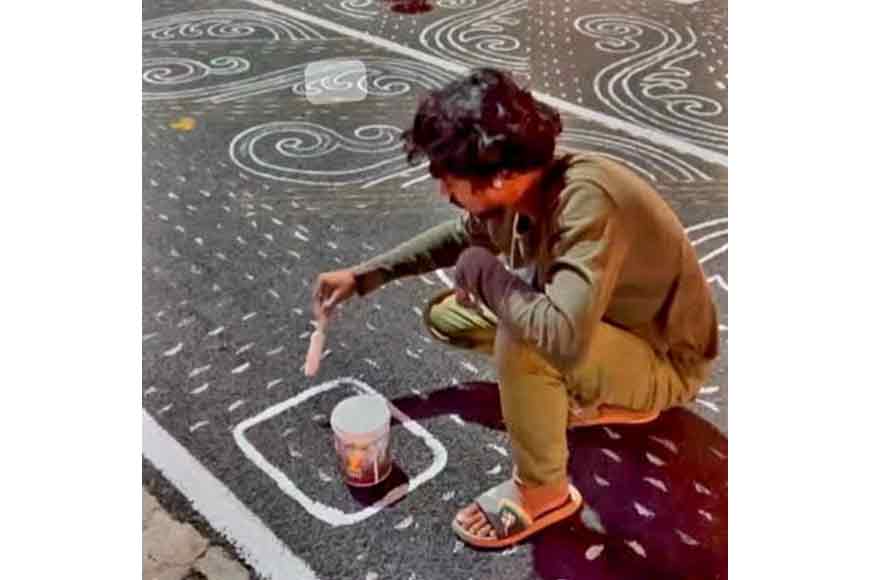 Gurupada Bachar and his team are working tirelessly to create the street art
Berlin, Bethlehem, Belfast. These cities, like so many others with traumatic histories, have walls that speak. In Belfast, Northern Ireland, there is a long history of using wall paintings to make political statements, but young street artists have been shifting that conversation by changing both the medium and the message. Their vibrant street art has changed the look of Belfast. While nodding to the past, many of these young painters endeavor to leave 'The Troubles' behind. 'The Troubles' here refers to the scores of political murals based on conflicts, some dating back to the 1920s, that pepper the streets of Belfast. Kolkata is gearing up to join the league, and we will soon witness a slice of Patuli Road throbbing with vibrant colours of art.
Street art festivals like the 'Hit the North' have played a substantial role in turning Belfast into one of the world's most vibrant street art cities. Visiting artists from across the world have left their mark on the streets and walls of the city. Countless tourists flock to Belfast every year to watch the evolution of street art. Once the work is completed, it will attract visitors from every corner of the city as well as from the rest of the country. Hopes are to rope in art connoisseurs for the project in the future and may be, do something similar on the lines of street art as widely encouraged in Belfast.
Veteran artist Gurupada Bachar is the man behind the mission in Patuli. He and his family members—some of who are former students of the Government College of Art and Craft — are spending sleepless nights creating street art. The Bachar family has been involved in making most of the sculptures that have been used for beautification in Patuli and this project has added another feather to Gurupada Bachar's hat who gained wide acclaim following his painting of the portrait of the Governor of Bengal, Viren J. Shah in 2004. Shah was captivated by the lifelike resemblance of the artwork.

Street art is created in a vast variety of ways with a wide range of techniques. In the West, street art is based in the use of spray paint, and artists use various other media as well, including stenciling, paste-up posters, slap-up stickers, and even electrical tape of various colours. Tagging with aerosol paint is one of the most common and quickest ways to put out work in public, while markers, paint, and innovations such as filling fire extinguishers with paint are also widely used. However, street art is not limited to paint and markers, as artists use absolutely any kind of material and medium available, such as stencils, stickers, posters, textiles, LED lights, mosaics, or video projection. Yarn bombing, the act of taking colorful knitted or crocheted yarn or fiber to the streets, is one of the fairly new phenomena in the street art world.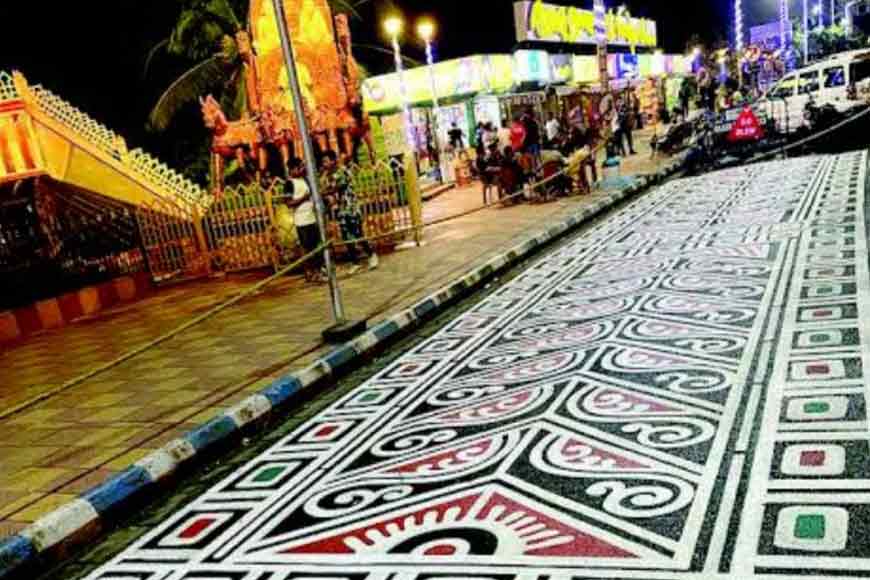 Bachar and his team are using weather-resistant colours that will not be affected by the ongoing monsoon rains. There was a time when Bachar would draw posters for films. However, with changing times, such hand-drawn posters have become obsolete, and digital print has become prevalent. Bachar, too, has moved on with the times, and keeping pace with the current situation, he has shifted to different art forms. His son Parthapratim Bachar, a fourth-year student at Government Art College, and his daughter, Pratima Bachar, a third-year student at Indian Art College, are constantly by his side, helping him complete the mammoth project. Bachar uses four primary colours, namely terracotta, green, black, and white, for the entire street art. The deft hands have been moving tirelessly for hours, creating exquisite ornamental designs on the pitch-black road. Street art tends to convey a social or political message that provokes discussion and reaction. Street art is often connected to activism that creates awareness about pressing social and environmental issues. Bachar's street art depicts the amazing beauty inherent in indigenous patterns.