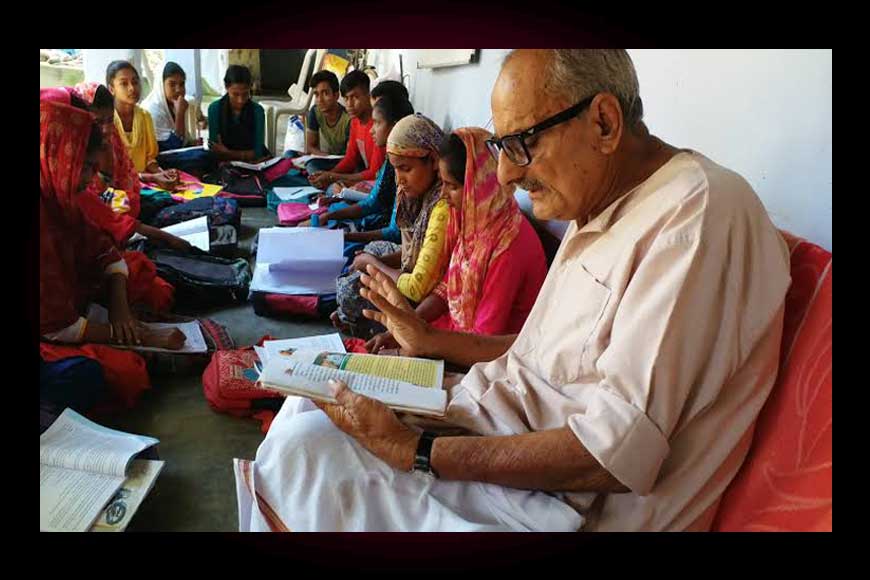 Sadai Fakirer Pathsala – Ausgram's teacher Sujit Chattopadhyay might be a Fakir by pocket, but his heart is bigger than any Emperor, a man who has dedicated his life to his native village to uplift all through the light of education. A retired school teacher from Purba Bardhaman, Chattopadhyay imparts free education to almost 3,000 students every year. The smile on his face widens when his students do good in the board exams. Their success is a bigger award for the dedicated teacher than the Padma Shri Award that he received in the Literature and Education category. His village has a severe shortage of good schools and the nearest college is about 32 km away, but many of his students at the school have gone on to secure coveted ranks in board examinations.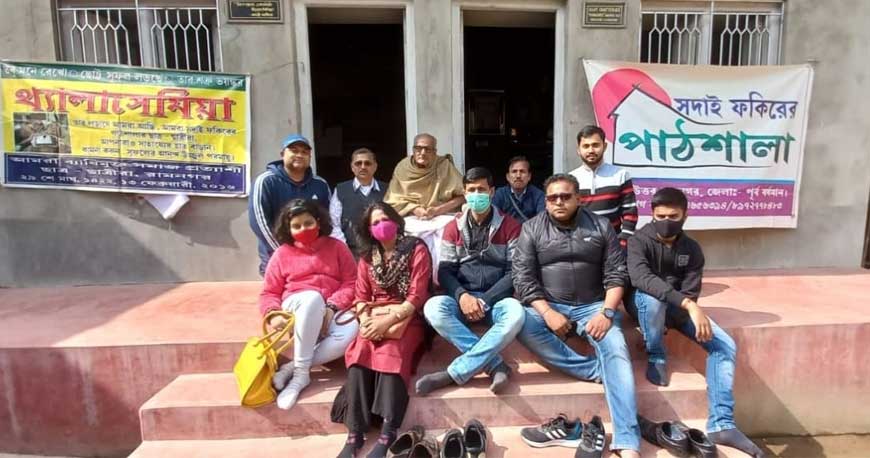 As Chattopadhyay recalls: "The day I got my postgraduate degree, I didn't waste a minute– I rushed back to my village, Ausgrum to become a teacher. Yes, I had higher salary offers from schools in bigger towns, but for me, the Rs 169, that I was offered at my village school meant everything; I was hungry to teach the students from my village, who needed a good teacher the most." He taught at the school for 39 years and retired officially at 60. But he did not stop teaching and spent the rest of his life lazing. Rather he wanted to continue what he always loved doing, but this time free of cost.
"I was restless, I didn't want to retire and kept asking myself, what shall I do now?" tells Chattopadhyay. A few days later, he got the answer. One morning, he saw three young girls enter his house. He was shocked when they told him that they had cycled for over 23 kms to see the Master who has retired! They were young tribal girls who were desperate to learn and with folded hands they asked if he would teach them. He immediately agreed and said, 'I can teach you, but you will have to pay my school fees for the whole year–are you ready to pay?' The tribal girls said they would try to pay, but when the teacher declared it is meagre Re 1 fee for the whole year, they were stunned and overjoyed. They were so happy, they hugged their dear teacher and not just paid him 1 Rupee, but along with that 4 chocolates! Now the fee has increased to Rs 2. he takes the money just as a token of respect.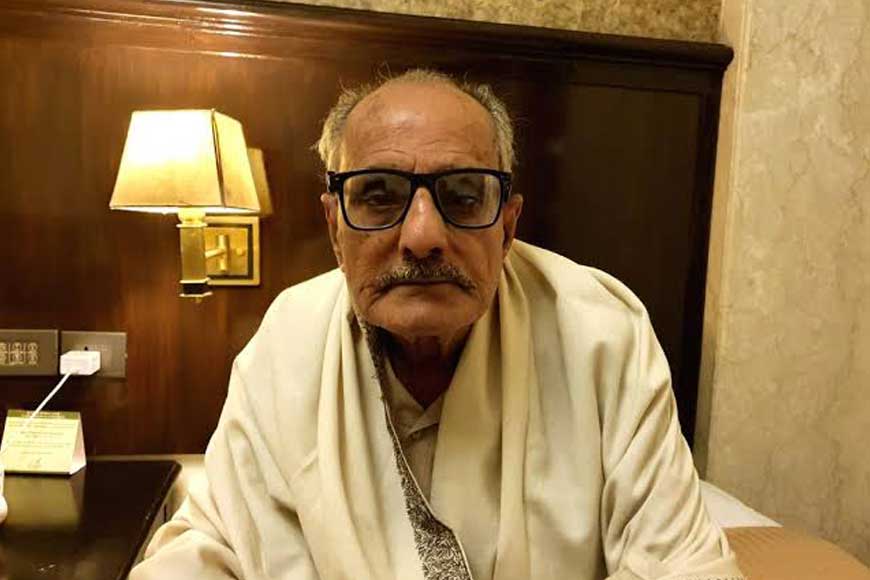 Chattopadhyay's struggle to set up the free school started from there. For he needed a place to teach the students. He went to his school where he had taught all these years and requested them to give him a room after the school is over where he could teach. But they refused. That did not deter the determined teacher from achieving his goal. He went back home, cleaned his verandah, and decided to start teaching there, converting it into the Free Pathshala. That was way back in 2004. His free school started with the 3 tribal girls who came to meet him. Today, he has more than 3,000 students per year, most of who are tribal girls. His day still starts at 6 AM with a walk around the village and then he opens his doors to students coming from all over, some of the girls walk for 20-plus kilometres. "They inspire me," says the dhoti-clad teacher. "Over the years, my students have gone on to become professors, heads of departments, and IT professionals– they always call me and give me the good news and as always, I ask them to please give me some chocolates! And when I won the Padmashree award, my phone didn't stop ringing; the whole village celebrated with me–it was a happy day, but I still didn't allow my students to bunk class!" Chattopadhyay teaches social sciences to secondary classes and degree-course Bengali to undergraduate students. He is also an active crusader of socio-environmental awareness, and in these isolated rural interiors, he creates awareness of social equality and eco-friendly living. His school starts at 6:30 AM, sometimes even before sunrise during winter months, and continues till 6 PM. The classes have attendance registers and even parent-teacher meetings as Chattopadhyay is a stickler for discipline. He is helped by his nephew, Utsav, who assists him in managing the operations.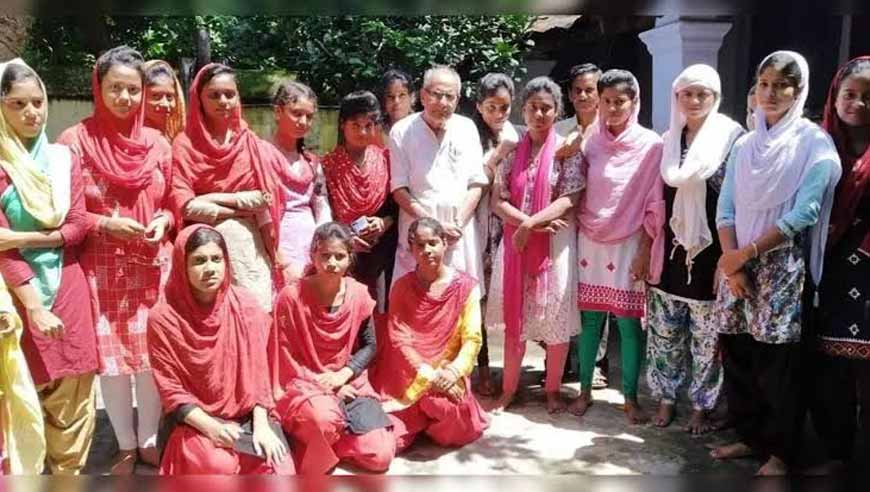 This Master Moshai wishes to teach till his last breath. Even on a Sunday morning his courtyard bustles with students. In his illustrious teaching career of over three decades, Chattopadhyay was always a favourite among his students. "Sir always advocated the importance of student activism against various social evils. He would remind us time and again why our education is not just limited to our textbooks but should reflect in our demeanour and personality as well. He treated us like his children," recalls Pijush Kanti Ghosh, a Physics professor at Vishwa Bharati University and one of Chattopadhyay's early students, who said this in a conversation with 'The Better India' in 2019.

Besides teaching, Chattopadhyay has forever helped the inhabitants of Ausgram with various projects. He helps to buy new clothes for those in need, writes official letters on behalf of an unlettered individual, or even raises funds for Thalassemia patients. "I always wake up early and take a walk around our village. A few years ago, I found a young mother waiting at the bus stand with her child. It was even before daybreak. When I asked her, she told me that her son has thalassemia. The poor child needs a blood transfusion every few weeks. She broke down, saying how difficult it was for her family to afford the treatment."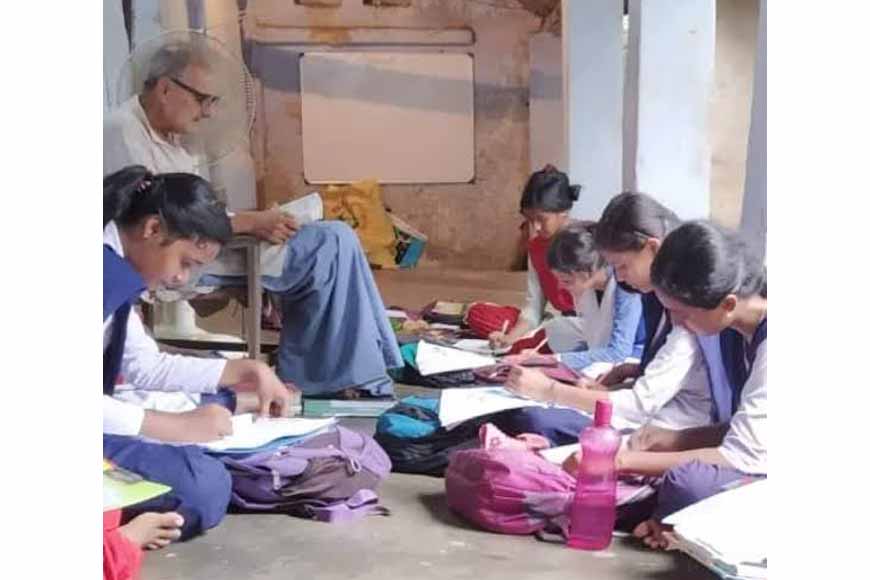 The incident moved Chattopadhyay deeply. He read up on details about the disease and started raising awareness among his students. Soon, he gathered a group of students to go door-to-door and collect donations for the thalassemic infant he had met. This became a regular activity, and presently, the collected funds sustain over 60 thalassemic children in and around the village. We not just salute this incredible teacher but hope his inspiration will touch his students who themselves will serve the nation one day as he does.