Upcoming investors' summit aims to transform state to an industrial powerhouse - GetBengal story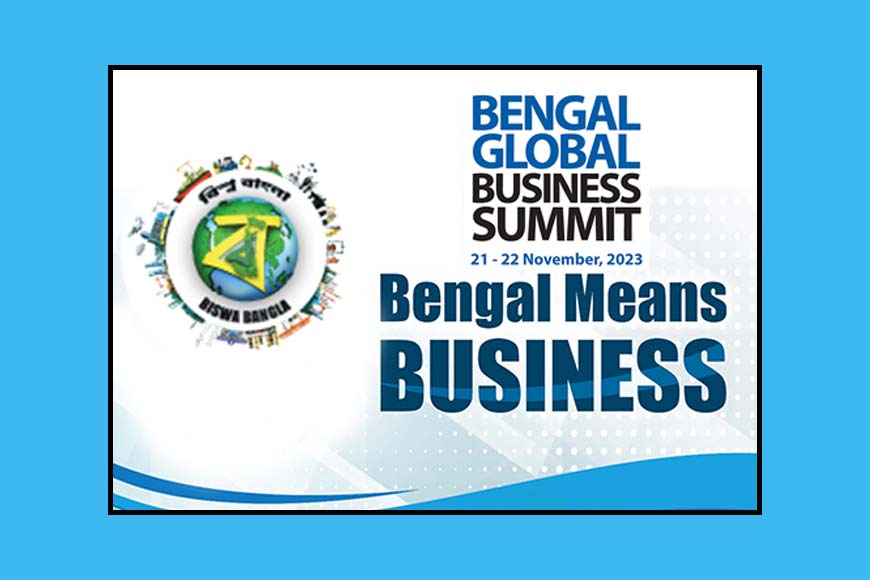 Time for the business community to gear up as the two-day annual Bengal Global Business Summit (BGBS) comes knocking on the door. Scheduled to be hosted between November 21 and 22, 2023, in Kolkata the flagship investors' summit of Government of West Bengal is now in its 7th edition and raring to go.
Times have changed and so have methods of running businesses. Traditional entrepreneurship is characterized by strong personal relationships, a focus on established business models, and a slower, steady growth trajectory. On the other hand, modern entrepreneurship prioritizes innovation, leverages technology to reach a global customer base, and has a faster time to market. As we stand at the brink of a new world order, a new generation of business leaders are emerging who are embracing diversity. New environments and new expectations make way for new challenges, and in order to overcome them, managers, business leaders and entrepreneurs alike must reconsider what it means to be a "modern leader" in today's ever-evolving professional climate.
The two-day BGBS brings together corporate leaders, business delegations, entrepreneurs, academia, and think-tanks from around the globe with the purpose of making strategic and business alliances as well as to learn about the industrial ecosystem and business friendly initiatives of the state. It also serves as a platform for government-to-government interactions, business to government meetings, business to business engagements and helps secure investments for both corporate and governments by showcasing opportunities to apt audiences.
With spreading the vibrancy across the globe, West Bengal is gradually becoming one of the most preferred states for investments and a role model for other parts of the country. In the past few years, West Bengal has been rapidly transforming itself into an economic powerhouse driven by entrepreneurship. With a combination of strategic geographical advantages, proactive government policies, skilled human resources, and a vibrant business environment, West Bengal has emerged as a key player in India's economic growth story. It is now moving in the direction to evolve into one of the country's major players in the industrial sectors and attracting significant investments.
It is among the leading exporters with 12% of the country's leather and 10% of iron & steel exports. MSMEs form the vital base of the industrial pyramid and West Bengal has the country's second highest number of MSMEs (about 90 lakh units) which accounts for 14% of India's MSMEs.
Amongst the upcoming flagship projects in the state, Jangal Sundari Karmnagari Industrial Township is being setup over 4,000 acres in Purulia. Mining operations at Deocha-Pachami-Dewanganj- Harinsigha, the second largest coal block in the world is expected to start soon. The government has ready-to-Invest Industrial Infrastructure with 200+ Industrial Parks/ Estates spread over an area of around 10,000 acres. A 200-acre IT and Electronics Park (Silicon Valley) is being set up at Rajarhat. Three Industrial Growth Corridors are being developed at Dankuni-Raghunathpur; Dankuni-Kalyani; Dankuni-Haldia to augment the pace of industrialization in Bengal. The state has two large container and bulk handling ports at Kolkata and Haldia and a new deep-sea port is coming up at Tajpur near Digha.
As a prelude to the Summit, Dr. Amit Mitra, Principal Chief Advisor to the Hon'ble Chief Minister and Finance Department, Government of West Bengal hosted a diplomats' roundtable in Delhi in August this year during the B20 or Business 20 Summit 2023. He interacted with diplomats from over 40 countries to deliberate on the trade and investment opportunities in the state and further strengthen bilateral relations and cooperation. This was a precursor to the 'Bengal Global Business Summit, 2023. At the meet, Dr Mitra emphasized on the vast investment opportunities in West Bengal with the emergence of game changers such as coal, shale gas, natural gas, and coal bed methane. West Bengal is leading hub for Foundry, forging, casting, cement, leather etc. He invited the guests to participate at the Global Business Summit to witness the state's potential.

The 6th edition of Bengal Global Business Summit last year was a huge success with positive response from industrialists from all across the globe. As many as 137 MoUs were signed and over 3.4 lakh crore investment proposals was received by the state. On the very first day of the event last year, Gautam Adani, group chief of the Adani Group committed to invest Rs 10,000 crore in West Bengal over the next decade. In fact, at the closing ceremony of the meet, West Bengal Chief Minister Ms. Mamata Banerjee stated, "I am told 4,300 participants across the world attended the BGBS conference". She further added, "Industry is our goal". "Let us reach a place in 10 years where other states cannot even touch us."
The 7th Bengal Global Business Summit will host Plenary Sessions, Parallel Global Conferences, Sectoral sessions for focus sectors, Country sessions with partner countries, B2Bs and B2Gs meetings to expand networks and meet potential partners. This year's meet will focus on manufacturing and Industries including MSME and textiles and engineering, plastics, and chemicals, agriculture and allied areas, health, education including technical education, tourism, international trade and logistics, IT and ITeS, creative economy and inclusive Economy.
In fact, the state is gearing up to unveil slew of new policies at the upcoming 7th edition of Bengal Global Business Summit. This is part of West Bengal's overall efforts to strengthen its already robust industrial landscape and position the state for the next round of growth in the coming years.