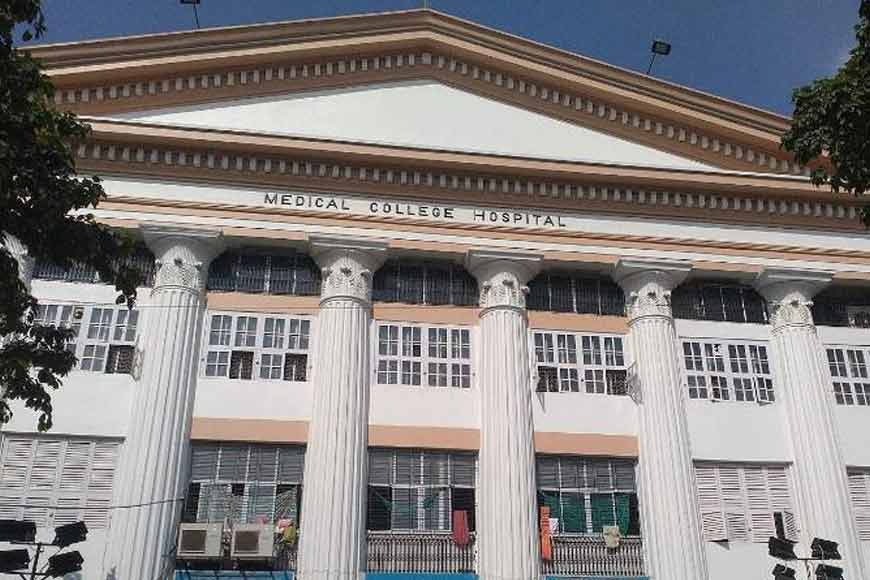 Our last walk before Durga Puja had ended at the Rameswar Shiva temple on Nandaram Sen Street, off Chitpur Road. We now head back in the direction of Chittaranjan Avenue, and to temples of another kind - those dedicated to education and learning, many of which became driving forces behind the Bengal Renaissance between the late 18th and early 20th centuries.
Point A - Calcutta Medical College
Officially known as Medical College and Hospital, Kolkata, this public medical school and hospital was established on January 28, 1835 by Governor-General Lord William Bentinck as Medical College, Bengal. It remains the second oldest medical college to teach Western medicine in Asia after Ecole de Médicine de Pondichéry and the first institute to teach in English. And the hospital associated with the college is still the largest in West Bengal.
The magnificent red-brick structure can be accessed from Chittaranjan Avenue on the west and College Street on the east. It came up at a time when prominent 19th-century thought leaders of Bengali society, such as Debendra Nath Tagore, David Hare, Raja Radhakanta Deb and Ramkamal Sen publicly expressed the view that Indians needed formal training in Western medicine, and an institution to impart such training was the need of the moment.
In its 185-year history, the college has produced an outstanding list of alumni, among them Kadambini Ganguly, the first South Asian woman to qualify for Western medical practice.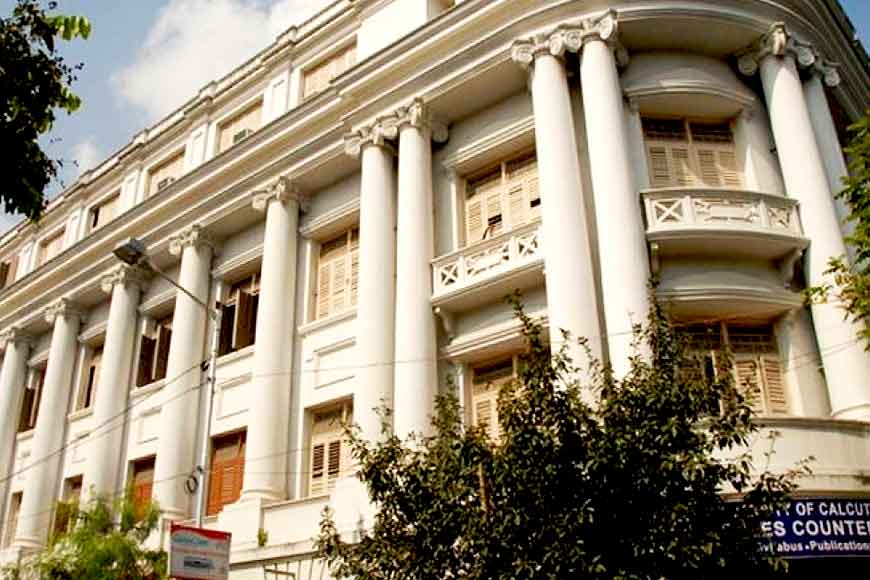 Point B - Calcutta University
To give it its official description, the University of Calcutta is a 'collegiate public state research university' established on January 24, 1857. The first multidisciplinary and Western-style institution in Asia, it counts heads of state and government, social reformers, artists, an Academy Award winner and Dirac medal winner, Fellows of the Royal Society and five Nobel laureates (the highest number in South Asia) among its alumni and faculty. For those interested, the five Nobel laureates are: Ronald Ross, Rabindranath Tagore, C. V. Raman, Amartya Sen and Abhijit Vinayak Banerjee. The university is also a member of the United Nations Academic Impact initiative.

The land for the university was donated by Maharaja Maheshwar Singh Bahadur of Darbhanga. When it was first established, its jurisdiction ranged from Lahore (Pakistan) to Rangoon (Myanmar) to Ceylon (Sri Lanka), the largest of any Indian university. It was also the first university east of the Suez to teach European classics, English literature, European and Indian philosophy and Occidental and Oriental history. Calcutta Medical College was affiliated with the university in 1857, as was Bethune College, the first college for women in India.
There is so much history here that it merits a separate article on its own. In 1858, The first graduates of Calcutta University were Bankim Chandra Chattopadhyay and Joddu Nath Bose, while Dr Kadambini Ganguly and Chandramukhi Basu became the first Indian women graduates in 1882. The first chancellor and vice-chancellor were Governor-General Lord Canning and Chief Justice of the Supreme Court, Sir William Colvile. However, it was Sir Ashutosh Mukherjee, vice-chancellor for four consecutive two-year terms (1906–1914) and a fifth two-year term (1921–23), who truly raised the institution to the premier heights it occupies even today. Do check out the Ashutosh Museum within the university premises as you walk through.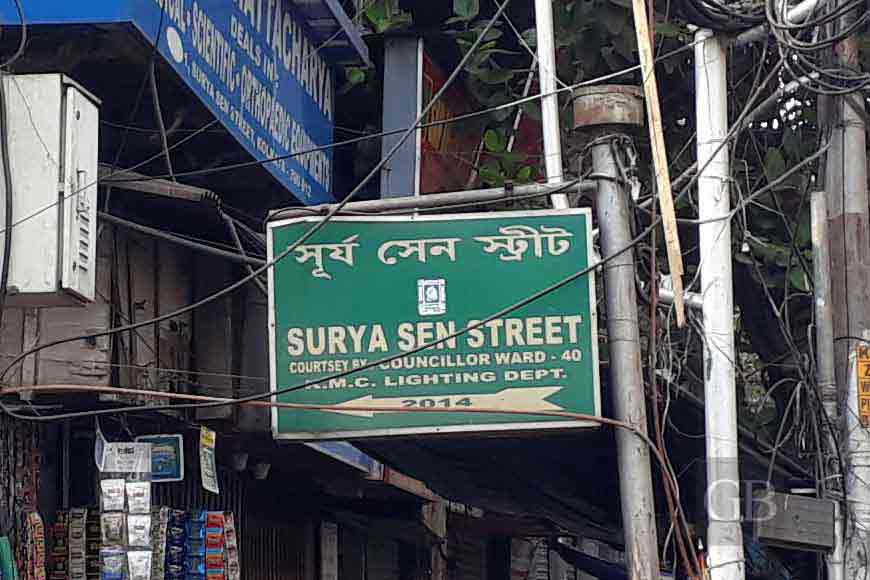 Point C - Mirzapur Street/Surya Sen Street and Radhanath Mullick Lane
Opposite the east gate of Calcutta University is Surya Sen Street, renamed from Mirzapur street in honour of the legendary revolutionary who orchestrated the daring assault on the Chittagong Armoury in 1930. The reason we mention this street is its wealth of ready to eat, delicious, inexpensive street food, which must form part of your experience of this neighbourhood.
Radhanath Mullick Lane veers right from Surya Sen Street, and this is the area generally known as Pataldanga. For modern Bengalis, Pataldanga is home to Narayan Ganguly's beloved literary creation Tenida, but there are a couple of other reasons why this insignificant lane is important. One, it contains the remnants of a house once occupied by the legendary Bankim Chandra Chatterjee, and two, it contains more than one residence belonging to the Basu Mullicks, one of old Calcutta's most prominent families with significant contributions to trade, education, and social reform.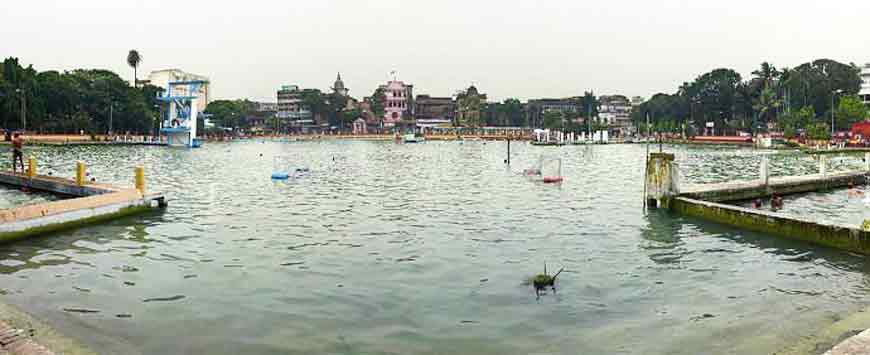 Point D - College Square
The water tank lying at the heart of College Square was excavated in 1820, and sitting on one of the many benches surrounding it is still a pleasant experience. However, what makes this space truly remarkable are the buildings to the east in particular. First in sight is the Baptist Mission, built in 1911. Next to it is the Mahabodhi Society with its frontage resembling a Buddhist vihara, whose construction began at the behest of Sri Lankan Buddhist monk Anagarika Dharmapala and was completed in 1891, and which reportedly contains an original relict of the Buddha. Adjoining it is the building of the Bengal Theosophical Society, built in 1882. And alongside this is the Masjid Jahan Khan. So on one short stretch of road, you have Christian, Buddhist, Muslim, and Theosophical institutions, coexisting in perfect harmony.
Finally, there is the Calcutta University Institute, opened in 1891. The scene of countless meetings and gatherings at the height of India's nationalist movement through the first four decades of the 20th century, the institute remains an important forum for cultural and political gatherings today.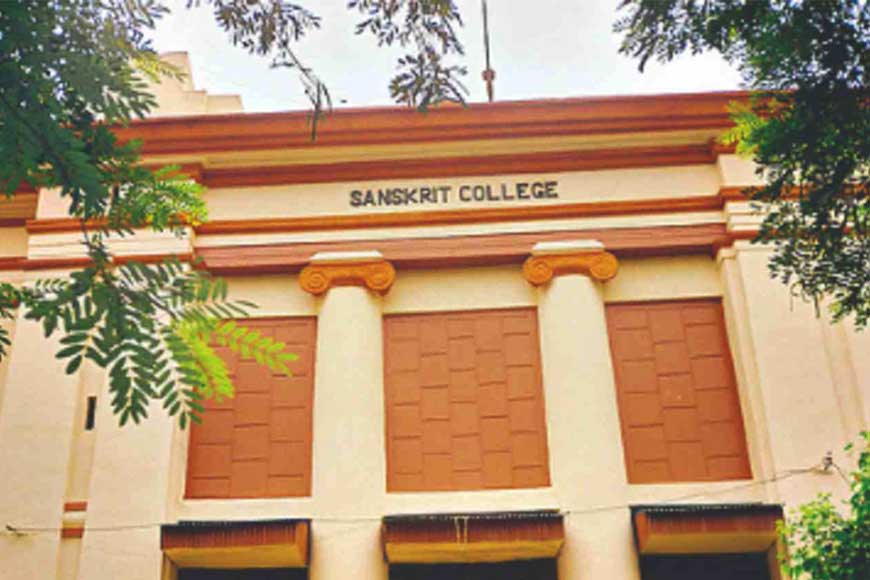 Point E - Sanskrit College
Known today as The Sanskrit College and University, the erstwhile Sanskrit College was founded on January 1, 1824, during the tenure of Governor-General Lord Amherst, based on a recommendation by James Prinsep and Thomas Babington Macaulay, among others. While the first principal of the college, the illustrious Sanskrit scholar Mahesh Chandra Nyayratna Bhattacharyya, held his position for over 18 years and played a crucial role in educational reforms in Bengal, the institution truly rose to prominence under the principalship of Ishwar Chandra Vidyasagar from 1851. It was he who admitted non-Brahmin students to the college, and pushed for the incorporation of the 'tol' or traditional Indian training school model as a department in the 1870s.
Point F - Presidency College
This is the college that gives College Street its name, having started life as Hindu College in 1817. Renamed Presidency College in 1855, it has produced such a great volume of eminent alumni that the list makes up a standalone Wikipedia entry. Ranging from Swami Vivekananda and Subhas Chandra Bose to multiple heads of state, five Chief Ministers of West Bengal, four Chief Justices of India, one Reserve Bank of India Governor, multiple Padma awardees, at least six Sahitya Akademi awardees, several National Award-winning filmmakers, at least 15 Shanti Swarup Bhatnagar laureates, one Breakthrough Prize winner, two Nobel laureates, one Kyoto Prize winner, and multiple academics serving as professors in premier international institutions.
Next week, we will continue along College Street and reach its farthest point, ending at Hatibagan Market. Until then, happy walking.