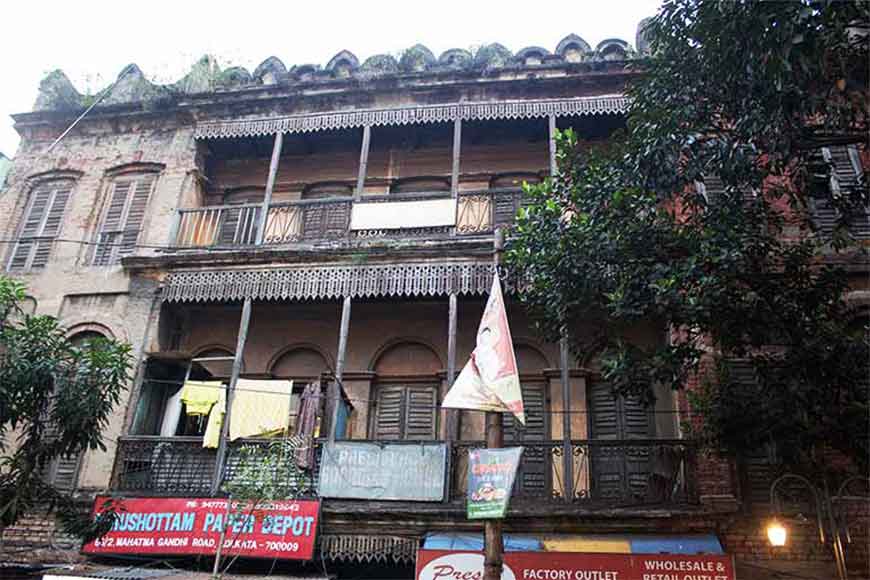 'Mess Bari' refers to the numerous boarding houses that sprang up like mushrooms in and around North Kolkata between late 19th century and mid-20th century and catered to young men who flocked to the city, looking for jobs and education. These boarding houses were once an integral part of the cityscape and thrived for more than a century before circumstances changed and the demand for accommodation in 'Mess bari' dwindled drastically. Today only a few remain, that too, in a dilapidated state.

Recently I went to visit two erstwhile famous 'Mess Bari' (boarding houses) in North Kolkata -- 'Kshetra Kuthi' on 138, Muktarambabu Street and 'Presidency Boarding House' on Harrison Road (now Mahatma Gandhi Road). It was roughly after World War I when the Mess Bari culture took roots in the city. Mess houses may have had its origin in military messes from barracks and their numbers soared between 1940s-1990s. These mess baris were not just brick-and-timber structures but heralded a new chapter in the heart of Calcutta.
They were often a melting pot for varied local cultures, traditions and flavours. People from different background congregated and lived under one roof for months and years and bonded with each other despite their differences. A large number of boarding houses dotted the busy business district of North Kolkata in Amherst Street, Muktarambabu Street, Kolutola Street, College Street, Maniktala and Sealdah because of the area's close proximity to schools, colleges, offices, courts et al. Boarders who lived here worked as clerks, retailers, lawyers, insurance brokers, students, teachers, professors, and job seekers, actors, singers, artists, poets, or writers. Many political activists took refuge in these boarding houses to avoid arrests by the British government.
Mess-Baris even featured in the popular imagination of Bengali literature. Sharadindu Bandopadhyay's Bomkesh Bakshi, a famous fictional detective started his career from one such mess-bari. Bibhutibhushan Bandopadhyay's Apu spent a large part of his growing up years in a Kolkata mess bari. Ghona Da lived in a mess bari on 73 Banamali Naskar Road. Narayan Gangopadhyay's Ektala, Tarashakar Bandhyopadhyay's Holi, Rajsekhar Basu's Birinchibaba and Amritalal Basu's Chatujye-Barujyei --- all of which are partially situated in messes. Bengali movies like Sharey Chuattor, Saptapadi and Basanta Bilap enthralled cine goers in the mid-20th century (between1950s and 1970s).
I set about my adventure trip one day with trepidation. After I exited M.G. Road Metro station, I proceeded along Muktarambabu Street in search of house number 138, Khetra Kuthi Messbari. I sought direction from strangers, but most seemed totally ignorant of any 'mess bari' in the locality. They seemed oblivious of famous Bengali author, Shibram Chakraborty who spent all his life in Khetra Kuthi Messbari. My initial enthusiasm was dampened by the general reaction. I became a little apprehensive and wondered if the address was a figment of imagination by the author similar to Premendra Mitra, whose fictitious character Ghona Da "lived" in a mess located at No. 72, Banamali Naskar Lane in Behala. An actual probe for the location turned out to be futile since the address was non-existent! It was a fictional address that Mitra had used consistently in his series of stories based on Ghona Da's exploits.
I continued my search with dogged perseverance and finally my patience paid off. I encountered a local who assured me Shibram's 'mess bari' was indeed real and then showed me the way to the boarding house casually! His matter-of-fact response convinced me that he had encountered others like me who had come asking for direction to the Khetra Kuthi Messbari. He showed me an extremely narrow long lane where no two adults can walk side by side.

I reached the dead end of the lane and took a turn to my right as I was told and there, right in front of me stood 'Khetra Kuthi'. I heaved a sigh of relief.
(To be continued)
(Translated by TTW)