Shibram and Sharadindu's 'Mess Bari's, fighting against the aggression of modernity - GetBengal Story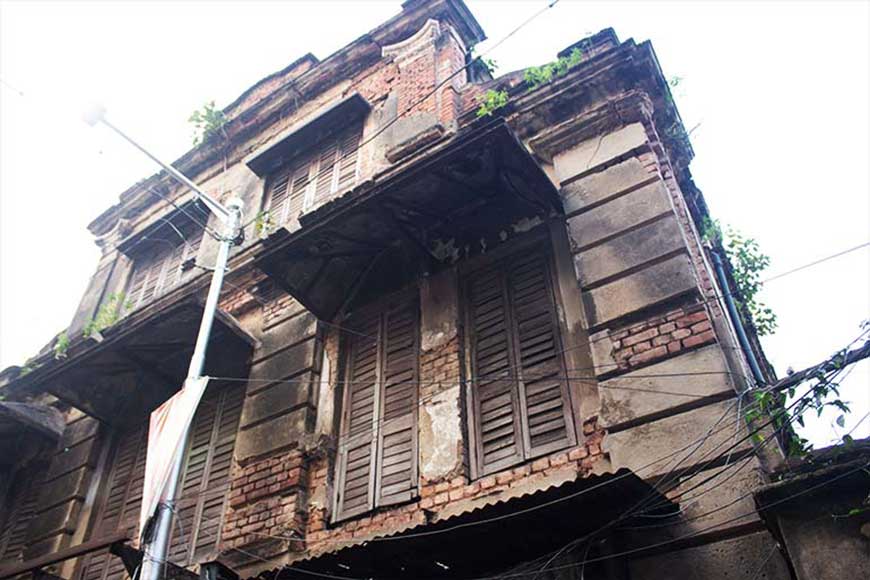 Khetra Kuthi Messbari
GB takes a trip to Kolkata's old charms, the mess-baris or boarding houses that sprang up during colonial rule. Some of them still exist. In this 2nd part of Mess Bari series, correspondent Mouni Mondal takes a trip to Shibram's Messbari. Incidentally she had a trying time locating it as it seems Kolkata has forgotten its old-world charm
I was standing right infront of a building that I had wished to locate since childhood. But what was this? A dilapidated, decrepit structure of a sprawling building that looked more like a haunted house than a residential place. I set foot in through the low, dark main entrance. I took time to adjust my vision to the dark and sooty interior. Suddenly a young lad appeared from one of the 'dark rooms' and pointing his finger upwards, asked me to go to the first floor.
As I stepped in the room, I wondered if this was a storeroom or a living space. The dingy room's plastered walls had come off in places. Books, newspapers, utensils, clothes – everything lay scattered all over the room. Clothes were dumped carelessly on a clothesline that hung across the room. Two gentlemen half-lay on their beds, chatting in a low tone. As soon as they saw me entering the room, they both sprang to their feet and said, "Shibram lived in this room during his lifetime but now you will find no trace of him here anymore." When I told them I wanted to click a few photographs of the room, they both obliged and left the room in a hurry.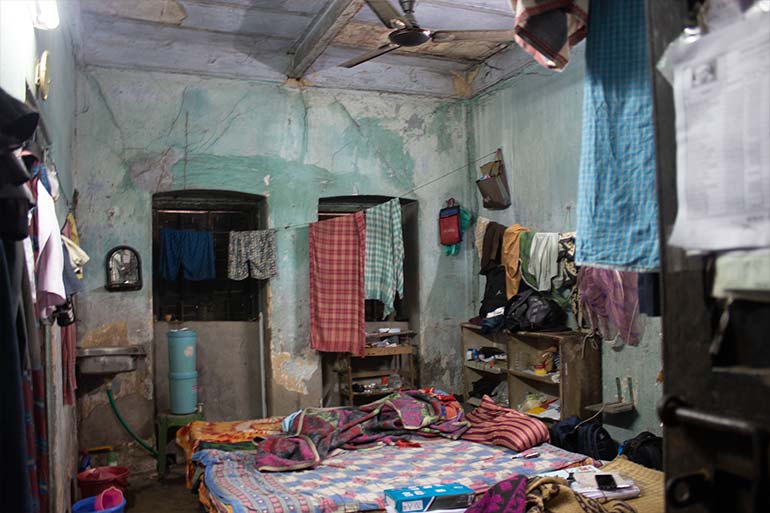 Shibram Chakraborty's Room
I learnt from them that visitors like me occasionally drop in here looking for "Shibram's Messbari" and they feel embarrassed. They both work in College Street which is a stone's throw away from the mess. The rent of the room is nominal and it suits their requirement. It was very comforting to feel that the decrepit structure is still functional and provides a safe abode for people who have to stay in the city to earn a living.
I came out of Khetra Kuthi Messbari and headed for College Street. My next destination was 66, Mahatma Gandhi Road, site of Presidency Boarding House. Byomkesh Bakshi, the famous fictional detective, lived in one of the rooms here as did his creator, author Sharadindu Bandyopadhyay. It was on a summer afternoon at Presidency Boarding when Byomkesh Bakshi got introduced to author Ajit, who later becomes his sidekick. Bakshi was investigating a case and he found it convenient to remain incognito amid the din of the mess bari. This boarding house was also the temporary abode of seminal poet, Jibanananda Das, who spent hours looking out of his window, watching tram cars moving on the serpentine tracks.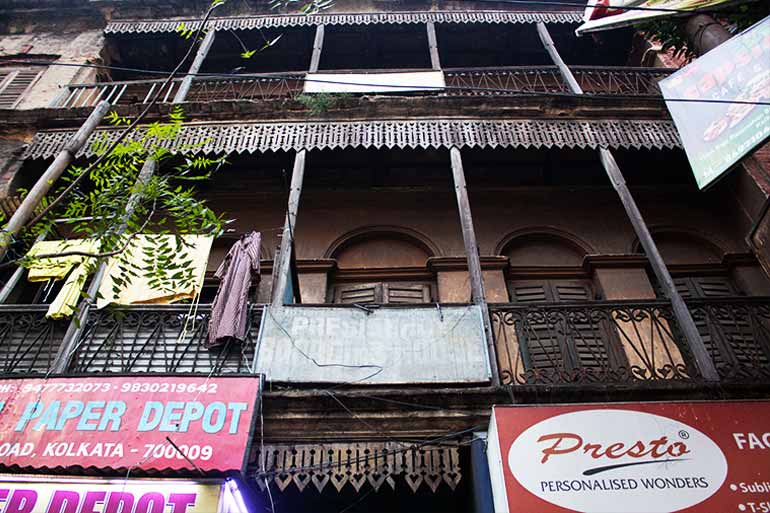 Presidency Boarding
According to hearsay, it was here that Jibanananda found his muse, Bonolata Sen. Established in 1917, the boarding house continues to be run by the Duttas, its original owners. According to historical records, the famous 'Presidency Boarding' was located at the spot of 'Mahal' restaurant, a well-known pice hotel that serves authentic Bengali food at a very reasonable rate. If you approach the area through Mahatma Gandhi Road, it is bang opposite Chittaranjan College. The boarding house has now been relocated to Salt Lake, but the big sign board is distinctly visible when one enters the building through its main gate. Sandeep Dutta is the current head of 'Mahal' who is running his grandfather's business successfully. With a prevailing capacity of 40-45 boarders, the establishment still charges nominal rates from boarders. People from Bangladesh who come to Kolkata on business or pleasure trip, make it a point to drop in at 6/3, Ramanath Majumdar Street, Kolkata 700009.
Photographs of the ancient boarding house are allowed without special permission. Presidency Boarding was created in 1918 by Sandeep Dutta's grandfather. Tapan Da's ancient tea stall snuggles comfortably next to Mahal's entrance. My adventure came to an end and I realized how times have changed and the concept of Mess houses have undergone transformation to what we know as PG accommodations. In many places, the dilapidated mess houses are being pulled down due to lack of patronage, and the land is being used to build state-of-the-art, plush housing complexes. However, not all is lost yet.
Some of the ancient structures including Khetra Kuthi and Presidency Boarding House are still trying to put up a brave fight against the aggression of modernity. We all know that nothing is permanent and change is the only constant factor here. Similarly, one by one, these mess houses will become extinct, and their memories will remind us of an era when people lived together under one roof, shared the ups and downs of life together – a time when Kolkata's mess houses will enter the annals of history and will live on as nostalgic memories in the hearts of people.
(Translated by TTW)