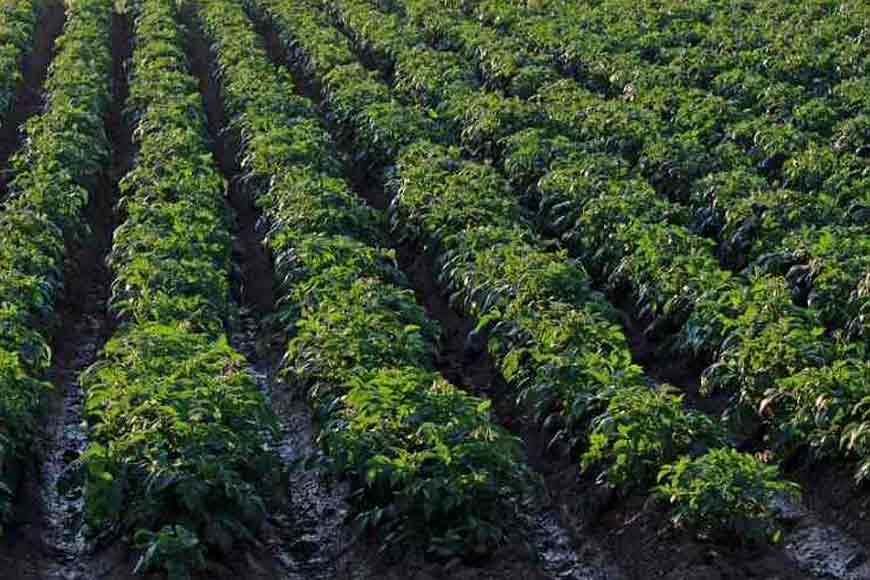 West Bengal is exploring strategies to boost organic farming
People have much become health conscious nowadays, many are aware of the negative effects of hybrid farming and other such methods, which affect the the food that we consume. Due to this, many organic food startups have grown up in Bengal. With the help of organic farming, some entrepreneurs are getting involved in the field of new-age natural agriculture. Bengal has witnessed considerable growth in organic food business to become the second-largest market after north India. India is home to the highest number of organic food producers in the world and Bengal largely contributes to it. Organic farming is a method of agriculture that avoids the use of synthetic fertilizers, pesticides, genetically modified organisms, and growth regulators. Instead, it relies on natural processes, biodiversity, and ecological balance to maintain soil fertility and control pests. This farming approach is based on enhancing the health of the soil, promoting biodiversity, and minimizing pollution to create a sustainable and eco-friendly agricultural system.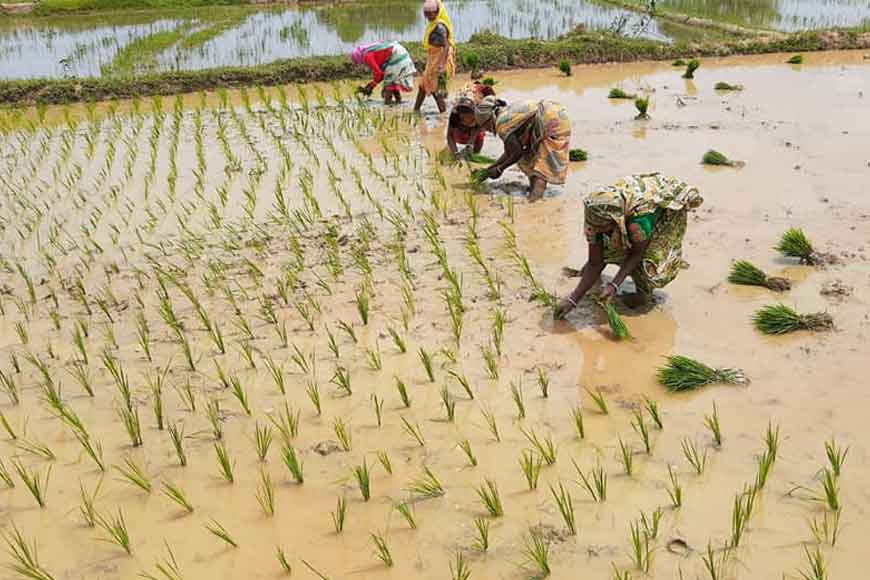 Paddy, the primary agricultural crop in West Bengal
Organic farming focuses on building and maintaining healthy soil. Techniques like crop rotation, composting, and cover cropping are employed to improve the soil structure and fertility naturally. Healthy soil contains a wealth of microorganisms, which aid in plant growth. It helps cultivate a variety of crops and maintain diverse ecosystems. Organic farming often integrates livestock into the farming system. Animals provide natural fertilizer (manure) and help in weed and pest control.
Organic farms mostly operate on a smaller scale and are usually local operational bodies. Supporting local organic farmers can boost the local economy and preserve rural communities. By avoiding monoculture and promoting diverse ecosystems, organic farming helps conserve biodiversity. This is crucial for maintaining resilient ecosystems in the face of environmental challenges. Biplab Das of Kishalay Foundation said, "Organic farming in Bengal has spread under the Sufal Bangla programme. Purnendu Basu and Dola Sen have taken the initiative to promote sustainable agriculture through the Susthai Krishi programme. Under the programme, many people work towards sustainable agriculture. Organic farming takes place in the Northern parts such as Lalmati, Murshidabad, Malda, Dinajpur, Jangal Mahal and others.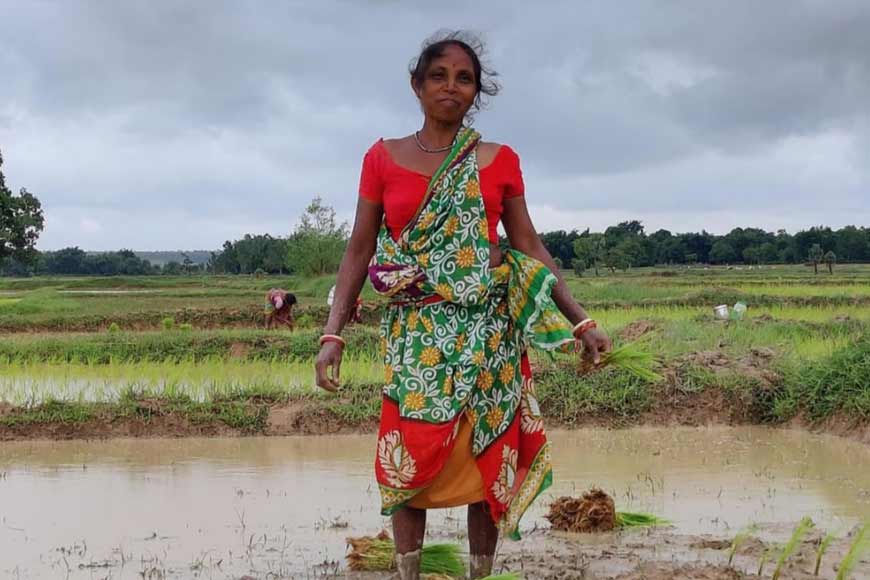 West Bengal has been categorized into 4 or 5 groups. This initiative is going on and gradually is being brought under the larger umbrella of the programme. Many have joined this programme. In the North 24 parganas, a number of women have started working under these projects as well. Overall, there are around 10,000 to 12,000 farmers who follow the process of organic farming without using any chemicals. Other farmers are doing hybrid farming using animal excreta such as cow dung, and not chemicals. However, they are sometimes found using pesticides to control pests, though this happens mostly due to lack of sufficient knowledge and expertise. Also, there is a notion that organic farming leads to lower yields, as a result of which many small farmers are not transitioning as of yet.

In some places the fertility of the land has also gone down and small farmers put urea and others to make the soil fertile, a lot of funds go into it but they mostly loan the amount needed to get the profit from the produce. The soil needs minimum 1 to 2 years to revive its nutrients but those who depend on agriculture and its produce cannot risk waiting so long. Many have got help from the NGOs to gain funds and assistance and have waited for the soil to regain its fertility. In the long run it has been proven that organic farming leads to greater yield as well."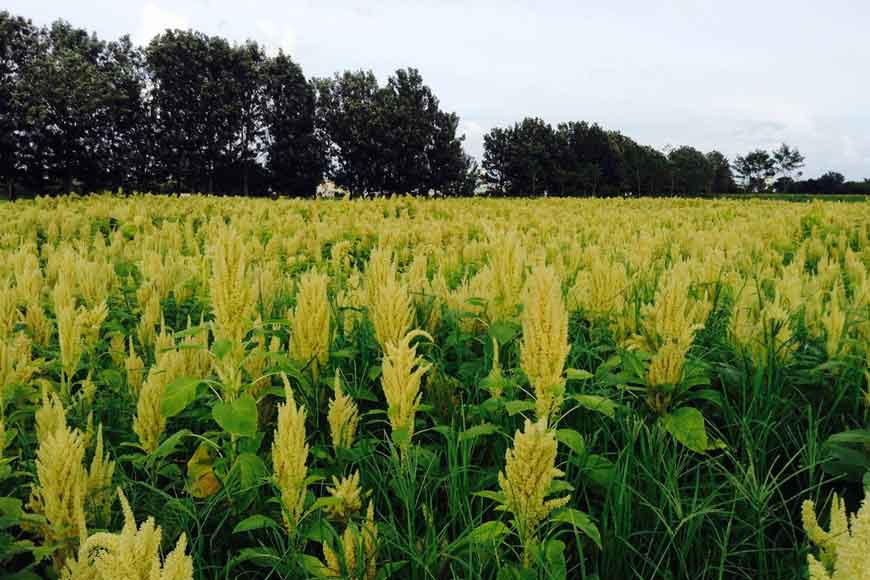 In West Bengal, paddy is the principal crop. For sustainable agriculture, seeds need to be produced in the region or else the hybrid seeds need to be bought every time. Many movements are taking place to promote the usage of natural seeds instead of the hybrid ones. Under Susthai Krishi in Sundarbans, many seed banks are taking shape. Anupam Pal, Debol Deb are working on homegrown seeds, protecting the local types of paddies and giving the seeds to the farmers for free. Green gram beans in Sundarbans and red lentils in Murshidabad, both are grown organically. Growing vegetables is still done mostly in a hybrid manner. The State Agricultural Marketing Department is constructing a seven-storied supermarket for selling organic vegetables, named 'Joibo Haat' ('joibo' means 'organic' in Bengali) in New Town. It will provide space to farmers to sell vegetables. A food court and a laboratory will also be housed there. The ground, first and second floors will house the organic market. The third floor will house an organic food court. The fifth floor will house the advanced laboratory and an office. On the sixth floor, a guest house will be set up.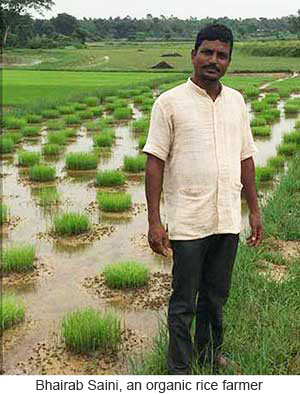 Bhairab Saini, an organic rice farmer, said, "Paddy is mainly grown in Bengal and other products which come from paddy such as puffed rice, chiwda, khoi etc are sold along with rice in the organic markets. Oil and lentils are also produced but in a comparatively lower rate. These products are supplied to 11 states in 15 counters, in places such as Bangalore, Chennai, Coimbatore, Mumbai, Ahmedabad etc. Almost 350 types of paddies are grown in Bengal, and about 10 to 12 types of paddies are grown commercially such as Red Basmati rice, Black Basmati rice, Gobindo bhog, Mohanshal, Bohurupi, etc, the farming takes place in Sonamukhi block, Bankura, where I work mostly."