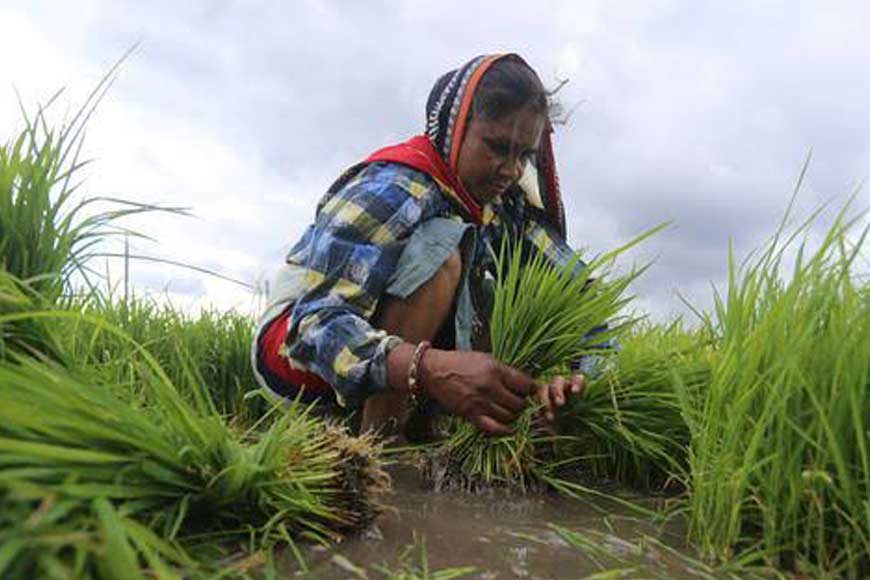 (The author is the founder of 'Patharpratima Runners', an organization for cultivation and seed conservation).
Traditionally, the low-lying delta of Sundarbans was fertile land and in the kharif season, there used to be a substantial yield of various types of indigenous rice varieties without the use of any chemical fertilizers and pesticides. Most of these were saline and flood-tolerant native rice varieties which were cultivated in different types of land -- high, medium, and low, by generations of farmers who knew their land intimately like the back of their hands. But a well-knit self-sufficient farmer community was a threat to the mushrooming business of the corporate sector. So, in the 1980s, multinational conglomerates entered the farming sector and introduced High Yield Variety (HYV) seeds, chemical pesticides, and fertilizers to farmers. They packaged and marketed the products aggressively. The farmers were lured into buying the hybrid seeds for better yield and with that, they were forced to buy pesticides and chemical fertilizers in bulk for 'better yield'. These new HYVs require more water so, demand for pump sets and pipes soared to extract underground water for cultivation. Very soon, large areas of monoculture—growing a single crop—were replacing biodiverse agricultural landscapes. The agricultural sector in the Sundarbans now faces multiple new challenges including deteriorating land quality, chemical-infested food, and lower productivity of the land. Within a few decades, the indigenous rice varieties were almost extinct.
The "intensified agricultural production"—with heavy reliance on fertilizer, pesticides, energy, and water—degraded soil fertility and ecosystems, and also reduced production capacity, which, in turn, brought farmers into debt. The disgruntled farmers had nowhere to seek redressal. In fact, even now, the price of paddy is less than the minimum support price and a substantial number of disillusioned farmers are giving up cultivation. Many youngsters of farmers' families are averse to farming and are migrating to other cities and towns in search of alternative occupations in other sectors. This is all a part of the larger state-backed conspiracy to enable corporates to take over the farming sector.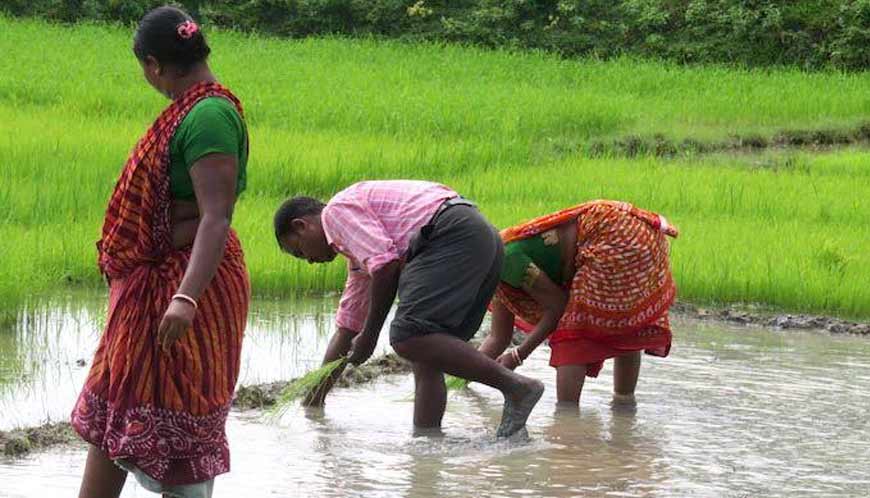 If a farmer wants to give up his land willingly, his services are utilized by inducting him into contract farming, which has already started in various pockets of Sundarbans with the establishment of broiler chicken poultry farming in the villages. A lot of people have been forced to migrate to other parts of the country for their livelihood. The rise in sea-level and coastal flooding and disruptions of monsoon systems and other rainfall regimes have added to their woes. They are the environmental refugees who can no longer gain a secure livelihood in their homelands due to the systematic destruction of the ecosystem following soil erosion, desertification, rise in salinity of the soil, and other environmental problems together with the associated problems of population pressures and profound poverty. ,
But, after Cyclone Yaas (May 23, 2021), I heard locals discuss various indigenous paddy varieties. They recalled the height of the paddy plants, the names of the varieties, their colour, the distinct taste of each variety of rice, puffed rice made from the specific types of paddy, etc. In the aftermath of the cyclones and floods, only the hardy indigenous paddy varieties could provide stability and sustenance to local farmers. They insisted, "The yield of the indigenous varieties may be low, but they will never leave the farmer in the lurch, high and dry." Their confidence and knowledge gained from generations of farming captivated us and we decided to take the initiative to collect and preserve our indigenous paddy seeds. We were encouraged by enthusiastic locals in this endeavour.
The backdrop of this discussion was Selemari, Kamdevnagar village of Durbachti village panchayat on the banks of the Saptamukhi River in South Sundarbans. The low-lying village has clayey soil which was inundated during the floods with both sweet and saline water for a prolonged period and that affected paddy cultivation. The frequency and destructive power of cyclones and floods have increased manifold in the Sundarbans. The devastating effects of climate change have become very apparent in the coastal areas. Villages like Kamdevnagar and Harekrishnapur are situated in low-land areas. Due to unplanned settlements, the drainage system in these villages is faulty and hence, every time the land is flooded with saline water, it remains stagnant for weeks and even months.
The high-yielding varieties of rice that the farmers were cultivating are no longer able to survive in the fast-changing climatic condition. The aman (December-January season) varieties somehow manage to survive but 'boro' varieties (March-May season) cannot cope with the vagaries of nature and gradually the yield is decreasing steadily and the soil quality is also declining and all this is affecting the farmers financially. High-yielding varieties are also high-responsive. In other words, HYV seed cultivation requires excessive water, chemical fertilizers, and chemical pesticides which destroy the natural ecosystem.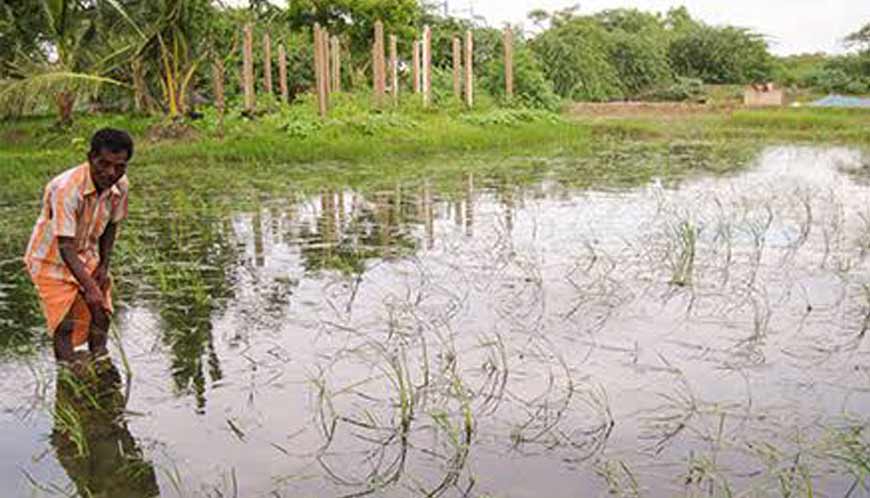 The quality of soil is deteriorating fast due to the use of chemical fertilizers. Soil bacteria are like small bags of fertilizer, retaining in their bodies nitrogen and other nutrients they gain from root exudate and other organic matter. The soil protozoa and nematodes act as fertilizer spreaders, releasing the nutrients locked in the bacteria and fungi by eating them. They digest what they need to survive and then excrete carbon and other nutrients as waste in the root area of the plant. Worms, insect larvae, moles, and other burrowing animals move through the soil in search of food, creating pathways that allow air and water to enter and exit. This soil food web not only provides nutrients to the roots but also helps create soil structure. Chemical fertilizers negatively impact the soil food web by killing off entire portions of it. Once the bacteria, fungi, nematodes, and protozoa are gone, other members of the food web disappear as well. Earthworms, lacking food and irritated by the synthetic nitrates in soluble nitrogen fertilizer move out. Since they are major shredders of organic material their absence is a great loss. A huge quantity of groundwater is required for irrigation. The natural ecosystem in the insect world has been destroyed by the use of harmful chemical pesticides. The carnivorous insects that survive on herbivorous parasites die due to chemicals and this results in an uncurbed increase in the number of harmful bugs that destroy both paddy plants and seeds. Earlier, farmers knew about three types of harmful insects but now they counter more than 25 varieties!

However, after a spate of frequent cyclones in the area when farming came to a standstill as the land was inundated with saline water that remained stagnant for weeks, the government stepped in to curb damages, and farmers were given 'Nonashree' paddy seeds for cultivation. Many farmers in Kamdevnagar refused to cultivate the variety on their land. Nonashree's pathetic performance compelled farmers to lodge complaints with the agriculture department. It was during this period that local farmers introspected and realized that the only way to avert this disaster was to revive the cultivation of the indigenous rice varieties.
Bhurishal, Nangalmura, and Talmugur sound alien to most and unfortunately, many of these varieties have become extinct. The only indigenous varieties available to farmers now are Doodhersar and Morichshal (ideal for puffed rice). There is a limited stock of varieties like Chamormoni, Sitashal, Roopshal, and Kaminibhog. The yield of Doodhersar is good. It is beautiful thin rice, and very tasty. Another specialty of this variety is its "elongation ratio."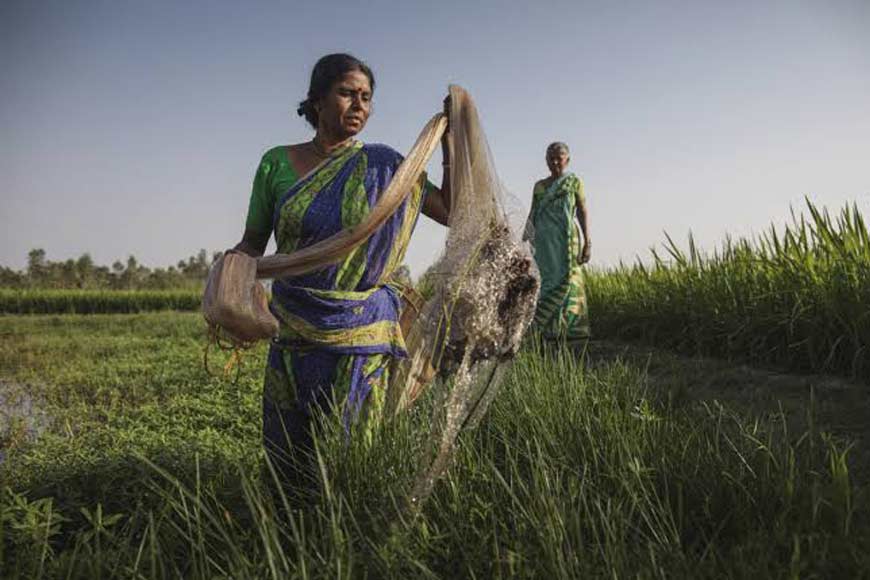 But farmers are worried because they feel with such a limited paddy diversity and high-yielding paddy, they will not be getting a good yield during this Boro season. Water wastage is a major impediment for cultivating HYV. So, the only alternative now seems to revive the indigenous types. If there is an option for selecting from a large number of indigenous rice varieties and cultivating, depending on the specific water requirement of each species of paddy per bigha, per kg, there is an immense possibility of a bumper crop within 60-200 days of cultivation during the unpredictable Boro season.
It was at this juncture that we decided to create an archive by collecting indigenous paddy seeds that once thrived in the Sundarbans. The archive will have all the information about the specific requirements of each specific species of paddy. This will help farmers decide the species for cultivating during the Aush (July-August), Aman, or Boro seasons, depending on the topography, rainfall, irrigation required, salinity of land, etc. which will reduce their risk factors.
If the farmers cultivate local paddy varieties following the time-tested age-old organic method of farming, they can also cultivate seasonal vegetables in the field as well as fish and other aquatic animals like shrimp, turtles, snails, periwinkles, etc. Paddy fields are an ideal breeding ground for catfish (magur fish). So pisciculture can also be carried on simultaneously in the same field which can ensure a steady income for the farmers.
Malavati paddy is one of the sturdiest varieties that can withstand gusty winds and high water that stands on the field during monsoons and heavy rains. We have procured Malavati paddy seeds this year and have vowed to save it. Its cultivation has to be increased. Nangalmura is another sturdy variety that will not let a farmer down and ensure a good yield even under the most inhospitable environmental condition.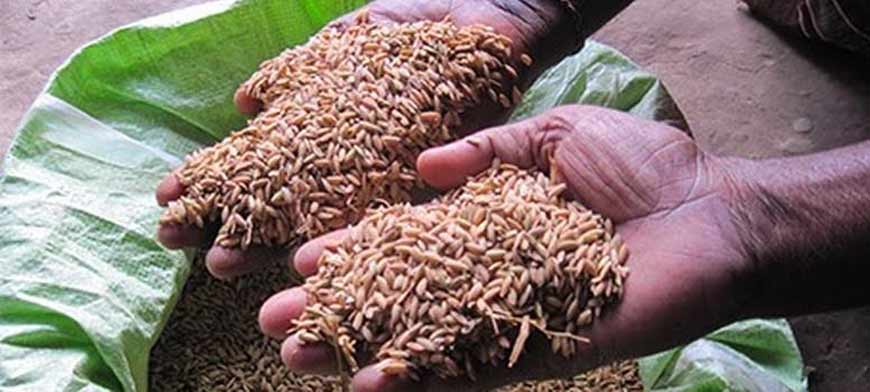 We need to preserve not just salt-tolerant rice varieties but also heavy rain-tolerant rice varieties which will be able to yield even when the land is flooded. Our collection includes Jalkamini, Kavirajsal, Jhingasal, Altapati, Rupsal, Sitasal, Darsal, Ravanasal, Khejurchhari, and many more. Two more rare varieties "Bormasa" and "Raktashali" have been added to the list. Both can withstand heavy water. Of these, Raktashali paddy dates back to more than 700 years and is mentioned in Ayurvedic books.
We have procured the seeds from different sources. Seeds were given by many farmers and organizations including Hatia, FIAM from Raiganj, Sudhanshu Dey from another village in Durbachati, Anupam Pal (Raktashali, Bormasa), Himadri Karda (Chomotkar), and Sailen Chandi (Jalkamini).
Our main purpose for collecting the seeds is mainly to preserve the different varieties of paddy of the Sundarbans. We intend to prepare 3-5 kg of seed paddy from the paddy seed that we got this year and then try to spread the cultivation of these species through the three agricultural mandals in Patharpratima, Sagardwip, and Namkhana. We intend to preserve the seeds carefully till the time it is taken up for cultivation on a large scale. Another vital responsibility is to keep systematic documentation of each specific variety of paddy, and its characteristics, make a register so that a farmer can choose the paddy that will be suitable for cultivation in his plot, taking into consideration facts like the ideal season when he can cultivate and other minute detail that will come in handy. There were at least 82,700 varieties of paddy in our country. Why do we need so much diversity? Diversity protects us and helps us survive the unpredictability of nature and fight climate change.