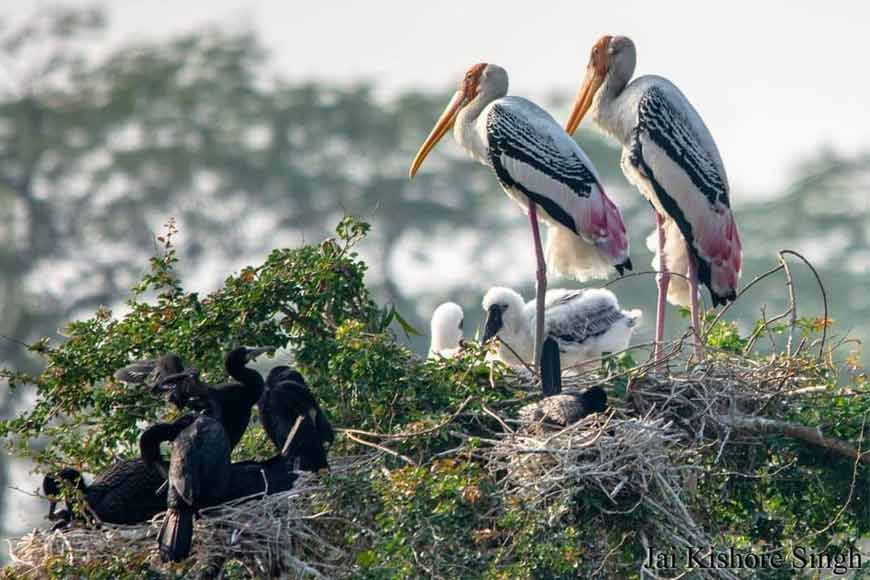 Painted Stork
Rabindra Sarobar or Dhakuria Lakes is south Kolkata's signature address, surrounded by the Southern Avenue to the north, Russa Road to the west, Dhakuria to the east, and the Kolkata Suburban Railway track to the South. Around 38 per cent of the total 192 acres area, that is 73 acres, constitutes the water body while the residual area (119 acres) comprises varieties of floral species some of which are century old. Around 2011, as part of beautification plans for Kolkata, the tracks within the Dhakuria Lakes were widened and bright lights put up. Shrubs, bushes and dead trees were removed to make way for concrete shores around the lakes and manicured gardens were set up. The lakes now get a record footfall of walkers and casual visitors, but as experts had warned earlier, it had a detrimental effect on the wildlife around. In and around the 192 acres of artificial lakes and greenery comprising around 7,000 trees, more than 112 species of resident and migratory birds have been sighted since 2015. But birds that nest in the holes of dead trees have no place to go today. A lot of migratory birds love shrubs, but there isn't any. They land here to rest because Rabindra Sarobar appears on their migration route between Russia and Sri Lanka.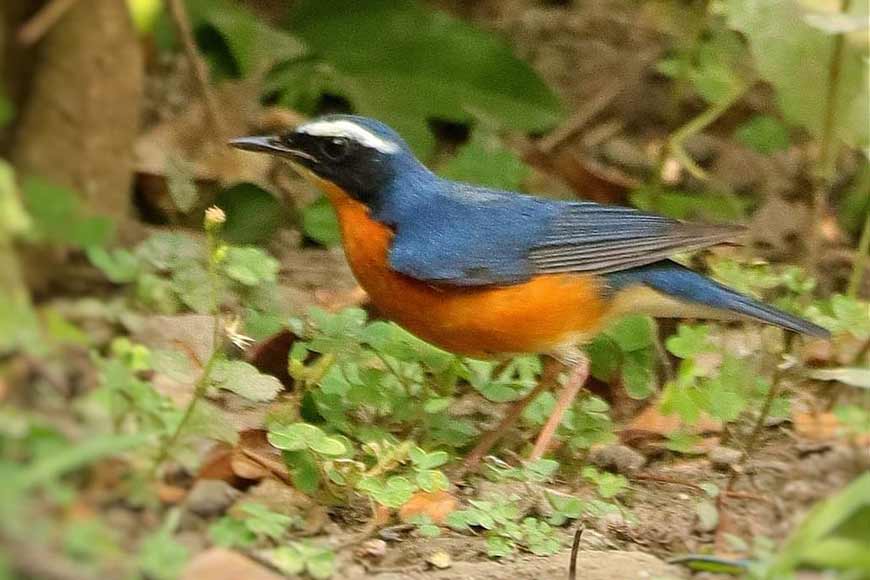 Indian Blue Robin
According to statistics published in 'Down to Earth,' birds from 29 countries fly to India every year. The country witnesses incoming of large flocks during September-October signifying the beginning of migration. In 2019, as many as 1,349 species of birds were recorded, of which 78 are endemic to the country and 212 species are globally threatened, according to the Government of India. Ornithologists inform several species not seen before in the state have been spotted in the last five years in rural Bengal as well as Kolkata and its adjoining areas. Rabindra Sarobar, in the heart of the concrete jungle, is also witnessing new visitors in recent years but losing some old ones. For instance, regular bird watchers' groups and NGO members insist, most birds of the Thrush family disappeared after firecrackers were used at random by revelers inside the protected area during Chhat puja a couple of years ago. Although a single reason cannot be attributed to these unexpected sightings but climate change can definitely be one of the factors forcing migratory birds to visit new areas. Increasing illumination at night adversely affects migration by confusing the birds.
Birds can even suffer from the effects of continuously feeding on fish and insects that have elevated levels of heavy metals and toxins. Due to increasing encroachment and human interferences, the availability of food becomes a challenge and birds can die of starvation.
Migratory birds play essential and indispensable roles in the ecosystems they reside in and travel through. Such birds raising broods end up acting as pest control agents by devouring insects and other organisms that harm the environment and crops. Locust attack is one such disaster that stems from that absence of birds. Migratory birds help in dispersal of seeds, leading to maintenance of biodiversity along their routes. The droppings of birds, also known as guano, are rich in nitrogen and act as organic fertilizers. Egg shells can add calcium and other minerals. Migratory birds form both prey and predator bases in ecosystems seasonally and can, therefore, have an ecological impact. Prevalence of migratory birds helps analyze the state of environment in an area.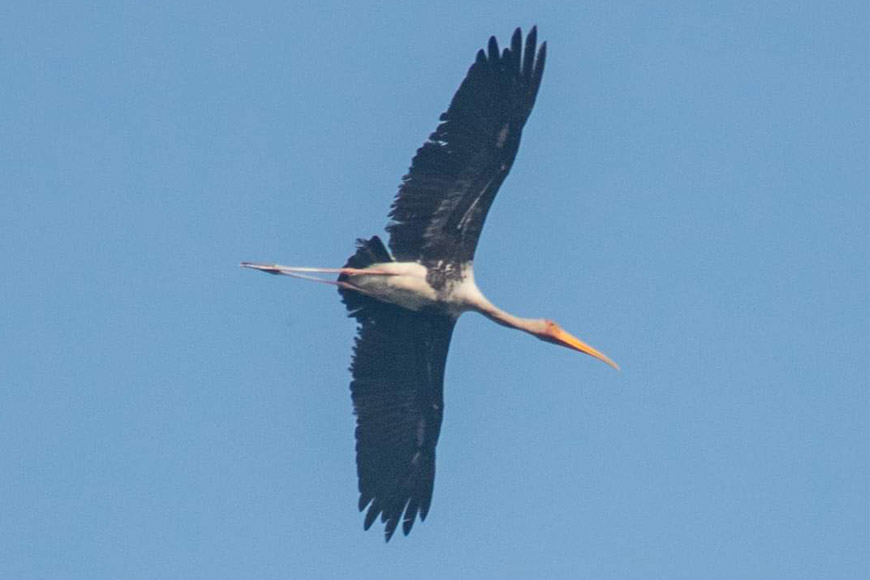 Painted Stork
Ecologists and NGOs have a 'doable' list of suggestions which can further elevate the environment of the zone and attract large flocks of migratory birds and these include:
● Long-term monitoring programmes to assess the migration trends in birds, diseases monitoring and enumeration
● Educating school children, youth and the public on the importance of bird migrations and their impacts. Seeking local support for nesting and conservation of migratory birds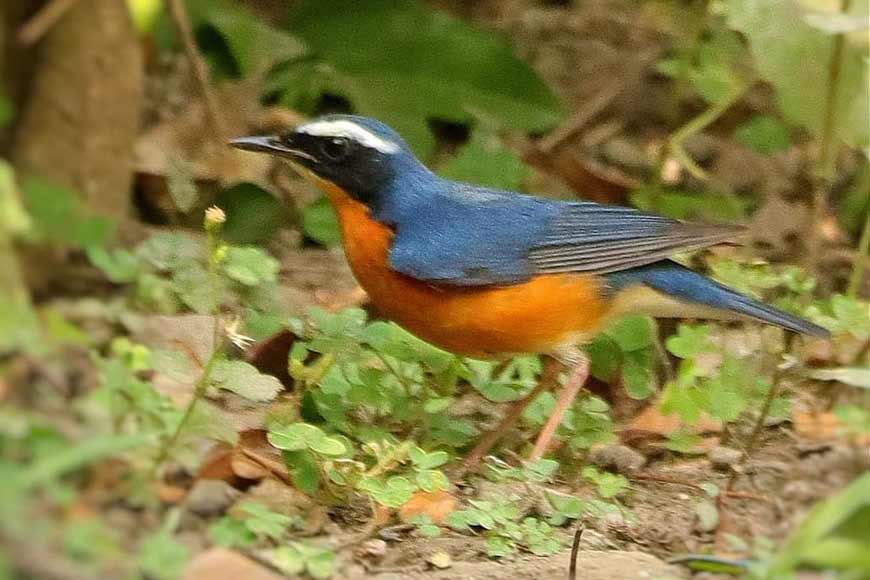 Indian Blue Robin
● Fishing activity to be minimized / abandoned / banned in the water bodies during the migration season
● People need to ensure sustainable use of landscapes and ecosystem services, which can support the migratory birds' site, species and their population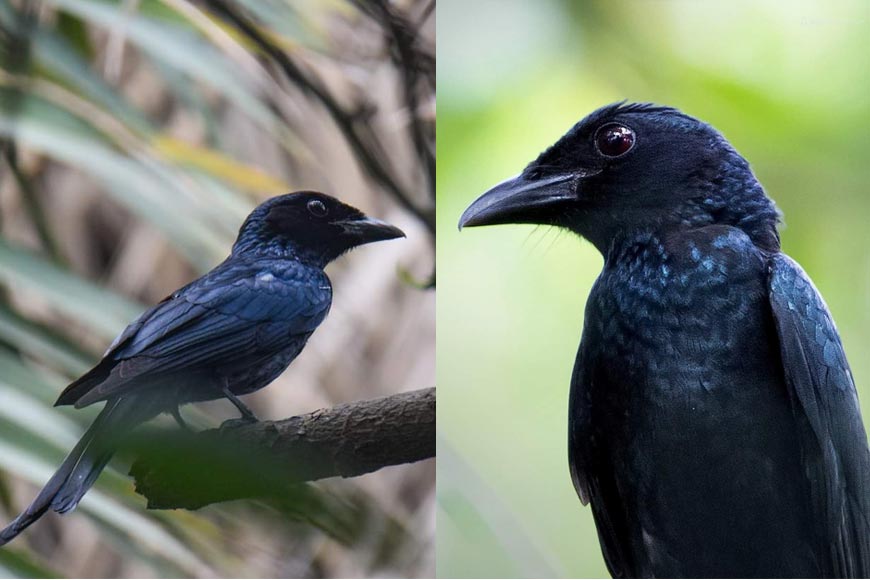 Crow billed Drongo (a passage migrant)
● Conservation of wetlands, grasslands, natural habitats and forests with native species to help birds roost and build their nests
● Banning single use plastics and avoiding dumping of single use plastics in water bodies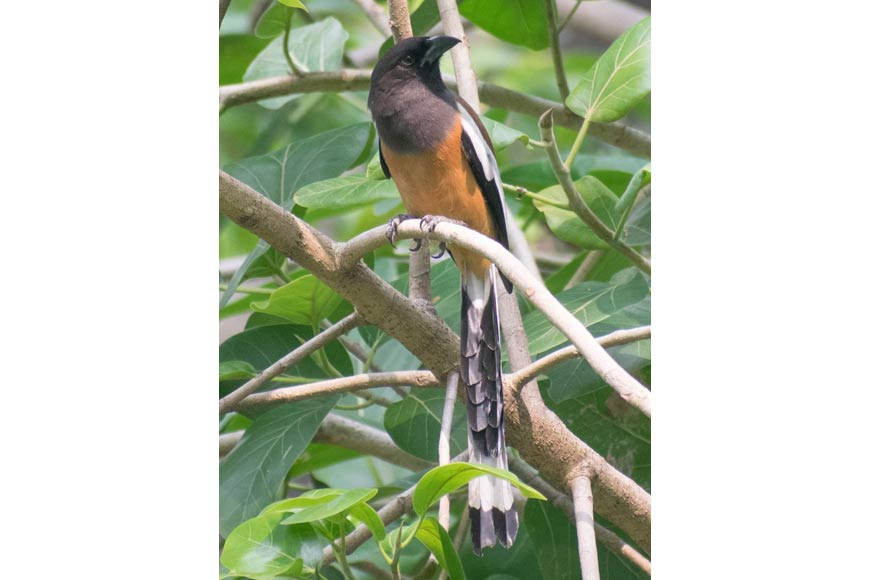 Rufous Tree Pie
● Specific rules, regulations, acts and treaties among nations and strict adherence to support conservation of migratory birds
● Modern technologies like drones can be used to track poachers in areas where birds converge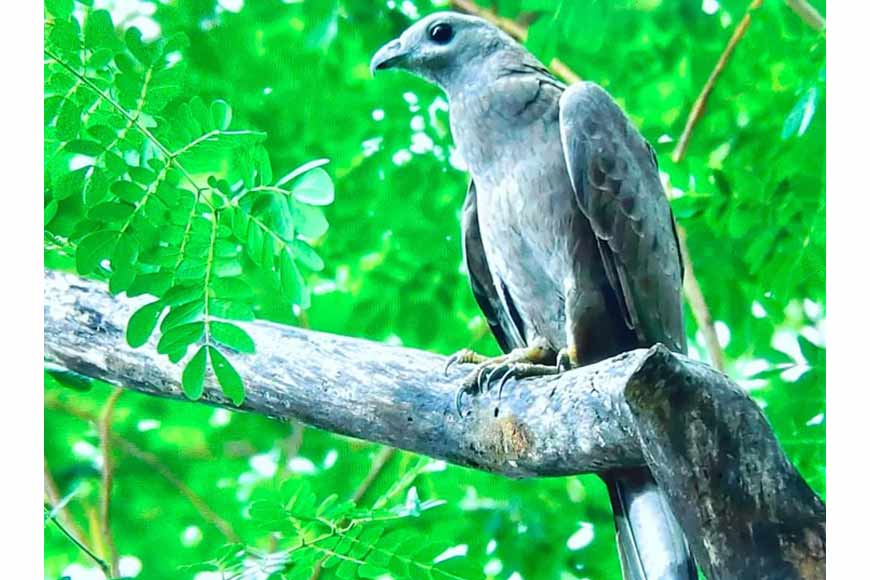 Oriental Honey Buzzard
● Minimising night lights along the migration paths
● Promoting eco-clubs and citizens initiatives for awareness, conservation and protection of migratory birds and their natural habitats

Ghosh is satisfied now that the protection accorded to the lake has made the environment more favourable for migratory birds. With the enforcement of environmental norms, curbs on religious rituals and social events, Rabindra Sarobar has become a safe retreat for birds once again, he feels.
Image courtesy : Sourasish Mukhopadhya, Suparna Bhowmick, Dwija Chakraborty, Jai Kishore Singh, K. K. Phani