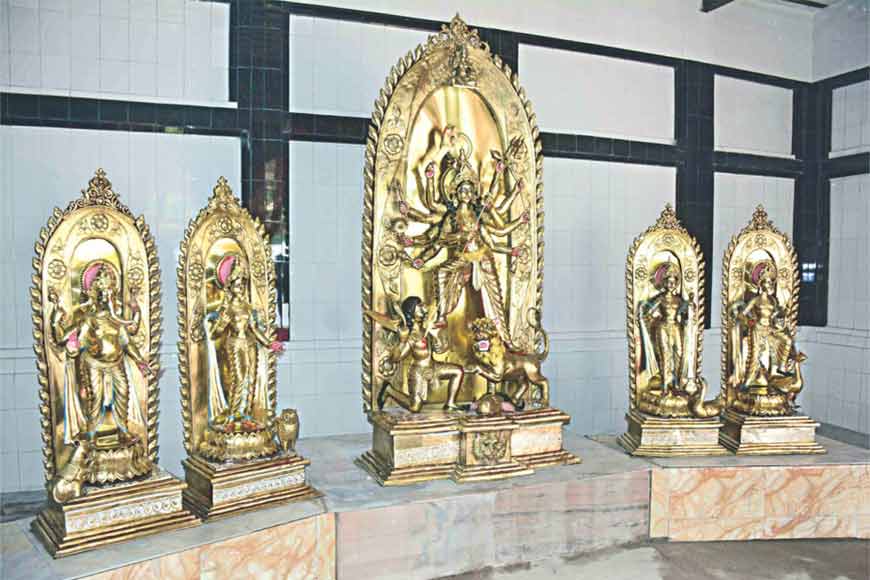 Durga idol of Tahirpur Durga Puja, Bangladesh
Emotions that surround one's roots are always eternal. The yearning for one's homeland, the land of one's birth will forever attract the soul, just like many Bengalis born in Bangladesh still wish to return once to the land of their ancestors. And so do their descendants, who have grown up listening to innumerable tales of a country that has witnessed bloodied partition through its undulating green territories. But come Durga Puja, Bangladesh still holds on to the tradition in many semi-urban areas that had historically celebrated some of the grandest Durga Pujas, ever witnessed by the Bengalis.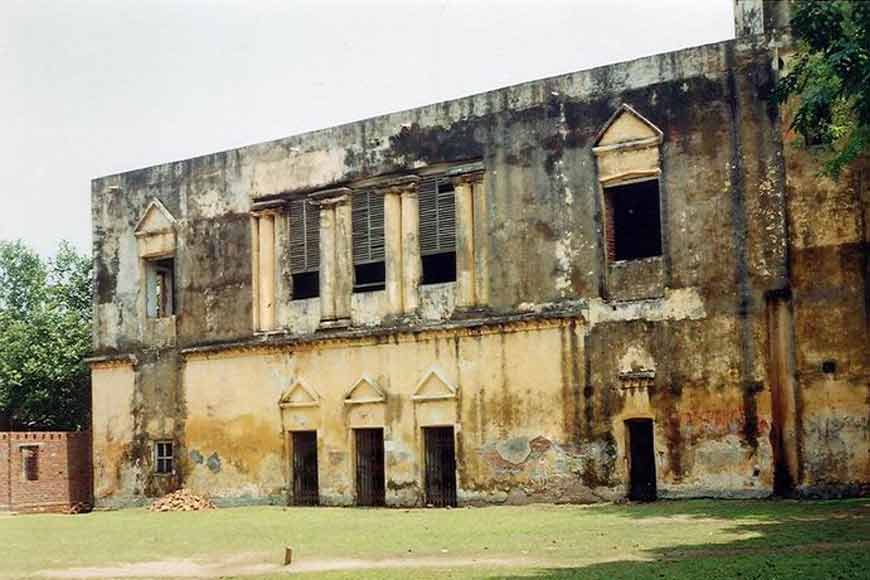 500-year-old Tahirpur Durga Mandir
One such territory is that of Tahirpur, where as per historical records, the first ever Durga Puja of the then undivided Bengal was held. This place is steeped in history, particularly the village of Nabagram, that was the capital of the Laur Kingdom in the 14th century. History goes that after the conquest of Sylhet in 1303, some disciples of warrior-saint Shah Jalal migrated and settled in present-day Tahirpur where they preached Islam to locals. One can still find the burial ground of one such follower, Shah Rafiuddin located in Sarping, on the border with Meghalaya. In the 18th century, Tahirpur became a part of Brajendra Kishore Roy Chowdhury's zamindari. Chowdhury was originally from Gouripur Estate of Mymensingh. During British rule, a Bengali Muslim named Tahir Ali, settled in the area and by then the local zamindari council was dissolved by the British. Tahir Ali became an important person in the area and named the place Tahirpur.

It is believed that it was at this Tahirpur that the grand celebration of Durga Puja first began in late 1500s. There are many folk tales that indicate that Raja Kangsha Narayan of Tahirpur organized the first autumn Durga Puja in Bengal, on the banks of river Barahi or Barnai. Raja Kangsha Narayan, the son of Hari Narayan was one of the most notable zamindars of Tahirpur. It is recorded that he arranged for the gorgeous celebration by spending nine lakhs taka. Another story says the landlords of Dinajpur initiated the first Achala Durga Puja in Bengal. The 500-year-old heritage site of Tahirpur Durga Mandir still stands tall.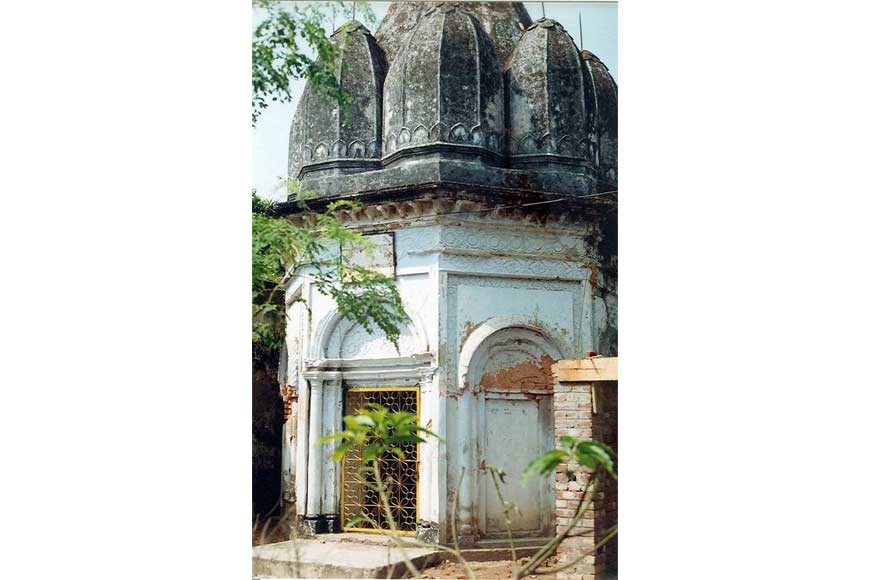 Tahirpur Rajbari Shiv Mandir, Bangladesh
In 19th century, many rich families of Bangladesh came together to celebrate community Pujas. The creation and ornamentation of idols is marked by rites and rituals and the clay used for the sculpture of Goddess Durga is still collected from the banks of innumerable rivers that flow through Bangladesh. It may be mentioned here during Bangladesh Liberation War, Hindus as evacuees in relief camps also observed Durga Puja in 1971. The present day Puja committees in Dhaka and other parts of Bangladesh depend on doles of government and protection of law enforcing agencies.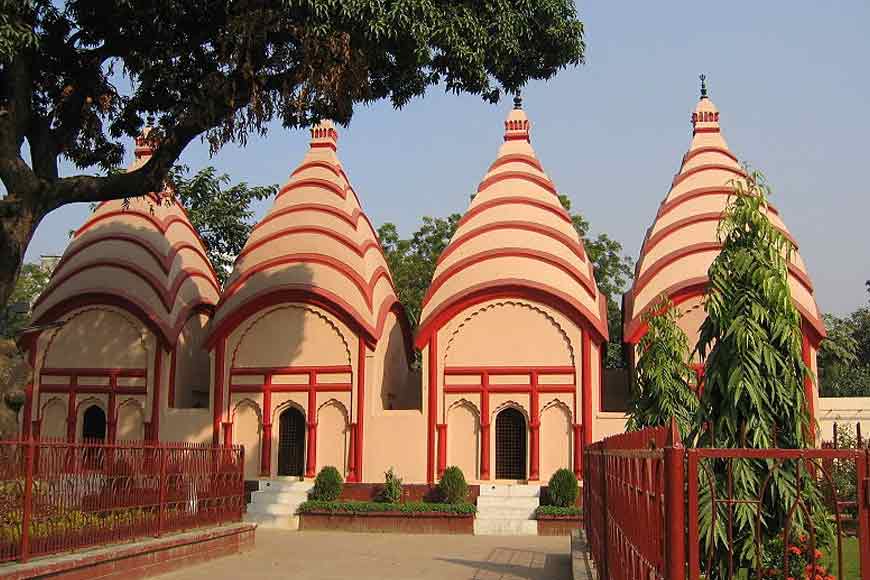 Surprisingly, Durga Puja is celebrated twice a year in Bangladesh. According to Hindu religious scriptures, the conventional worship of Durga falls in the Bengali month of 'Chaitra' and is called Basanti Durga Puja. However, the autumnal ritual, also known as 'Akaal Bodhan', is more popular and widely celebrated as per Hindu almanac (Panjika) around different continents of the world in the Bengali month of 'Ashwin'. It is believed that Goddess Durga, the slayer of Mahisasur, was first worshipped in autumn by Lord Ram before going for war with Ravan. Lord Ram had invoked the blessings of Goddess Durga by performing 'Chandi Homa', offering 108 blue lotuses and lighting 108 lamps. It was then on Ashvin Shukla Dashami that Lord Ram who was blessed by the Goddess had attained triumph by killing Ravan. Moreover, it is believed that Durga Puja is observed as the welcoming celebration of Goddess Durga who visits her mother's land for ten days on the completion of which she goes back to her husband Lord Shiva.
Exquisite idol craftsmanship can still be seen in Bangladesh as some of the families of idol makers who did not cross over during Partition still try to hold on to the traditions.
Source: Rajshahi Zamidarder Prasad-sthapatya (1793-1950) Dhaka: Bangladesh Asiatic Society, 2009.
Palaces of zamindars
Architecture, Cultural Survey of Bangladesh Series-2, Dhaka: Asiatic Society of Bangladesh, 2007.