Ganapati Chakraborty: the Indian pioneer of professional magic was a Bengali - GetBengal story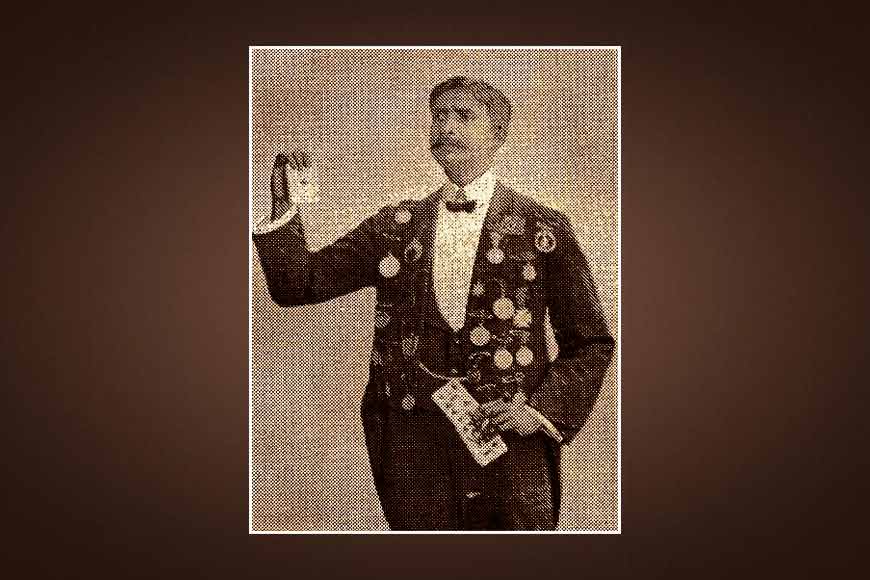 Ganapati Chakraborty, the first practitioner of modern magic in Bengal
In ancient times, Indian magicians were often considered workers of legitimate mystical miracles, not simply entertainers. Just like Jean-Eugène Robert-HoudinI, who is considered a pioneer of 19th-century modern entertainment magic as a theatrical art form, Ganapati Chakraborty was the pioneer of professional magic in Bengal, as well as India. He was the mentor of P.C Sorcar (Sr.) and K. Lal, who broke into the Western magic scene with all the glamour and hype and went on to reign the world of magic, till then a predominantly Ango-Saxon domain. It is a pity that we have erased from our memory the contribution of their guru and one of the greatest wizards of India, Ganapati Chakraborty. He trained and exported two of our legendary illusionists to conquer the West with their brilliant 'Indrajaal' magic.
Ganapati Chakraborty was born in 1858 in a landed aristocratic family in Chatra village near Serampore, Hooghly district. His father, Mahendranath Chakraborty, was a devout Brahmin who was inclined towards classical music and was a deft Pakhwaz player who encouraged little Ganapati to train in music. The boy picked up playing percussion instruments quite fast and often accompanied his father on the tabla. Ganapati never liked formal regimental education and yearned to do something adventurous and creative. Ramananda Pal's Natya Samaj theater troupe of Darjipara (in North Calcutta) was quite popular then. Ganapati met Kshetrapal Basak, his mentor, who initiated him into the world of magic. This opened a completely new world for the teenager.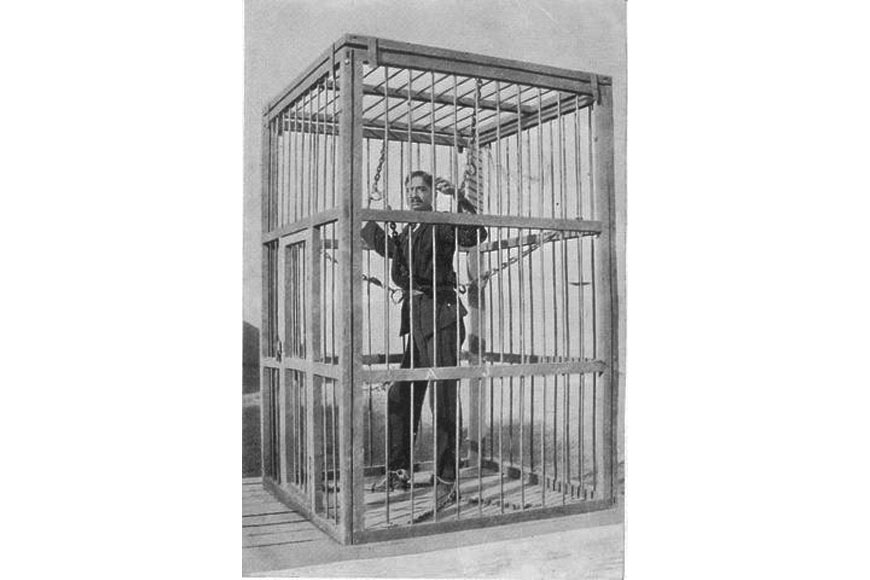 Magician Ganapati Chakraborty in his well-known "Kangsha Karagar" act in the 1900s
Later, he met Jawaharlal Dhar, another conjurer, who took Chakraborty under his wings. Ganapati picked up different tricks and mesmerized his sole audience, his childhood friend, Manindranath Laha. Both the boys were completely under the spell of magic as it were and decided to run away from home and take up magic as a full-time profession. Both were 17 years old at that time.
Manindra was good in studies and after the initial euphoria of a nomadic life full of adventure tapered off, he went back home but Ganapati stuck to his guns. He spent months with mendicants, travelling with fakirs and sadhus, living in makeshift shanties, and serving them in his quest to master the art of sorcery from them. He was gradually succeeding in his venture, infiltrating into the strange and exclusive world of occult practices and wizardry. He travelled with a group of sadhus to Tarapeeth in Birbhum, known for its Tantrik temple of Tara Maa and its adjoining cremation grounds where sadhana was performed and met the great ascetic, Sadhak Bamakshyapa.
After his return to Calcutta, Ganapati would hand out with friends and admirers at Srikrishna Library at the intersection of Chitpur Road and Beadon Street in North Kolkata, enthralling them with his sorcery. An audience steeped in bigotry often regarded his clever and skillful conjuring tricks as black magic. His lean profile with a pointed mustache, and sharp but slightly squinted eyes made him the subject of speculation and he was often believed to be the Devil's adjutant with demonic powers whose one hostile stare could ruin those who dared to antagonize him.
In 1887, Professor Priyanath Bose set up the first Indian circus company, the Great Bengal Circus in Calcutta. At the age of 35, Ganapati convinced Bose to let him be a part of the troupe and declined to accept a salary instead of his work. He was allotted the stage to fill in the interlude between two acts and keep the audience engaged with his tricks and funny punch lines sprinkled in between.

Ganapati's performance was highly appreciated by the audience and he became a regular member of the circus troupe. In 1908, he accompanied the troupe to Singapore where the ecstatic crowd lapped up his card games and disappearing acts. His trick of "Illusion Box" (he had named it 'Kangsher Karagar - the prison of King Kangsa) was way ahead of Houdini's version. After untying his ropes and removing his chains while locked in a wooden casket, he did the process in reverse. However, his prowess was weighed down by his flaring temper, a quality that earned him the sobriquet of 'Durbasha Muni' (a legendary sage known for his short temper) by his colleagues in the circus team.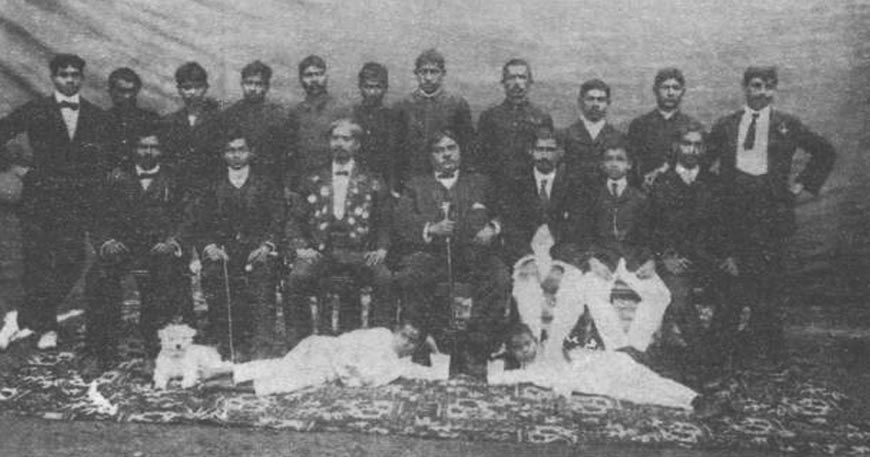 Ganapati Chakraborty (seated third from left) with the performers from the Great Bengal Circus
He spent 20 years with the Great Bengal Circus and then, at the age of 55, he formed a new group with some of his colleagues from the circus troupe. The group was invited to perform in different parts of the country and the performers mesmerized the audience with spectacular tricks and became a sensation within a short time. The learned society of Nabadwip bestowed upon him the title of "Jadu Vidya Bisharod" (Magic Expert). Ganapati's array of magic included phantom boxes, magic trees, and skeleton games. The audience would watch transfixed as a live human skeleton appeared on the stage and the hall reverberated with the blood-curdling laughter emanating from the skeleton. Skulls, cups and saucers would go flying on stage from all directions. The skull would snatch the lighted cigarette from Ganapati's lips and enjoy its fag and then gradually, the skeleton would transform into a beautiful woman right in front of the audience.
Ganapati remained celibate all his life. He was a large-hearted man who donated generously to needy people. His seminal book on magic, "Jaduvidya" was published in 1932. He is the pioneer of modern Indian magic. He built a house and a temple dedicated to Radha and Govinda (Krishna) adjoining his house at Barahnagar, Calcutta and spent his last days in spiritual pursuit as an ascetic.
On the holy day of the Annakuta festival, a crowd gathered at the temple to participate in the festivities. Ganapati was also present when he heard a group of men chanting Lord Rama's name while carrying a corpse to the cremation ground. Ganapati smiled softly and said, "Go, my friend, I shall follow you soon," and with these words, spectators present at the site saw him embracing the idols and then he tumbled down, dead. The day was 20th November 1939. Ganapati left a rich legacy that was carried forward by his able disciples who not only made a name for themselves but also ensured the finesse and exclusivity of Indian magic in the global map.