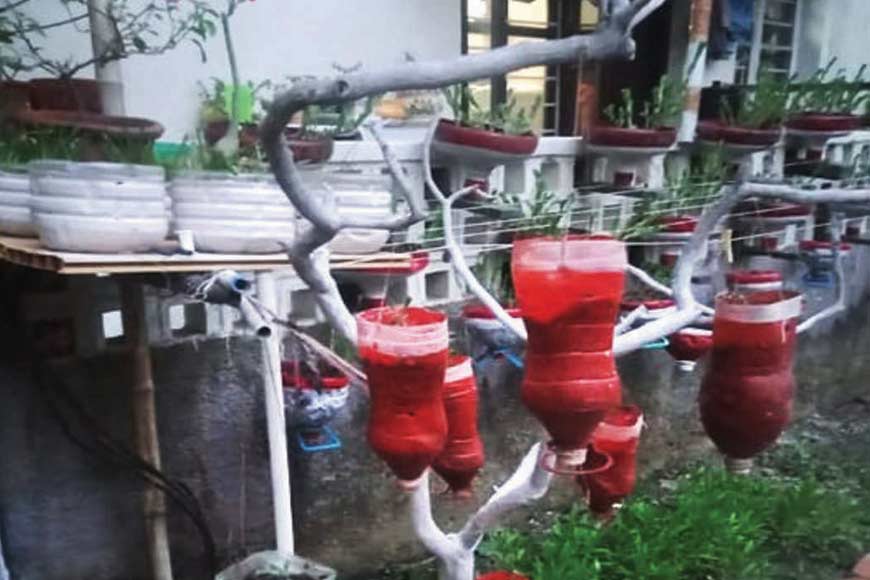 Plastic bottle craft contest arranged by the kolkata Municipal corporation
Plastics contribute to the climate crisis due to their fossil-fuel-based supply chain. When making plastics, the extraction and transportation of fossil fuels emit an annual estimate of 12.5 to 13.5 million metric tons of carbon dioxide—a greenhouse gas (GHG) that causes global warming. Manufacturers of single-use plastics consume 6% of all global oil supply, which is estimated to increase to 20% by 2050. Also, the refining of plastics releases 184 to 213 million metric tons of carbon dioxide, which is roughly equivalent to what 45 million passenger vehicles emit each year. By 2050, single-use plastics are projected to account for 10% of worldwide GHG emissions. This pollution has devastating effects on the aquatic and terrestrial ecosystems. The plastic debris injures and kills wildlife, either from being tangled or through ingestion. Additionally, as plastic decomposes, it leaches toxic chemicals that can harm both humans and animals alike.
The water bottling process releases 2.5 million tons of carbon dioxide into the atmosphere annually. Disposable water bottle waste washes into the ocean and kills 1.1 million marine creatures each year. In West Bengal, the government has been trying various measures to stop the use of plastic in the state. Only last year, the state government embargoed single-use plastic products less than 75 microns in thickness from July 1, 2022. On December 31, 2022, the ban was augmented and plastic items less than 120 microns in thickness were banned. However, such plastic bags (less than 120 microns in thickness) are freely available in the city's markets. In fact, members of the Assembly's standing committee on urban development and municipal affairs had come across dozens of plastic items blocking a stretch of the Guniaagachhi canal in Mukundapur recently. Although awareness programmes are organized from time to time to sensitize the masses, there is a long way to go to make any actual impact.
This year the Kolkata Municipal Corporation launched an innovative programme on June 2 ahead of World Environment Day (June 5) to reuse and recycle single-use plastic bottles. City Mayor Firhad Hakim launched the "KMC Plastic Bottles Crafts Challenge," a contest to encourage citizens to participate and use their creativity to turn one-time-use plastic bottles and containers at home into plant pots. Any citizen could participate in the challenge, which was open till June 16. The KMC officials who were part of the organizing team were overwhelmed with the response they received. The idea of the contest aimed at making citizens more aware of the plastic menace. Instead of throwing away plastic bottles, they were encouraged to re-use them creatively for saving the environment.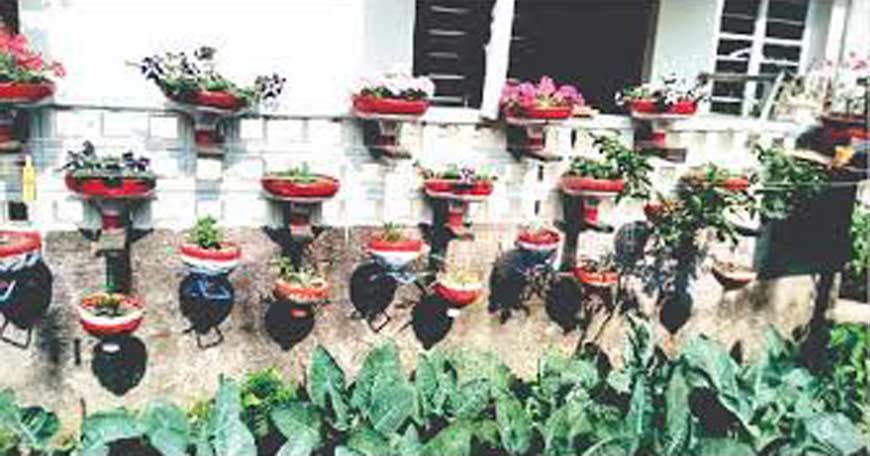 The participants created planters using plastic bottles
The participants had to create plant pots using plastic bottles and post photographs of their creations on the events page of the KMC Plastic-Bottle Crafts Challenge. They were also required to tag three of their friends on Facebook to spread the message. A QR code was provided by the civic body, which had to be scanned to participate in the contest. The top 10 entries would get the opportunity to display their craft to the Mayor in person. These reused bottles can later be decorated with plants and displayed at Metro stations and other pillars which otherwise is a costly affair.

This is a tiny, symbolic step to fight the menace of plastic pollution but we all know action is required from various quarters: the government, industry bodies, businesses and the public to fight the menace. Plastic pollution is a global challenge, and it is a humongous task to eliminate it.