Music speaks for Arup Das - a toto driver by profession and a passionate amateur singer - GetBengal story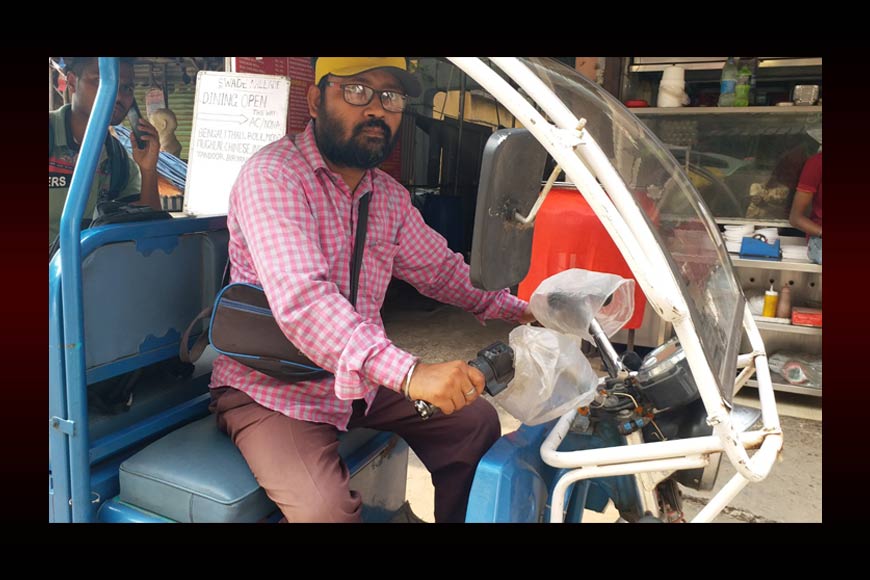 Toto driver Arup Das, an aspiring singer
Ancient Greek philosopher Plato saw the power of music in its ability to imitate emotions. In the Republic he wrote, "Music gives a soul to the universe, wings to the mind, flight to the imagination, and life to everything." Take for instance Arup Das, a bespectacled amiable man in his early 40s, a toto driver by profession and a passionate amateur singer. He often entertains his passengers with his full-throated melodious renditions of popular folk songs including Bollywood chartbusters. His talent has endeared him to his audience and of late, he has become a social media sensation but only time will tell if he gets his 'big break' to reach a larger audience and display his musical talent.
Earlier, in the recent past, we came across social media stars like Ranu Mondal and Bhuvan Badyakar (Badam Kaku), whose brush with short-lived fame became the talk-of-the-town and people have now become skeptical as they talk about these 'stars', who just 'come and go' like meteors. But Arup Das is not in a hurry and does not wish to be a momentary flick. His is a story of perseverance.
Arup always aspired to be a professional singer and perform on stage but his circumstances made him realize early in life that this was not to be. He was compelled to compromise with his musical entity at an early age and take up the responsibility of earning a livelihood for the family to keep the home fires burning. Stricken by poverty, he bartered his dream and took up the tedious job of a toto driver, sitting behind the steering wheel and commuting passengers.
Arup hails from Mansatola, Konnagar, a small industrial town in Hooghly district. He lives with his parents and wife. He had to give up his education after clearing Higher Secondary examination and scout for a job for sustenance because his father, who was the family's breadwinner, suddenly fell seriously ill and was paralyzed for life. After many odd jobs, Arup finally started plying his toto on the Konnagar-Uttarpara-Bali route. That was seven years ago. Since then, every morning at dawn, Arup takes out his toto from the garage and his day's journey begins. Although he does not get an opportunity to practice, music has been his lifelong companion and he sings and entertains his passengers now and then and these musical renditions are a way to do his daily 'riyaz' (vocal practice).

Arup's introduction to music was in his childhood through his father, Gadadhar Das, an accomplished and reputed tabla player. Gadadhar Babu's dexterity with the percussions was in great demand and he would be often invited to play the tabla at various classical musical conferences. He also gave music lessons to little Arup who often used to accompany his father to those concerts. He would sit mesmerized for hours soaking in the music and the adulation that the performers received from an enraptured audience after each programme. Arup would pick up the notes and hum folk songs in Santhali language and sometimes break into singing a 'mukhda' or 'antara'of a classical number.
Gradually, Arup's liaison with music intensified. During his teens, he sang for musical troupes and theatre groups regularly. Meanwhile, his natural flair for mimicry was noticed and he became popular as a mimic artist in his locality. As his fan following increased, he enjoyed basking in the new-found stardom. However, this fame and glory was not of much help to attain his dream of performing on stage before a live audience. But Arup is optimistic and not ready to give up his fight yet. In fact, he says, his adversities have provided him with opportunities as well and he has been able to make new friends and acquaintances who offer him odd jobs now and then and this naturally helps him to earn some moola for the family. He awaits patiently for that one chance that can help him attain his goal. Till then, the show must go on, and that's the spirit that drives Arup to move on in life.